10 Playgrounds in Singapore that will make your kids go wild!
As a parent, finding the perfect playground for your kids can be tough. You want a place that is safe, clean and fun. But with so many options, it can be hard to decide which one is right for your family. That's why we've put together a list of the top 10 playgrounds in Singapore for kids. From indoor play areas to outdoor parks, there's something on this list for everyone.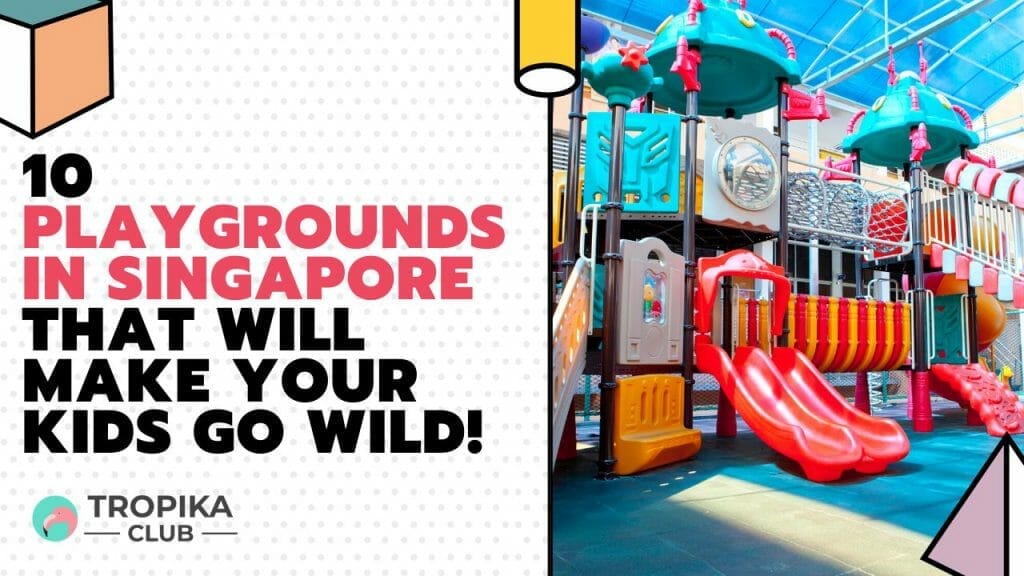 ---
#1 – Far East Organization Children's Garden
Introduction:
Wanderlust Family
Awesome Oasis for the kids.
If you have kids this is an awesome oasis housed in the Gardens by the Bay area behind the cloud forest. It's large, with a fantastic splash park area and huge playground including tree house, slides etc. Lots to do for hours and it's Free. the Gardens by the Bay.
Type of Services:
Toddler Play Zone (for children aged 1 to 5)
Rainforest Tree Houses (for aged 6 to 12)
Water Play (for aged 6 to 12)
Amphitheatre
Location: 18 Marina Gardens Dr, Singapore 018953
Contact: +65 6420 6848
Website: Website Link Here
---
#2 – The Joy Of Toys
Introduction:
The Joy Of Toys is a specialty indoor playground in Singapore with a remarkable selection of toys in a conducive environment. Our mission is to provide a fun and relaxing recreational area where families can enjoy toys with high play value.
Type of Services:
TODDLER PLAY SPACE: 6 children
MAIN PLAY SPACE: 17 children
RIDING ROOM: 7 children
Location: 6 Eu Tong Sen Street #03-51 Clarke Quay Central (Yellow Zone) Singapore 059817
Contact: +65 9007 4679 (SMS or text message only)
Website: Website Link Here
---
---
#3 – Cool de Sac Play Centre
Introduction:
Good Fun for the Kids. This was our 2nd visit in 2 years the kids specially requested to come back here as they loved the open concept play area. They have arts and crafts, Legos, Costumes and off course the play areas which are spread around so the kids loved running around unleashed. They didn't try the food the entry fee is reasonable unlimited playtime on weekdays really good place to let kids be kids.
Type of Services:
Arts : Let your kids express their creativity through the various colouring materials available and be surprised by their masterpieces.
Tots: This playground is perfect for kids under the age of 3. Crawling babies and toddlers can enjoy playing toys while improving their hand-eye coordination.
Tweens: Let your kids go wild with interactive console games catered specially for the older kids.
Treehouse: Feeling adventurous? Let your kids explore around the tree houses while they build their agility through the most fearless way.
Play Are : A large and secure zone for your kids aged 3 to 12, to stay active and fit while having fun with all the exciting slides and tunnels. What's more fun than lil' rough and tumble? This area also allows you to dive into a huge ball pit!
Interactive Projector: A unique projector that allows children to participate in highly interactive games.
Adults too!: Now you might be thinking, where do the adults go? Well, you'll be pleased to know that they have a in-house bistro that runs along the length of the play area. It is housed by a popular restaurant neighbour called Guksu, who also have a fully functional restaurant near Cool De Sac.
Location: 3 Temasek Boulevard, Suntec City Mall #02-379/80, Singapore 038983
Contact: +65 6337 0205
Website: Website Link Here
---
---
#4 – Nestopia
Introduction:
The world of Nestopia awaits on Siloso Beach, a unique open-air play space for an adrenaline-filled family experience. Embark on an exhilarating adventure through 17 play sections with netted obstacle courses connecting three giant nests and two of the longest slides on Sentosa island. Climb, manoeuvre, slide and let your imagination take flight at Nestopia.
Type of Services:
SGD 10 nett for 1-hour playtime per child (not available during seasonal promotion period).
Nestopia is suitable for children aged 2 and above.
One adult entry is included for every child (aged 12 and below). Children below the age of 7 must be accompanied by an adult.
Location: 6 Siloso Beach Walk, Sentosa 098995, Singapore
Contact: +65 6371 1067
Website: Website Link Here
---
#5 – Tayo Station
Introduction:
Tayo Station is the first Tayo character-based indoor playground in Singapore & Southeast Asia, outside of Korea. It is perfect for families and the young to play, indulge, and create their own adventures with Tayo the Little Bus & his friends. Have a go on a fun-filled ride at Tayo Station!
Type of Services:
Tayo Station
Tayo's Road Circuit
Poco's Hinoki Play
Gani's Playground
Lani's and Rogi's Party Rooms
Cliff Ball Pool
Rainbow Lounge
Tayo's Toy Store
Location: E!Hub, Downtown East, 1 Pasir Ris Close, Level 3, S(519599)
Contact: +65 6239 5360
Website: Website Link Here
---
#6 – Jacob Ballas Children's Garden
Introduction:
A Treasure Trove of Information on Nature for Young Kids
Nestled in the famous Botanical Garden next to NUS campus and a few minutes' walk from Botanical Garden MRT stop, this place has lots to offer for children and loads to see and understand for accompanying adults.
The sandy area at the very beginning of the park can keep kids happy for hours.
The streams, ziplines, farming area etc., invoke interest in adults too. One can easily spend a leisurely day in the park with entire family. There are fun games for nature enthusiasts like spotting fruit-bearing trees in the surroundings with the help of diagrams.
Type of Services:
Free admission.
Jacob Ballas Children's Garden is designed for children aged 14 and below. Children aged 12 and below must be accompanied by an adult.
To promote a safe environment for children, adults are permitted entry only if accompanying a child. Adult visitors without children must consult the Service Desk for entry, which is normally permitted only when accompanied by NParks' staff.
Location:
Singapore Botanic Gardens 1 Cluny Road Singapore 259 569
Contact: 1800 471 7300
Website: Website Link Here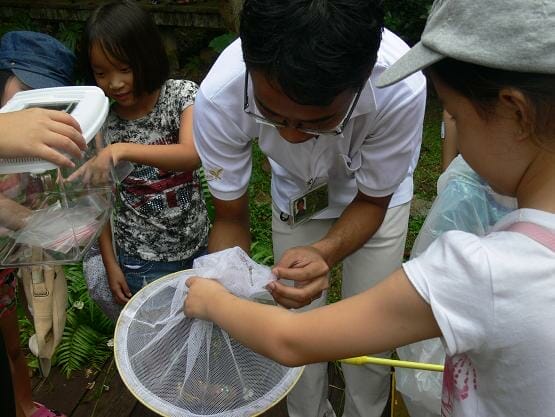 ---
_

Read Also:

Top 24 Best Indoor Playgrounds in Singapore
---
#7 – Pororo Park Singapore
Introduction:
Join Pororo the Little Penguin and his beloved friends for a fun time on the Pororo Express train ride, Pororo House, Shark Ball Pool, Poby's Play Gym. and meet them at TongTong's Little Theatre to snap the perfect picture together!
Type of Services:
Pororo & Friends' Gallop Station
Hinoki Pit
Petty Supermarket
Shark Ball Pool
Pororo Express Train
Pororo's House
Poby's Jungle Gym
Tong Tong's Little Theatre
Toddler Area
Rody's Toystore
Eddy's Classroom
Lockers
Loopy's Cafe
Location: 6 Raffles Boulevard, Marina Square #02-29, S(039594)
Contact: +65 6239 5360
Website: Website Link Here
---
#8 – Gymkraft
Introduction:
Great place for Gymnastics, Parkour, Aerial Arts and Open Sessions!
This is one of the largest Gymnastics Centre situated in the Central Eastern side of Singapore. it is near the Mountbatten MRT Station which is easily accessible by walking.
This place offers classes mainly in Kids and Adult Gymnastics, Trampoline and Parkour. They also offer Aerial Arts such as Aerial Silk, Hoops Aerial Pole for Adults. There is also martial arts and freestyle tricking classes. At times there will be workshops and trial events conducted. Notices are posted on their facebook and instagram pages which are often updated.
Type of Services:
TotsGym : 1.5 – 3 years old
KinGym: 3 – 6 years old
BeGym: 7-12 years old
BeGym Plus: 7-12 years old
Intermediate: 7-12 years old
KinGym Plus: 3 – 6 years old
Private: Varies
Parkour
Trampoline
Tricking
Dynamic Wrestling
Location:
Tampines :6, Tampines Street 92 Singapore 528893
Kallang: Kallang Wave Mall 1 Stadium Place #01-69/70 Singapore 397628
Contact: +65 6677 6988
Website: Website Link Here
---
#9 – Kidz Amaze (Safra Toa Payoh)
Introduction:
Went on a Sunday at 11am after calling in the previous day to book for a group of 5. Staff at the counter were friendly and efficient. There are lockers to keep your valuables with a digital lock but that is $2. There are places to keep your footwear too. When we proceeded inside, it was a nice surprise as the maze is fun, clean and colourful. There is a separate room for toddlers too but I noticed parents preferred to let the young ones roam at the huge playground, which I felt was more suitable for 4 years and older. Adults following their young ones is advisable but some of the areas within the playground is too narrow and low for adults to crawl through. I thought 1.5 hr slot was just nice, but it is more worth it if you book through a SAFRA member.
Type of Services:
1st Infant and Toddler Development Play Zone in Singapore
Focus on edutainment with a Learning & Discovery theme which offers opportunities to learn through play
Child-size furniture
Nursing room and a cosy corner for parents to relax in
Lockers and shoe cubby holes
Adult & children washrooms within the playground
Location: 293 Lor 6 Toa Payoh, Singapore 319387
Contact: +65 62594000
Website: Website Link Here
---
#10 – Pirate Land
Introduction:
Conveniently located at centrepoint level four. plenty to keep them busy for at least 2-4 hours. staffs were friendly, helpful and dispensed to make sure everyone (adult and kid) used hand sanitiser before entering. saw the staff cleaning and tidying every other hour but it's probably hard to keep up with our kiddos .
Type of Services:
Toy Bricks Street
Super Market and Kitchen square
Bouncing House
Trampolines
Ocean
Animal Projection Drawing
Plastic Pall Pond
Jungle Gum
Indoor Simulation
VR Shooting Games
VR Room Ecape
Location:176 Orchard Road The Centrepoint #04-08/09/10/11 Singapore 238843
Contact: +65 6734 9307
Website: Website Link Here
---
Have a Place to Recommend?
Your contribution is valuable to us! Are there any outstanding businesses that you believe should be added to our list? If so, please send your recommendations to us at [email protected]. Tropika Club will review your suggestions and update the list accordingly. Thank you for your help in making our list of businesses as comprehensive and accurate as possible.
---
Meanwhile, Check out Tropika Club's Ecosystem of Websites

Tropika Club Magazine – Tropika Club Magazine is a Singapore-based publication that features articles on a wide range of topics with a focus on local businesses and content for the region. The magazine emphasizes supporting local businesses through its #SupportLocal initiative, which includes coverage of everything from neighborhood hawker stalls to aesthetic clinics in town. In addition to highlighting local businesses, Tropika Club Magazine also covers a variety of local content, including beauty, lifestyle, places, eats, and what's on in Singapore and the Asia Pacific region.
Tropika Club Deals – Tropika Club Deals is a leading online deals and voucher shopping site in Singapore, offering amazing discounts on beauty, wellness, and fitness products and services. It's the perfect platform for customers who want to discover the best deals without having to commit to a specific appointment date and time. These deals are available at major beauty stores, facial salons, hair salons, and other brands in Singapore, with no minimum spend required. Choose from guaranteed discounted deals in the categories of hairstyling, hair removal, facial & aesthetics, body slimming, brows & lashes, nails & makeup, massage & spa or fitness & wellness. Tropika Club Deals is also ideal for customers who want to buy vouchers as gifts or to use for the future. So whether you're looking to save money on your next haircut or want to treat yourself to a relaxing massage, Tropika Club Deals has got you covered with the best voucher and coupon deals in Singapore!