Top 10 Best Bar Restaurants in Kuala Lumpur
If you are looking for the best bar restaurants in Kuala Lumpur, you have come to the right place. In this article, we will take a look at 10 of the best bar restaurants in Kuala Lumpur. We will consider factors such as the quality of the food, the atmosphere, and the service.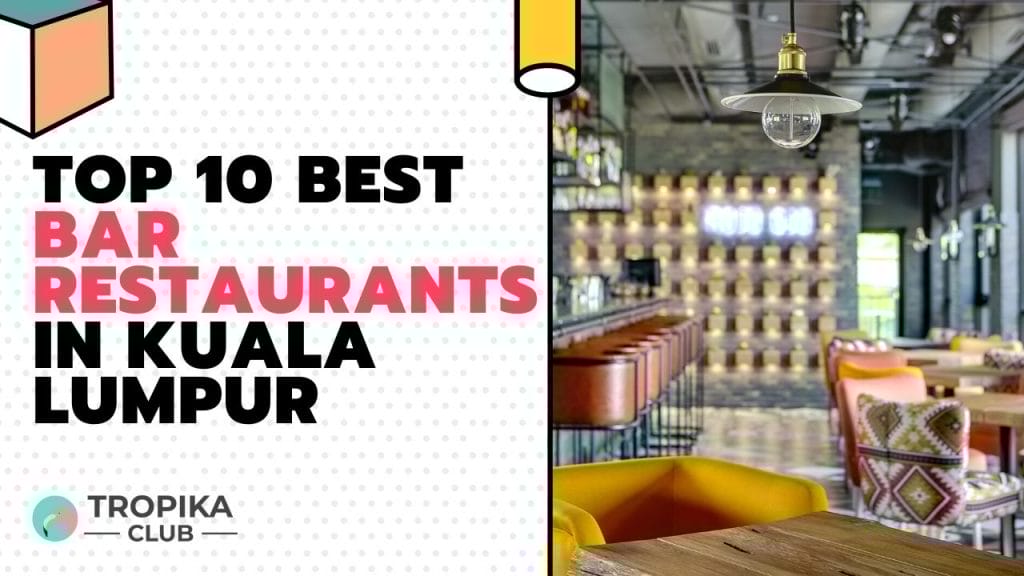 ---
#1 – Gastro Sentral
Introduction: Discover KL Sentral's best-kept secret. Located on the ground floor of Le Méridien Kuala Lumpur, Gastro Sentral is a modern take on the classic English resto-pub with a hint of European flair. Opened in November 2012, its innovative dishes have definitely sparked much interest and anticipation from well-traveled individuals and local residents in Kuala Lumpur
Menu Items:
Pasta RM 58 – RM 88
Swimmers RM 62 – RM 128
Ruffage – the natural food RM 46 – RM 68
Top meat at the Gastro Box Office RM 28 – RM 270
Location: Level L (Lobby), Le Méridien Kuala Lumpur, 2 Jalan Stesen Sentral, Kuala Lumpur Sentral, Kuala Lumpur 50470 Malaysia.
Contact: +60 3 2263 7434
Website: Website Link Here
---
#2 – Mai Bar
Introduction: Mai Bar presents an exciting blend of good times and delicious concoctions in a sleek, open rooftop setting. It's the perfect way to punctuate an exhilarating day in Kuala Lumpur.
Menu Items:
Hops by the Barrel RM 42 – RM 300
Mai – Cocktail RM 42 – RM 120
Quick Bites RM 24 – RM 32
From The Pizza Oven RM 32 – RM 43
Location: Level R (rooftop), Aloft Kuala Lumpur Sentral, Nook, No. 5 Jalan Stesen Sentral, Kuala Lumpur 50470 Malaysia.
Contact: +60 3 2723 1188
Website: Website Link Here
---
---
#3 – Healy Mac's
Introduction: Healy Mac's Irish Bar and Restaurant provide the best Irish conceptualized ambiance with a feel of comfort and satisfaction. The authentic Irish atmosphere experience designed by the Irish family members prides them on being and giving the best in drinks and food.
Menu Items:
Starters RM 11 – RM 34
Pork Special RM 28 – RM 46
Beef RM 30 – RM 83
Draught Beers & Ciders RM 12.90 – RM 54
Location: No. 38 Changkat Bukit Bintang, Kuala Lumpur 50200 Malaysia
Contact: +60 3-2145 1778
Website: Website Link Here
---
_

Read Also:

The Amazing Powers of Hyaluronic Acid for Your Skin

_ _ 
---
#4 – Canopy Rooftop Bar and Lounge
Introduction: Canopylounge by Tiger bay is the ultimate shisha smoking experience in Kuala Lumpur with their exclusive cocktails and premium range of shisha tobacco from around the globe. Come and Relax in our Shisha Terrace / Rooftop Restaurant or kick back in style in their VIP lounge and let their friendly staff do the rest. Enjoy fresh food & desserts from their delicious menu, all designed with a twist on the traditional indo-chinese cuisine and to be enjoyed on their spectacular rooftop terrace overlooking the magnificent Petronas towers. They have the perfect setting to come and relax with friends and watch live sports or enjoy one of many of their live events including belly dancers and snake charmers. Come and visit them today!
Menu Items:
Starters RM 27 – RM 35
Mains RM 35 – RM 60
Burgers/ Pizza RM 35 – RM 45
Asian Corner RM 35
Location:
Tigerbay, Kuala Lumpur,
183, Jalan Mayang, 50450
Kuala Lumpur, Malaysia
Contact: +60 11 2556 9004
Website: Website Link Here
---
#5 – Vin's Restaurant and Bar
Introduction:
Elevating Italian flavors by using local produce such as artisanal cheeses, and seafood from East Malaysia and using local Kampung eggs in their freshly hand-made pasta made daily.
​Their Food Innovator, Navin Karu would like to invite you to join his culinary adventure at Vin's.
Menu Items:
Appetizers RM 19 – RM38
Smalls RM 33 – RM 49
Fresh Handmade RM 29 – RM 49
Artisan Handmade Pizzas 48 Hours Fermentation RM 43 – RM 49
On The Grill RM 42 – RM 138
Location:
6, Lorong Datuk Sulaiman 1,
Taman Tun Dr Ismail,
60000 Kuala Lumpur.
​
Contact: 012-2002119
Website: Website Link Here
---
---
#6 – The Rabbit Hole
Introduction:
Drawing inspiration from fantasy narratives, The Rabbit Hole takes you on a journey down the proverbial rabbit hole to discover a transformative F&B experience from morning to night.
By day, eat well and perk up at the cafe with elevated comfort food, artisanal coffee, and tantalizing pastries.
By night, chill out and watch as the space morphs into a chic but whimsical bar setting that offers craft beers and specialty cocktails on tap, perfect for pre-dinner drinks or a low-key night out with friends.
Menu Items:
Salad RM 21- RM 36
Superfood Bowls RM 25 – RM 26
Mains RM 21- RM 48
Pasta/ Sandwich RM 20 – RM 30
Location:
14 & 16 CHANGKAT BUKIT BINTANG,
50200 KUALA LUMPUR
Contact: +60 10-899 3535
Website: Website Link Here
---
#7 – el iberico
Introduction: In a Mediterranean ambiance, at El Iberico, the guests can indulge a mixture of dining cuisines before moving into a good selection of creative cocktails. With the acclaimed location convenience, El Iberico leaves guests with unforgettable memories from dine experience.
Menu Items:
Pupo a la Gallega RM 55
Trio of Mediterranean Hams RM 65
Seafood Paella (Double) RM 85
Mini Beef Wellington RM 88
Location: Unit G-1, Seri Bukit Ceylon, No 8, Lorong Ceylon, 50250 Kuala Lumpur.
Contact: +60 3 2713 7199
Website: Website Link Here
---
#8 – Arthur's Bar & Grill
Introduction:
Jazzed up with leather chairs and booths in the main dining area, bar infused with tall shelves stocked with rows of liquor, warm tones emanating from the wood and brickwork gives Arthur's Bar & Grill an elegant but cozy vibe. Oozing with class and character, coupled with an ambience which is conducive to conversation – it is the perfect place to unwind after work, meet up for drinks or casual dining. Offering a commendable selection of food and beverages, both with local and international interpretations with generous portions.
All in all, Arthur's Bar & Grill fits the bill perfectly for relaxing evenings.
Menu Items:
Business Set Lunch RM 70 per pax
Pastas RM 45 – RM 98
Meat & Pie RM 45 – RM 208
Burger Bonanza RM 38 – RM 85
Location: Level 1,11 Jalan Sultan Ismail, Kuala Lumpur
Contact: +60 3 2074 3900
Website: Website Link Here
---
#9 – The Locker & Loft
Introduction:
Localized cocktails, localized dining experience, punch bowls, friendly crew and guests, great vibe, funk, soul and house.
Making cocktails accessible and fun!
Menu Items:
The Ultimate Lamb RM 29.70
Vegetarian Carbonara RM 18
Smoked Duck Aglio Olio RM 37.10
Jin Mini Party Pack RM 50
Location: 40A, Jalan SS 20/10, Damansara Kim 47400 Petaling Jaya, Selangor, Malaysia
Contact: +60 1 7377 3766
Website: Website Link Here
---
#10 – The Iron Fairies Kuala Lumpur
Introduction: They conjure up the finest cocktails by taste and artistic representation alongside food that is simple yet delicious because the best and freshest ingredients are used.
Happy Hours are 'Happy' for a reason, because customers leave happy since they have catered to have special drink promotions on for after-work hours inclusive of beer, wine, spirits and cocktails.
They celebrate the ladies by providing two very unique ladies nights cocktails on the house on Wednesdays – Vita's Hammered and Sarah's Sloshed.
And because they fully understand that nightlife goes hand-in-hand with drinking, we've created distinct bottle packages for the larger groups of party people so only fun times are ahead.
Menu Items:
Signature Cocktails RM 40 – RM 55
Champagne & Sparkling Wine RM 58 – RM 2464
Red Meat RM 36 – RM 68
Spaghetti RM 25 – RM 40
Location: TREC Entry 3, H-G-06, 438 Jalan Tun Razak, 50400 Kuala Lumpur, Malaysia
Contact: +60 16 221 3612
Website: Website Link Here
---
Have a Place to Recommend?
Your contribution is valuable to us! Are there any outstanding businesses that you believe should be added to our list? If so, please send your recommendations to us at [email protected]. Tropika Club will review your suggestions and update the list accordingly. Thank you for your help in making our list of businesses as comprehensive and accurate as possible.
---
Meanwhile, Check out Tropika Club's Ecosystem of Websites

Tropika Club Magazine – Tropika Club Magazine is a Singapore-based publication that features articles on a wide range of topics with a focus on local businesses and content for the region. The magazine emphasizes supporting local businesses through its #SupportLocal initiative, which includes coverage of everything from neighborhood hawker stalls to aesthetic clinics in town. In addition to highlighting local businesses, Tropika Club Magazine also covers a variety of local content, including beauty, lifestyle, places, eats, and what's on in Singapore and the Asia Pacific region.
Tropika Club Deals – Tropika Club Deals is a leading online deals and voucher shopping site in Singapore, offering amazing discounts on beauty, wellness, and fitness products and services. It's the perfect platform for customers who want to discover the best deals without having to commit to a specific appointment date and time. These deals are available at major beauty stores, facial salons, hair salons, and other brands in Singapore, with no minimum spend required. Choose from guaranteed discounted deals in the categories of hairstyling, hair removal, facial & aesthetics, body slimming, brows & lashes, nails & makeup, massage & spa or fitness & wellness. Tropika Club Deals is also ideal for customers who want to buy vouchers as gifts or to use for the future. So whether you're looking to save money on your next haircut or want to treat yourself to a relaxing massage, Tropika Club Deals has got you covered with the best voucher and coupon deals in Singapore!