Top 10 Best Beer Restaurants in Kuala Lumpur
If you're a beer lover, Kuala Lumpur is the place to be. With a growing number of bars and restaurants serving up local and international brews, there's something for everyone. Here are our top 10 picks for the best beer restaurants in Kuala Lumpur.
---
#1 – SOULed OUT Kuala Lumpur
Introduction: Yup…it's been a while since they said hello to their first customer waaaay back in 1996 in Mont Kiara. They speak the language of happiness through their SO Lip Smacking Food and Thirst Quenching Drinks which have become legendary. Couple that with great service, a friendly ambience and theme parties of mythical proportions, SOULed OUT is THE place for friends and family to hob nob and just feel at home. Now in Ampang and Bangsar South, the name of the game here is as good as a hug!
Menu Items:
Mushroom Soup RM15
Summertime Salad RM30
Fish & Chips RM48
Sirloin Steak RM70
Location: No. 20,Jalan 30/70A, Desa Sri Hartamas, 50480 Kuala Lumpur,Malaysia
Contact: 03 2300 1955
Website: Website Link Here
---
#2 – The Social
Introduction: Established since 2001, The Social is where you can find both great coffee and ice cold beer, exceptional local and international flavours, and friendly service; all in a bustling neighbourhood bar.
Whether you are here for office lunches, a catch-up with the girls on happy hour, cosy family dinners, private parties or late game nights over drinks and bar snacks, The Social opens its doors to you and promises to make the experience warm and memorable.
Menu Items:
Soup of the day RM18
Buttermilk Chicken Burger RM34
Steak Diana RM85
A load of Waffle RM28
Location: 57-59, Jln Telawi 3, Bangsar, 59100 Kuala Lumpur, Wilayah Persekutuan Kuala Lumpur, Malaysia
Contact: +60 3-2282 2260
Website: Website Link Here
---
---
#3 – Aviary Bar
Introduction: Step into the home of the internationally renowned tiki cocktail – the Jungle Bird at Aviary Bar, Hilton KL. With an elegant curved wall that arches out from the softly-lit bar area, it is a cosy atmosphere for after-work drinks or a snug gathering to catch up with friends over glasses of classic cocktails.
Select your favourite drinks from their selections of champagne, wine, hard liquor as well as specially curated cocktails. Watch their skilled and lively mixologists whip up colourful cocktails at the bar.
Menu Items:
Chambers Signature Wagyu Beef Burger RM128
Wagyu Steak Sandwich RM128
Truffle and Cheese Toasty RM78
Smoky BBQ Chicken Drumette RM32
Location: Lobby level, 3, Jalan Stesen Sentral, Kuala Lumpur Sentral, 50470 Kuala Lumpur, Wilayah Persekutuan Kuala Lumpur, Malaysia
Contact: +60 (3) 2264 2264
Website: Website Link Here
---
_

Read Also:

How to Find the Best Happy Hours in Singapore

_
---
#4 – Healy Mac's
Introduction: Healy Mac's Irish Bar and Restaurant provides the best Irish conceptualized ambience with a feel of comfort and satisfaction. "All Sports are Shown Live" & its sumptuous meals are specially prepared to its taste by its very own local executive
Menu Items:
Ceasar Salad RM19
Pork Knuckle RM104
T-Bone Steak RM83
Chicken Burger RM31
Location: Ground Floor, Crown Regency Service Suites,Position of, 12, Jalan P. Ramlee, Kuala Lumpur, 50250 Kuala Lumpur, Wilayah Persekutuan Kuala Lumpur, Malaysia
Contact: +60 3-2166 9778
Website: Website Link Here
---
#5 – Weissbrau German Bistro and Bar
Introduction: This bistro and bar features a wide selection of German and Swiss cuisine with pork specialties, imported draught and bottled beer.
Menu Items:
Roestizza Brekkie RM32
Roestizza Portofino RM38
Spicy Knuckle RM38
Mad For Garlic RM42
Location: 168, Bukit Bintang St, Bukit Bintang, 55100 Kuala Lumpur, Federal Territory of Kuala Lumpur, Malaysia
Contact: +60 3-2142 0288
Website: Website Link Here
---
---
#6 – Brussels Beer Cafe KL
Introduction: Brussels Beer Café is a great place for you to enjoy their variety delicious Belgian meals. You will find their café has an excellent interior and comfortable seating area for you to either to dine or to mingle around the bar.
Menu Items:
Braised Meatballs RM20
Lamb Cutlets RM36
Grilled Lamb Rack RM88
Peach Melba RM15
Location: Jalan P. Ramlee, Kuala Lumpur, 50450 Kuala Lumpur, Wilayah Persekutuan Kuala Lumpur, Malaysia
Contact: +60 3-2034 1800
Website: Website Link Here
---
#7 – Taps Beer Bar
Introduction: In search of better beers in Malaysia, a group of cousins came up with an idea to break convention by opening a pure craft beer bar with the widest range of better beers in Malaysia. This idea became a reality when Taps Beer Bar was established in December 2011.
Craft beer's the name, better beer's the game.
At Taps Beer Bar, they regularly rotate their beers to provide diversity and accessibility to a range of quality craft beers. To date, we have served over 800 unique beers, some of the very best craft beers on the market.
Each beer is one of a kind, displaying the creativity and passion of its brewer and the complexity of its ingredients, unlike mainstream, commercialised beer.
The results? An ever-expanding list of craft beers to suit any individual and exciting food-pairing possibilities. No gimmicks, no slogans…just better beer.
Get excited about beer and join the craft beer revolution. At Taps Beer Bar you don't just drink beer, you #DRINKBETTERBEER!
Menu Items:
Nasi Goreng Kampung RM24
Fish & Chips RM30
Margherita RM27
Capricciosa RM27
Location: 1, Jalan Nagasari, Bukit Bintang, 50200 Kuala Lumpur, Wilayah Persekutuan Kuala Lumpur, Malaysia
Contact: +60 3-2110 1560
Website: Website Link Here
---
#8 – Gypsy Bar
Introduction: Gypsy Wine & Bar is a very cozy, wooden bar with high rise ceiling, characteristic of Spanish wood.
Menu Items:
Beef Burger with Tomato Salsa RM24
Chicken Ciabatta Sandwich RM22
Chicken & Prawns Skewer RM25
Panfry Seabass with Capers RM18
Location: 33, Changkat Bukit Bintang, Bukit Bintang, 50200 Kuala Lumpur, Wilayah Persekutuan Kuala Lumpur, Malaysia
Contact: +60 3-2145 6380
Website: Website Link Here
---
#9 – The Dark Horse – Bar & Grill
Introduction: A contemporary, stylish sports bar with enormous grub portions fit for a king. Tailor made decor with ample space, foosball, darts & pool tables guaranteeing you a fun, comfy and elegant dining experience.
Menu Items:
Classic Cobb Salad RM30
Soup of the day RM20
Hungarian Beef Goulash RM36
Lamb Chops RM129
Location: Lot G-05, Life Centre, 20 Jalan Sultan Ismail, 50250, K.Lumpur
Contact: +6019-333 9269
Website: Website Link Here
---
#10 – The Iron Fairies KL
Introduction: The Iron Fairies KL is the biggest outlet of the cult brand worldwide. Magic awaits as you stroll through this tactile wonderland.
An iconic, magical bar designed like an ironsmith's workshop with the artistic intricacies that enthral those who step into the world of Ashley Sutton.
Menu Items:
STEAK AND FAT-CUT ENGLISH CHIPS RM68
BBQ CHICKEN RM36
COLI'S BEEF BURGER RM48
CHICKEN NACHOS RM38
Location: H-G-06, Hive, TREC, 438, Jln Tun Razak, 50400 Kuala Lumpur, Wilayah Persekutuan Kuala Lumpur, Malaysia
Contact: +60 16-221 3612
Website: Website Link Here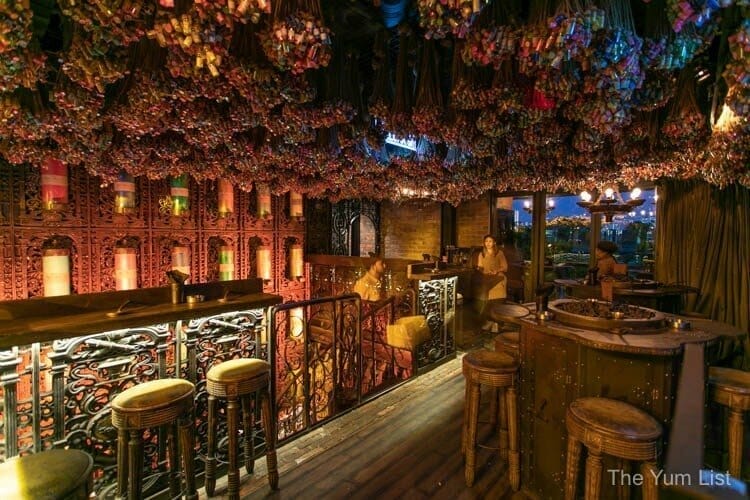 ---
Have a Place to Recommend?
Your contribution is valuable to us! Are there any outstanding businesses that you believe should be added to our list? If so, please send your recommendations to us at [email protected]. Tropika Club will review your suggestions and update the list accordingly. Thank you for your help in making our list of businesses as comprehensive and accurate as possible.
---
Meanwhile, Check out Tropika Club's Ecosystem of Websites

Tropika Club Magazine – Tropika Club Magazine is a Singapore-based publication that features articles on a wide range of topics with a focus on local businesses and content for the region. The magazine emphasizes supporting local businesses through its #SupportLocal initiative, which includes coverage of everything from neighborhood hawker stalls to aesthetic clinics in town. In addition to highlighting local businesses, Tropika Club Magazine also covers a variety of local content, including beauty, lifestyle, places, eats, and what's on in Singapore and the Asia Pacific region.
Tropika Club Deals – Tropika Club Deals is a leading online deals and voucher shopping site in Singapore, offering amazing discounts on beauty, wellness, and fitness products and services. It's the perfect platform for customers who want to discover the best deals without having to commit to a specific appointment date and time. These deals are available at major beauty stores, facial salons, hair salons, and other brands in Singapore, with no minimum spend required. Choose from guaranteed discounted deals in the categories of hairstyling, hair removal, facial & aesthetics, body slimming, brows & lashes, nails & makeup, massage & spa or fitness & wellness. Tropika Club Deals is also ideal for customers who want to buy vouchers as gifts or to use for the future. So whether you're looking to save money on your next haircut or want to treat yourself to a relaxing massage, Tropika Club Deals has got you covered with the best voucher and coupon deals in Singapore!