Top Best Cafes in Bugis Area, Singapore
Singapore is a food paradise, and there are many cafes to choose from. In this article, we will be exploring the top best cafes in Bugis area, Singapore. From hipster cafes to quaint little shops, there is something for everyone in this vibrant area. So whether you are looking for a place to relax or to people watch, be sure to check out one of these top cafes in Bugis area, Singapore.
---
#1 – Fahrenheit Coffee
Introduction:
Fahrenheit Coffee is an intimate coffee bar that resides within SPA CLUB At Beach Road. Fahrenheit Coffee was born from a desire to create a social space for people to have meaningful conversations over a delicious cup of coffee accompanied by decadent desserts. Fahrenheit Coffee combines the best baristas with the finest coffee beans in the world in a luxurious social environment to forge meaningful connections like no other.
Menu Items:
Cardamom Bun (Price $6.50)
Banana Cake (Price $6.50)
Butter Cookie Canele (Price $6.50)
Matcha Latte (Price $5.50)
Location: 75 Beach Road, Fu Yuen Building #01-00 Singapore 189689
Contact: 90495324
Website: Website Link Here
---
#2 – Double Up Coffee
Introduction: Double Up Coffee is a cozy and minimalist location in this specialty coffee spot, that also offers some sweet treats.
Menu Items:
Guji Bensa, Ethiopia (Price $25)
Mahembe (Price $23)
Wiang Pa Pao (Price $25)
Finca Be-tel Colombia (Price $30)
Location: 7 Jln Klapa, Singapore 199319
Contact: n/a
Website: Website Link Here
---
---
#3 – Belleville Pancakes
Introduction:
Pancake Cafe Belle-Ville originated from Osaka Japan, with its popular flagship store located at Umeda Whity. This Singapore branch is its first overseas outpost. The pancake café is known for its meringue made-to-order millefeuille (French for "thousand layers") pancakes, included with homemade whipped Hokkaido cream, stacked from 2 to 8 layers.
Menu Items:
Deluxe DIY Set (Price $25.90)
Plain DIY set (8 pc pancakes & maple syrup) (Price $12.40)
8-piece pancake set (with fresh cream & maple syrup) (Price $13.90)
Most Valued Pandora Set of 5 (One Flavour of Choice!) (Price $18.70)
Location: 01-01B Bugis Junction Towers, 230 Victoria St, 188024
Contact: 6255 5456
Website: Website Link Here
---
_

Read Also:

What to Eat at Bugis Singapore

_

_ _ 
---
#4 – Mellower Coffee
Introduction:
Mellower Coffee is a coffee house from Shanghai that specializes in specialty coffee from various places around the world.
They carry coffee beans from many regions of the world and they strive to give their guests and customers the best coffee experience, be it in taste or presentation. You can chat up their friendly baristas to see what type of single-origin coffee is being offered for the week. Their house-blend coffee is specially flown in from Shanghai and handcrafted by our baristas to give you a new perspective on coffee
Menu Items:
Ondeh X Latte (Price $9.80)
Temptation (Price $9.80)
Bailey's Misu (Price $9.80)
Kenya (Price $9)
Location: 108 Middle Rd, #01-01 Bernhard Schulte House, Singapore 188967
Contact: 6255 0820
Website: Website Link Here
---
#5 – Twenty Grammes
Introduction:
Many may ask, "What or why twenty grammes?" Twenty Grammes is essentially the ideal amount of coffee beans to pull a good espresso shot. Starting out as an avenue to share their love for coffee and waffles, their brand has since then grown exponentially. They now pride themselves as a local dessert boutique that serves curated desserts that uses fresh and quality ingredients.
Menu Items:
Pink Garden Cake (Price $80)
Blue Princess Tiara Cake (Price $95)
Single Rose Cake (Price $69)
Beatrice Rose Cake (Price $95)
Location: 753 North Bridge Rd, Singapore 198721
Contact: 9447 2020
Website: Website Link Here
---
---
#6 – Zerah Coffee Roasters
Introduction:
Zerah Coffee Roasters was founded with the goal to elevate the value of coffee in our community. Their craft is steeped in scientific principles, and they endeavor to spread this knowledge to anyone journeying through the exciting landscape of specialty coffee. As the industry evolves to cope with the impacts of climate change, they prioritize innovating, learning, and adapting – ensuring that their coffees are sustainable without compromising on their quality.
Menu Items:
Koke Shalaye (Price $22)
Gargari Gutity (Price $22)
La Fortuna (Price $20)
Location: 465 North Bridge Rd, #02-5063, Singapore 191465
Contact: n/a
Website: Website Link Here
---
#7 – Symmetry
Introduction:
Located on the fringe of the historic Kampong Glam district, Symmetry is an all-day dining restaurant and bar with the laid-back sensibility of Aussie culture. Much has changed since they opened their doors in 2012. They've grown, refined their menus, revamped their space but the philosophy at the core of all we do is as true today as it ever was – to make honest, delicious food meant for sharing, and bringing people together through warm service.
Menu Items:
Symmetry Breakfast (Price $28)
Crab Linguine Pasto (Price $29)
Vegan Breakfast (Price $28)
Truffle Chicken Burger (Price $27)
Location: 9 Jln Kubor, #01-01, Singapore 199206
Contact: 6291 9901
Website: Website Link Here
---
#8 – Flipper's
Introduction:
FLIPPER'S is arguably one of Japan's most renowned soufflé pancake chains offering its signature rendition of utterly fluffy, pillow-soft, and melt-in-the-mouth pancakes created with artisan precision.
Menu Items:
Kiseki Pancake – Maple Butter Cream (Price $16.80)
Egg Benedict Souffle Pancake (Price $24.80)
Avocado Salmon Salad (Price $14.80)
Fresh Fruit Salad (Price $12.80)
Location: Bugis Junction,#01-97, 188966
Contact: n/a
Website: Website Link Here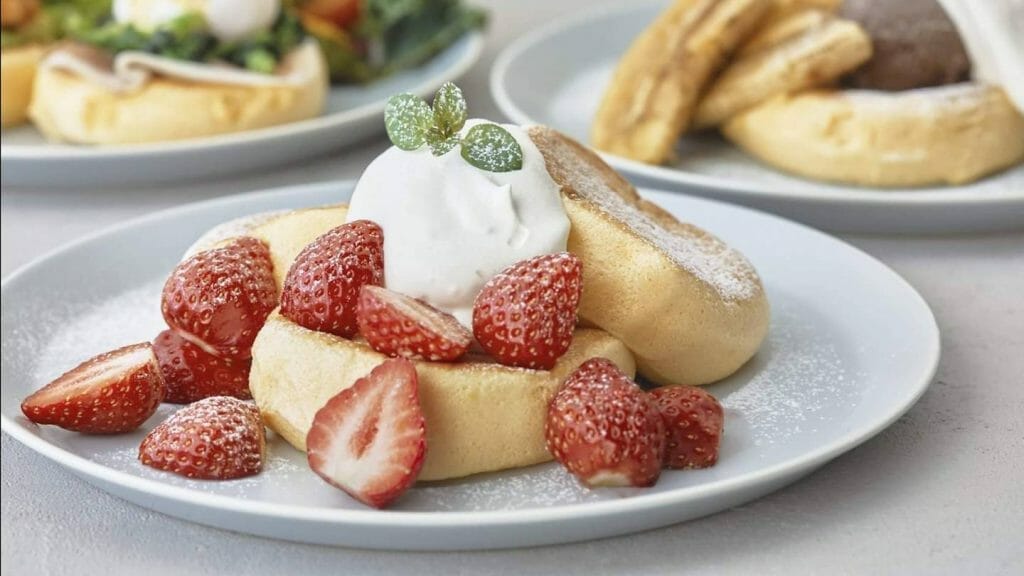 ---
#9 – Monarchs & Milkweed Gelato
Introduction:
Established in 2020, Monarchs & Milkweed is a local gelato shop started by 2 cooks, Eric and Mandeep, bringing you quality gelato in both classic and innovative flavors. At their space, they focus on creating new and interesting pairings as well as rediscovering fresh takes on the classics to create something they love. Through every scoop, they hope not only to share with you flavours that they love but also an experience of our journey as two cooks discovering the endless possibilities in gelato making.
Menu Items:
Soursop Mint 473ml (Price $20)
Burnt White Chocolate 473ml (Price $16.50)
Ispahan 473ml (Price $16.50)
Raspberry Chocolate Sorbet 473ml (Price $16.50)
Location: 802 North Bridge Rd, #01-01, Singapore 198770
Contact: 9665 7534
Website: Website Link Here
---
#10 – Tolido's Espresso Nook
Introduction:
Tolido's Espresso Nook breaks the norm of sub-par, overdone brunch offerings and forgettable coffee. Run by 24-year-old Douglas Tan and his two partners, this quaint little spot for brunch isn't revolutionizing cafe or brunch culture, but, is simply doing it well, if I might add. Keeping up with local trends their menu features dishes with local twists on your classic brunch offerings
Menu Items:
Roasted Eggplant Pesto Sandwich (Price $16)
Waffle Slammer (Price $18)
Orange Mocha (Price $6.50)
Bailey's Coffee (Price $8)
Location: 462 Crawford Ln, #01-63, Singapore 190462
Contact: 6293 0382
Website: Website Link Here
---
Have a Place to Recommend?
Your contribution is valuable to us! Are there any outstanding businesses that you believe should be added to our list? If so, please send your recommendations to us at [email protected]. Tropika Club will review your suggestions and update the list accordingly. Thank you for your help in making our list of businesses as comprehensive and accurate as possible.
---
Meanwhile, Check out Tropika Club's Ecosystem of Websites

Tropika Club Magazine – Tropika Club Magazine is a Singapore-based publication that features articles on a wide range of topics with a focus on local businesses and content for the region. The magazine emphasizes supporting local businesses through its #SupportLocal initiative, which includes coverage of everything from neighborhood hawker stalls to aesthetic clinics in town. In addition to highlighting local businesses, Tropika Club Magazine also covers a variety of local content, including beauty, lifestyle, places, eats, and what's on in Singapore and the Asia Pacific region.
Tropika Club Deals – Tropika Club Deals is a leading online deals and voucher shopping site in Singapore, offering amazing discounts on beauty, wellness, and fitness products and services. It's the perfect platform for customers who want to discover the best deals without having to commit to a specific appointment date and time. These deals are available at major beauty stores, facial salons, hair salons, and other brands in Singapore, with no minimum spend required. Choose from guaranteed discounted deals in the categories of hairstyling, hair removal, facial & aesthetics, body slimming, brows & lashes, nails & makeup, massage & spa or fitness & wellness. Tropika Club Deals is also ideal for customers who want to buy vouchers as gifts or to use for the future. So whether you're looking to save money on your next haircut or want to treat yourself to a relaxing massage, Tropika Club Deals has got you covered with the best voucher and coupon deals in Singapore!