Top 10 Best Dimsum Places in Kuala Lumpur
Dimsum is a traditional Chinese dish that consists of small bite-sized pieces of food, typically served in a steamer basket or on a small plate. It is usually eaten for breakfast or lunch, and often accompanied by tea. Kuala Lumpur is home to many delicious dimsum restaurants, so it can be hard to decide where to go. Here are 10 of the best dimsum places in Kuala Lumpur, each with their own unique twist on the classic dish.
---
#1 – Luk Yu Tea House
Introduction: Luk Yu Tea House unveils an exciting transformation that includes a reinvigorated menu to complement the stylish Chinoiserie-inspired interiors. The tea house was inspired by the Tang Dynasty poet Lu Yu who wrote The Classic of Tea which describes the history and culture of Chinese tea. Luk Yu Tea House pays homage to this respected Chinese tea master and writer by serving a laudable selection of fine teas from Taiwan and China that make for the perfect pairing with your meal.
Menu Items:
Double Boiled Abalone Dumpling in Superior Soup (Price RM46)
Steamed Barbequed Chicken "Char siew" Bun (Price RM12)
Steamed Crystal Prawn Dumpling "Har Kau" (Price RM14)
Fried Rice with Prawns and Salted Egg Yolk (Price RM30)
Location: 181, Bukit Bintang St, Bukit Bintang, 55100 Kuala Lumpur, Federal Territory of Kuala Lumpur, Malaysia
Contact: +60 18-632 8060
Website: Website Link Here
---
#2 – Dolly Dim Sum, Avenue K
Introduction: Dolly Dim Sum is their modern interpretation of a traditional Chinese tea house. It is a contemporized dim sum house that offers an all-day grazing experience, specializing in modern authentic dim sum.
Dim sum literally means "to touch the heart". To them dim sum is an art form – each piece is delicate and exquisite, much like a "dolly".

At Dolly Dim Sum, they are proud to offer a unique dining experience encompassing quality of ingredients, heartfelt service and an impeccable dining ambiance.
Menu Items:
Siew Mai Dumpling (Price $12)
Har Gao Dumpling (Price $15)
Steamed Chicken Wings (Price $22)
Crystals Prawn Dumpling (Price $15)
Location: Lot G9 Ground Floor, Avenue K, 156 Jalan Ampang, Kuala Lumpur, Malaysia (Opposite KLCC)
Contact: +6012-678 7842
Website: Website Link Here
---
---
#3 – Restaurant Jin Xuan Hong Kong
Introduction: Jinxuan Hong Kong Premium Dim Sum Teahouse can be seen from the interior and exterior decoration as well as every basket of dim sum and refreshments
on the table. The president's diligent management and careful care for customers can be seen. The president always strives to improve the taste of traditional dim sum to make only those that can meet the needs of customers. Dim sum for customers in the cash age
Menu Items:
First Class Shumai
Top Good Shrimp Dumpling
Honey BBQ Pork Buns
Char Siew Steamed Rice Noodles
Location: A32, 34, 36, Jalan 1/116B,
Kuchai Enterpreneurs' Park,
58200 Kuala Lumpur.
Contact: +603 – 7982 6812
Website: Website Link Here
---
_

Read Also:

Top 10 Best Dim Sum in Singapore

_ _ 
---
#4 – The Ming Room 名城酒家
Introduction: The Ming Room serves authentic Cantonese cuisine and offers continuous new creative variations. The restaurant is reputed as the most established Chinese restaurant in the Bangsar and Damansara area.
Some of their timeless favourites are Double-Boiled Coral Shark's Fin Soup with Wanton in Pumpkin, Baked Boston Lobster with Foie Gras Sauce, Braised 'Soon Hock' with Traditional Style and Chilled Durian Pudding. The restaurant also serves an excellent range of Hong Kong Dim Sum for lunch.
Be impressed with the stunning design that blends history and elegance with comfort. Cutting edge renovations interposed with antique terracotta horses creates the perfect venue to host any corporate or personal celebrations in the dining hall or the 6 private dining rooms.
Menu Items:
The Ming Room's Three Treasures (RM26 per pax)
Stir-Fried Shark's Fin
with Egg in Lettuce Wrap (RM38 per pax)
Braised Sliced Abalone
with Goose Web in Foil (RM36 per pax)
Lobster Meat with Scrambled Egg
in Lettuce Wraps (RM58)
Location: 3rd Floor, Bangsar Shopping Centre,
Bukit Bandaraya, 59000 KL
Contact: +603- 2284 8822
Website: Website Link Here
---
#5 – Yun House
Introduction: Experience elevated Cantonese favourites, anchored in a dramatic dining space filled with natural light and kaleidoscopic views – the perfect place to cherish life's most meaningful moments.
Menu Items:
SIGNATURE WOK-FRIED CARROT CAKE (Price RM35)
FOUR SEASONS CRYSTAL PRAWN DUMPLINGS (Price RM39)
YUN HOUSE SIGNATURE DUCK TWO WAYS (Price Half – RM138 / Whole – RM208)
YUN HOUSE DEEP-FRIED AUBERGINE (Price RM65)
Location: FOUR SEASONS PLACE, 145 JALAN AMPANG, 50450 KUALA LUMPUR, MALAYSIA
Contact: +603 2382 8888
Website: Website Link Here
---
---
#6 – Shang Palace, Shangri-La Hotel
Introduction: Lavishly decorated in auspicious red and gold with traditional motifs imported from China, Michelin-starred Shang Palace features a dedicated wine cellar and a 20-seat grand private dining room.
The renowned restaurant serves a luxurious range of Cantonese specialities that evoke the grandeur of traditional China in an imperial setting. Premium Chinese tea and wine pairing are also available by their resident tea master and wine sommelier.
Menu Items:
Braised bamboo pith stuffed with imperial bird's nest
Sautéed scallops with kale and morel mushrooms
Deep-fried stuffed crab shell
Barbecued pork loin glazed with honey sauce
Location: 11, Jln Sultan Ismail, Kuala Lumpur, 50250 Kuala Lumpur, Wilayah Persekutuan Kuala Lumpur, Malaysia
Contact: +60 3-2074 3904
Website: Website Link Here
---
#7 – Xin Cuisine Chinese Restaurant
Introduction: Take a seat in our elegant Chinese restaurant and dine on a choice of nouvelle Cantonese cuisine or Hong Kong dim sum.
Accentuating the ancient ambience echoing throughout the restaurant are the soothing sounds of our resident artiste on the guzheng – a traditional Chinese instrument.
A truly authentic experience of the Orient.
The Noodle Bar serves various types of noodle dishes, congee and other specialties during lunch.
Menu Items:
Spinach with seafood in beancurd soup (Price RM18)
Belacan Fried Carrot Cake (Price RM17.50)
Shrimp Cheong Fun (Price RM17.50)
Har Gaw (Price RM17.50)
Location: Concorde Hotel, 2, Jln Sultan Ismail, Kuala Lumpur, 50250 Kuala Lumpur, Wilayah Persekutuan Kuala Lumpur, Malaysia
Contact: +60 3-2144 8750
Website: Website Link Here
---
#8 – Chynna
Introduction: Featuring a traditional Chinese herbal apothecary and an open dim sum kitchen, Chynna serves delicate modern Cantonese and Shanghainese cuisine. Explore the authentic flavours of Cantonese and Shanghainese cuisine, brought to you by Celebrity Chef Lam Hock Hin and his team of talented chefs.
Menu Items:
Wok-fried prawns with butter, milk, chili and scented curry leaves (RM158)
Peking Style Roasted London Duck
Skin served with traditional pancake, cucumber, spring onion,
and chef's special duck sauce (RM367)
Stewed whole abalone (2 Heads)
Garnished with stir-fried vegetables and supreme oyster sauceStir-fried Australian scallops with asparagus in X.O sauce (RM316)
Stir-fried Australian scallops with asparagus in X.O sauce (RM158)
Location: Level 5, 3, Jalan Stesen Sentral, Kuala Lumpur Sentral,
50470 Kuala Lumpur, Wilayah Persekutuan
Kuala Lumpur, Malaysia.
Contact: +603 2264 2264
Website: Website Link Here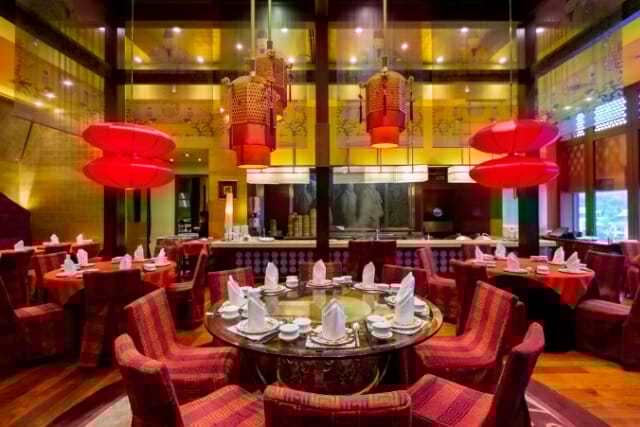 ---
#9 – Li Yen at The Ritz-Carlton
Introduction: Li Yen, which means "beautiful garden", has been gracefully presenting diners with masterfully crafted Chinese cuisine for more than 20 years. The artistically redesigned restaurant continues to be the epitome of fine Chinese cuisine, amid an intimate ambience that embraces stylish Chinoiserie design and elegant service. Every dining experience here is heightened with its reimagined collection of authentic Chinese classics curated in harmony with the seasons.service.
Menu Items:
Cod Fish with Spicy Sauce and
Squid Ink Sago (RM55)
Li Yen's Signature Golden Prawns (RM150)
Slow-Cooked Soft Bone Ribs
with Black Sugar (RM90)
Li Yen Fried Noodles (RM70)
Location: The Ritz-Carlton, Kuala Lumpur, 168, Jalan Imbi, KL, 55100
Contact: +60 32 782 9033
Website: Website Link Here
---
#10 – Grand Harbour
Introduction: Grand Harbour specializes in gourmet Cantonese cuisine with a range of special delicacies infused with local flavour. Established in 2012, the restaurant retain the authentic and traditional cooking method, emphasizing on using only the fresh and premium quality ingredients, in order to deliver the exquisite dining experience.
Menu Items:
Fried Glutinous Rice
Double-boiled Tian Ma Fish Head Soup
Spicy & Sour Signature Hock Fish
Pan Fried Marinated Freshwater King Prawn
Location:
Lot LG2-01 (01) & LG2-01 (02), Lower Ground Two, Fahrenheit 88, 179, Jalan Bukit Bintang, 55100 Kuala Lumpur, Malaysia.
Lot 2-27 (01) to 2-27 (04), Level 2, Fahrenheit 88, 179, Jalan Bukit Bintang, 55100 Kuala Lumpur, Malaysia.
Contact: 03 – 2141 1763 / 2141 1660
Website: Website Link Here
---
Have a Place to Recommend?
We need your help! Do you know any other noteworthy beauty clinics or salons that deserves to be added to this list? If so, do write to us via our email at [email protected]. Tropika Club will do a review of your recommendations and update the list accordingly.
---
Meanwhile, check out Tropika Club's Ecosystem of Websites

Tropika Club Magazine – Tropika Club Magazine crafts articles on all things Singapore, but with a greater emphasis on local businesses based on our #SupportLocalSG initiative. We check out and feature local businesses of all categories, ranging from your neighbourhood hawker stalls to the aesthetic clinics in town. We also cover local content ranging from beauty, lifestyle, places, eats and what's on in SIngapore. Our Top 10 rankings include local food and service establishments based in different regions in Singapore.
Tropika Club Deals – Search for the best voucher and coupon deals. Tropika Club Deals is ideal for customers who want to discover the best deals without having to commit to a specific appointment date and time. Choose from guaranteed discounted deals in the categories of hairstyling, hair removal, facial & aesthetics, body slimming, brows & lashes, nails & makeup, massage & spa or fitness & wellness. Customers can also buy vouchers as gifts or to use for the future.