Top 10 Best Fast Food in Kuala Lumpur Malaysia
The food scene in Kuala Lumpur is booming with new and exciting restaurants popping up all over the city. However, sometimes you just want a quick and easy meal that won't break the bank. That's where fast food comes in. Here are the 10 best fast food options in Kuala Lumpur, Malaysia.
---
#1 – Burger on 16
Introduction:
At Burger On 16, great burgers are served. Grilling a fresh, premium cut, hand-packed patties on a hot seasoned grill to perfection with the perfect char taste results in a delicious juiciness burger that talks about itself. Add butter-toasted buns, high grade cheeses, freshly sliced tomato and onions, with intense sauces made in-house, and you've got a burger that twist your mind!
Menu Items:
Burgers

Vampire Hates Garlic
Inferno Beef
Mad Cheese 300g
Mushroom Swiss
Teriyaki Outspread

Sides

French Fries
Sweet Potato Fries
Tornado On Stick Potato
Mushroom Soup
Classic Buffalo Wings

Desserts, Smoothies & Milkshakes

Chocolate Molten Cake with Ice Cream
Banana Milkshake
Mango Smoothies
Chocolate Smoothies
Strawberry Banana Milkshake
Location: 16, Lorong 1/77a, Imbi, 55100, Kuala Lumpur, Malaysia.
Contact: +60 3-9224 2117
Website: Website Link Here
---
#2 – McDonald's KL Sentral
Introduction:
From the taste of our food and its halal ingredients, right down to our restaurant cleanliness, dedicated crew and grassroots community programmes, we're dedicated to bring you and your family an experience you can feel good about.
Menu Items:
Super Value Meals
Burgers
Fried Chicken & Nuggets
Fat Rice & Porridge
Set Family
Parties@Home
Happy Meals
McCafe Drinks
McCafe Cakes
Desserts & Sides
Drinks
Location: Kuala Lumpur Sentral Station, Lot 14, 15, & 16, First Floor, 50470 Kuala Lumpur, Malaysia
Contact: +60 3-2271 1431
Website: Website Link Here
---
---
#3 – Texas Chicken Suria KLCC
Introduction:
We could say that texas chicken started back in 1952. But the truth is, Taxes chicken started every day, before the sun come up, when we roll out of bed and begin scratch-making, hand-battering, and honey-butter-drizzling like ther's no tomorrow. Unfortunately, a timeline that shows us being founded everyday for the last 60-something years would be really hard to follow, so below, you'll find a more traditional one that tells our story. Just know we're hard at work and ready for you and your family to help us write the next chapter.
Menu Items:
Chicken
Burgers& Wraps
Sides
Dessert
Dipping Sauces
Beverage
Location: LC-C06 Ramlee Mall, Kuala Lumpur City Centre, 50088 Kuala Lumpur, Wilayah Persekutuan Kuala Lumpur, Malaysia
Contact: +60 3-2856 8638
Website: Website Link Here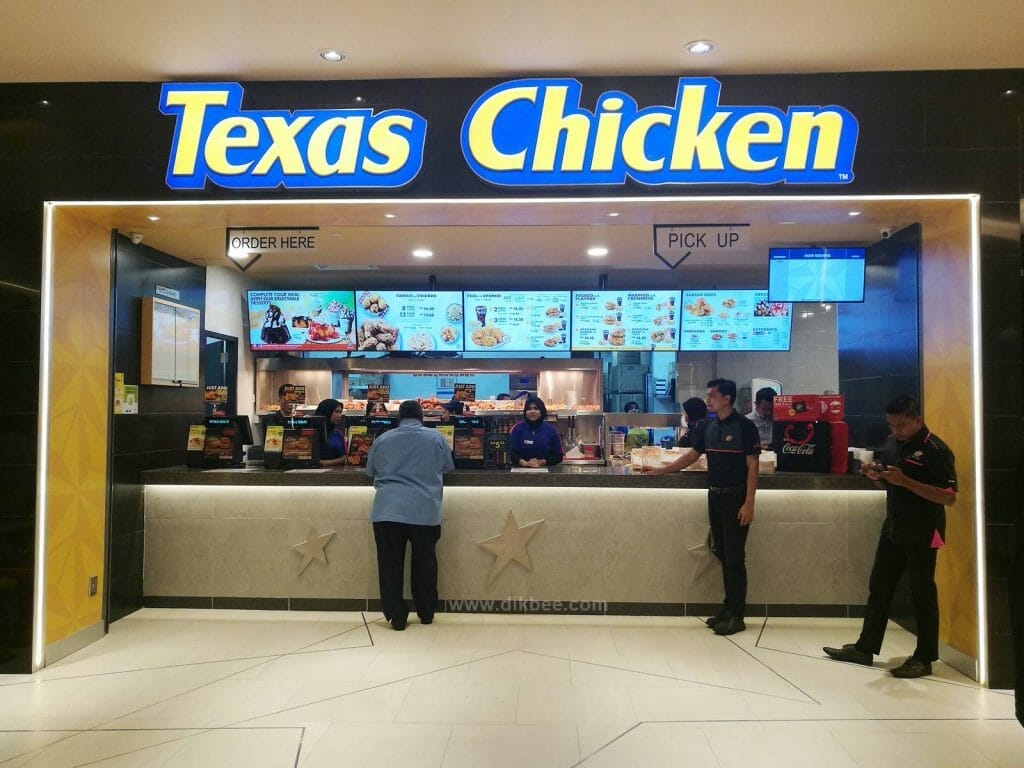 ---
_

Read Also:

Top 24 Best Burger Places & Restaurants in Singapore

_ _ 
---
#4 – Fuel Shack Aquaria Convex
Introduction:
At Fuel Shack, we are redefining the concept of fast food. Using only 100% grass-fed Australian beef and lamb, each burger is cooked to perfection using the highest quality toppings brought to each Fuel Shack location. Proud to be homegrown Malaysian brand, we cook our burgers to flavor-filled perfection so you get a burger that's the right temperature and the right taste every time.
The Best Burger in KL?
Our Aussie beef and lamb patties are 1/3lbs prior to cooking, making them among the biggest available on the market. Original Shack is a thick 100% premium Aussie beef patty that is cooked to perfection in terms of juiciness and taste, whilst the fresh toppings and the richness of the cheese intensify the flavour profile of this burger. Next up on our list of recommendations is the Mini Tower, boasting a 300g Aussie beef patty with a delicious fried egg and slices of yellow cheddar. Mini Tower is a rather sinful treat, so only sink your teeth into this juicy ensemble if you are ready to be smacked straight into an irrecoverable food orgasm.
What attracts customers to Fuel Shack?
Located at Nexus Bangsar South and Low Yat Plaza. You can find this warm and inviting eatery, complete with impeccable design work, serves up both exclusive food and drinks with soothing music to accompany the diners. It has a hip atmosphere that appeals to a wider range of people who are looking for an expanded menu compared to what we offer at our other Fuel Shack locations. The set up is cosy and it is a unique space that has been divided into three different sections. You can either chill out in the vintage style dining area, sip your drink languidly in the open-air courtyard area while hanging with friends and loved ones or you can join in on the action in the main bar with an Americana theme. The cosy atmosphere is sure to make you feel right at home at this classy speakeasy!
Menu Items:
Burger

Cheeseburger
Original Shack
Classic Chicken Sandwich
Dory Fillet
Aloha Chicken Burger
Mini Tower
Lamb Supreme
Blue Cheese Deluxe
Mini Lamb Tower
Smokey Lamb
Panggang Lamb Burger

Hot Dawgs

Classic Dawg
Chili Chicken Dawg

Wraps

Grilled Chicken Wrap
Dory Fillet Wrap

Sides

Cheese Fries
Chili Chicken Cheese Fries
Chicken Nuggets
Cheeseballs
Location: 14, Jalan Pengetua U1/32, Glenmarie Industrial Park, 40150 Shah Alam, Selangor, Malaysia
Contact: +60 3-5569 2100
Website: Website Link Here
---
#5 – KFC Avenue K
Introduction:
The KFC Malaysia story began with the opening of our 1st restaurant on Jalan Tunku Abdul Rahman in 1973. There are currently over 600 KFC restaurants nationwide serving Malaysians great tasting chicken 365 days a year. As the No. 1 fast food and leading QSR brand in Malaysia, we are constantly working to better serve our customers with great moments, excellent services and Finger Lickin' Good food.
Menu Items:
Family Bucket
Box Meals
Chicken
Burger & Twister
Nuggets & Tenders
Sides
Beverages
Location: Lot No. UC-2, Avenue K Shopping Complex, 156, Jln Ampang, 50450 Kuala Lumpur, Malaysia
Contact: +60 3-2181 3834
Website: Website Link Here
---
---
#6 -myBurgerLab OUG
Introduction:
"WE'RE OUT TO MAKE THE WORLD A HAPPIER PLACE, ONE BURGER AT A TIME."
Inspired by ShakeShack (US), In-N-Out (US), Grill'd (Australia), GBK (UK) and the likes, we decided that Malaysia needed its own version too. So, we started with one simple objective. Sell a really good, juicy burger on a fresh bun. No shortcuts.
From day one, we believed that the best salesman is our customer. Treat that person right, he'll walk out of the door and sell for you. We wanted people to know that we put all our money into the food. We don't spend our money on décor or on advertisements. But we'll splurge on food. Our charcoal buns are baked from scratch in our own bakery daily. It's the only way to get that perfect combination of crisp crust and melt-in-your-mouth, fresh-from-the-oven taste. We grind our own beef patties daily and hand-pack them just so they retain their freshness and juiciness. In fact, our patties are still beautifully pink right before they hit the griddle.
Some people are born to build the world's tallest buildings or create the world's fastest cars. What about us? We're out to make the world a happier place, one burger at a time. At the very core, myBurgerLab is a community business. It is made up of everyday people like you and I. As we continue to grow with your support, we promise to strive harder to give back to the community.
Menu Items:
PREMIUM SIDES

POPCORN CHICKEN
YANGNYEOM POP CHICK
TERIYAKI POP CHICK
MUSHROOM FRIES

BEEF

BEAUTIFUL MESS
THE CHUCK NORRIS
MAC & CHEESE BURGER
THE IN-N-OUT TRIBUTE
SINGLE TRIBUTE
MOOSHROOM BURGER
THE NAKED ONE
HOT & NAKED
LAB BURGER 2.0
SPICY LAB BURGER

CHICKEN

SALTED EGG YOLK BURGER
BASIC CHICK
SPICY BASIC CHICK
CHEESY CHICK
SPICY CHEESY CHICK
JOE'S DIRTY BURGER
SPICY AUSSIE JOE
SPICY HAWAIIAN 3.0

SIDES

AWESOME FRIES
MUSHROOM GRAVY MASH POTATO
MAC & CHEESE
SALSA NACHOS

DRINKS

BOTTOMLESS SODA
IN-HOUSE LEMONADE
IN-HOUSE HALF & HALF (ICE LEMON TEA)
CHRYSANTHEMUM GOJI KOMBUCHA
COCA-COLA RASA ASLI CA
Location: 8, Jalan Awan Hijau, Taman Overseas Union, 58200 Kuala Lumpur, Wilayah Persekutuan Kuala Lumpur, Malaysia
Contact: +60 10-369 5275
Website: Website Link Here
---
#7 – 4Fingers Crispy Chicken @ Mid Valley
Introduction:
Clucking Good Chicken
At 4FINGERS, we're nuts about chicken. So when we discovered the best Asian crispy chicken in New York City's grungy subway scene, we knew we had to share it. And so began the revolution of crispy chicken.
Spicy, crispy, unique and downright addictive – it's chicken that's so good, it's bad. And there are thousands who would agree with us.
From a single store in ION Orchard in 2009, the rebellion spread across the nation like a fire as intense as our hot and spicy sauce. In just two years, another six stores joined the movement. Since then, we've welcomed three strong allies – Malaysia, Indonesia, Thailand and more to come.
Keepin' It Real. Real Good
Our food is prepared only upon order. Resulting in an awesome, crackin', crispy meal that's packed with flavor and downright addictive.
Fresh chicken, fresh ingredients, hand-brushed to crispy perfection with our naturally fermented soy sauces that pack a kick-ass punch. Bringing you an out of this world crispy chicken experience.
You've never had crispy chicken….until you had a taste of us.
Get Saucy With Us
We are hands-on and not afraid to get a little saucy.
Our Soy Garlic and Hot & Spicy sauces are made the good ol'fashioned way, fermented naturally using a traditional Asian method (soy beans, water, 5 months of Malaysian sun) and natural herbs and spices.
Every piece of chicken is hand-brushed with our signature sauces only when you order so it clings tightly to the skin for that extra oomph.
Time to roll up your sleeves, get your hands dirty and dig into the crispy, juicy, saucy meal of your dreams.
Our Halal Promise
4FINGERS CRISPY CHICKEN is committed to providing our Muslim customers a peace of mind when enjoying a crispy meal. We have always and will continue to work closely with relevant authorities to ensure our restaurants in Malaysia are compliant with the JAKIM Halal requirements.
All Halal practices regarding the supply, handling and cleanliness of ingredients, menu products, equipment, appliances and kitchens are strictly adhered to. These steps ensure the health and safety of our customers as well as allow us to provide the highest quality products to our discerning patrons.
Menu Items:
SIGNATURE CRISPY CHICKEN

6PCS WINGETTES & DRUMETTES
12PCS WINGETTES & DRUMETTES
18pcs Wingettes & Drumettes
3PCS DRUMSTICKS
6pcs Drumsticks
9PCS DRUMSTICKS
50/100/150pcs Wingettes & Drumettes
1PC DRUMSTICKS & 3PCS WINGETTES & DRUMETTES

JAWBREAKER BURGERS

MONSTER TOWER
Cheezstacks
Chicc Crisp

CHICKEN DELIGHTS

6PCS BONELESS CHICKEN BITES
12pcs Boneless Chicken Bites
18PCS BONELESS CHICKEN BITES

CHICK N' SEAFOOD

21PCS CHICK N SEAFOOD
14pcs Chick n seafood
7PCS CHICKEN N SEAFOOD

SEAFOOD

CRISPY SHRIMP FRY
Crispy Calamari
CALAMARI & SHRIMPS

RICE BOXES

WINGS RICE BOX
Drumsticks Rice Box
SEAFOOD RICE BOX

Tofu Rice Box
SALAD

CHICKEN KATSU SALAD
Tofu Salad

SIDES

KIMCHI FRIES
Seaweed Fries
Plain Fries
KIMSLAW
Cheesy Cheese Sticks
LOADED CHEESE FRIES
Rice with Teriyaki Sauce
PLAIN RICE

DESSERT
Location: LG-074A, Lower Ground Floor, Mid Valley Megamall, Malaysia
Contact: +60 3-2201 1227
Website: Website Link Here
---
#8 – SugarBun Borneo Asian Food – Jalan TAR
Introduction:
Our menu is pretty extensive, and is not your normal fast food joint – we serve good, wholesome Asian dishes with a heavy leaning towards Borneo-style cuisine, as well as our famous broasted chicken, savory rice and fish burgers.
Menu Items:
Broasted
Western Meal
Kano Meals
Kids Meals]
Burgers
Borneo Delicacy
Side Order
Authentic Sabah Hot Beverages
Nestke (Hot) Drinks
Soft Drinks
Nestle(cold) drinks
Location: 390, JALAN TUANKU ABDUL RAHMAN, 50100, KUALA LUMPUR.
Contact: +603-2602 9599
Website: Website Link Here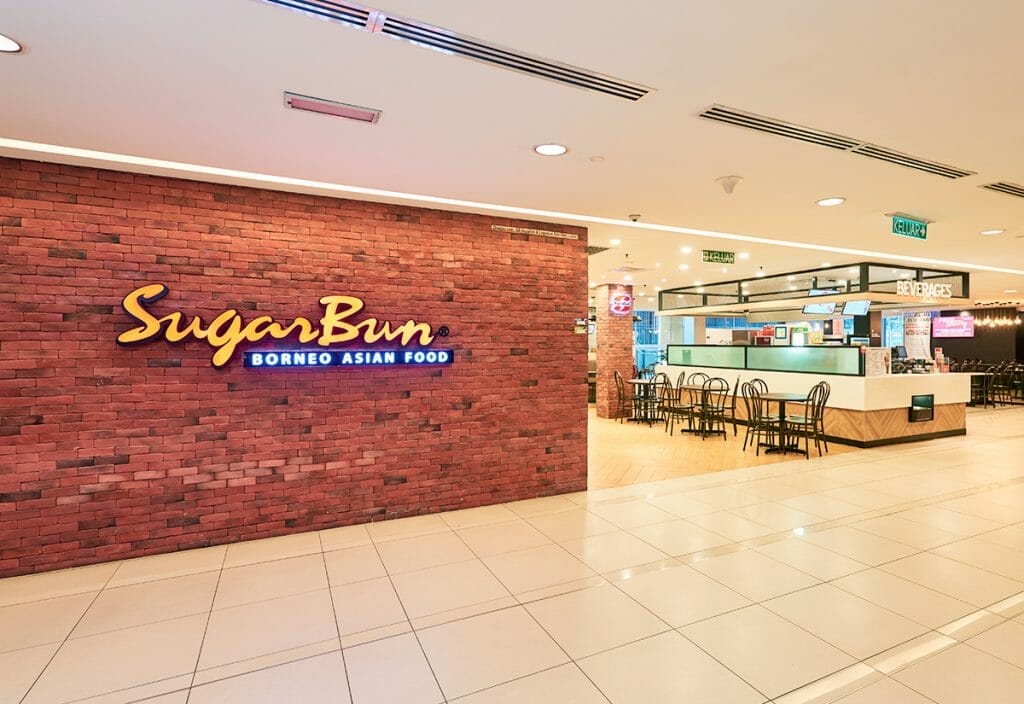 ---
#9 – I Love Yoo! Suria KLCC
Introduction:
Yoo Tiao, also known as Chinese doughnuts have long been part of daily life in China. Soy Milk and Yoo Tiao are among the most popular Chinese breakfast dishes and snacks in East Asia.
THE ORIGIN
Yoo Tiao has a rich tradition in Chinese culture. According to legend, there was a traitor named Qin Hui who orchestrated a plot to frame a celebrated and patriotic general named Yue Fei in the Song Dynasty. The story goes on to say that grieving and angry people made two human-shaped pieces of dough – representing Qin Hui and his wife, and fried it in boiling oil, calling it "Fried Hui". Later this representation evolved into two pieces of dough joined along in the middle, which is how Yoo Tiao looks like today.
Menu Items:
Set Meal
favourites
porridge
rice & noodles
highlights
dessert & drinks
Location: No. 2-1 & 2-2, Jalan Equine 10A Taman Equine, 43300 Seri Kembangan, Selangor Darul Ehsan
Contact: +603-8959 2999
Website: Website Link Here
---
#10 – Burger King KL Sentral
Introduction:
GREAT FOOD COMES FIRST
Every day, more than 11 million guests visit BURGER KING® restaurants around the world. And they do so because our restaurants are known for serving high-quality, great tasting, and affordable food. Founded in 1954, BURGER KING® is the second largest fast food hamburger chain in the world.
BURGER KING® commenced operations in Malaysia in 1997 with the opening of its first restaurant at Sungai Buloh Overhead Bridge. Today, Cosmo Restaurants Sdn Bhd operates more than 120 BURGER KING® restaurants in Malaysia where customers across the country can enjoy the great and healthy flame-grilled taste of Burger King products.
The original HOME OF THE WHOPPER®, our commitment to premium ingredients, signature recipes, and family-friendly dining experiences is what has defined our brand for more than 50 successful years.
THE WHOPPER – BURGER KING®'S ICONIC PRODUCT
The WHOPPER® is America's favourite burger. First off a hot broiler in 1957, the WHOPPER®, boasting a quarter pound of flame-grilled beef, ripe tomatoes, crisp lettuce, creamy mayo, ketchup, onions and crunchy pickles on a toasted sesame seed bun, has become an iconic burger for the ages and boasts generations of fans worldwide. There are 221,184 possible ways for a guest to order an original WHOPPER®.
For those who like the taste of the WHOPPER® but find it too filling, we also have the smaller version of this all time classic, the WHOPPER JR®.
Menu Items:
whopper
beef
chicken
fish
salad & veggies
Breakfast
sides
dessert
beverages
star buys
Location: No. 2-1 & 2-2, Jalan Equine 10A Taman Equine, 43300 Seri Kembangan, Selangor Darul Ehsan.
Contact: +603-8959 2999
Website: Website Link Here
---
Have a Place to Recommend?
We need your help! Do you know any other noteworthy beauty clinics or salons that deserves to be added to this list? If so, do write to us via our email at [email protected]. Tropika Club will do a review of your recommendations and update the list accordingly.
---
Meanwhile, check out Tropika Club's Ecosystem of Websites

Tropika Club Magazine – Tropika Club Magazine crafts articles on all things Singapore, but with a greater emphasis on local businesses based on our #SupportLocalSG initiative. We check out and feature local businesses of all categories, ranging from your neighbourhood hawker stalls to the aesthetic clinics in town. We also cover local content ranging from beauty, lifestyle, places, eats and what's on in SIngapore. Our Top 10 rankings include local food and service establishments based in different regions in Singapore.
Tropika Club Deals – Search for the best voucher and coupon deals. Tropika Club Deals is ideal for customers who want to discover the best deals without having to commit to a specific appointment date and time. Choose from guaranteed discounted deals in the categories of hairstyling, hair removal, facial & aesthetics, body slimming, brows & lashes, nails & makeup, massage & spa or fitness & wellness. Customers can also buy vouchers as gifts or to use for the future.