Top 10 Best Home Theatre System in Malaysia
A home theatre system is a great way to enjoy your favourite movies and TV shows. But with so many different systems on the market, it can be hard to know which one is right for you. That's why we've put together a list of the top 10 best home theatre systems in Malaysia. Whether you're looking for something simple or something with all the bells and whistles, we've got you covered.
---
#1 – Sony HT-G700 3.1ch Dolby Atmos
Description: Immerse yourself in TV and movies with powerful, dynamic surround sound. Stylish and easy to use, this Dolby Atmos® soundbar even features a dedicated centre speaker for clearer dialogue.
Brand: Sony
Features:
3.1ch Dolby Atmos/DTS:X and Vertical Surround Engine
Immersive AE upscales audio close to 7.1.2ch sound
Centre speaker for clearer dialogue
Wireless subwoofer for powerful bass sound
Sound modes for enhanced movies and music
Specification:
Weight: 3.5 kg (Main Unit) 7.5kg (Subwoofer)
Dimensions: 980 x 64 x 108mm
Power Output (TOTAL) 400W
Amplifier Channels 3.1ch
Pricing: RM1,999.00
Where to Find: Link here
---
#2 – Samsung T400 2.0ch Soundbar
Description: Powerful, wide range sound with extra bass, all in one soundbar. T400 surrounds you with incredible sound in a compact design that neatly fits into any space.
Brand: Samsung
Features:
Built-in woofer – Enhanced bass perfomance with 2 built-in woofers
One Remote Control – Control your soundbar with your Samsung TV Remote
Surround Sound Expansion – Expands the optimal sound field to a wider listening zone
NFC (Near Field Communication) – Play music through soundbar by placing smartphone over NFC
Specification:
Weight: 6.0 lbs.
Dimensions: 25.2″ x 2.6″ x 4.2″
Colour: Black
Pricing: RM329.00
Where to Find: Link here
---
---
#3 – JBL CINEMA SB140 2.1 Channel soundbar
Description:
The JBL Cinema SB140 features 110W system power, Dolby Digital, two full range drivers and comes with a wired subwoofer. Enjoy powerful sound with extra deep bass for movies and music entertainment. It's Bluetooth-enabled so you can play your favorite music wirelessly from any smartphone, tablet or laptop and features a one cable connection with HDMI ARC that ensures a hassle-free user experience.
Brand: JBL
Features:
110W power output
Wired subwoofer for extra deep bass
Dolby Digital embedded
Wireless music streaming via Bluetooth
One cable connection with HDMI ARC
Specification:
Weight: 5.8kg
Dimensions: 975 x 170 x 355mm / 38.4″ x 6.7″ x 14″
Colour: Black
Pricing: RM699.00
Where to Find: Link here
---
_

Read Also:

Top 10 Best Smart TV in Singapore

_
---
#4 – Vinnfier Hyperbar 303 M KTV
Description: Hyperbar 303 M – Ultra-compact design for limited space, sits comfortably on the TV. It also delivers cinematic sound for all your movies, TV shows, sports and games and wirelessly streams your favorite music too.
Brand: Vinnfier
Features:
Total Output Power: 120W
Frequency Response: 500Hz – 20KHz
Power Supply AC Adapter: 110 -240
VAC Echo Control: Yes
MIC Control: Yes
Bluetooth version: 5.0 BT Working Distance up to 10m
HDMI In: Yes
AUX Line-In: Yes
Karaoke System: Yes
3D Effect: Yes
Heavy Bass: Yes
Remote Control: Yes
Volume Control: Yes
Subwoofer Total Output Power: 60
Specification:
Weight: 5kg
Dimensions: W860×D61×H65mm
Colour: Black
Pricing: RM259.00
Where to Find: Link here
---
#5 – Sonos Sub Mini
Description:
Sonos Sub Mini is the compact subwoofer that boosts your movies, music, and games with added bass. Pair with Beam or Ray for more immersive TV experience, or enjoy more depth and clarity for music when you pair with One, One SL speakers.
Brand: Sonos
Features:
Mini makes a big impact Feel more immersed in every scene and song with rich, clear, and balanced bass that's perfect for small to medium sized spaces.
No Buzz or rattle Both woofers face inwards to create a force-canceling effect that generates deep, dynamic low end while neutralizing buzz, rattle, and distortion. Advanced digital signal processing maximizes bass response and reproduces the full-toned low frequencies expected from a much larger subwoofer.
More exhilarating home theatre Unlock your entertainment when you pair Sub Mini with Beam or Ray and experience dramatic depth that puts you inside your shows, movies, and games. Trueplay™ software dynamically tunes to the unique acoustics of the room.
Hides in plain sight Sub Mini was designed with a compact, elegant cylindrical design that's unlike any other subwoofer. Place it beside your sofa or credenza without pulling focus from the TV or your interior style.
Low Bass with low effort Just plug in the power cable, open the app, and follow a few simple instructions to add Sub Mini to your system. The volume automatically adjusts along with your paired soundbar or speaker. Use the Sonos app to customise the EQ and change the bass level to your preference.
Specification:
Weight: 12 x 9.1 x 9.1 in. (305 x 230 X 230 mm)
Dimensions: 14 lb (6.35 kg)
Colour: Black
Pricing: RM2,999.00
Where to Find: Link here
---
---
#6 – Sunbuck 2500W Power Amplifier Home Audio
Description: A set of speakers is a suitable amplifier for small PARTY.
One of the review from a customer in Walmart is:
"This item was purchased to replace an old amplifier for a the paging feature in a telephone system. It meets our requirements perfectly and can be expanded to add CD player also."
Brand: Sunbuck
Features:
Power supply: AC 220V conversion input.
Built-in bluetooth receiving function, USB play and SD card play and FM play.
Audio group CD input function 1.
Two-way karaoke mic input, digital reverb effect adjustment function.
Main channel high and low tone function.
With remote control, built-in remote control decoding function.
Stereo power amplification output, can be connected to a pair of 4 ohm – 8 ohm speakers.
The rear panel has a set of line outputs for connection to an active subwoofer.
Specification:
Dimensions: 25x19x8cm
Colour: Black
Pricing: RM115.00
Where to Find: Link here
---
#7 – Xiaomi Redmi TV Speaker Bluetooth
Description: RedmiTV bar-shaped speaker adopts elegant matte black, which makes the whole sound simple and elegant, simple connection and free placing method bring more free home viewing experience, the high-quality sound adjusted by the master upgraded the overall entertainment experience of the TV again.
Brand: Xiaomi Redmi
Features:
Excellent sound effects, 30W speaker with ducted sound cavity
Simple appearance fashion design, strip black matte
Wired and wireless connection, bluetooth 5.0 / SPDIF / AUX
Built-in wall mount, can be wall-mounted or desktop
Immersive, brings the effects of movie theater
Support wall mounting and desktop mounting
Specification:
Weight: 1.50 kg
Dimensions: 78.00 x 6.40 x 6.30 cm
Colour: Black
Pricing: RM120.00
Where to Find: Link here
#8 – Sony 5.1CH Home Cinema Soundbar System
Description: Fill your living room with authentic, cinematic sound. A 1000W total output delivers powerful sound that really surrounds you thanks to tall boy rear speakers and a large subwoofer for deep bass sound.
Brand: Sony
Features:
1000W total power output: Give your movies, music and games added depth and detail with 1000W total power output.
5.1ch real surround sound: Get the best seat in the house. A soundbar, subwoofer and two powerful rear speakers create an authentic cinema experience.
Tall-boy speakers for true surround sound: Standing at 120cm tall and with full-range 65mm drivers, our tall-boy rear speakers are perfectly positioned to deliver all those big sounds that you enjoy at the cinema.
Specification:
Weight: 3kg (Body) 10.2kg (Subwoofer) 3.6kg (Rear Speaker)
Dimensions: 900 x 64 x 90 mm
Colour: Black
Pricing: RM1,739.00 – RM1,755.00
Where to Find: Link here
---
#9 – TOKYOSAT TS-33SPK
Brand: Stargold
Features: features of the product
Karaoke system: yes + 2 Mic Free ( 1pce wireless Mic and 1pce wired Mic Free)
USB/card reader/FM Radio/ Bluetooth/ LED Display/ Microphone input
Specification: product specifications
Weight: 7.8kg
Dimensions: L385xW240xH517mm
Colour: Black
Pricing: RM218.00 – RM298.00
Where to Find: Link here
---
#10 – Redmi TV Speaker 30W
Description:
30W speaker with ducted sound cavity, excellent sound effects.Strip black matte, simple appearance fashion design.
Bluetooth 5.0/SPDIF/AUX wired and wireless connection,built in wall mount,can be wall mounted or desktop.
Brand: Redmi
Features:
A Good Sound Bar That Makes You Immersive: Double 45*80mm full frequency sound units, only for real and pleasant sounds.
AUX S/PDIF Wired, Bluetooth 5.0 Wireless, Easy Connection, Brings Movie Theater Experience:
Specification:
Weight: 1.5 kg
Dimensions: 78 × 6.40 × 6.30 cm
Colour: Black
Pricing: RM115.00
Where to Find: Link here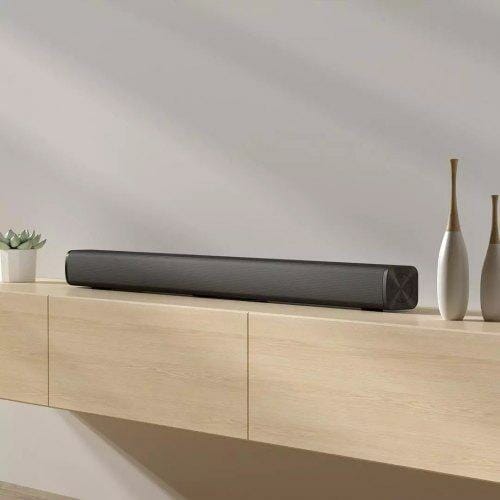 ---
Have a Product to Recommend?
Your contribution is valuable to us! Are there any outstanding brands that you believe should be added to our list? If so, please send your recommendations to us at [email protected]. Tropika Club will review your suggestions and update the list accordingly. Thank you for your help in making our list as comprehensive and accurate as possible.
---
Meanwhile, Check Out Tropika Club's Ecosystem of Websites

Tropika Club Magazine – Tropika Club Magazine is a Singapore-based publication that features articles on a wide range of topics with a focus on local businesses and content for the region. The magazine emphasizes supporting local businesses through its #SupportLocal initiative, which includes coverage of everything from neighborhood hawker stalls to aesthetic clinics in town. In addition to highlighting local businesses, Tropika Club Magazine also covers a variety of local content, including beauty, lifestyle, places, eats, and what's on in Singapore and the Asia Pacific region.
Tropika Club Deals – Tropika Club Deals is a leading online deals and voucher shopping site in Singapore, offering amazing discounts on beauty, wellness, and fitness products and services. It's the perfect platform for customers who want to discover the best deals without having to commit to a specific appointment date and time. These deals are available at major beauty stores, facial salons, hair salons, and other brands in Singapore, with no minimum spend required. Choose from guaranteed discounted deals in the categories of hairstyling, hair removal, facial & aesthetics, body slimming, brows & lashes, nails & makeup, massage & spa or fitness & wellness. Tropika Club Deals is also ideal for customers who want to buy vouchers as gifts or to use for the future. So whether you're looking to save money on your next haircut or want to treat yourself to a relaxing massage, Tropika Club Deals has got you covered with the best voucher and coupon deals in Singapore!