Top 10 Best Quick Bites in Kuala Lumpur
Kuala Lumpur is a food paradise with a myriad of tantalizing quick bites to choose from. This article will explore the top 10 best quick bites in Kuala Lumpur that are sure to tantalize your taste buds. From savory nasi lemak to sweet ais kacang, there is something for everyone to enjoy in Kuala Lumpur. So, without further ado, let's explore the top 10 best quick bites in Kuala Lumpur!
---
#1 – Eight Ounce Coffee Co
Introduction:
Established in 2013, Eight Ounce Coffee Co. welcomes coffee lovers from around the globe to taste they special handcrafted coffee.
Much like grapes for winemaking, the climate and area in which coffee is grown has a huge effect on the taste and the final product, and to give you the best cup of coffee that is full of body and flavour. They use 100% Arabica beans from the top producers in Brazil, Columbia, Guatemala and Sumatra (Indonesia).
To ensure the flavours are preserved, the coffee beans are freshly ground each time you place an order. The coffee grounds are then masterfully brewed, and served to you at the perfect temperature (between 92°C to 96°C) guaranteed to tantalize your taste buds and awaken the coffee connoisseur in you.
They very own Eight Ounce Coffee Co coffee tumblers are now available. Great for gifting especially to coffee lovers out there. Get yours today via online shop or your nearest outlets.
Seasonal Single Origin coffee beans and drip coffee kits are now available at their outlets and online shop. Their new batch features Colombia Huila La Loma, one of the finest Colombian coffees available this growing season. The mouthfeel is silky and aromatic and the coffee finishes with a subtle blood orange quality that leaves the palate refreshed. Available for a limited time only!
Want to enjoy our house blend coffee at home or in the comfort of your office? Our drip coffee kit is just what you need! Each box comes with 6 sachets, priced at RM38, available at all outlets. Their house blend coffee beans are also available in 250g packets.
Their breakfast sets are made for champions and is the perfect start to your day. You get to top it up with your favourite cup of coffee or tea too. Currently available at KLCC, Gardens and Genting outlets only.
Black or white, with or without milk, we've got you covered with their cold brew – the perfect ice cold coffee drink to go! Delivery within selected areas in Klang Valley available here.
Menu Items:
Crispy Chicken Skin
Hawaiian Sweet Bun
Almond Coffee Spread
Mocha Spread
Almond Butter
PS150 by Bite Size Chocolatier
8oz by Bite Size Chocolatier
Coffee Spread
Location:
Suria KLCC
Unit 115, Level 1, Suria KLCC,Kuala Lumpur City Centre, 50088 Kuala Lumpur.
The Gardens Mall
F.K06, First Floor, The Gardens Mall,Mid Valley City, Lingkaran Syed Putra, 59200 Kuala Lumpur.
Contact:
Suria KLCC
+6 (03) 7622 8780
Weekdays: 7.30 am – 10.00 pm
Weekends & Public Holidays: 9.00 am – 10.00 pm
The Gardens Mall
+6 (03) 7622 8780
Weekdays: 8.00 am – 10.00 pm
Weekends & Public Holidays: 10.00 am – 10.00 pm
Website: Website Link Here
---
#2 – Niko Neko Matcha 1.5 – Bangsar
Introduction:
Experience Matcha Like Never Before, They Are THE UNCOMMON ONE.
Niko Neko Matcha is a Contemporary Artisan Matcha brand that focuses on premium-quality Matcha, showcased with their very own aesthetic touch of modern minimalist concept, which describes the state-of-the-art lifestyle, whilst preserving the vital traditional elements of Matcha nature.
Menu Items:
LATTE

Kiku/Matcha Latte
Ajisai/Matcha Latte
Yuri/Matcha Latte
Akane/Houjicha Latte
Tsubaki/Houjicha Latte
Rikka/Wakoucha Latte
Mokuren/Genmaicha Latte

Clear tea

Ren/ Matcha Tea
Organic Okumidori/Kidishima Matcha Latte
Okumidori/Wazuka Matcha Tea
Kiku/Matcha Tea
Tsubaki/Houjicha Tea
Mokuren/Genmaicha Tea

Mocktails

Mango Matcha Cheesecake
Le Blanc
Momotaro
California
Budak Melaka

Desserts(Matcha)

Ajisai /Matcha Palmier with Freeze-Dried Raspberry
Ajisai /Matcha coconut Taufufah cake
Ajisai /intense Matcha Tiramisu
Ajisai /Hazelnut Matcha Choux
Matcha Marble Roulade

Houjicha

Akane/Houjicha Palmier with Freeze-Dried Raspberry
Akane/Houjicha coconut Taufufah cake
Akane/Cashew Houjicha Choux
Mini Houjicha Burnt Cheesecake

Genmaicha

Genmaicha Marble Roulade
Mokuren/ Genmaicha Choux Au Craquelin

Assorted
Location: 82A, Lorong Maarof, Bangsar, 59000 Kuala Lumpur, Malaysia
Contact: +601156482490
Website: Website Link Here
---
---
#3 – Burger on 16
Introduction:
At Burger On 16, great burgers are served. Grilling a fresh, premium cut, hand-packed patties on a hot seasoned grill to perfection with the perfect char taste results in a delicious juiciness burger that talks about itself. Add butter-toasted buns, high grade cheeses, freshly sliced tomato and onions, with intense sauces made in-house, and you've got a burger that twist your mind!
Their recipes range from traditional-to-special, for those looking to discover outrages burger tastes. A variety of 20+ different burgers on the menu won't disappoint you. several creative combinations of Beef, Chicken or Vegetarian patties in different variations with homemade sauces and tasty b
Menu Items:
Burgers

Vampire Hates Garlic

Garlic Beef Patty Topped with Onion, Tomato, Pickles, Sharp Cheddar Cheese, Lettuce & Mustard Sauce.

Inferno Beef

Beef Patty Topped with Tomato, Pickles, Caramelized Onion, . Sharp Cheddar Cheese, Lettuce & Spicy Sauce.

Mad Cheese 300g

Beef Patty Stuffed with Cheddar Cheese, Topped with Tomato,Sharp Cheddar Cheese, Lettuce & Classic Burger Sauce.

Mushroom Swiss

Beef Patty Topped with Mushroom, Tomato,Swiss Cheese, Lettuce & Classic Burger Sauce.

Spinach Burger Ⓥ

Spinach, Nutmeg, Black Pepper, Garlic, Onion, Tomato, Lettuce, Basil Pesto & Spices.

Chickpeas Burger Ⓥ

Chickpeas, Sweet Corn, Coriander, Cumin, Onion,Tomato, Lettuce,Black Pepper, Garlic, Sesame Oil & Spices – Choice of Spicy or Basil Pesto Sauce.

Black Bean Burger Ⓥ

Black Bean, Onion, Black Pepper, Onion,Tomato, Lettuce, Choice of Spicy or Basil Pesto Sauce

Sides

French Fries

Choice of Seasoning : Classic / Spicy / Onion / Chicken Salt

Onion Rings (8 pcs)
Crunchy Mozzarella Sticks (4 pcs)
Mushroom Soup
Served with garlic bread (2 pcs)
Classic Buffalo Wings
Hot and Tangy Buffalo Wings
Hot and Spicy Buffalo Wings

Desserts, Smoothies & Milkshakes

Chocolate Molten Cake with Ice Cream
J J Crunchy
with Banana, Nutella & Vanilla Ice Cream
Mango Smoothies
Chocolate Smoothies
Banana Milkshake
Strawberry Banana Milkshake
Nutella Chocolate Milkshake
Peanut Butter Milkshake
Location: 16, Lorong 1/77a, Imbi, 55100 Kuala Lumpur, Wilayah Persekutuan Kuala Lumpur, Malaysia
Contact: +60 3-9224 2117
Website: Website Link Here
---
_

Read Also:

Top Great Cafes in Bedok, Siglap, and East Coast of Singapore

_ 
---
#4 – VCR
Introduction:
Coffee explorers & a shot of creativity. On second thoughts, make that a double.
They are located in the heart of KL city, in the old neighborhood of Pudu; VCR brings you fresh coffee daily. The café, built in the 1927 is situated near the old Pudu Jail. The story goes that our lil' black house in Jalan Galloway was where most wardens used to stay (hence the name Galloway).
Where old architecture meets our modern twist, it's a place where good things never gets old and it always feels like home. Located in an unsuspecting house, They're the people responsible for the smell of coffee that permeates the neighbourhood. Run by a team that's dedicated to always giving you the very best coffee and experience, They believe coffee is the catalyst that brings people together.
They're a bit introverted, but do say hello to our baristas as they say "Hello, welcome to VCR!".
Menu Items:
ESPRESSO

ESPRESSO
LONG BLACK
ICED BLACK
MACCHIATO
PICCOLO
FLAT WHITE
CAPPUCCINO
LATTE
MOCHA
CHOCOLATE

HAND BREW

AEROPRESS
KALITA WAVE
HARIO V60
CHEMEX
HARIO SYPHON
COLD BREW
THE NAKED KING

LEMON POPPY
CARROT CAKE
CLASSIC CHOCOLATE
BAKED CHEESECAKE
VALRHONA CHEESECAKE
LEMON TART
VALRHONA CHOCOLATE TART
BANANA TOFFEE LOAF
BROWNIE
LIME COCONUT BAR
CHOCOLATE CHIP COOKIE
Location:
VCR GALLOWAY
2, Jalan Galloway 50150 Kuala Lumpur Malaysia
VCR BANGSAR
31, Jalan Telawi 3 59100 Kuala Lumpur Malaysia
Contact:
VCR GALLOWAY
+60321102330
Operation Hours: 0830 – 2300
VCR BANGSAR
Phone: +60322010011
Operation Hours: 0730 – 2300
Website: Website Link Here
---
#5 – Feeka Coffee Roasters
Introduction:
Feeka Coffee Roasters is housed in converted town houses in Changkat Bukit Bintang in central KL. This oasis of calm was named for the Swedish word for work, Fika, (spelt the way it is pronounced), which means 'to take a break'. Once here, you can catch your breath, linger over a book or have quiet conversations. Their range of coffees are brewed from beans sourced from local roasters, striking a balance suited to local tastes. Enjoy a perfect pairing of food and coffee at Feeka for breakfast, lunch, or dinner, and top if off with a selection from their range of house-made mille crepes, pastries, tarts or pies.
Menu Items:
Soups & Salads
Mains

Grilled Chicken
Pan Seared Chicken And Couscous
Swedish Meatballs
Salmon With Saffron Potatoes
Burgers & Sandiches

Classic Cheese Burger
Black Bean Burger

Bites

Sweet Potato Fries
Mozzarella Sticks

Pasta

Basil Pesto
Creamy Barley Risotto
Spicy Chicken

Coffee

Espresso Macchiato
Americano
Cappuccino / Flat White / Cafe Latte
Piccolo
Chocolate
Matcha

Matcha Latte
Matcha + Espresso

Filter Coffee
Cold Brew

Black
White
Cold Brew Tonic

Coffee Creations

Coco Vanilla
Hazelnut Twist
Sticky Bun Latte

Fresh Juices

Orange
Apple
Carrot
Pineapple
Mixed Juice
Location: 19, Jln Mesui, Bukit Bintang, 50200 Kuala Lumpur, Wilayah Persekutuan Kuala Lumpur, Malaysia
Contact: +60 3-2110 4599
Website: Website Link Here
---
---
#6 – Lot 10 Hutong
Introduction:
Keeping Asia's Best Gourmet Heritage Cuisines Strong Under One Roof at Kuala Lumpur's Platinum Award-Winning Heritage Food Village.
Menu Items:
Rice

Streaky Pork Bak Kut Teh Set

Noodle

Penang Duck Egg Fried Kuey Teow
Singapore Hokkien Mee
Stir Fried Beef Noodle with Ginger & Spring Onion
Penang Chicken Egg Fried Kuey Teow
Pork Ball Noodle
BBQ Pork Wantan Noodle

Bun

Macao Pork Chop Bun
Macao Pork Chop Bun Special

Soup

Pepper Pork Stomach Soup
Pork Ball Soup

Drinks

White Coffee
Cham
Barley
Kopi O
Herbal Tea
Location: LG Floor, Lot 10 Shopping Centre, 50, Jln Sultan Ismail, 50250 Kuala Lumpur, Federal Territory of Kuala Lumpur, Malaysia
Contact: +60 3-2782 3500
Website: Website Link Here
---
#7 – Roti Boy
Introduction:
Rotiboy Bakeshoppe was born in April 1998 In Bukit Mertajam, Penang Malaysia.
Founded by Hiro Tan, this company prospers with a mission to provide fresh, good quality bread and great tasting cakes to customers in the neighbourhood. With strict control on shelve life to ensure freshness and taste, Rotiboy became a household name in Bukit Mertajam. In the four years that in Bukit Mertajam, Rotiboy Bakeshoppe were known for thier freshly made cakes, high quality bread and the one and only Rotiboy Bun.
The "Rotiboy" bun as it came to be known, is baked and sold fresh from the oven. A bun that is crispy crunchy on the outside but moist and buttery on the inside giving rise to exceptional experiences to thier customers who express their experiences as "bundelicious" , "tasted heaven", "buns to die for" and "one is never enough", just to describe a few.
This bun, coupled with the decision to take a bold step to move into Klang Valley in 2001 saw hundreds, thousands and ten of thousands on bun sold each day and that started the Bun Revolution. To date, they have baked and sold more than 600 Million buns worldwide, and still baking.
The Bun Revolution has begun.
Rotiboy signatures is originally made up of Only the Rotiboy bun which in early 2001 started the bun revolution and single handedly brought us to where they are today.
Since then the Boy family has expanded to include other siblings like Buttermilkboy, Mochaboy, Range.
Cheeseboy, Durianboy, making up the Rotiboy Signature Range.
Menu Items:
Roti Boy
Mochaboy
Buttermilkboy
Cheeseboy
Location: Lot 159, Jalan Industri 2/2, Rawang Integrated Industrial Park, 48000 Rawang, Selangor 48000 Rawang, Selangor, Malaysia
Contact: +60 11-1635 3128
Website: Website Link Here
---
#8 – Bubble Bee Café
Introduction:
We serve all day healthy Western breakfast along with a variety of paninis, wraps, granola, and salad. Besides, our main event here is Bubble Wrap Waffle! Which is egg waffles infused with different kinds of American dessert. A green-themed environment-friendly cafe to enjoy coffee, dessert and all day brunch. Breakfast set with free single shot Americano Lunch set with free juice of the day
Menu Items:
Breakfast Set

Granola
Balance Brekkie
The Morning Yearning
Avocado Egg Salad
House Salad
Grill Chicken Salad

Lunch Set

Signature Grill Panini
Teriyaki Hamburger & Scramble Egg Rice
Black Pepper Mushroom Spaghetti
Ham & Tomato Spaghetti
Chi's Chicken Panini
Black Pepper Mushroom Panini
Location: 139, Jalan Petaling, City Centre, 50000 Kuala Lumpur, Wilayah Persekutuan Kuala Lumpur, Malaysia
Contact: +60 16-228 9881
Website: Website Link Here
---
#9 – The Optimist Coffee
Introduction:
The Optimist Co. was founded with a simple aim: to spread optimism and positive vibes.
Life can be challenging and full of set backs, they are constantly surrounded by negativity and voices that stop us from pursuing their dream. But they at Optimist Co. believe that anything is possible if you put your mind to it. They understand how important it is to believe in yourself and to follow your dreams.
Therefore, they believe that they can make a difference. They can be that voice that inspires people to do what they love.
Founded in December 2014 in the heart of downtown Kuala Lumpur, Optimist Coffee serves the best coffee with the best vibes. From our small and friendly kiosk outside Ampang Park LRT, they like to think that the service we offer helps spread positivity throughout the neighbourhood.
With their daily message on the blackboard and their sticker quotes on every cup of coffee, they foresee Optimist Coffee as helping bring a smile to the faces of our customers. Even if a customer drinks their coffee just once a week- in a year they will have read up to 52 of these positive quotes. If just one of these quotes motivated or inspires them enough to follow their dreams, then we see their work as a success!
Menu Items:
Hot Drinks

Espresso
Americano
Caffe Latte
Flat White
Cappuccino
Hot Chocolate
Mocha
Matcha Latte
Salted Caramel Latte
Roasted Hazelnut Latte
Vanilla Latte

Iced Drinks

Iced Americano
Iced Caffe Latte
Iced Chocolate
Iced Matcha Latte
Iced Mocha
Iced Salted Caramel Latte
Iced Roasted Hazelnut Latte
Iced Vanilla Latte

Bottled Series

Oat Matcha Latte
Cold Brew
Doubleshot Chilled Latte
Doubleshot Gula Melaka Latte
Doubleshot Oat Latte

Donut

Original glazed
Zesty Lemon glazed
White Chocolate w coconut shreds
Dark Chocolate w Almonds
Matcha glazed w biscoff
Maple walnut
Location: LOT10 Shopping Mall, SE1, Side Entrance, Facing Jalan Bukit Bintang, 50 Jalan Sultan Ismail, Bukit Bintang 50250 Kuala Lumpur, Malaysia
Contact: +60 12-451 2895
Website: Website Link Here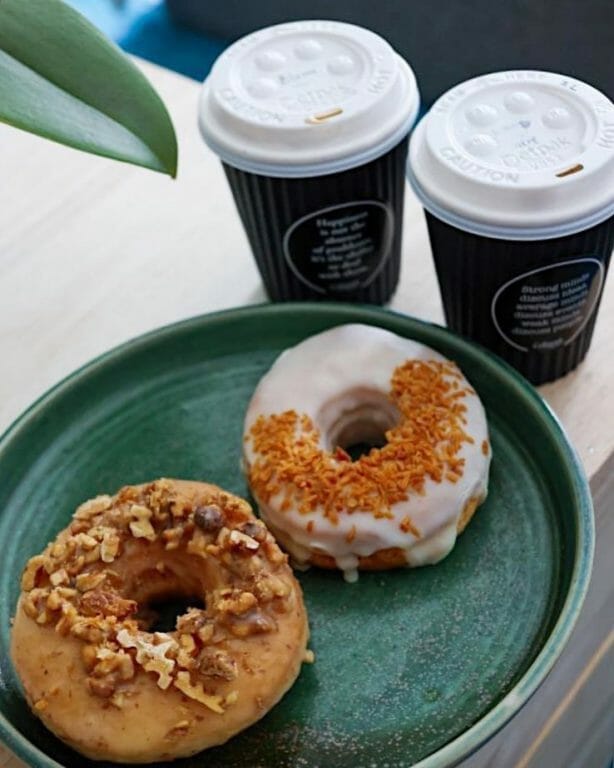 ---
#10 – Kind Kones
Introduction:
In 2017… they started out by experimenting with plant – based ice cream recipes in a no-frill family home kitchen. Their goal was to develop a nice cream that was better-for-you (and the planet!) than the conventional options available… and to prove that the plant based label or a healthier option does not mean you have to compromise on taste.
Their ice creams are now handcrafted in small batches (in a fancier kitchen!) from all-natural ingredients. Every flavour is free from dairy, refined sugar, egg, preservative, and any artificial additives. The support for their product has been tremendous and they hope to be able to reach more people.
Ultimately, they strive to create the kind of company that's feel good and fun to support, work for, and partner with. They believe in building a more conscious community through their ice cream. Thank you to everyone who has been a part of their journey!
Menu Items:
Ice Cream

Almond Brittle Fudge
Baklava
Black Forest
Blue Planet
Charcoal Vanilla
Chocalate Sorbet

Cake

Dark Chocalate Canache Cake
Flourless Sweet Potato Brownie
Chunky Peanut Cheesecake
Peanut Butter & Caramel Chocalate Bar

Bliss Ball

Lemon, Vanilla,& Coconut Cashew Superfood Bliss Ball
Chocolate Hazelnut Superfood Bliss Ball
Chocolate Pistachio Superfood Bliss Ball
Maca Espresso Fudge Superfood Bliss Ball
Cranberry, Fig, Chia Seed Superfood Bliss Ball
Matcha Coconut Superfood Bliss Ball

Cookies & Kones

Flourless Gluten-Free Waffle Kone
Dark Chocolate Chip Cookie
Wholemeal Waffle Kone
Oatmeal Almond Crisp Cookie

Whole Cake

Dark Chocolate Ganache Cake
Flourless Sweet Potato Brownie
Chunky Peanut Cheesecake
Location: F.29, Level 1, Bangsar Village, 1 Jalan Telawi 1, Bangsar Baru, 59100 Kuala Lumpur, Wilayah Persekutuan Kuala Lumpur, Malaysia
Contact: +60 3-2201 5013
Website: Website Link Here
---
Have a Place to Recommend?
We need your help! Do you know any other noteworthy beauty clinics or salons that deserves to be added to this list? If so, do write to us via our email at [email protected]. Tropika Club will do a review of your recommendations and update the list accordingly.
---
Meanwhile, check out Tropika Club's Ecosystem of Websites

Tropika Club Magazine – Tropika Club Magazine crafts articles on all things Singapore, but with a greater emphasis on local businesses based on our #SupportLocalSG initiative. We check out and feature local businesses of all categories, ranging from your neighbourhood hawker stalls to the aesthetic clinics in town. We also cover local content ranging from beauty, lifestyle, places, eats and what's on in SIngapore. Our Top 10 rankings include local food and service establishments based in different regions in Singapore.
Tropika Club Deals – Search for the best voucher and coupon deals. Tropika Club Deals is ideal for customers who want to discover the best deals without having to commit to a specific appointment date and time. Choose from guaranteed discounted deals in the categories of hairstyling, hair removal, facial & aesthetics, body slimming, brows & lashes, nails & makeup, massage & spa or fitness & wellness. Customers can also buy vouchers as gifts or to use for the future.