Top 10 Best Refrigerators for Daily Usage
Looking for a refrigerator that can handle your daily needs? Here are the ten best refrigerators for daily usage. Refrigerators have been around since the late 1800s. They have come a long way since then, and now they are some of the most popular appliances in homes. There are different types of refrigerators, and each has its own features and benefits. Whether you are looking for a small refrigerator for your home or a large one for a business, there is sure to be a model that fits your needs.
---
#1 – Samsung RS64R5304B4/SS SpaceMax™ Refrigerator
Description:
Samsung Digital Inverter Compressor lasts longer while saving energy up to 50%1. Unlike conventional compressors, our Digital Inverter Compressor automatically adjusts the compressor speed in response to cooling demand, thus using less energy, while minimizing noise and reducing wear and tear for a longer-lasting performance2. Samsung also stands behind the durability of its Digital Inverter Compressor by providing a 10-year warranty3.
Brand: Samsung
Features:
SpaceMax™ Technology
Store more food with this SpaceMax™ refrigerator's spacious 617-liter interior. Its unique SpaceMax™ technology enables the walls to be much thinner whilst still ensuring optimal insulation, creating more storage space without increasing the external dimensions.
Cools every corner evenly
All-around Cooling
The All-around Cooling system continually monitors any temperature fluctuation and cools the fridge evenly from corner to corner. Cold air is emitted through multiple vents on every shelf level to create a multi-directional airflow so that a constant temperature is maintained and food stays fresh longer.
Minimalist and Sleek Design
Flat Doors & Recessed Handles
Give your kitchen a sleek and minimalist look with the stylish counter-depth design and beautiful flat doors with recessed handles that blend seamlessly with your kitchen for a completely harmonious look.
Fast cooling and freezing on demand
Power Cool / Power Freeze
Freeze or chill your food rapidly with the Power Freeze and Power Cool options, all done with a simple push of a button. Ideal for chilling your favorite drinks or firming up ice cream in a flash.
Install Anywhere
Non-plumb Dispenser
Easily install the refrigerator anywhere without worrying about time-consuming plumbing or untidy pipes. The refrigerator also comes with a large water tank for its Non-plumbing Ice & Water Dispenser, which does not require a water filter. Enjoy chilled and fresh water without the need to change the water filter, saving you time and money.
More Freezer space
Auto Ice Maker
The Auto Ice Maker gives you extra storage space by freeing up freezer shelf space while allowing you to automatically make, store and enjoy ice at your convenience. Its compact design also frees up extra storage space for food, without compromising on the amount of ice produced.
Maintain the flavour of your food
Deodorising Filter
The built-in natural-fiber Deodorising Filter eliminates strong smells by passing air through an activated carbon filter, keeping the air inside your fridge clean while preserving the original flavor and aroma of food.
Easily store your vegetables and fruits
Vege Box
A large capacity Vege box provides a convenient space to store a large amount of fresh vegetables and fruits. And because it's so big, it's so much easier to find everything – the all-in-one place to access your vegetables or fruits at one glance.
Samsung Side by Side Refrigerator (617L, RS64R5304B4S) with Vege Box
Specification:
Capacity: 617L
Net Weight: 109 kg
Packing Dimensions: 974mm X 1909mm X 779mm
Colour: Black
Pricing: $2549.00
Where to Find: Link here
---
#2 – Samsung RT43K6037SL Refrigerator
Description:
High-efficiency LED lighting is slimmer, cooler, and more power-efficient than conventional lighting. Located on the top, it beautifully and brilliantly illuminates every corner, ensuring better visibility.
Provides the ultimate in flexible storage. Easily convert your freezer into a fridge to keep all the fresh food you need to store for different seasons or special occasions. Or just switch off the fridge compartment when leaving home for a long vacation. The five modes are Freezer-Fridge, Energy Saving*, Vacation, Fridge Max, and Mini mode.
Brand: Samsung
Features:
Twin Cooling Plus™
Only Twin Cooling Plus™ independent cooling system ensures that the right temperature and humidity level up to 70% is maintained throughout the fridge (compared to 30% in a conventional Top Mount Freezer), so no matter where food is stored it stays fresh.
Power Freeze & Power Cool
All food odours can change the taste of frozen foods and affect the flavors of finished dishes. Twin Cooling Plus™ is a truly independent cooling system, with separate airflows in both the fridge and freezer. This prevents unpleasant smells from foods moving between the fridge and freezer, ensuring the original flavor of ingredients stored in the freezer is perfectly preserved and odourless.
Ice Maker
Rapidly delivers intense cold air to fast freeze or cool. At the touch of a button, Power Cool quickly chills food and drinks, while Power Freeze is great for freezing or firming up frozen food and making ice.
Digital Inverter Technology
Digital Inverter Technology automatically adjusts the compressor speed in response to cooling demand across 7 levels. It uses less energy, minimizes noise, and reduces wear and tears for longer-lasting performance.
Specification:
Capacity: 430L
Weight: 73kg
Dimensions: 700mm X 1785mm X 726mm
Colour: Black / Silver
Pricing: $1179.00
Where to Find: Link here
---
---
#3 – LG GT-M5097PZ 2 Doors Inverter Top Freezer Refrigerator
Description:
With LG's new LINEAR cooling technology in this refrigerator, now you can stop worrying about the freshness of the foods that you have stored and instead, smile every time you open your fridge, reaching in for your favourite food.
Brand: LG
Features:
Inverter Linear Compressor
LG's Inverter Linear Compressor has revolutionized the core of the refrigerator, providing up to 32% in energy savings, and optimal temperature control to keep foods fresher longer.

Hygiene FRESH+™
The intelligent air filter can not only remove bacteria up to 99.999% but also minimize bad odor in the refrigerator. In addition, you can keep your food items fresher in a cleaner condition.

Linear Cooling™
With LG New LINEAR Cooling™, the temperature only fluctuates within ±0.5℃, with a steady and even temperature, it keeps food fresher and longer than a conventional cooling system

DoorCooling+™
LG DoorCooling+™ makes the inside temperature more even and cools 35% quicker than the conventional cooling system. Significantly reduce the temperature gap between the inner part and the door side of the compartment.

Touch LED Display
LED Touch Display provides the pleasure of operating and enhances the elegance of your refrigerator.
Specification:
Capacity: 506L
Dimensions: 780mm (W) x 1,800mm (H) x 730mm (D)
Colour: Platinum Silver
Pricing: $1519.00
Where to Find: Link here
---
_

Read Also:
---
#4 – Sharp SJ-PG60P2 Refrigerator
Description:
Sharp SJ-PG60P2 600L Top Refrigerator build with smooth glass to reflect your exclusive lifestyle. It consists of 2-way fresh room which will help you to organize your fridge easily.
Brand: Sharp
Features:
Mega Freezer
Built to maximize storage, the Mega Freezer delivers plenty of storage capacity to store more items with easy access.
In-Door Ice Maker
The In-Door Ice Maker is located in the door pocket, allowing users to fully utilize space in the freezer compartment.
Freezer Case
Store selected food items in this dedicated freezer compartment. The movable divider offers even more convenience for organized food separation.
Sleek Design
A stunning, sleek design refrigerator made with smooth glass to reflect your exclusive lifestyle.
2 Way Fresh Room
This dual-purpose compartment is designed to help you organize your fridge easily. Use it as an extra shelf, or close the flap to switch into a chiller room.
Touch Control Panel
The sophisticated Touch Control Panel lets you control everything about your refrigerator without the need to open the doors.
Specification:
Capacity: 600L
Dimensions: 865mm x 1870mm x 740mm
Colour: Black/ Silver
Pricing: $1549.00
Where to Find: Link here
---
#5 – Panasonic NR-BX471WGKS 405L
Description:
As a consumer sales division, Panasonic Singapore is responsible for the sales and marketing of consumer electronics and home appliances in Singapore. Panasonic Singapore is also active in contributing to the local Singaporean community through its various CSR initiatives
Brand: Panasonic
Features:
Keeps Freshness Longer
Prime Fresh uses an approx, -3℃ airflow to softly freeze and keep food fresh without freezing.
Anti-bacterial Effect
The silver ions deactivate 99.9% *³ of bacterial growth on the Ag filter and remove unpleasant odors.
Moisture Retained for vegetable Storage
The 90% humidity and constant temperature provide the ideal conditions to store and keep fruits and vegetables fresh and crisp longer.
Minimalist Flat Design
The full flat door and slim touch panel present a sleek linear appearance while letting you take complete control of the settings with a light touch of the finger.
Save Energy Intelligently
4 kinds of ECONAVI sensors monitor daily refrigerator usage. The inverter compressor optimizes cooling performance to reduce energy consumption.
Light Sensor
The light sensor detects the surrounding brightness. It distinguishes between day and night.
Specification:
Capacity: 405L
Weight: 74kg
Dimensions: 686mm X mm697 X 1790mm
Colour: Black
Pricing: $1234.00
Where to Find: Link here
---
---
#6 – Hitachi R-HWS480KS
Description:
The secret to longer-lasting freshness is reduced oxygen levels. Hitachi's original preservation extracts air to maintain approx. 0.8 atm of vacuum preservation. With unique Platinum Catalyst, chilled meat, fish and dairy products are kept fresh and nutritious, and ready to cook.
Brand: Hitachi
Features:
Nutrition Retention
Stay healthy. A vacuumed environment prevents oxidization and retains nutrients inside the food.
Quick Seasoning
Quick seasoning is made possible because the Vacuum Compartment removes air from stored food, enabling seasoning to be absorbed in a faster rate.* So, with less time required for seasoning and cooking, there's more time for eating!
Refreshing Technology Maintains 0.8 atm Vacuum
Hitachi innovation at its finest and most consistent: the sealed pressure-resistant vacuum realizes and maintains the vacuumed environment. A vacuum pump extracts air and reduces oxygen to achieve approx. 0.8 atm (atmospheric pressure) throughout usage.
Moisture Cooling
Now the whole refrigerator room is available as a chilled room to keep your food fresh! Approx. 2°C*2 of chilled temperature and high humidity retains flavours and freshness.
Cooling Technology for Moisture Cooling
By suppressing dehydration of the air in the refrigerator compartment, the fully-moistured air suppresses the temperature drop and the dehydration of the food.
The Power of Platinum for Fruits & Vegetables
The uniquely-designed lower compartment sustains the freshness and nutrients of the vegetables and fruits with Platinum Catalyst. In addition, odour components and ethylene gas that come into contact with the catalyst are broken down into carbon dioxide and water.
Big Capacity Freezer with Easy Organising
With triple layers storage, you can now organize according to your storage needs. Quick freeze your food on the top shelf, and store your smaller items on the second shelf and bigger items at the bottom.
Slim Heat Insulating Material
VIP is a thin vacuum-insulated panel with extremely high heat insulation performance. Combining the good liquidity of Urethane and VIP enables high energy-saving performance and achieves sleek slim sides of the refrigerator. Enjoy a bigger capacity with a stylish slim design.
Specification:
Capacity: 500L
Weight: 105kg
Dimensions: 600mm x 699mm x 1833 mm
Colour: Crystal Mirror/ Crystal Champagne
Pricing: $2999.00
Where to Find: Link here
---
#7 – LG GL-131SQW Built-in Freezer Refrigerator
Description: Design Polyurethane insulated cabinet and door with complete magnetic gasket sealing Built-in freezer compartment Includes ice cube tray and compact freezer door Compact design Rounded-edge door with horizontal built-in handle and a flat back that saves space
Brand: LG
Specification:
Clean Top
Cooling system, direct cooling
Depth (mm): 500
Height (mm): 820
Width (mm): 463
Pricing: $309
Where to Find: Link here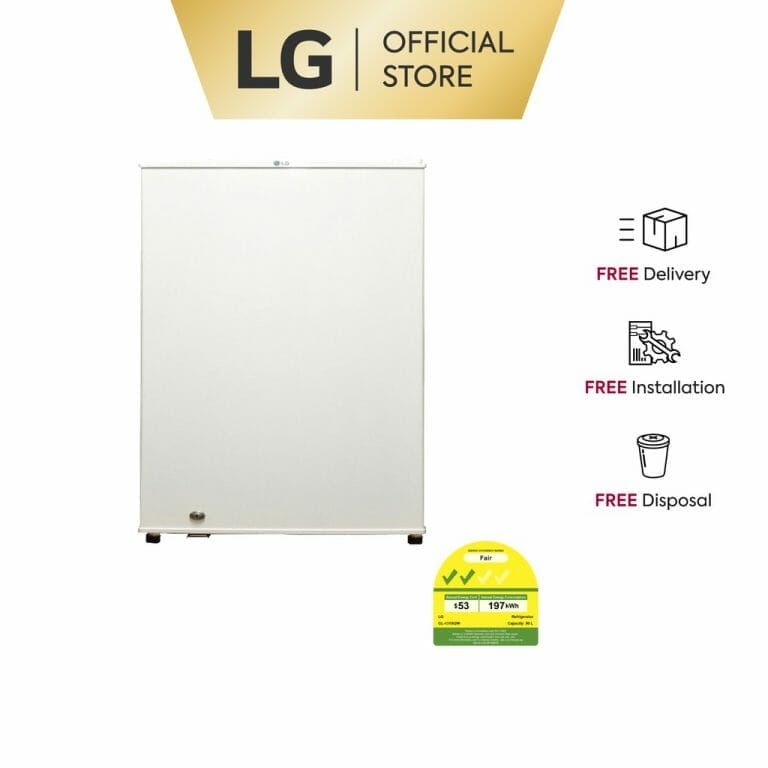 #8 – Mitsubishi MR-CGX46EN 3-Doors Refrigerator
Description:
Neuro Inverter, Vitamin Factory, Supercool Chilling, Anti-bacteria Food Liner
Brand: Mitsubishi
Features:
Vitamin Factory
Stimulates the photosynthesis process, with LED lights to keep the fruits and vegetables fresh for a longer time.

Supercool Chilling Case
Unique technology that shortens cooking time and reduces food wastage.

Wide Chiller Case
Slide Chilled Case to store processed food and dairy products.

Automatic Ice Maker
Enjoy clean and tasty ice every day.

Neuro Inverter
Maximise savings according to your lifestyle.

Tempered Glass Shelves
Increased durability and ease in cleaning.
Specification:
Capacity: 298L
Weight:
Dimensions: 600mm x 1820mm x 660mm
Colour: Glass Brown/ Glass White
Pricing: $1349.00
Where to Find: Link here
---
#9 – Toshiba GR-RS682WE-PMX
Description: A Family Oriented Design Side-by-side Door Refrigerator, with Dual Inverter technology. Not only compressor inverter, but also Fans inverter. Less vibration, moving parts and noise than a conventional compressor system, the TOSHIBA Compressor is quieter and more durable. Fast cooling and freezing with 20% less energy consumption.
Brand: Toshiba
Features:
Dual Inverter
Mini Power Cooling
Cool water Dispenser
Multi Air Flow Design
Specification: product specifications
Weight (kg): 90
Dimensions: 895*745*1788
Colour: Black
Pricing: $1329
Where to Find: Link here
---
#10 – Panasonic NR-BX471CPSS 405L, Bottom Freezer Refrigerator
Description: Description about the product
Brand: Brand of the product
Features:
Faster Soft Freezing Keeps Food Fresh with Prime Fresh+ Prime Fresh freezes meat and fish lightly at approx. -3°C. Food soft frozen in this way retains freshness for about 7 days*² without the need to defrost. Select the Prime Fresh+ mode to soft freeze food about four times faster.*¹
Cook Healthy Meals Every Day with Prime Fresh+
Anti-bacterial Effect The silver ions deactivate 99.9%*³ of bacterial growth on the Ag filter and remove unpleasant odors. *The photo uses the NR-BX421BPS model.
Moisture Retained for Vegetable Storage The 90%* humidity and constant temperature provides the ideal conditions to store and keep fruits and vegetables fresh and crisp longer. *Data prepared by Panasonic.
Stylish Linear Appearance The steel door and slim touch panel present a sleek linear appearance. The design also features seamless, exceptionally beautiful edges which blend perfectly with any modern kitchen interior.
Save Energy Intelligently Four kinds of ECONAVI sensors monitor daily refrigerator usage. The Inverter compressor optimizes cooling performance to reduce energy consumption.
Specification:
Gross Capacity: 465 L
Refrigerator Compartment (PC): 329 L
Freezer Compartment (FC): 136 L
Storage Capacity: 405 L
Refrigerator Compartment: 307L
Net Weight: 67 Kg
Voltage: 220-240V
Pricing: $1181
Where to Find: Link here
---
Have a Product to Recommend?
We need your help! Do you know of any other noteworthy product brands of this category that deserves to be added to this list? If so, do write to us via our email at [email protected]. Tropika Club will do a review of your recommendations and update the list accordingly.
---
Meanwhile, check out Tropika Club's Ecosystem of Websites

Tropika Club Magazine – Tropika Club Magazine crafts articles on all things Singapore, but with a greater emphasis on local businesses based on our #SupportLocalSG initiative. We check out and feature local businesses of all categories, ranging from your neighbourhood hawker stalls to the aesthetic clinics in town. We also cover local content ranging from beauty, lifestyle, places, eats and what's on in SIngapore. Our Top 10 rankings include local food and service establishments based in different regions in Singapore.
Tropika Club Deals – Search for the best voucher and coupon deals. Tropika Club Deals is ideal for customers who want to discover the best deals without having to commit to a specific appointment date and time. Choose from guaranteed discounted deals in the categories of hairstyling, hair removal, facial & aesthetics, body slimming, brows & lashes, nails & makeup, massage & spa or fitness & wellness. Customers can also buy vouchers as gifts or to use for the future.