Top 10 Best Selling Products from Skin Inc
Skin inc skincare is a line of luxurious skin care products that use only the finest ingredients. From face wash to moisturizers, their products are designed to leave your skin feeling refreshed and revitalized. Whether you're looking for a new skincare line to try or just want to treat yourself, Skin inc is sure to have the perfect product for you. Here's the top 10 best selling products from online ecommece sales.
---
#1 – Skin Inc My Daily Dose® of Armour, 20ml Wonder Serum
Description:
Suit up with My Daily Dose® of Armour, your best daily defense against excess sebum and skin discomfort. This skin-soothing serum with encapsulated Vitamin B3+, Ceramide and Licorice helps to strengthen and defend skin in the battle against spots and enlarged pores, sensitivity, stress and dehydration.

Due to everyday shaving, the skin on Men may constantly be abraded and more sensitive overtime. My Daily Dose® of Armour can help restore barrier function from daily shaving.

Brand: Skininc
Features:
Balance Skin with Vitamin B3+
The superhero-worthy combination of Vitamin B3+ and pro-Vitamin B5 helps reduce pores and improve skin texture, keeping skin clear and shine-free.
Strengthen Skin Barrier with Ceramide
Four different types of ceramides work together to help strengthen skin's protective barrier.
Skin is more hydrated with less dryness, irritation, and sensitivity.
Soothe Irritation with Licorice
Combines antioxidants, licorice, and green tea extracts to help reduce redness and
irritation at the source while protecting against environmental aggressors.
0% paraben and scent
How to Use:
On clean dry skin, apply 2-3 drops of My Daily Dose® of Armour all over face and neck. Follow with moisturizer.
Use with Optimizer Voyage Tri-light ++ for extra boost of soothe and calmness.
Specification:
Pricing: From $118
Where to Find: Link here
---
#2 – Skin Inc Skin Revival Infusion Cleanser
Description:
A power-packed cream to foam cleanser that purifies, repairs, and brightens all in one step. Skin Revival Infusion Cleanser features Uttwiler Spätlauber Stem Cell extract, an ultra-rare Swiss apple species, and has been formulated to address all signs of aging, including fine lines, dull skin, pigmentation, and enlarged pores.
This luxurious cleanser is tough on makeup and impurities, but gentle on skin, prepping your complexion to receive rich nourishment in the following skin care steps.
Dubbed "the super apple" by Vogue, Uttwiler Spätlauber Stem Cell extract has been shown to stimulate human skin stem cells, and is clinically proven to reduce lines and wrinkles. Presently there are only 20 Uttwiller Spätlauber trees in Switzerland.
Cleanses without stripping skin of moisture. Infused with arginine, an amino acid, and glycerin, this cleanser hydrates and helps maintain the skin's natural moisture barrier.
A little goes a long way! All you need is a pea-size amount to effectively cleanse your whole face. This concentrated cream cleanser transforms into a rich lather with water, and you won't need to break the bank because a little really goes a long way.
Brand: Skininc
Features: features of the product
Uttwiler Spatlauber Apple Stem Cell extract
Energize skin to regenerate new tissues faster, fend off UV damage and preserve youthful vitality of skinn
Argan Tree Oil extract
Chockful of essential fatty acids, Vitamin E, carotenes and catechins to plump, rejuvenate and fortify skin
Soy Isoflavones
Stimulates metabolism and cell growth for a thicker epidermis, and smother and more luxurious skin.
Anti-inflammatory properties brighten skin by blocking formation of excess melanin.
How to Use:
Squeeze a small amount of cleanser on the palm of your hand. Add water to create a rich lather and apply the foam on your wet face. Massage well to cleanse the skin and rinse off.
Specification:
Pricing: From $52.00
Where to Find: Link here
---
---
#3 – Skin Inc Optimizer Voyage Tri-Light++ USB Facial Device
Description:
Note: Sonic Technology feature on/off.
Turn on the Power of Customization with the rechargeable Optimizer Voyage Tri-Light++. Our Bestseller now in a luxurious limited edition Rose Gold Chrome hue.
One device, 5 benefits – Repair, Glow, Soothe, Optimize and V-Sculpt. This award-winning device combines the power of NASA inspired colored LED Chromotherapy and Sonic Technology (Low-Frequency Stimulation) to tackle multiple skin concerns for younger looking, brighter and blemish-free skin.
The new Optimizer Voyage Tri-Light++ has 3 new features:
USB rechargeable
Ability to turn the Sonic Technology feature on/off
Brand: Skininc
Features:
LED Chromotherapy penetrates deep into your skin to activate the light receptors in your skin cells, addressing specific skin concerns while Sonic Technology (Low Frequency Stimulation) gently regenerates skin cells, helping them increase their metabolism, blood and lymphatic circulation and helps enhance the penetration of active ingredients in skincare products.
The Optimizer Voyage Tri-Light is also now rechargeable, and you now have the ability to activate or deactivate the Sonic Technology (Low Frequency Stimulation) feature.
Customize and enjoy 5 benefits at one-go!
Repair with the Red Light (625nm) – Renew and repair damaged skin cells. Increase collagen and elastin production. Best paired with Collagen and Coenzyme Q10 Serum.
Glow with the Yellow Light (590nm) – Revive dull skin for a brighter complexion. Best paired with Chlorella and Vitamin A Serum.
Soothe with the Blue Light (460nm) – Alleviate acne, oily or congested skin and calm skin sensitivity. Best paired with Licorice and Vitamin C Serum.
Optimize & V-Sculpt – Boost absorption of active ingredients in skincare products and achieve a lifted V-shape facial contour and reduce water retention.
Power Combo Lights give you double the power.
The Optimizer Voyage Tri-Light++ features advanced power combo lights which tackle multiple skin concerns at the same time.
Orange Light: Combination of Red Light & Yellow Light. Best for pigmented and aging skin.
Purple Light: Combination of Blue Light & Red Light. Best for sensitive and aging skin or adult acne.
How to Use:
For first time use, please charge device for 2 hours using the USB cord before use. The Optimizer Voyage Tri-Light++ can be used for up to 10 minutes per application, twice daily. The device will shut off automatically after approximately 10 minutes. If you use more than one light, do not use the device beyond 10 minutes per session. Please remove the plastic protective cap before use.
To power the device on, press the power button. Use the same button to change lights. To turn the Sonic Technology (Low Frequency Stimulation) on or off, press the LF button once and the green indicator light will turn on when activated.
After applying a water-based serum or mask, remove the plastic protective cap, switch on the Optimizer Voyage Tri-Light++ and apply to skin.
Pricing: From $438.00
Where to Find: Link here
---
_

Read Also:

Top 10 Hand Creams in Singapore
---
#4 – Skin Inc Collagen Serum
Description:
Turn back the clock with Collagen serum that supports the youthful elasticity and suppleness of your skin. This nutrient-rich serum contains marine-collagen and provides the nutrients needed to replenish the structural proteins in the dermis and restore firm, elastic, and younger-looking skin.
It is recommended for people who has Fine lines & wrinkle
The active ingredients lifts the skin and reduce wrinkles for softer, smoother skin, strengthens skin's barrier and protects against oxidation.
Promotes youthful elasticity and suppleness of your skin Glycine, alanine and proline.
Supports natural collagen production to rebuild the skin's foundation.
Brand: Skininc
Features:
Go Smaller with hydrolzyed Collagen and Elastin which penetrate deeper into the stratum corneum to strengthen skin's barrier and hydration.
Proprietary Japanese Seaweed Encapsulation Technology protects the active ingredients from exposure to light and oxidation, ensuring stability and potency of ingredients.This technology allows for an effective delivery of pure, potent ingredients, while the humectant-rich glycerin base delivers lasting hydration.
Mix-n-Match Collagen Serum with 2 other Skin Inc Encapsulated Serums to create a custom cocktail perfectly engineered for your skin. Or use individually to spot target your individual concerns.
Specification:
How to Use:
Apply two to three drops twice daily to face and undereye before moisturizer or eye cream.
Layer individually or blend with up to two additional Skin Inc serums for a powerful, multipurpose customized serum cocktail to provide optimal results.
Pricing: From $68
Where to Find: Link here
---
#5 – Skin Inc My Nightly Dose™ of Armour Customized Recovery Sleeping Mask
Description:
Protect your skin against excess sebum and skin discomfort with My Nightly Dose™ of Armour. This kit contains 2 boosters of Soothe and Clarify with a Hydro-Gel sleep mask base.
My Nightly Dose™ of Armour will work hard to recharge your skin as you sleep. Simply leave on while you snooze, and wake up the next morning to a healthier skin barrier with reduced inflammations. Effortless beauty, boosted.
Each Serum Booster holds 1000 concentrated micro capsules embodied in active water, and is supercharged with up to a total of 17 active ingredients that work synergistically to deliver nutrients effectively into the skin.
Brand: Skininc
Features:
Smooth Skin
Deliver 24-Hour Hydration
Refine Appearance of Enlarged Pores
Reduce Oil Production
Boost Antioxidants
Specification:
Custom Recovery Sleep Mask: Hydro-Gel Base, 23ml
Serum Booster Shot: Soothe, 3.5ml
Serum Booster Shot: Clarify, 3.5ml
How to Use:
Step 1: Inject 2 Serum Booster Shots to the base.
Step 2: Screw pump onto Custom Recovery Sleep Mask bottle.
Step 3: Shake well and mix evenly.
Step 4: Pump out Your Nightly Dose™ of Armour and apply evenly onto face
Pricing: From $152
Where to Find: Link here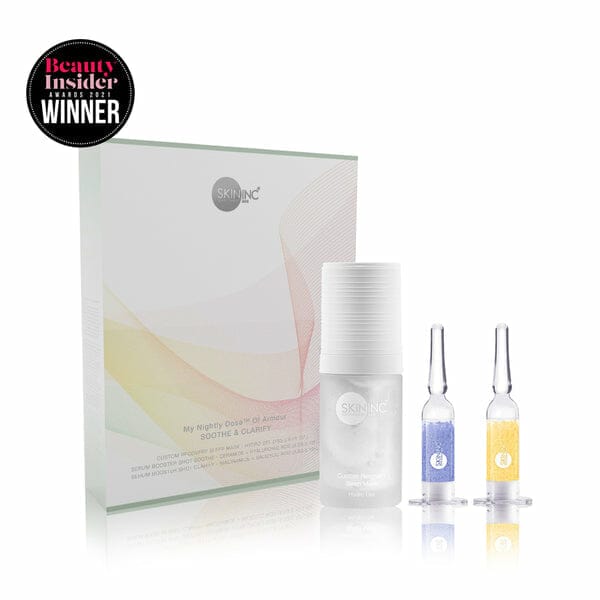 ---
---
#6 – Skin Inc Serum Booster Shot – Glow. Spot treatment
Description:
Give your skin a radiance-boosting dose of 1000 concentrated micro capsules of Ferulic Acid and Multivitamins (B3, B5, C, E).
Anti-oxidant Ferulic Acid helps inhibit melanin production to reduce the apperance of pesky spots, and works synergistically with Vitamin C and E to protect skin against oxidative stress.
Reimagine skincare with Skin Inc's Proprietary Encapsulation Technology. These highly sought-after active ingredients are protected from oxidation and external stressors, keeping them supremely fresh and potent for intense infusion into the skin. The result? 100X more effective skincare performance.
The capsules are also energized by active water, containing up to a total of 17 active ingredients working synergistically to help improve skin barrier and skin health.
Why You'll Love It
100X more effective skincare performance with encapsulation + 1000 potent concentrated micro capsules = Supercharged Results
Brand: Skininc
Features:
Proprietary Encapsulation Technology traditionally used for moisture retention in wound dressings to promote healing
Infused in active water with up to 17 nutrient-rich active ingredients, synergistically working hard for your skin
Balance your skin's microbiome to help with skin immunity and health
Recharge your skin with a huge dose of long-lasting hydration
Specification:
Pricing: From $52
How to Use:
7 day intensive treatment
Use on its own or mix a couple of drops into your Custom Recovery Sleep Mask, serums or moisturizers. Apply onto clean, dry skin.
Remove the cap and insert it into the rubber center of the Serum Booster Shot.
Where to Find: Link here
---
#7 – Skin Inc Pure Recovery Dew
Description:
Invisible Armour for your skin, now in a bottle.
Savor a burst of nourishing hydration with Pure Recovery Dew moisturizer, which transforms from a gel into water droplets as it is massaged into the skin. This ultra-lightweight moisturizer hydrates, primes, and heals for soft, dewy skin.
Blemish-Prone and Oily Skin
Brand: Skininc
Features:
Revered for healing wounds and improving the skin's function, soothing and calming redness, irritation and blemishes
Powerful water binder to deliver long-lasting hydration.
Powerful antioxidant to protect skin against environmental stressors making it the perfect Day Mask to keep healing ingredients in and external damage out.
Firms the skin and gives the skin a nice finish, reducing lines and pores, giving a pearlized finish on skin.
Specification:
Pricing: From $78
How to Use:
Gently apply 1-2 pumps of Pure Recovery Dew, after cleansing and serum application.

The Pure Recovery Dew uses a unique airless pump technology that utilizes a vacuum system to dispense and keeps the product within the container fresh by helping to keep air and contaminants out of the product, which helps enhance the effectiveness of the product.

To activate the airless mechanism, simply try turning the bottle upside down and tapping the bottom of the bottle a few times. Then with the bottle still upside-down, press the pump a few times till the product is dispensed.

Please kindly note not to open the bottle and remove the pump, as the introduction of air into the container may affect the airless mechanism.
Where to Find: Link here
#8 – Skin Inc Pure Serum-Mist
Description:
A healing serum mist that soothes redness or stressed skin, strengthens skin's barrier, and locks in deep hydration. Infused with low-molecular-weight Hyaluronic Acid, high-quality humectants, and mineral-rich Japanese hot spring Onsen water, Pure Serum Mist brings your skin back to life whenever and wherever you need it.
Brand: Skininc
Features:
It is Formulated without Scent ( Parabens, Sulfates, Phthalates )
Mineral-rich water from Izumo Yumura hot springs that balance skin's minerals, acts as an anti-inflammatory, and supports the skin's immune function.
A potent water-binder that delivers long-lasting hydration; five times smaller so they can penetrate the outer layers of the skin for deeper more long-term hydration.
Quickly penetrates to provide an instant burst of hydration; provides long-term, deep moisturization.
Specification:
Pricing: From $32
How to Use:
Use as a serum/essence; after cleansing as the first step of the skincare, as a make-up setting spray or mist as an instant hydrating boost throughout the day.

Spray after make-up for a dewy finish.

Hold bottle 3 inches from face and spray 1-2 times as needed.
Where to Find: Link here
---
#9 – Skin Inc Hand Serum & Sanitizer Duo
Description:
Envelop your hands in a lovely, soothing lavender scent with the Serum.
Hand care is skincare. Dry cracked hands are history – say hello to the world's First Dual Pump Sanitizer and Serum in one.
The Hand Sanitizer contains 65% alcohol, the perfect balance between effectively destroying bacteria and being gentle on the skin.
The Hand Serum soothes the skin and strengthens the skin barrier with 4 serums: Vitamin B3, Ceramides, Hyaluronic Acid and Licorice. The polypeptides in the Serum also help to build collagen and elastin.
Enjoy 100 hand spas in a bottle with this Skin Savior! Suitable for even the most sensitive of skin types.
Brand: Skininc
Features:
Hand Sanitizer
Alcohol Denat (65%): Effectively vanquishes bacteria while being extra gentle on the skin.
Blend of 8 Plant Extracts: Enriched with antimicrobial, antioxidant, soothing and conditioning properties to reduce the drying effects of the alcohol.
Angelica Gigas: Used in Traditional Chinese Medicine, it is not only rich in antioxidants and anti-aging properties, but is also able to mask the unpleasant alcohol scent with its earthy scent of musk, pepper and herbs.
Hand Serum
4 Skin Inc Serums: Vitamin B3 to smooth the skin, Licorice to soothe and calm, Ceramides to strengthen skin barrier and Hyaluronic Acid to keep skin well-hydrated.
Cica: Traditionally used in folk remedies, it is rich in saponins to help reduce skin sensitivity, and flavonoids and antioxidants to neutralize free radical damage. It also contains healing and moisturizing properties, along with amino acids to strengthen and hydrate the skin.
Multi-vitamins: Vitamin B3 to encourage production of ceramide, Vitamin C for collagen, Vitamin B5 to attract moisture from the surrounding atmosphere to the skin and Vitamin E to protecting against free radical damage.
Multi-polypetides: Short chains of amino acids that act as the building blocks of proteins, encouraging the production of collagen and elastin while diminishing the appearance of fine lines and wrinkles at the same time.
Specification:
Pricing: From $35
How to Use:
Step 1: Apply 1 dose of Hand Sanitizer (Clear Gel) to the palm of one hand, and rub thoroughly over both hands until they feel dry.

Step 2: Apply 1 dose of Hand Serum (Opaque Serum) after sanitizing to nourish hands.
Where to Find: Link here
---
#10 – Skin Inc Embrace Anti-Blue Light UV400 Glasses Eyewear
Description:
Blue light blocking lenses should be worn anytime you are using a screen or device that emits blue light. Keep your eyes healthy and reduce digital eye strain.
Cell phones, computers, and televisions emit blue light, a type of light on the color spectrum that is believed to interrupt sleep-wake cycles and cause headaches. While blue light from screens is not as harmful as UV light from the sun, it does have a negative impact on the health of your skin. Strengthen your skin barrier and protect with our stylish Anti-blue light and UV-protect glasses.
UV 400 provide nearly 100% protection from harmful ultraviolet light rays, blocking wavelengths up to 400 nanometers, including UVA and UVB rays.
If you find yourself unable to fall asleep at night or are regularly developing post-work headaches, this is the perfect solution for your health and your skin.
Brand: Skininc
Features:
UV 400: provide nearly 100% protection from harmful ultraviolet light rays, blocking wavelengths up to 400 nanometers, including UVA and UVB rays.
Anti Blue-Light: protects skin from stress and harmful oxidation due to High-Energy Visible Light emited from digital screens
Stylish and square shape that's suitable for all face-shapes
Slim Body and Lightweight
Moulded Nose Bridge for ultimate comfort
Pricing: From $78
Where to Find: Link here
---
Have a Product to Recommend?
Your contribution is valuable to us! Are there any outstanding brands that you believe should be added to our list? If so, please send your recommendations to us at [email protected]. Tropika Club will review your suggestions and update the list accordingly. Thank you for your help in making our list as comprehensive and accurate as possible.
---
Meanwhile, Check Out Tropika Club's Ecosystem of Websites

Tropika Club Magazine – Tropika Club Magazine is a Singapore-based publication that features articles on a wide range of topics with a focus on local businesses and content for the region. The magazine emphasizes supporting local businesses through its #SupportLocal initiative, which includes coverage of everything from neighborhood hawker stalls to aesthetic clinics in town. In addition to highlighting local businesses, Tropika Club Magazine also covers a variety of local content, including beauty, lifestyle, places, eats, and what's on in Singapore and the Asia Pacific region.
Tropika Club Deals – Tropika Club Deals is a leading online deals and voucher shopping site in Singapore, offering amazing discounts on beauty, wellness, and fitness products and services. It's the perfect platform for customers who want to discover the best deals without having to commit to a specific appointment date and time. These deals are available at major beauty stores, facial salons, hair salons, and other brands in Singapore, with no minimum spend required. Choose from guaranteed discounted deals in the categories of hairstyling, hair removal, facial & aesthetics, body slimming, brows & lashes, nails & makeup, massage & spa or fitness & wellness. Tropika Club Deals is also ideal for customers who want to buy vouchers as gifts or to use for the future. So whether you're looking to save money on your next haircut or want to treat yourself to a relaxing massage, Tropika Club Deals has got you covered with the best voucher and coupon deals in Singapore!