Top 10 Best Tailors in Penang Malaysia
Penang, Malaysia is renowned for its bustling city streets and vibrant culture. It is home to some of the best tailors in Southeast Asia. With the help of our research and reviews from customers, we have compiled a list of the top 10 best tailors in Penang. From bespoke suits to custom-made sarees, these tailors offer an array of services that can cater to your individual needs.
---
#1 – REX Custom Tailor
Introduction:
Formerly known as REX Apparel, REX Custom Tailor was born in 1966 in the mind of Mr.Phang Khim Hai. Since the beginning, our vision has been to empower men with affordable suit tailoring, delivering garments that are made to fit your body and your body only.
After Mr.Khim Hai's retirement in 2016, Mr. Chung Giin Shyang took over as director, bringing more than 30 years of industry experience to the table. Mr.Chung's tailoring career began when he was just 14 years old. At 20 years of age, Mr.Chung began participating in tailoring contests. He never failed to flaunt his skills and take home the prized to prove it.
Type of Services:
Location:
8, Jalan Gurdwara, 10300 George Town, Pulau Pinang, Malaysia
Contact: +60 10-2261939
Website: Website Link Here
---
#2 – DeePee-Tailor and Collections
Introduction:
Founded by the late Mr. Lalchand D. Buxani along with his brother in the year 1959, the company initially named G.N. Shamdas opened its doors at 50-D Penang Road. For more than one and a half decades, G.N. Shamdas was the only tailor along Penang Road that catered mostly to local professionals, the British and Australian Personals.
In 1977, Mr. Deepak Buxani (son of the late Mr. Lalchand D. Buxani) joined the business as a junior partner. To gain professional experience, Mr. Deepak underwent training in Hong Kong for 2 years, after which used the experience to modernize the company.
In 1988, DeePee was established by Mr. Deepak Buxani after G.N. Shamdas the company dissolved its partnership between brothers. His wife later brought in as a partner.
Today, DeePee aims to bring a professional and creative approach to the tailoring industry, providing you the customer with well-made, expertly fitted clothing. We keep our work standards high, because they are committed to your satisfaction. Following closely with ever-changing fashion trends, they are also highly adaptable and accommodating to your needs.
Type of Services:
STYLE & FABRIC CONSULTATION
PACKAGES
ALTERATION SERVICES
Location:
3H-G-6,Ground Floor,Straits Quay,Jalan Seri Tanjong Pinang,Tanjong Tokong Penang Malaysia 10470
Contact: 604-8930554
Website: Website Link Here
---
---
#3 – Suit City Fashions
Introduction:
Welcome to the official homepage for the designer that meets all your fashion needs – Suit City Fashions.
They, at Suit City Fashions, would like to invite you to their world of custom-made apparel. They are established tailors with more than 28 years of experience in suiting and design.
They have an experienced team of 15 cutters and tailors who handle everything from measurements, cutting and stitching to the final stages of pressing and packaging.
The needs of their customer are their topmost priority. As such, they assure you of their highest commitment in every detail of their work.
Type of Services:
clothes for men, women and children
ready-to-wear clothes
accessories
Location:
The CEO, #31-1-3, Lebuh Nipah 5,
Sungai Nibong (opp Kayu Restaurant),
Bukit Jambul, 11900 Penang, Malaysia.
Contact: +60 164214311
Website: Website Link Here
---
---
#4 – Lakshmi Tailoring
Introduction:
One of the best tailor in town. She offers private/group tailoring classes as well. Open daily and provide flexible timetable to cater to individual needs.
Type of Services:
private/group tailoring classes
saree blouses
punjabi suits
baju kurung
Location:
No 1, Solok Kampung Benggali
Kampung Benggali
12200 Butterworth, Pulau Pinang, Malaysia.
Contact: 016-443 0644
Website: Website Link Here
---
#5 – Viji Tailor Penang
Introduction:
A great tailor for all of you tailoring needs. Be it something bespoke or something altering. Viji the owner is very experienced and will always go that extra mile for her customers.
Type of Services:
saree blouses
punjabi suits
Location:
390, Jalan Batu Ferringhi
Batu Ferringhi. Penang
11100 Penang, Pulau Pinang, Malaysia
Contact: 016-456 6444
Website: Website Link Here
---
#6 – Australia Tailor
Introduction:
Australia Tailor has been producing and distributing their clothing in Malaysia for over thirty year. Over this period of time, their company has remained resolute in its mission to provide you, the customer, with the best quality product at the most competitive price. Their tailoring venture started off in the early 70's with the commissioning of the Royal Australian Air Force (RAAF) personnel uniforms and clothing. With much experiences gained from the RAAF personnel through sharing of international experiences and ideas, Australia Tailor grew in strength and has taken pride in producing attire with professional look, but distinctive style and creative flair.
Type of Services:
Trimmed Chefs Jacket
Coloured Chefs Jacket
Location:
Prima Tanjung (opposite Island Plaza)
98-G-37, Jalan Fettes
Bandar Tanjung Tokong
11200 Penang
Contact: 604-899 2009
Website: Website Link Here
---
_

Read Also:

Top 10 Best Hair Removal Services in Central Singapore

_
---
#7 – Shamallas Textiles & Tailoring
Introduction:
Fashion designing and tailoring services with passion.
Type of Services:
Crop Top and Skirt combo
Contemporary Lehenga design
Designing Dance costume
Wedding saree blouse designs
Location:
No 28, China Street
10200 George Town
Pulau Pinang
Malaysia
Contact: 011-1256 3831
Website: Website Link Here
---
#8 – Lay Sim Nurse Uniform Tailor
Introduction:
The Perfect Nurse Uniform Solution For Ladies in George Town. 52 Years of Expertise.
Type of Services:
Location:
48, Jalan Air Itam
10460 George Town, Pulau Pinang, Malaysia
Contact: 012-550 0829
Website: Website Link Here
---
#9 – City Tailor Shop
Introduction:
Suit maker since 1977 with more than 40 years experience in tailoring.
Made to Measure & Clothes Alterations.
City Tailor Shop established in 1977 by Frankie Chung with more than 40 years experience in tailoring, offering the best quality garments to their clients. City Tailor Shop provides stylish designs and private fittings services to all clients.
City Tailor Shop has been keeping the people of Georgetown stylishly dressed since 1977. It's important for them to stay up-to-date on the latest trends, while honing their technical skills. ​
Type of Services:
Suit
Wedding Suit
Clothes Alterations
Coat Rental
Trousers
Location:
Stall No, 8 Jalan Khoo Sian Ewe Georgetown
10050 George Town, Malaysia
Contact: 012-457 5373
Website: Website Link Here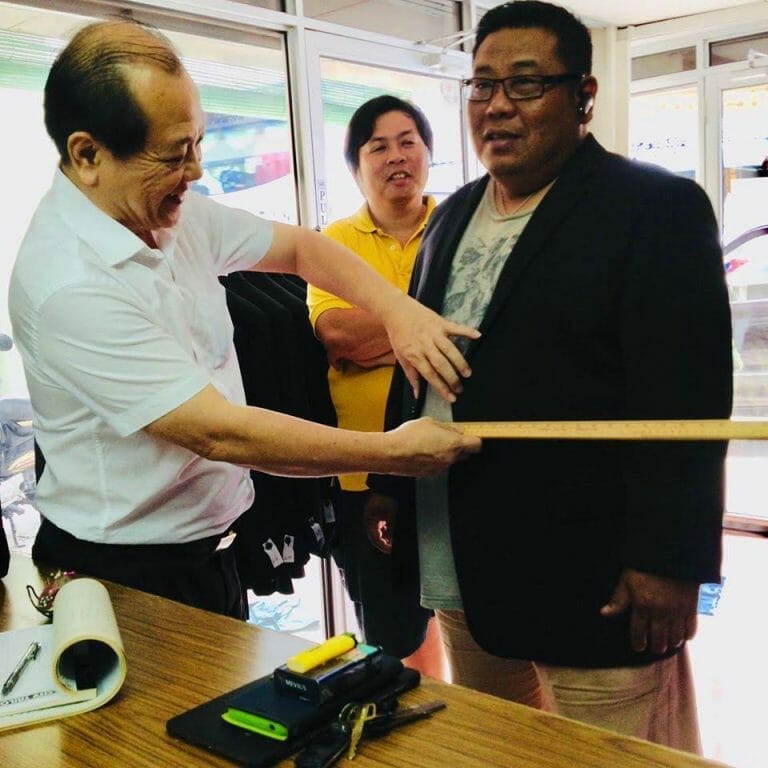 ---
#10 – SHM Tailor
Introduction:
They are an upscale women's tailor shop. They focus is to provide exclusive tailoring services for trad.
Type of Services:
Location:
No 123, Jalan Seang Tek, George Town, Malaysia
Contact: +60 11-5185 6105
Website: Website Link Here
---
Have a Place to Recommend?
Your contribution is valuable to us! Are there any outstanding businesses that you believe should be added to our list? If so, please send your recommendations to us at [email protected]. Tropika Club will review your suggestions and update the list accordingly. Thank you for your help in making our list of businesses as comprehensive and accurate as possible.
---
Meanwhile, Check out Tropika Club's Ecosystem of Websites

Tropika Club Magazine – Tropika Club Magazine is a Singapore-based publication that features articles on a wide range of topics with a focus on local businesses and content for the region. The magazine emphasizes supporting local businesses through its #SupportLocal initiative, which includes coverage of everything from neighborhood hawker stalls to aesthetic clinics in town. In addition to highlighting local businesses, Tropika Club Magazine also covers a variety of local content, including beauty, lifestyle, places, eats, and what's on in Singapore and the Asia Pacific region.
Tropika Club Deals – Tropika Club Deals is a leading online deals and voucher shopping site in Singapore, offering amazing discounts on beauty, wellness, and fitness products and services. It's the perfect platform for customers who want to discover the best deals without having to commit to a specific appointment date and time. These deals are available at major beauty stores, facial salons, hair salons, and other brands in Singapore, with no minimum spend required. Choose from guaranteed discounted deals in the categories of hairstyling, hair removal, facial & aesthetics, body slimming, brows & lashes, nails & makeup, massage & spa or fitness & wellness. Tropika Club Deals is also ideal for customers who want to buy vouchers as gifts or to use for the future. So whether you're looking to save money on your next haircut or want to treat yourself to a relaxing massage, Tropika Club Deals has got you covered with the best voucher and coupon deals in Singapore!