Top 10 Best Tripadvisor-rated Spas and Wellness in Somerset Singapore
Somerset Singapore is home to some of the best spas and wellness centers in the city. Tripadvisor has compiled a list of the top 10 rated spas and wellness centers in the area, based on user reviews. The list includes both luxury and budget-friendly options, so there is something for everyone. Whether you are looking for a place to relax and rejuvenate, or seeking relief from pain or stress, these top-rated spas and wellness centers will not disappoint.
---
#1 – Natureland Spa
Introduction: #9 of 533 Spas & Wellness in Singapore
Natureland at Orchard Liat Towers provides their guest with a soothing massage and relaxing spa experience. With over 12000 sqft of space and 50 rooms, Thei rhighly trained and dedicated therapists deliver result- driven treatments and individual focused customer care. So whether you have only 30 mins for a foot massage or a few hours off, their services can accommodate you.
Type of Services:
FOOT REFLEXOLOGY
(Note: Service will be done by their male masseurs.)
Foot Reflexology

30 Mins
Member $32 |$34.24Non-Member $38 |$40.66

Foot Reflexology

60 Mins
Member $50 |$53.50Non-Member $58 |$62.06

Foot Reflexology

90 Mins
Member $72 |$77.04Non-Member $82 |$87.74
BODY THERAPY
Body Therapy

60 Mins
Member $62 |$66.34Non-Member $72 |$77.04

Body Therapy

90 Mins
Member $88 |$94.16Non-Member $98 |$104.86

Body Therapy
Location:
Robertson Walk
11 Unity Street #01-08/09
Robertson Walk (S)237995
Contact:
Hotline Booking: +65 6733 6780
WhatsApp Booking: +65 8693 1013
Website: Website Link Here
---
#2 – Beauty 21
Introduction: #59 of 533 Spas & Wellness in Singapore
Beauty 21 has been established since 1980 with more than 38+ years of beauty experiences in Singapore. Through the years, its state of art services has been actively and widely spread based on words of mouth by its loyal customers. Today, many customers including overseas clients have been revisiting the salon because of the high standard and quality services provided by their experience beauticians and therapists. In Beauty 21, there is no compromise on the quality of the salon and high standard of services. Their objectives are to provide result oriented services, excellence in customer service and exceptional caring, relaxing and welcoming environment. Over the years, Beauty 21 has achieved servicing many loyal customers with sincere care and professionalism. It has been their main focus to continue to excel in their treatments and services. They are different from many as it is not a place where package sales prevail and resulted in putting their valued customers with unnecessary stress.
Type of Services:
Classic Facials

TOTAL REVITALISING TREATMENT $158
ANTI OXIDATION LUMINOUS FACIAL $198
aquaREVIVE TREATMENT $288
THE DIAMOND MICRODERMABRASION $288
ULTIMATE AGE DEFY TREATMENT $388
THE FINEST REJUVENATION $388

Medi-Facials

INFRA-RAY POWER LIFT $488
VMAX HIFU TREATMENT $488
MESOTHERAPY SKIN BOOSTER $488
BB GLOW REJUVENATION $388

Eyebrow Embroidery

Brow LYFE $688
Brow Blossom $588
gRadiant Brow $688
DUO Brow $888

Hair Removal
Eyelash Extensions
THE EMSCULPT
Makeup Services
Location: 277 Orchard Road, #B2-36, orchardgateway
Nearest MRT Station: Somerset (NS23)
Nearest Bus Stop: Opp Somerset Station (09038)
Nearest Carpark: orchardgateway Carpark (Lobby A)
Contact:
WhatsApp Messenger:
CityLink: 9722 7009
Orchard Gateway: 9642 2322
Telephone:
CityLink: 6238 8529
Orchard Gateway: 6732 6732
Website: Website Link Here
---
---
#3 – My Foot Reflexology
Introduction: #76 of 533 Spas & Wellness in Singapore
My Foot Reflexology started out in a humble 250 sf shop in Midpoint Orchard with only 4 therapists. The concept was to provide a place for relaxation, fully serviced by the handicapped. When My Foot started its operations in 1996, they started training and employing the visually impaired from the local community. My Foot felt strongly that they made very good therapists despite their disabilities. Besides, the visually impaired were also very well suited for customer service positions because of their kind and friendly temperament.
Within a month of their operation, My Foot Reflexology became extremely popular with various media including the Straits Times, Channel 5, Channel 8 ( City Beat ), covering their story. It was a first of its kind because never before had the visually-impaired been offered front-line customer serving positions in the Orchard Road retail environment.
Today, My Foot Reflexology trains and employs individuals with other disabilities including the deaf-mutes, physically handicapped, mentally challenged, as well as retrenched older workers with very little skills and education.
Type of Services:
Foot Reflexology
Upper body massage
Full Body massage
Membership programmes
Reflexology/Massage Party
Location:
1 Kim Seng Promenade
#03-114 Great World City
Singapore 237994
Contact: +65 6738 6235
Website: Website Link Here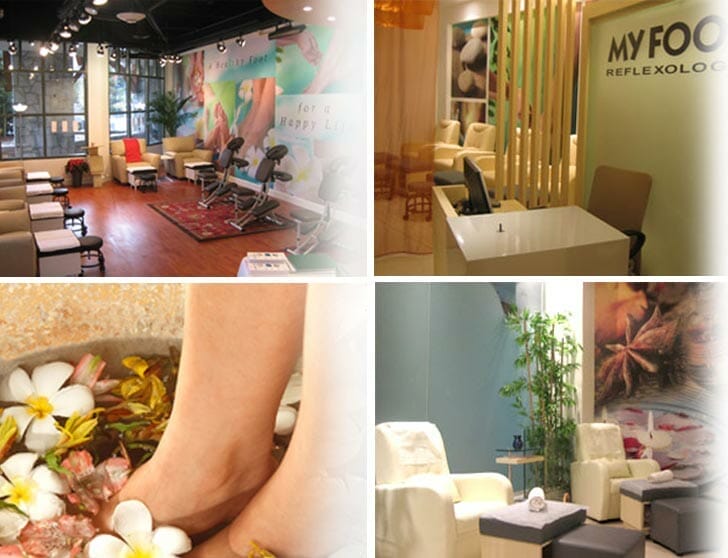 ---
---
#4 – Face Plus by Yamano Singapore
Introduction: #91 of 533 Spas & Wellness in Singapore
Faceplus by Yamano concept is to deliver aesthetic life to every woman. They know what is best for their skin through 100 years of experiences. They are NO 1 facial salon in terms of outlets in japan and history. They have more than 3000 outlets in term of franchises and outlets in japan. Most of their products are selected the best in their beauty awards like Monde selection and Cosmenist (in japan) their core values are to give highest Japanese hospitality and love to customer which is "Omotenashi no Kokoro", time tested supreme massage techniques and use their R&D natural based high quality ingredient products from its rown facility in collaboration with thier own researches from famous university.
Type of Services:
Kohaku Facial (Amber Facial) $380
Age Defying Facial $170
Essential Facial $150
Gentleman Facial $140
Basic Facial $140
Location: 181 Orchard Road #04-02 Orchard Central Singapore, Singapore 238896
Contact: +65 9646 0555
Website: Website Link Here
---
#5 – Wellaholic (Somerset)
Introduction: #141 of 533 Spas & Wellness in Singapore
Wellaholic's vision is to help their customers look their best with the best rates in town. They are a team of professionals who are passionate about beauty and aesthetics.
Type of Services:
Hair Removal

WellaSmooth All-Inclusive Hair Removal Plan
SHR Permanent Hair Removal
Skin Whitening / Hydrating (PTT)
Lifetime Maintain Mode
Body Slimming

WellaShape 360 Full Body Slimming
WellaFreeze 360 Advanced Fat Freeze
Ultrasonic Cavi 360
Laser Lipo 360
WellaShape
WellaFreeze Fat Freeze
WellaSculpt RF Body Sculpting
Stretch Mark Microneedle
Lifetime Maintain Mode

Technology Facials

WellaFacial
WellaBoost Skin Booster
Gold RF Microneedling
Microneedling
Elight Facial Collagen Boost
Radio Frequency V-lift
LED Cell Regeneration

Teeth Whitening

TeethWhite
Lifetime Maintain Mode

Hair Growth

HairGrow Hair Loss Treatment
Microneedling for Scalp
Scalp Booster
Lifetime Maintain Mode
Location: 5 Koek Road #03-21 Cuppage Plaza Singapore 228796
Contact: +65 8856 1338
Kindly visit their website for more of their up to date prices https://www.wellaholic.com/standee/
Website: Website Link Here
---
#6 – Adisha Torre
Introduction: #157 of 533 Spas & Wellness in Singapore
Adisha Torre clinic is proud to be a pioneer in cellular, anti-aging therapy, line correction treatment and deep skin treatments. With numerous award, winning products and treatments. Adisha Torre clinic provides elite skin care products and treatments loyal to quality and to the Adisha Torre clinic motto: Only Elite
Using state-of-the-art technology and invaluable insights, Adisha Torre offers exclusively non-invasive treatments that can yield powerfully transformative results. Co-create with your skin specialist a carefully crafted treatment plan to holistically address your aspirations related to ageing, skin texture improvements or individual feature enhancement, hair and body. All in a setting with plush, elegant interiors and concierge service that is more akin to a five-star hotel or private members' club.
Their treatments are non-invasive and involve minimal recovery time. Most importantly, they are big on results. The outcome is still you – but a happier, more radiant version!
Type of Services:
Face Treatment

100% Pure Red/Black Caviar Treatment
Crystalline Anti-Acne Program
RF Microneedling Resurfacing Treatment
The Golden Ratio Sculpting Program
Hollywood's Anti-Aging Face Treatment
Better Than Botox Non-Surgical Facelift
Auric 24k Gold Treatment
Advanced Brightening For Pigmentations
Korean Glass Skin Treatment
Advanced Hydrafacial Treatment

Hair Treatment

Thinning Hair Therapy
Scalp Care Rejuvenation
Hair Loss Restoration

Body Treatment

Bye Bye! Cellulite Eraser
Bust/Arms/Tummy/Butt Lifting
360 Fat Reduction
Location:
176 Orchard Road, Mall, #01-30 Centrepoint, 238843
176 Orchard Road, Mall, #02-21 Centrepoint, 238843
Contact: Whatsapp: +6598314261 , Email: [email protected]
Website: Website Link Here
---
Read Also:

Top 10 Best Tripadvisor-rated Spas and Wellness in Lavender
---
#7 – Kenko Wellness
Introduction: #188 of 533 Spas & Wellness in Singapore
Kenko has over 26 years' experience in Spa industry and they have 9 branches located mainly in the popular shopping belts of the island currently. Kenko's unique pressure point technique allows blood and oxygen to flow freely throughout the body and promotes lymphatic circulation, providing a truly relaxing experience for both body and mind.
In Kenko Wellness, their masseurs are trained extensively before they are officially hired. This means every of their customers experienced their Kenko Wellness massage effectively.
Type of Services:
Foot Reflexology

40 mins of massage – $59
60 mins of massage – $89
80 mins of massage – $109

Shoulder Massage​

10 mins of massage – $15
20 mins of massage – $38
40 mins of massage – $59
60 mins of massage – $89

Foot, Hand and Shoulder Massage​

60 mins of massage – $89
80 mins of massage – $109
120 mins of massage – $150

Acupressure Head Massage​

20 mins of massage – $42
40 mins of massage – $75
80 mins of massage – $130
Location: 313 Orchard Road, #04-22 S(238895)
Contact: +65 6887 0303
11:00am – 8:00pm
Website: Website Link Here
---
#8 – Elements Wellness CentrePoint
Introduction: #192 of 533 Spas & Wellness in Singapore
Welcome to Elements Wellness at Centrepoint. – Singapore's first private Koyamaki Onsen Spa. Our popular services include body massage, facial treatments, slimming and onsen services. We also specialize in deep tissue massage therapy, a modern take on traditional tui na massage, that focuses on problems areas like neck, shoulder and lower back to relive aches and pain, stress and tense muscle knots. We are at two convenient locations along Orchard road; The Centrepoint or ION orchard.
Type of Services:
Massage
Facial
Remedial Pain Management
Slim & Tone Treatments
Traditional Chinese Medicine (TCM) Wellness
Onsen Therapy
Chiropractic
Location:
#02-28 The Centrepoint
176 Orchard Rd
Singapore 238843
Nearest MRT station: Somerset MRT (NS23)
Nearest Bus-stop: Midpoint Orchard (B09038), Concorde Hotel (B08138), Somerset Station (B08121)
Contact: Call: 6737 8488, WhatsApp 9357 8183, Email: [email protected]
Website: Website Link Here
---
#9 – Mojo Massage Singapore
Introduction: #196 of 533 Spas & Wellness in Singapore
We offered you the best massage experience of a lifetime and get a high quality massage. We will come to your home or hotel room so that it is convenient and private. No Need to have to go to massage parlor or a spa to get the relaxation that you deserve.
Type of Services:
Massage Outcall Delivery Only
Location:
68 Orchard Road
Singapore 238839
Contact: +65 8301 5089 (WHATSAPP)
Website: Website Link Here
---
#10 – Padma Spa
Introduction: #204 of 533 Spas & Wellness in Singapore
A multi-sensory spa that looks after your mind & body. Experience the perfect blend of spa indulgence, restorative therapies and supreme service at every level. With our professional healing touches from head to toe, Padma Spa creates a harmoniously serene environment to revitalise your energies. Our spa treatments and facilities are available for both male and female guests, with our suite of curated massages inherently rooted in the traditional oriental approach to wellness.
There are Shower Facilities, Free Parking, High Quality Massage Oil, Complimentary Beverages.
Type of Services:
Foot Massage

30 min $38
60 min $58
90 min $85

Aromatherapy Body Massage
Acupressure Tuina Body Massage
Foot & Shoulder
Ear Picking
Premium Body Scrub
Location:
15 Scotts Road #01-03
Thong Teck Building
Singapore 228218
Contact: Call: 6235 1133, Email: [email protected]
Website: Website Link Here
---
Have a Place to Recommend?
Your contribution is valuable to us! Are there any outstanding businesses that you believe should be added to our list? If so, please send your recommendations to us at [email protected]. Tropika Club will review your suggestions and update the list accordingly. Thank you for your help in making our list of businesses as comprehensive and accurate as possible.
---
Meanwhile, Check out Tropika Club's Ecosystem of Websites

Tropika Club Magazine – Tropika Club Magazine is a Singapore-based publication that features articles on a wide range of topics with a focus on local businesses and content for the region. The magazine emphasizes supporting local businesses through its #SupportLocal initiative, which includes coverage of everything from neighborhood hawker stalls to aesthetic clinics in town. In addition to highlighting local businesses, Tropika Club Magazine also covers a variety of local content, including beauty, lifestyle, places, eats, and what's on in Singapore and the Asia Pacific region.
Tropika Club Deals – Tropika Club Deals is a leading online deals and voucher shopping site in Singapore, offering amazing discounts on beauty, wellness, and fitness products and services. It's the perfect platform for customers who want to discover the best deals without having to commit to a specific appointment date and time. These deals are available at major beauty stores, facial salons, hair salons, and other brands in Singapore, with no minimum spend required. Choose from guaranteed discounted deals in the categories of hairstyling, hair removal, facial & aesthetics, body slimming, brows & lashes, nails & makeup, massage & spa or fitness & wellness. Tropika Club Deals is also ideal for customers who want to buy vouchers as gifts or to use for the future. So whether you're looking to save money on your next haircut or want to treat yourself to a relaxing massage, Tropika Club Deals has got you covered with the best voucher and coupon deals in Singapore!