10 Affordable Body Sculpting Specialists in Singapore
In recent years, body sculpting has become one of the most popular cosmetic procedures in Singapore. Thanks to advances in technology, there are now many different ways to achieve the desired results. Here are 10 affordable body sculpting specialists in Singapore who can help you achieve the look you desire.
---
#1 – Wellaholic
Introduction:
Wellaholic is an award-winning aesthetic chain in Singapore with multiple outlets island-wide around Singapore. They are the experts in hair removal, body slimming, technology facials, hair regrowth and teeth whitening. Each of their staff has clocked over thousands of treatment hours. They conduct monthly trainings to ensure a high level of consistency and quality of treatments across their outlets. Wellaholic is well-known for their transparent pricing and no hard-selling. They encourage their customers to book first, and pay only after the free consultation during the first appointment. They maintain an occupancy of 30-40% to ensure easy available of slots for booking. With an amazing 8 outlets located around Singapore, you can easily buy your preferred plan and have your treatments done at any Wellaholic outlet near you.
Wellaholic's Underarm Unlimited SHR Hair Removal is an affordable $149 nett for a year or 12 months, making this the most affordable hair removal in Singapore. What's more, you can buy a package and then choose to have your underarm hair removal done at any of their 8 outlets islandwide.
Type of Services:
WellaSculpt RF Body Sculpting (From $139.50 Per Part (From $219 for 2 Body Parts))

WellaSculpt™ Body Sculpting helps to lift, tone and tighten loose or saggy skin using advanced radio frequency technology. Heat is delivered to the skin accelerating the production of collagen and elastin. Experience immediate lifting and tightening of the skin for beautiful body contouring and firmness.
Location: Multiple Location
Contact: +65 8181 1814 (Hotline)
Website: Website Link Here
---
#2 – The Aesthetic Chapter
Introduction:
Their team of therapists and cosmetic professionals are excited to share with you their customized and unique approach to beauty and wellness with their unparalleled medical grade technology and individualized care.
Their medispa-like center, located in the heart of Singapore is an ideal destination for body sculpting and fat removal, and in treating cellulite, stretch marks, acne scars, melasma, and hyper pigmentation.
Type of Services:
QSculpting Pro (From $120 per part)

QSculpting PRO technology utilizes magnetic field energy to induce apx 20,000 supramaximal muscle contractions per session, targeting hard-to-tone areas. These deep, intense muscle contractions are impossible to achieve voluntarily at the gym!
Once exposed to supramaximal contractions, the muscle tissue is forced to adapt to such extreme conditions. It reacts with a deep remodelling of its inner structure that results in muscle building and fat burning.
Location: 402 Orchard Road , Delfi Orchard #03-11 , #03-19 (S) 238876
Contact: +65 9785 7022
Website: Website Link Here
---
---
#3 – 8 Medical Aesthetic
Introduction:
8 Medical Aesthetic offers a complete array of non-surgical medical aesthetic medical aesthetic procedures. From their doctors to equipment, each step of your treatment incorporates complete attention to detail.
Type of Services:
Exilis Skin Tightening Treatment (From $169)

What is it? The Exilis Elite is a treatment for collagen stimulation and skin tightening. It is also an FDA-approved, non-invasive treatment for wrinkles and rhytids. It uses radiofrequency energy to tighten skin in any area of the body or face
Location: Multiple Location
Contact: +65 3157 5947/ +65 9151 9017
Website: Website Link Here
---
---
#4 – Chez Moi De Beaute
Introduction:
Beauty comes in all shapes & forms. At Chez Moi, they recognize that every individual is special. They are committed to providing quality beauty & wellness solutions tailored to your unique needs, so that you can look and feel your best, always.
Type of Services:
LPG Full Body Lipomassage Star Treatment (From $180)
Location: 14 Scotts Rd, #04-75/65 Far East Plaza, Singapore 228213
Contact: +65 6738 6108/ +65 8721 8123
Website: Website Link Here
---
#5 – Skinz Heritage
Introduction:
Their mission is to provide the best beauty experience by building confidence for all their clients.
Type of Services:
Anti Cellulite Treatment – Per Spot (From $180)

A heated applicator is used to deliver the radio frequency and thermal energy into the treated area, and it will gradually get warmer until it reaches an optimal temperature range. If the VariPulse feature is being used, a gentle suction can be felt together with the heat to deliver the radio frequency technology deeper into the tissues for better results. The level of heat and suction can be adjusted at any point in time during the treatment if you start to feel uncomfortable.
Location: 304 Orchard Rd, #04-55 Lucky Plaza, Singapore 238863
Contact: +65 8211 8299
Website: Website Link Here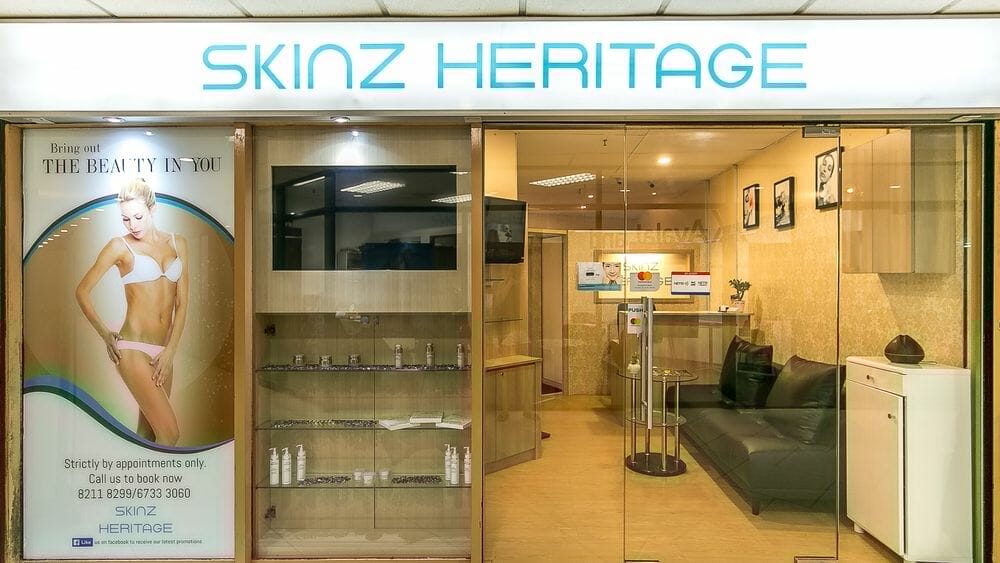 ---
#6 – NewU Aesthetics
Introduction:
At NEWU Aesthetics, they provide a premium one-stop solution for Hair Removal, Skin Care, and Slimming.
Type of Services:
RF Slimming (From $218)

Radiofrequency (RF) energy treatment is a new and promising technology for non-surgical body contouring, fat and cellulite reduction. (full body ,can do arm ,tummy .thigh .back.)
Location: 138 ROBINSON ROAD OXLEY TOWER #03-57, Singapore, Singapore
Contact: +65 9138 8101
Website: Website Link Here
---
_

Read Also:

Your Top 10 Affordable Fat Freezing Specialists in Singapore

 _
---
#7 – GT Aesthetics
Introduction:
GT is founded by industry veterans and backed by venture capital. However, the value proposition is simple. The industry suffers from a lack of best practices among operators. GT aims to provide effective quantifiable results with a ​transparent pricing model.
They have a strategic tie-up with product and equipment manufacturers directly and can customize their equipment and product formula to better serve their clients. The after-sales support from the manufacturer ensures operations are seamless and always at optimum capability.
Type of Services:
Body Contouring (From $198)
Location:
GT AESTHETICS VISION EXCHANGE

2 Venture Drive, Vision Exchange, 01-07, SG 608526
GT AESTHETICS MIDPOINT ORCHARD

220 ORCHARD ROAD, #04-12A SG 238852
Contact:
GT AESTHETICS VISION EXCHANGE
GT AESTHETICS MIDPOINT ORCHARD
Website: Website Link Here
---
#8 – Lux Medical Aesthetic
Introduction:
Welcome to Lux Medical Aesthetic Clinic, one of Singapore's leading aesthetic clinics.
Whether you are new to the industry & looking to obtain treatment for the first time or if you have been been a clientele of aesthetic clinics and looking for a more luxurious experience, you have come to the right place!
Type of Services:
The Venus Legacy (From $300 per session)

It combines the use of Multi-polar Radio Frequency and Pulsed Electromagnetic Fields. Radiofrequency when applied to the skin produces a uniform thermal reaction beneath the skin at a targeted depth within the tissue. This stimulates the body's natural collagen production process.
With each treatment, the Venus Legacy works to increase collagen and elastin fiber production over the treated areas. This helps to tighten, lift and improve the textural quality of the skin such as fine lines and wrinkles*.
In addition, the thermal energy generated from the Venus Legacy treatment targets fat cells. This helps to contour and slim targeted areas through desired circumferential reduction*.
Location: The Cathay, 2 Handy Road #02-09 Singapore 229233
Contact: +65 6815 9922
Website: Website Link Here
---
#9 – The Body Firm
Introduction:
"When you look good, you feel good" – This is the belief Joyce and Stephen, the husband and wife team behind The Body Firm; a homegrown slimming center in Singapore, hold firmly to.
Fuelled with a passion to help people look their very best, The Body Firm was born with the conviction that taking a holistic approach toward health and beauty enables the positive changes that their clients are searching for.
Bringing a wealth of beauty advisory services since its inception in 2007, The Body Firm strives to go above and beyond for their clients.
Type of Services:
Venus Body Fat/Cellulite Reduction (From $500 for a 30-minute session)

The DiamondPolar applicator delivers Multi-Polar Radio Frequency and patented Pulsed Electro Mangetic Fields to stimulate fibroblasts to increase collagen synthesis and create lipolysis through its thermal action. With no heat spikes, the constant and uniform heat delivers maximum efficacy in shorter treatment times, resulting in a dramatic improvement with no pain or downtime.
Location:
Delfi Orchard

402 Orchard Road,, Delfi Orchard #01-04, Singapore 238876

Raffles City

252 North Bridge Road,, Raffles City Shopping Centre #02-27B, Singapore 179103
Contact:
Delfi Orchard
Raffles City
Website: Website Link Here
---
#10 – Only Aesthetics
Introduction:
The ONLY Group is a unique Singapore homegrown company with medical distribution, aesthetic clinics, franchise management, and an investment arm in its brand, which centers on bettering the lifestyle of people. The ONLY Group is Singapore's Largest Multi-Award Winning Aesthetics Group that has won numerous accolades & awards for its aesthetics treatment utilizing the latest in medical aesthetics technology and is highly raved by media, celebrities, bloggers, clients, and even Royalty.
Type of Services:
ONLISCULPT®. (From $588 per session)

ONLISCULPT® is a non-invasive treatment that involves the delivery of its patented 448 kHz monopolar radiofrequency energy deep into the skin's dermis and sub-dermal layer without damaging the external layer of skin. This energy stimulates collagen production and causes the skin to appear firmer with a more youthful appearance. At higher energies, this patented 448 kHz energy can also shrink fat cells and is especially useful in treating cellulite and sculpting the face and body. This results in a slimmer facial appearance too. Expect to target visceral fats and cellulite as well as improve your overall health and immunity levels. ONLISCULPT® treatment also speeds up recovery in patients experiencing pain from inflammation and damaged tissues as well as aiding in soft and hard tissue rehabilitation.
Location: Multiple Location
Contact: +65 8123 7714
Website: Website Link Here
---
Have a Place to Recommend?
Your contribution is valuable to us! Are there any outstanding businesses that you believe should be added to our list? If so, please send your recommendations to us at [email protected]. Tropika Club will review your suggestions and update the list accordingly. Thank you for your help in making our list of businesses as comprehensive and accurate as possible.
---
Meanwhile, Check out Tropika Club's Ecosystem of Websites

Tropika Club Magazine – Tropika Club Magazine is a Singapore-based publication that features articles on a wide range of topics with a focus on local businesses and content for the region. The magazine emphasizes supporting local businesses through its #SupportLocal initiative, which includes coverage of everything from neighborhood hawker stalls to aesthetic clinics in town. In addition to highlighting local businesses, Tropika Club Magazine also covers a variety of local content, including beauty, lifestyle, places, eats, and what's on in Singapore and the Asia Pacific region.
Tropika Club Deals – Tropika Club Deals is a leading online deals and voucher shopping site in Singapore, offering amazing discounts on beauty, wellness, and fitness products and services. It's the perfect platform for customers who want to discover the best deals without having to commit to a specific appointment date and time. These deals are available at major beauty stores, facial salons, hair salons, and other brands in Singapore, with no minimum spend required. Choose from guaranteed discounted deals in the categories of hairstyling, hair removal, facial & aesthetics, body slimming, brows & lashes, nails & makeup, massage & spa or fitness & wellness. Tropika Club Deals is also ideal for customers who want to buy vouchers as gifts or to use for the future. So whether you're looking to save money on your next haircut or want to treat yourself to a relaxing massage, Tropika Club Deals has got you covered with the best voucher and coupon deals in Singapore!