Top 10 Best Conveyance Lawyers in Auckland New Zealand

If you have a dispute to resolve or require legal advice regarding conveyance matters in Auckland, New Zealand, it is important to work with the best conveyance lawyer available. This article highlights the top 10 best conveyance lawyers in Auckland, New Zealand based on their experience, expertise, and cost-effectiveness. All the attorneys featured in this list have years of experience in property law and understand the local laws and regulations related to real estate deals.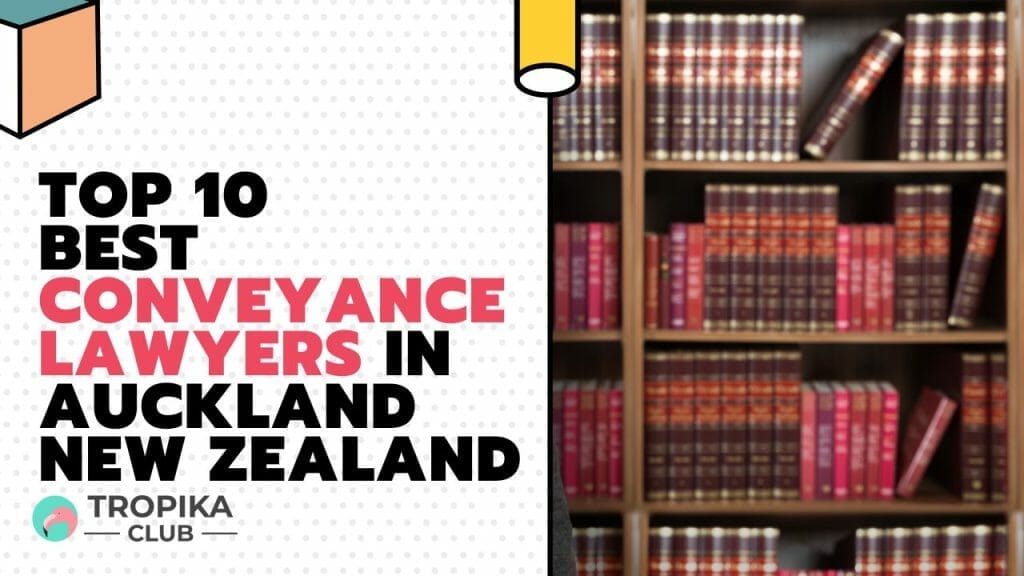 ---
#1 – Convey Law
Introduction:
Convey Law – Online Property Lawyers
Convey Law is the online conveyancing division of LAW.NZ Lawyers. Our main office is located at Takapuna, North Shore, Auckland. As dedicated experienced Property / Real Estate Lawyers we are highly trained and skilled to deal with your property law / conveyancing transactions. We are the first law firm in New Zealand to provide conveyancing quotes and instruction details process via Honour. law system. This allows all our clients to check the progress of their conveyancing case online and be updated via SMS texts.
Type of Services:
Business Lawyers
lease or a license
Transferring The Ownership
Mortgage Refinancing
Location:
Smales Farm, B:Hive, 72 Taharoto Road, Takapuna, Auckland 0622
PO Box 331391, Takapuna, Auckland 0740
Contact:
09 281 2365S
Website: Website Link Here
---
#2 – Norling Law Limited
Introduction:
Norling Law is a specialist practice based in Auckland but we serve clients New Zealand-wide. We also have clients who are based abroad but do business in New Zealand. We are innovative in our approach to service meaning we can serve clients efficiently from anywhere in the world.
Type of Services:
Insolvency and Restructuring Lawyers Auckland
Dispute Resolution & Litigation Lawyers
Debt Recovery and Security Enforcement
Shareholder Disputes
Construction
Tax Debt Problems
Commercial Contract Issues
Lawyer to Lawyer
Location:
61 Constellation Drive, Building 2, Level 3,
Albany
Auckland
New Zealand
Contact: (09) 973 0543
Website: Website Link Here
---
---
#3 – The Property Law Centre
Introduction:
The Property Law Centre opened in 1998 and is headed by Richard Middleton. Richard is a Barrister, Solicitor, and Accountant. He is experienced in property transactions, conveyancing, and other legal work including trusts, relationship property, estates, and subdivisions. The team also includes experienced legal executives: Jenny Abrahams, Diana King, Karen Harris, Shelley Crowie, Kelley Gao, Romaine Bousader, Michelle Johnson, Vanessa Zhu, and Nina Fraser. Our reception and administration services are run by Lukas Walkowiak and Debbie Timu.
Type of Services:
BUYING A PROPERTY
SELLING A PROPERTY
TRUSTS/COMPANIES/PARTNERSHIPS
Sale Of Property
Purchase Of Property
Refinancing
Mortgages
Location:
265 Campbell Road, Greenlane, Auckland
Contact: (09) 579 0033
Website: Website Link Here
---
---
#4 – Asco Legal
Introduction:
At ASCO Legal they have a fresh perspective on the practice of law, a client-centered one. They understand that serving the legal needs theri clients have entrusted to us, is our core purpose.
​They've got the tools and we listen to what their clients need. We give considered advice to help their clients to make informed decisions and then help to implement them in a pragmatic and efficient manner. These are the reasons they enjoy long-standing relationships with their clients
Type of Services:
Commercial and Business Services
Asset Protection & Estate Planning
Business Sale & Purchase Agreement
Pre-nups, Separations & Property Sharing
Location:
ASCO Legal
2/46 Wellington Street
Howick
Auckland 2014
Access off Fencible Drive, next to Labtests
Contact: 09 308 8070
Website: Website Link Here
---
#5 -Queen City Law
Introduction:
Queen City Law has been able to recruit some of New Zealand's most talented lawyers and supporting staff. They have created a culture that facilitates excellence and one that is inherently client-centric. the firm has the unique ability to deal with complex issues and transactions with ease while also adding true value to our clients and their needs.
It is 2022, and for some, the year of the Tiger! Queen City Law wishes all of its clients and friends the very best for 2022 and beyond.
Type of Services:
Banking &
Finance
Business Law
Company Law
Construction Law

Location:
PO Box 6908, Victoria Street West
DX CP24080
Contact: +64 9 970 8810
Website: Website Link Here
---
#6 – Heathcote Legal
Introduction:
Professional – Reliable – Convenient
At Heathcote Legal, the focus is not on them, but on you, the Client.
They know that life sometimes gets in the way, leaving you with little to no time to attend to the important things, including spending time with the people most important to you.
At Heathcote Legal, we want to make life easier for you, as they appreciate time constraints and the ever-increasing demands of life in general. With an online self-help service on our website and a mobile service in the Millwater area – it could not be easier!
Type of Services:
Conveyancing / Property
Enduring Powers of Attorney
Relationship Property
Divorce & Separation
Willls, trusts & epoas
Business & Commercial Law
Estate Claims and Litigation
Deceased Estates
PPPR Applications
Location:
17 CORINTHIAN DRIVE, BUILDING D, LEVEL 1, ALBANY, AUCKLAND, 0632
Contact: 09 475 5916
Website: Website Link Here
---
_

Read Also:

Top 10 Best Freight Forwarders in Singapore

_
---
#7 – Andrew Seton Law Limited
Introduction:
Type of Services:
Property & Conveyancing
Business Law
Wills & Estate Planning
Relationship Property
Location:
945A New North Road First floor (nothern end of the building)
Mt Albert
Auckland 1025
New Zealand
Contact: 09 849 5800
Website: Website Link Here
---
#8 – Swayne McDonald Lawyers
Introduction:
Swayne McDonald has a staff of 4 lawyers and 3 registered legal executives, each with an interest, wide experience, and detailed knowledge in their own particular 'area' of law. Legal services provided cover residential and commercial conveyancing, small business/commercial, family trusts, property law, Wills, and deceased estate administration, together with a wide range of other general legal matters.
Their view is that the services we provide to clients directly should be only those services that they can provide efficiently and cost-effectively. If a client requires legal services in an area of law they do not have a sufficient level of expertise in then such work is briefed to those whom we believe are best able to achieve the result our client desires. We do not pretend to be a full-service legal firm, however, we do believe that through our informal network of associations and knowledge of the legal profession, we can directly, or indirectly, obtain the optimum result for their clients.
Type of Services:
Employment Agreements
Contractor Agreements
Shareholders Agreements
Partnership Agreements
Sale or Purchase of a Business
Franchising
Commercial Property
Location:
236A Great South Road, Manurewa
Contact: +64 9 267 2700
Website: Website Link Here
---
#9 – Keil & Associates
Introduction:
They have a close-knit and experienced Teamtheir solicitors have a combined experience of over 50 years in legal practice. Many of their clients have been with them for close to 20 years and they are able to see clients outside of normal working hours if necessary, to ensure that matters are promptly attended to, and without the need for their clients to take time off work.
Type of Services:
BUYING AND SELLING BUSINESS
BUYING AND SELLING PROPERTIES
COMMERCIAL LAW EMPLOYMENT LAW
WILL AND ESTATE MATTERS
FAMILY LAW
FAMILY TRUST
Location:
(barristers & solicitors)
Auckland, New Zealand
PO Box 8124 Newmarket 1149, Auckland
Contact: 09) 379 9898
Website: Website Link Here
---
#10 – Snedden Law
Introduction:
Located in the heart of Auckland City Snedden and Associates provides a modern legal service with traditional values. Established in 1931, Snedden and Associates remain a family firm. The founding purpose was to provide quality affordable legal advice to individuals, families, and small businesses. That same individual face-to-face service remains today.
Type of Services:
Commercial Law
Residential Property
Asset Protection
Family Law & Relationship Property
Location:
P O Box 105-195 Auckland
DX CP21507
Ground Floor, Liston House, St Patricks Square
43 Wyndham Street
Auckland City 1010
Contact: : (09) 379 4506
Website: Website Link Here
---
Have a Place to Recommend?
Your contribution is valuable to us! Are there any outstanding businesses that you believe should be added to our list? If so, please send your recommendations to us at [email protected]. Tropika Club will review your suggestions and update the list accordingly. Thank you for your help in making our list of businesses as comprehensive and accurate as possible.
---
Meanwhile, Check out Tropika Club's Ecosystem of Websites

Tropika Club Magazine – Tropika Club Magazine is a Singapore-based publication that features articles on a wide range of topics with a focus on local businesses and content for the region. The magazine emphasizes supporting local businesses through its #SupportLocal initiative, which includes coverage of everything from neighborhood hawker stalls to aesthetic clinics in town. In addition to highlighting local businesses, Tropika Club Magazine also covers a variety of local content, including beauty, lifestyle, places, eats, and what's on in Singapore and the Asia Pacific region.
Tropika Club Deals – Tropika Club Deals is a leading online deals and voucher shopping site in Singapore, offering amazing discounts on beauty, wellness, and fitness products and services. It's the perfect platform for customers who want to discover the best deals without having to commit to a specific appointment date and time. These deals are available at major beauty stores, facial salons, hair salons, and other brands in Singapore, with no minimum spend required. Choose from guaranteed discounted deals in the categories of hairstyling, hair removal, facial & aesthetics, body slimming, brows & lashes, nails & makeup, massage & spa or fitness & wellness. Tropika Club Deals is also ideal for customers who want to buy vouchers as gifts or to use for the future. So whether you're looking to save money on your next haircut or want to treat yourself to a relaxing massage, Tropika Club Deals has got you covered with the best voucher and coupon deals in Singapore!