Top 10 Curries in Singapore that Will Make Your Mouth Water
If you're a fan of curry, then you'll definitely want to check out this list of the top 10 best curry in Singapore. From Indian to Thai to Japanese curry, there's something for everyone. So whether you like it mild or spice, there's sure to be a curry on this list that you'll love.
---
#1 – Greenleaf Café
Introduction:
Green Leaf Cafe is nutritious, healthy and energetic restaurant on No.43 Cuff Road,Singapore – 209753.The secret of Green Leaf Cafe is in proper use of selected spices to bring out the rich flavour and aroma in food. Green Leaf Cafe is a family-friendly, casual atmosphere with excellent service and their food is great.
Greenleaf Café is very keen in providing good nutrition which generates more usable energy – energy to keep pace with the kids, tackle that home and office improvement project.
Greenleaf Café is primarily focussed on customer's health, well-being and include among others economical, ecological and social concerns.
Greenleaf Café has social responsibilities that serving people with a vegetarian diet that reduces the risk for chronic degenerative diseases such as obesity, coronary artery disease, high blood pressure, diabetes and certain types of cancer including colon, breast, prostate, stomach, lung and oesophageal cancer.
Menu Items:
Curry Leaves Flattened Rice Kichadi ($3.50)
Curry Leaves Powder Idly ($5)
Kadai Vegetable Curry ($6.50)
Chetti Nadu Vegetable Curry ($7)
Location: No.43, Cuff Road, Singapore – 209753
Contact: +65 6291 1171
Website: Website Link Here
---
#2 – MTR Singapore
Introduction:
MTR Singapore restaurant is an F&B venture between Samanvay Singapore Pte Ltd and the 90 year old heritage restaurant brand, MTR from Bangalore, India. Samanvay takes pride in establishing the first overseas branch of this heritage restaurant in Singapore. The motto of this restaurant is to serve authentic South-Indian vegetarian food in Singapore, with the same taste that is available in Bangalore, India since 1924.
The food quality practices at MTR Singapore are their commitment to excellence. Utmost care is exercised in all facets of food preparation from farm to fork. The ingredients are selected after a careful process of quality checks and satisfying various attributes before the processing begins on their kitchen.
Menu Items:
Masala Rava IDLY ($5)
Curd Vada ($5)
Curd Rice ($5)
Pudi Dosa ($6.50)
Location: 438 Serangoon Rd, Singapore 218133
Contact: +65 6296 5800
Website: Website Link Here
---
---
#3 – The National Kitchen by Violet Oon at the National Gallery
Introduction:
Violet Oon Singapore was created in 2014 when luxury and lifestyle brand visionary Manoj M Murjani, Chairman of Group MMM was looking to create his next Singapore brand. His meeting with Singapore culinary icon, Violet Oon saw a meeting of the minds. Manoj was looking for an authority in Nyonya and Singapore cuisine and Violet and her family were looking for someone to take her food beyond the successful restaurant and food merchandise range that they launched two years before. Manoj and Violet's family discovered they shared the vision of bringing the best of Singapore cuisine to the world and together they launched a dynamic partnership.
Their dishes represent Singapore's rich history at the crossroads of the world. At Violet Oon Singapore, thry feature a myriad of flavours inspired by their Nyonya, Chinese, Indian and Malay kitchens.
Customer's experience with them will be an immersive dive into the rich heritage of many cultures. With them, customer will experience the comfort of traditional favourites redefined by using the finest quality ingredients. The confluence of simplicity and luxury.
Everything they put our hand to – from our in-restaurant dining experience to their catered events – reflects our passion for quality food, presented beautifully with sophisticated service.
They are the perfect venue for a reuniting with family and friends, for showcasing Singapore to your overseas friends or for corporates to create a lasting impact on their guests.
They are committed to offering the best dining experience where each of their restaurants have a different concept and something new to offer, surprising and delighting our guests every time!
Menu Items:
Nyonya Bento Set C- Chicken Curry, Broccoli Lemak, Tahu Goreng, White Rice ($28.89)
VO Curry Chicken ($26.75)
Kuay Pie Tee ($20.33)
Turmeric Chicken Wings ($19.26)
Location: 78 Airport Boulevard, #01-205/206 Singapore 819666
Contact: +65 9834 9935
Website: Website Link Here
---
Read Also:
---
#4 – The Curry Culture
Introduction:
The Curry Culture, our humble ode to the ancient forms and culture of India, is one of Singapore's best-kept secrets.
Passion for traditional Indian cuisine, guest service and life is the best way to describe the Curry Culture experience. The Curry Culture offers a sophisticated Indian fine dining experience with effortlessly charming staff, discreet service and authentic Indian cuisine.
A classic combination of the new India, where the traditional and the modern co-exist, authentic Indian food in a relaxed atmosphere and modern setting, without compromising on the traditional values of Indian cuisine and service.
In a world that is on the go – 24×7- the Curry Culture offers a brief respite with it's charming alfresco and indoor dining spaces for a memorable dining experience, where one can catch up with friends, family and work colleagues without the stress of daily life.
They, at the Curry Culture, believe that the key ingredient in any form of cooking is Love. Love for the art of cooking and passion for guest service makes for a memorable dining experience for our guests. Of course, the fact that we love what we do always helps.
Menu Items:
Kadhai Murgh ($27)
Rara Gosht ($32)
Goan Prawn Curry ($30)
Paneer Tikka- Curry Culture Style ($26)
Location: 31 Cuppage Road, Cuppage Terrace, Singapore 229457
Contact: +65 6235 6133
Website: Website Link Here
---
#5 – Aromas of India
Introduction:
Aromas of India" also known as by its valued clients, brings alive the rustic flavors of the Indian cuisine, traditionally famous for its savory "tandoori" dishes and exotic curries. Dedicated to serving authentic and the best of Indian cuisine, is truly a foodie's paradise. The fresh meat cooked in flavored spices exuding an appetizing fume is bound to draw your attention. The exclusive collection of vegetarian dishes complements our menu thus giving us the brand of an authentic India cuisine.
Menu Items:
Chicken Vindaloo
Kadai Gosht
Keema Mattar
Bengali Fish Curry
Location: 60 Race Course Road,Singapore 218567
Contact: +65 9679 6242
Website: Website Link Here
---
---
#6 – Gayatri Restaurant
Introduction:
In the culinary world, Indian cuisine is the one cuisine that has a delicious mix of spices that dance on your palate and play with your senses. At Gayatri, we take that one step further by serving you authentic Indian flavours that will remind you of your mother's cooking and India. Served in a cosy family-friendly setting, our chefs from India bring you traditional Indian food, both North Indian and South Indian, guaranteeing to whet everyone's appetite. Being one of the oldest banana leaf establishments in Little India, we endeavour to bring you the best Indian food in Singapore at affordable prices. Come on down today to dip your toes in our rich culture and let us entertain you with our melody of fragrant and warm spices that will make you feel right at home.
Menu Items:
Location: 122 Race Course Road,#01-01, Singapore 218583
Fish Head Curry ($27)
Chicken Masala ($6.90)
Fish Briyani ($14.90)
Mutton Mysore ($12)
Contact: +65 6291 1011
Website: Website Link Here
---
#7 – Coriander Leaf @ Chijmes
Introduction:
Coriander Leaf opened its flagship restaurant in the neo-classical 19th century Chijmes complex in 2015. The multi-concept restaurant encompasses authentic Pan-Asian dining, with an exciting culinary team-building and culinary education programme.
Guests can choose to dine at our Main Dining room which has an open kitchen concept, be seated at our stunning private dining room, or dine in the cooking studios with its own Chef's table.
The restaurant also has an exquisite bar with an extensive range of wines, Asian cocktails and spirits, and a wide array of fine beverages to compliment the cuisine.
Menu Items:
Young Jackfruit
Stir Fried Eggplant
Braised Tiger Prawn
Braised Beef Briskets
Location: #02-01 Chijmes, 30 Victoria Street, Singapore 187996
Contact: +65 6837 0142
Website: Website Link Here
---
#8 – Enjoy Eating House and Bar @ Stevens
Introduction:
A taste of the food and Singaporeans will go "Wah Shiok". That is what great Singaporean food should be. And there is no greater enjoyment than sharing this experience with your friends and family.
Thus, ENJOY was started in 2018 as a small eating house in JlnBesar founded by two childhood friends, James and Joel, on the principle of making the most out of the precious moments you have by enjoying some of the greatest pleasures life can bring – great food and great company!
Menu Items:
Crispy Fish with Chef Joel's Red Curry Sauce
Nyonya Curry Chicken
White Pepper Alaskan King Crab
Singapore Style Chilli Prawn
Location: 383, Steven Rd, #01-07, Mercure On Steven, Singapore 257840
Contact: +65 8511 1478
Website: Website Link Here
---
#9 – Samy's Curry
Introduction:
Samy's Curry was founded by the excellent chef Mr. M. Veerasamy back in the 1960's and the restaurant remains a family run establishment to this day.
Mr. M. Veerasamy was born in the southern part of India. He came to Singapore to work as a cook for a group of Indian merchants who came to do trading in Singapore.
As a hobby, during his spare time, he used to experiment and cook new recipes and give the dishes to his neighbours to try. Soon, his food became very popular in his neighbourhood and people started to come to him to request him to cook the dishes for them.
This inspired him to start his own food business.
And through his hard work, he setup his first stall at Tank Road in the 1960's. After which he moved his stall to Pearl's Hill Center. And eventually, he moved to Dempsey Road in the 1970's to set up a bigger restaurant to cope with the increasing customers. And the restaurant has remained at Dempsey Road ever since.
From its humble beginnings, Samy's Curry has grown to become a beloved and award winning Singaporean landmark, famed for delicious food and friendly service. Customers come from across the island to enjoy the lush Dempsey Road setting and sumptuous dishes, especially the legendary Masala Chicken, Fish Head Curry, Fish Cutlet and Mysore Mutton made from secret recipes consisting of different blend of spices, created by the late Mr. M. Veerasamy. Samy's Curry is an establishment rooted in tradition serving much loved authentic Indian dishes on a banana leaf in a true South Indian tradition.
Menu Items:
Fish Head Curry
Curry Squid
Curry Mutton
Curry Fish
Location: 25 Dempsey Road Singapore, Singapore 249670
Contact: +65 6472 2080
Website: Website Link Here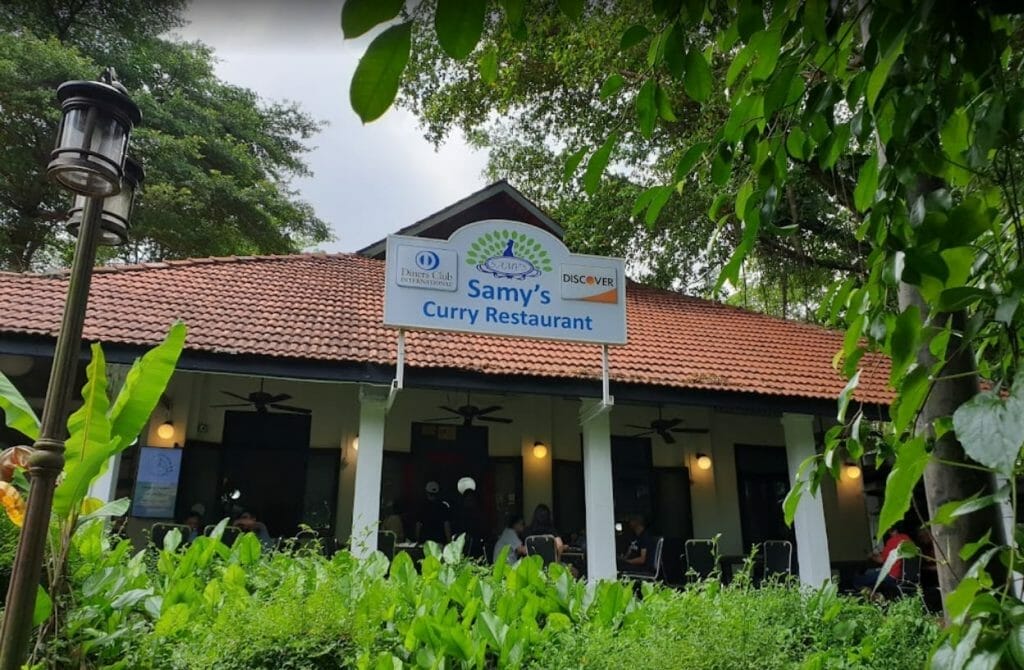 ---
#10 – Anglo Indian Cafe & Bar, Chijmes
Introduction:
They have carefully curated and adapted the most-loved Indian dishes like Butter Chicken, Chicken Tikka, Railway mutton curry, a wide selection of Indian breads to create a menu that caters to global tastes and preferences from Southall to Singapore. Their food is Indian and loved by all!
In 2011 the first Anglo Indian Cafe & Bar opened at Shenton Way. The idea was simple, we wanted the most loved and often missed by the natives, Indian food to be available in Singapore.
A delicious blend of east and west, its richness comes from a liberal use of yoghurt, coconut, almonds, flavoured with an assortment of Indian spices lending this cuisine its unique and distinctive flavour.
From the north to the coastal plains of India, our menu creates an interesting variety of dishes from curries to seafood. Prepared with authenticity and high attention to detail. It has kept our guests coming back for more every single time.
Menu Items:
Indian Railway Mutton Curry ($24)
Goan Fish Curry ($20)
Madras Prawn Curry ($26)
Location: 30 Victoria Street, #01-13 Singapore 187996
Contact: +65 6873 2750
Website: Website Link Here
---
Have a Place to Recommend?
Your contribution is valuable to us! Are there any outstanding businesses that you believe should be added to our list? If so, please send your recommendations to us at [email protected]. Tropika Club will review your suggestions and update the list accordingly. Thank you for your help in making our list of businesses as comprehensive and accurate as possible.
---
Meanwhile, Check out Tropika Club's Ecosystem of Websites

Tropika Club Magazine – Tropika Club Magazine is a Singapore-based publication that features articles on a wide range of topics with a focus on local businesses and content for the region. The magazine emphasizes supporting local businesses through its #SupportLocal initiative, which includes coverage of everything from neighborhood hawker stalls to aesthetic clinics in town. In addition to highlighting local businesses, Tropika Club Magazine also covers a variety of local content, including beauty, lifestyle, places, eats, and what's on in Singapore and the Asia Pacific region.
Tropika Club Deals – Tropika Club Deals is a leading online deals and voucher shopping site in Singapore, offering amazing discounts on beauty, wellness, and fitness products and services. It's the perfect platform for customers who want to discover the best deals without having to commit to a specific appointment date and time. These deals are available at major beauty stores, facial salons, hair salons, and other brands in Singapore, with no minimum spend required. Choose from guaranteed discounted deals in the categories of hairstyling, hair removal, facial & aesthetics, body slimming, brows & lashes, nails & makeup, massage & spa or fitness & wellness. Tropika Club Deals is also ideal for customers who want to buy vouchers as gifts or to use for the future. So whether you're looking to save money on your next haircut or want to treat yourself to a relaxing massage, Tropika Club Deals has got you covered with the best voucher and coupon deals in Singapore!