Mother's Day 2021: How I Got Close to My Mother
As Mother's Day 2021 neared, I was pondering about my relationship with my mother. It's been over a year since I was in the same room as her, after all.
For the longest time, I've always felt that I have a very close relationship with my mother. Once, when she was holding my hands as I walked to class during my primary school, I remember deciding that I'll never be shy about holding her hands, even when I grow up. So, when we're going to the park for a walk or a jog, I'd stay with her, bantering in the fading gold of the evening sun—talking about my hopes, and hers.
I think I only got close to her because I knew how to listen to her. Even now, when I'd call her I'd try to coax out her frustrations, silently nodding as she complained about work, pretending to understand her feelings. Or maybe I do understand her. She's headstrong, prudent. She knows what she's doing, even when her colleagues at work are giving her a tough time. She loves to take pictures and make memories, as evidenced by reams and reams of family photos. And she loves current affairs. My mother's ears would prick up whenever the news segment comes on the radio. She'd keep her eye on CNN when she's folding the laundry by the TV. She even knows a thing or two about Google Adwords, mind you.
---
---
Things change, and perhaps parents do mellow over time. Now, it seems that my mother is more attuned to my literary ambitions. She'd ask me from time to time if I'm working on any writing, or submitting to any competitions or open calls. I even have black-and-white proof that she's proud of me.
My relationship with her did shift a bit after I moved to Singapore. I'm a bit closer to my father now (which will be fodder for another article), since he's the one here with me, sorting the paperwork for my university courses. I'd then rely more on my father for advice since he would ask me if I needed any. He would even call me if I looked anxious from the video call the night earlier.
My mother would rarely visit me in Singapore only because her work precludes her to do so. Though, the years before the pandemic, she made more effort to visit me, even befriending my landlords. But there's also the little things: buying a hoodie for me when she heard it's cold at the library, offering laundry tips, imploring me to eat enough.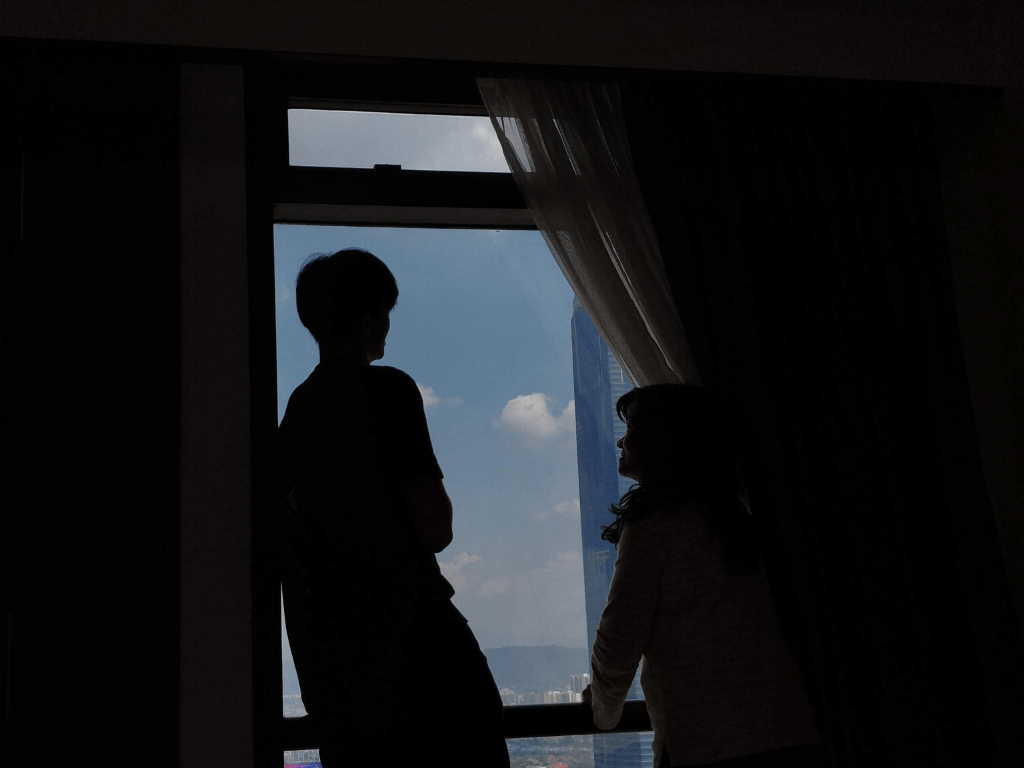 Now, I do call my mother from time to time (yes, even not on Mother's Day). But ours is a quiet kind of kinship. She'd email me mailers from the company where she'd get some of her nutritional supplement from, hoping it'd give me fresh ideas for my copywriting. And her reply would come with a short, simple note. Something like:
Hi Ben,
For yr reading.
Love Mum
I feel every word behind it. And in a way, our relationship remained the same. I'd still call her from time to time. I'd still offer her my smart quips and share my wanderlust with her over those calls.
I still remember the day I was flying off, the day that marked my official move to Singapore. I forgot a suit that I was supposed to bring to Singapore, in case I was attending a formal event. My father was on the same flight with me so he can't possibly drive home—he might miss his flight. My mother offered to drive home, get the suit, and then drive back to the airport.
---
---
As I waited, I got anxious because I didn't want to miss saying goodbye to her, even if I knew I'm just a flight away. And there's always Skype, right? I paced around, my gaze switching from my flight's departure time and the clock. Then, the call to board my flight resounded across the departure hall.
She texted us that she was outside the doors to the airport. I rushed to her car. She made it, just in time. We shook hands, and she said to me 'Good luck,' as she handed me the suit from the driver's seat. I could feel her fighting back her tears.
I don't recall if I thanked her, in the chaos of it all. The next thing I remember was fighting back my own tears as the plane lifted off, banking eastwards.
I don't think I know her as well as I want to. How will I remember the flavours of her unwritten recipes? And there's a lot I don't know. Where she went to school. Why does she have that curious middle name, which I only realised when I first had her email address.
It feels like there's never a right time to ask, but I try to make the time. After I let my mother read the article, she told me the story behind her joke of having only rice with soy sauce for dinner. Her mother used to works as a helper for another family, and would only return home late in the week. Fresh food would run out by Friday, and would only be replenished in the coming Monday. Seeing there's only rice and soy sauce in the kitchen after she came home, my mother decided to just cook that for dinner. 'That's how I came to love cooking; I was cooking since I was young,' she told me over the phone.
You never know until you ask.
---
---
How Local Business-owners Spend Time with Their Mothers
Everyone's relationship with their mother is different. Some of us get along with our mothers just fine, some of us think it needs a lot of work. There's no one-size-fits-all guide to it.
But there is one thread that runs through every mother-child relationship: time. Even if you think your relationship with your mother has a lot of distance, just start small. Have a coffee with her every weekend, or even just start by dropping a call once. As time passes, hopefully, you get a different perspective of your mother too.
That said, here are how some local business-owners choose to spend time with their mothers in Singapore.
---
Move Manicure
A word from Michelle and Charmaine, Co-founders of Move Manicure
Both my sister and I moved out of our mum's place after we got married. We were spending lesser time with her due to our work and personal commitments. However, when we started Move Manicure, we started making time for each other monthly to have our mani-pedis done together.
And now it's become this monthly tradition as we realise that it's a great way for our family to bond. Even my niece gets to have some fun too with Princess manicure, where she can explore with colours and different textures.
We're not having our manicures and pedicures done with our family in some fancy boutique. It's all in the comfort of our home. It's hassle-free, and it saves time as the manicurist will come prepared and cleans up the place nicely before they leave. Quality family time is something we treasure very close—after all, money can't buy you quality time.
Website: https://movemanicure.com.sg/
Contact:
---
Raku Inu
A Word from Takeru, Founder of Raku Inu
My mother's always flying off for her work back when I was a kid. But now, because of the pandemic, she's here in Singapore for the foreseeable future, and she's helping me out at the new Raku Inu Pet Bistro. So, it's interesting to suddenly spend so much time with my mother. We're still very busy with the business now, but here's to seeing a different side of my mother inside and outside of work.
Free Lemongrass Drink or Thai Milk Tea per Person at Raku Inu Bistro*
*with Min. spending of $35 dollars
Raku Inu Bistro
Raku Inu Website: http://rakuinu.com.sg/
Contact:
---
---
Rajeunir
The Rajeunir Purifying Facial Treatment rejuvenates and nourishes your complexion with black caviar.
Rajeunir, courtesy of MegaSale, aims to rebuild skin's firmness and elasticity while strengthening the protective moisture barrier, keeping the skin hydrated. Black Caviar is a vital symbol of delicacy that provides a luxurious glow to your skin.
Founded in 2016, MegaSale has been offering clients high-end quality products imported from the U.S.
Established on the ideals of the strength of beauty, MegaSale offers skincare products for everyone to enjoy.
We believe that each one of our clients is unique, which is why we provide personalized guidance on selecting items that are perfect for specific needs for their skin.
Deals: https://deals.tropika.club/product/rajeunir-facial-treatment-by-megasale-first-trial/
Contact:
---
Dr. Cindy Yang
Complete Acne Treatment Program – Dr Cindy's Medical Aesthetics
Reduce acne, melasma, redness and inflammation with this gentle laser treatment program. Most people have an incorrect assumption that acne goes away after puberty.
Although acne is a common problem, not treating it early can lead to a more severe case of acne developing. Medical research has been done, examining acne and its effects on relationships. Researchers have found that untreated acne can cause severe social embarrassment and in some cases, may even lead to self-esteem and confidence issues but treatment is available. Even for people who have 'recovered' from serious outbreaks of acne, the resultant scarred skin can still affect one's confidence.
Here at Dr Cindy's clinics, our approach is to aim for maximum outcomes with minimal skin discomfort through a multi-layered approach in treating acne.
Duration of each laser procedure
20 – 30 Min
Duration of Medical Facial
90 Min
Recommended for
– Pigmentation (e.g. melasma)
– Acne
– Acne red marks
– Rosacea/Telangiectasias
– Skin rejuvenation
– Evening out of skin tone
Consists of:
Dr Cindy's Medical Aesthetics 👩‍💼
Your Beauty Matters!
Contact any of our clinics for all of your skin concerns!
❤️
Acne, Aging, Pigmentation, Feminine & Men Issues
👉Orchard (International Building)
👉 Tampines (Tampines One)
👉 Jurong (Jurong Point)
👉 Bukit Timah (King Albert Park)
❤️📞
Orchard: +65 6733 4433
Tampines: +65 6786 4433
Jurong: +65 6533 4433
Bukit Timah: +65 6898 4433
🤟

Visit Us:
https://drcindy.com.sg/contact-us/
Understand more about acne here:
https://drcindy.com.sg/?s=acne
https://drcindy.com.sg/news-and-articles/
🥰
Follow, Like & Subscribe!
---
Isabella Aesthetics
All facial treatments are included
Boyziian & Brazilian also covered
Start from today
Enjoy a quality time with your mom
Only in Isabella Aesthetics
Contact:
---
Pine & Co
Give your mother fresh inspirations for her complexion with the Pine & Co 'Seasons' Body Wash. Pine & Co protects you from harmful germs while providing transcending nourishment and restoration to your skin. All with our natural, plant-based, non-harsh, and vegan formulation, and uniquely curated aromas that inspire.
With natural and unique aromas that are sure to inspire and leave you wanting more, Pine & Co's "Seasons" Body Wash restores your skin's natural moisturising factor with Black Oats extract, nourishes and hydrates your skin with Olive extract, and protects you against germs with a plant-based, non-toxic, and non-harsh natural ingredient. Furthermore for people with sensitive skin, it contains Chamomile Floral Water which helps to calm and soothe the skin. Free from paraben, silicone, alcohol, triclosan, and colourants, every drop of this pure and all-natural body wash will certainly make you look forward to every shower.
Website: https://www.pineandco.com/
Contact:
---
---
Meanwhile, check out Tropika Club's Ecosystem of Websites
Tropika Club Magazine – Tropika Club Magazine crafts articles on all things Singapore, but with a greater emphasis on local businesses based on our #SupportLocalSG initiative. We check out and feature local businesses of all categories, ranging from your neighbourhood hawker stalls to the aesthetic clinics in town. We also cover local content ranging from beauty, lifestyle, places, eats and what's on in SIngapore. Our Top 10 rankings include local food and service establishments based in different regions in Singapore.
Tropika Club Deals – Search for the best voucher and coupon deals. Tropika Club Deals is ideal for customers who want to discover the best deals without having to commit to a specific appointment date and time. Choose from guaranteed discounted deals in the categories of hairstyling, hair removal, facial & aesthetics, body slimming, brows & lashes, nails & makeup, massage & spa or fitness & wellness. Customers can also buy vouchers as gifts or to use for the future.