Top 10 Restaurants in Singapore Serving Delicious Chicken Wings
Singapore is a country known for its diverse and delicious cuisine. With its wide range of flavors and influences from all over the world, it is no wonder that Singaporeans have grown to love chicken wings. Whether you're looking for traditional fried wings or something more exotic, this list of the Top 10 Restaurants in Singapore Serving Delicious Chicken Wings has you covered. From convenience stores to high-end restaurants, there are plenty of tasty options available.
---
#1 – Godmama
Introduction:
Located in Funan, the latest lifestyle destination in the heart of the Civic District, Godmama is a modern Peranakan restaurant in Singapore for guests who are looking for an uplifting and lively dining experience. Offering a contemporary setting with both indoor and alfresco dining options, Godmama delivers both authentic Nyonya cuisine and innovative Peranakan food creations in a vibrant atmosphere.
Menu Items:
Small plates include Ngoh Hiang (five-spice meat rolls), Kueh Pie Tee (crispy pastry cups filled with vegetables and prawns), and Babi Pongteh (braised pork belly in fermented soybean sauce). (Prices from $8 to $16)
Ayam Buah Keluak (chicken in a spicy nut sauce), Ikan Assam Pedas (spicy and sour fish stew), and Beef Rendang (slow-cooked beef in coconut milk) (Prices from $18 to $38)
Kueh Kosui (pandan-flavored rice cakes), Pulot Hitam (black glutinous rice pudding) (Price from $6 to $12)
Location:107 North Bridge Rd, #04-07, Singapore 179105
Contact: +65 6970 0828
Website: Website Link Here
---
#2 – Yardbird Southern Table & Bar
Introduction:
Yardbird Southern Table & Bar is a popular restaurant chain that specializes in Southern cuisines, such as fried chicken, biscuits, and grits. The menu features a variety of dishes, including appetizers, entrees, sides, desserts, and drinks.
Menu Items:
Lewellyn's Fine Fried Chicken (Price $38)
Shrimp & Grits (Price $39)
Smoked Beef Brisket Sandwich (Price $25)
Lobster Mac & Cheese (Price $79)
Location: 2 Bayfront Ave, # B1 – 07, Singapore 018972
Contact: +65 6688 9959
Website: Website Link Here
---
---
#3 – Black Tap – Singapore
Introduction:
Feast on award-winning burgers, towering milkshakes, craft beers, and cocktails at the first Asian flagship of this New York City institution. Black Tap brings a timeless NYC vibe to Singapore, rocking an old-school hip-hop soundtrack and a bespoke mural by a local artist.
The menu features a wide selection of craft burgers. Highlights include the classic All-American Burger and award-winning Greg Norman Burger — wagyu beef topped with house buttermilk-dill, blue cheese, and arugula served on a soft potato bun. Lighter options include burger salads and a vegetarian falafel burger.
Round off your experience with Black Tap's famous over-the-top CrazyShake milkshakes. Go for original favorites such as Cotton Candy, Churro Choco Taco, and The Cookie Shake, or choose classic flavors like Vanilla, Strawberry, and Oreo Cookies and Cream.
Menu Items:
GUAC & CHIPS (Price $13)
FRIED MOZZARELLA (Price $13)
KOREAN BBQ WINGS (Price $15)
MEXICAN HOT SAUCE WINGS (Price $15)
Location: 10 Bayfront Ave #L1-80, Bay Level, The Shoppes at Marina Bay Sands, 2 Bayfront Ave, Singapore 018972
Contact: +65 6688 9957
Website: Website Link Here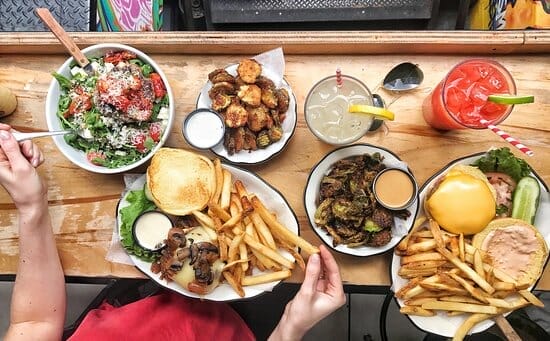 ---
_

Read Also:

Top 10 Best Economical Fried Bee Hoon In Singapore

_
---
#4 – Wine & Chef
Introduction:
Wine & Chef is a Singapore-based company that offers a range of culinary experiences that combine food and wine pairing. They have a team of experienced chefs and sommeliers who create customized menus for each event, with a focus on using locally-sourced ingredients and pairing them with the appropriate wines.
Some of the culinary experiences offered by Wine & Chef in Singapore include wine dinners, wine tasting events, private parties, corporate events, and wedding receptions. They also offer wine appreciation courses that teach participants about the various types of wines, the wine-making process, and how to pair wines with food.
Wine & Chef's menus in Singapore are designed to be flexible and customizable, based on the preferences of the diners and the theme of the event. They offer a range of dishes, from classic European cuisine to modern Asian fusion, all designed to be paired with the appropriate wines.
Overall, Wine & Chef in Singapore aims to create a memorable and unique dining experience that highlights the best of both food and wine, and showcases the diversity of flavors and cultures in Singapore.
Menu Items:
Grilled octopus with roasted garlic and tomato salsa
Pan-seared sea bass with fennel and orange salad
Soy-braised pork belly with steamed buns and pickled vegetables
Coconut panna cotta with tropical fruit salsa
Location: 7 Keong Saik Rd., Singapore 089115
Contact: +65 6221 9279
Website: Website Link Here
---
#5 – The Malayan Council
Introduction:
The Malayan Council Café brings together fresh produce, bold flavours, traditional profiles, inspired combinations, decadent desserts and refreshing mocktails all for an exquisitely memorable experience. You will surely find old favorites' as well as new discoveries that are best appreciated when shared amongst diners and paired with good conversations across a table.
Menu Items:
BUSSORAH
WINSTEDT
DUNLOP
ESPLANADE
CAKES
Location: 71 Bussorah St, Singapore 199484
Contact: +65 9009 7345
Website: Website Link Here
---
---
#6 – Spruce
Introduction:
Spruce is a restaurant and bar in Singapore that offers contemporary American cuisine and a casual dining atmosphere. Spruce has two locations in Singapore – one on Tanglin Road and another at Phoenix Park.
The menu at Spruce Singapore features a range of classic American dishes with a modern twist, including burgers, pizzas, pastas, and sandwiches. They also offer a variety of starters, salads, and sides, as well as a selection of craft beers, wines, and cocktails.
Menu Items:
Spruce Burger
Truffle Fries
Wood-Fired Pizzas
Lobster Mac and Cheese
Location: 4 Hillview Rise, #01 – 01 HillV2, Singapore 667979
Contact: +65 9759 5790
Website: Website Link Here
---
#7 – Princess Terrace
Introduction:
Princess Terrace is a restaurant in Singapore that specializes in authentic Peranakan cuisine. It is located at the Copthorne King's Hotel in the Robertson Quay area, near the Singapore River.
The menu at Princess Terrace features a range of Peranakan dishes, which are a blend of Chinese, Malay, and Indonesian cuisine.
Menu Items:
Ayam Buah Keluak
Babi Pongteh
Ngoh Hiang
Kueh Pie Tee
Assam Pedas Fish
Location: 403 Havelock Rd, #1F Copthorne Kings Hotel, Singapore 169632
Contact: +65 6733 0011
Website: Website Link Here
---
#8 – Old School Delights
Introduction:
Old School Delights is a retro-themed cafe in Singapore that offers a variety of nostalgic and classic Singaporean dishes and desserts. The cafe is located at Upper Thomson Road and is known for its vintage decor and old-school ambience.
The menu at Old School Delights features a range of local comfort food, snacks, and desserts that are popular among the older generation in Singapore.
Menu Items:
Nasi Lemak
Mee Siam
Hainanese Chicken Rice
Kueh Lapis
Ice Kachang
Location: 8 Raffles Ave., #02-25 Esplanade Mall, Singapore 039802
Contact: +65 6909 3507
Website: Website Link Here
---
#9 – Potato Head Singapore
Introduction:
Potato Head Singapore is a restaurant and bar that offers a mix of Asian-inspired dishes and modern cocktails. It is located in the heart of the city at Keong Saik Road, near Chinatown.
Menu Items:
The Naughty Fries
Gado Gado Salad
Korean Fried Chicken
Wagyu Beef Burger
Miso Cod
Location: 36 Keong Saik Rd., Singapore 089143
Contact: +65 6327 1939
Website: Website Link Here
---
#10 – I'm Kim Korean BBQ
Introduction:
Since its opening in 2014, I'm Kim Korean BBQ has established a reputation of great food quality and affordability, and has become a sizzling hot favourite restaurant, attracting Korean food enthusiasts from all over the world.
Grill your tenderly-marinated meat to your own liking, while indulging in free-flow veggies, seafood, soups as well as korean and local cooked dishes – all set in the cosy backdrop of a hip K-pop culture with TV screens playing up-to-date Korean pop artistes' performances. They are Kim's Signature Korean Chicken Wings (own secret recipe) is a MUST TRY! Conveniently located just 5 mins walk from Dhoby Ghaut MRT, come and eat to your heart and tummy's content!
Menu Items:
Volcano Chicken
Bacon
Korean Chicken Wings
Wasabi Mayo Fish
Carbonara
Location: 1 Zubir Said Drive 01-04 School of The Arts, 227968
Contact: +65 6238 7218
Website: Website Link Here
---
Have a Place to Recommend?
Your contribution is valuable to us! Are there any outstanding businesses that you believe should be added to our list? If so, please send your recommendations to us at [email protected]. Tropika Club will review your suggestions and update the list accordingly. Thank you for your help in making our list of businesses as comprehensive and accurate as possible.
---
Meanwhile, Check out Tropika Club's Ecosystem of Websites

Tropika Club Magazine – Tropika Club Magazine is a Singapore-based publication that features articles on a wide range of topics with a focus on local businesses and content for the region. The magazine emphasizes supporting local businesses through its #SupportLocal initiative, which includes coverage of everything from neighborhood hawker stalls to aesthetic clinics in town. In addition to highlighting local businesses, Tropika Club Magazine also covers a variety of local content, including beauty, lifestyle, places, eats, and what's on in Singapore and the Asia Pacific region.
Tropika Club Deals – Tropika Club Deals is a leading online deals and voucher shopping site in Singapore, offering amazing discounts on beauty, wellness, and fitness products and services. It's the perfect platform for customers who want to discover the best deals without having to commit to a specific appointment date and time. These deals are available at major beauty stores, facial salons, hair salons, and other brands in Singapore, with no minimum spend required. Choose from guaranteed discounted deals in the categories of hairstyling, hair removal, facial & aesthetics, body slimming, brows & lashes, nails & makeup, massage & spa or fitness & wellness. Tropika Club Deals is also ideal for customers who want to buy vouchers as gifts or to use for the future. So whether you're looking to save money on your next haircut or want to treat yourself to a relaxing massage, Tropika Club Deals has got you covered with the best voucher and coupon deals in Singapore!