Singapore Top 10 Educational Attractions for Kids and Teens
Discover the vibrant world of Singapore's Top 10 Educational Attractions for Kids and Teens, where learning comes to life through exciting hands-on experiences, interactive exhibits, and captivating activities. Unveil the secrets of science, unravel the mysteries of history, and spark creativity in young minds as they explore these remarkable destinations that promise to inspire and educate. Embark on an unforgettable journey that will ignite a passion for learning and create lasting memories in the heart of Southeast Asia's bustling urban oasis.
---
#1 – Science Centre Singapore
Introduction:
The Science Centre Singapore, previously known as Singapore Science Centre is a scientific institution in Jurong East, Singapore, specialising in the promotion of scientific and technological education for the general public.
Science Centre Singapore was opened on 10 December 1977 by Dr Toh Chin Chye, then the Minister of Science and Technology.
Today, the Science Centre Singapore, together with Omni-Theatre and Snow City, receives more than 1 million visitors annually.
In 1969 the Government decided to convert the National Museum into art and historical museum and build a new institution devoted to scientific and technological education.
The Science Centre building – comprising the Main Building, the Annexe, Outdoor Gardens, Omni-Theatre and Snow City – was designed by Mr Raymond Woo.
The Omni-Theatre, Singapore's only IMAX dome theatre, was established in 1987.
In 1989, Science Centre Singapore opened Southeast Asia's largest Observatory, which now receives more than 10,000 visitors annually.
From 1998 to 2003 the Centre carried out a complete refurbishment of its 14 galleries. An expansion project in 2000 introduced an integrated complex consisting of the Annexe Building, Kinetic Garden and Snow City – Singapore's first and only permanent indoor Snow Centre.
In 2014, The Cliff, a world-class sport climbing wall, was added to Snow City. Two months later, the Centre launched KidsSTOP™, a children's science centre that focuses on enriching learning for children aged 18 months to 8 years.
Science Centre Singapore's aspiration has shifted from being a world-class science centre to a place where science befriends and transforms the minds of millions.
Type of Services:
Enrichment Programmes
Specialized Programmes
Mentoring and Work Attachment Programmes
Professional Development
Outreach Programmes
Competitions
Events and Festivals
Location:
15 Science Centre Rd, Singapore 609081
Contact: 6425 2500
Website: Website Link Here
---
#2 – Singapore Discovery Centre
Introduction:
Hear the past, touch the present and see the future at Singapore Discovery Centre. Be inspired! Through their fun and interactive galleries and attractions, visitors enjoy a multi-sensory learning experience while gaining insights into Singapore's dreams, aspirations and challenges.
The Singapore Discovery Centre is an 'edutainment' and tourist attraction by the Ministry of Defence of Singapore in Jurong West, Singapore. The centre includes exhibits which display the history of Singapore as well as an insight on the future.
Type of Services:
Pre-School Programmes

Oh What Farm! Virtual – Pre School
Oh What Farm! Pre School (Hands on)

Primary School Programmes

Army Experiential Programme

Secondary School Programmes
Post Secondary School Programme

Virtual Escape Room
Young Ethnographer's Trail
Location:
510 Upper Jurong Rd, Singapore 638365
Contact: 6792 6188
Website: Website Link Here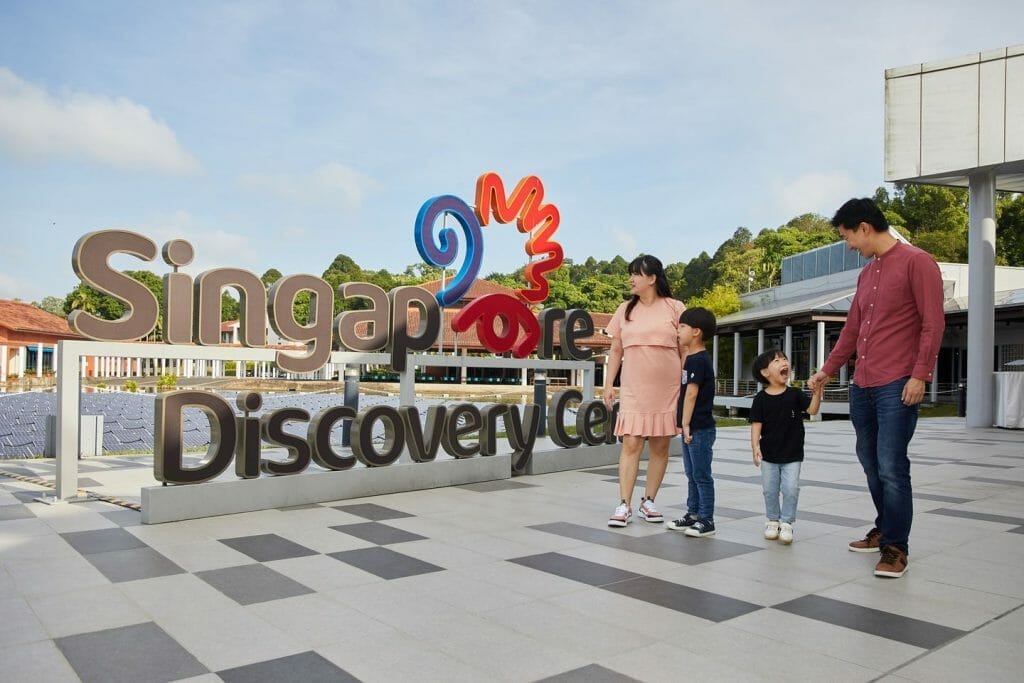 ---
---
#3 – ArtScience Museum
Introduction:
ArtScience Museum is a museum within the integrated resort of Marina Bay Sands in the Downtown Core of the Central Area in Singapore.
ArtScience Museum is an iconic cultural landmark in Singapore. Their mission is to explore where art, science, culture and technology come together. It is here at the intersection of art and science that innovation and new ideas are formed.
Type of Services:
Location:
6 Bayfront Ave, Singapore 018974
Contact: 6688 8888
Website: Website Link Here
---
---
#4 – National Gallery Singapore
Introduction:
National Gallery Singapore is a leading visual arts institution which oversees the world's largest public collection of Singapore and Southeast Asian modern art. Situated at the birthplace of modern Singapore, in the heart of the Civic District, the Gallery is housed in two national monuments – City Hall and former Supreme Court – that have been beautifully restored and transformed into this exciting 64,000-square-metre venue.
Reflecting Singapore's unique heritage and geographical location, the Gallery aims to be a progressive museum that creates dialogues between the art of Singapore, Southeast Asia and the world to foster and inspire a creative and inclusive society. This is reflected in their collaborative research, education, long-term and special exhibitions, and innovative programming. The Gallery also works with international museums such as Centre Pompidou, Musée d'Orsay, Tate Britain, National Museum of Modern Art, Tokyo (MOMAT) and National Museum of Modern and Contemporary Art, Korea (MMCA), to jointly present Southeast Asian art in the global context, positioning Singapore as a key node in the global visual arts scene.
In 2020, the Gallery was the only museum in Southeast Asia that received a ranking in The Art Newspaper's annual global survey of attendance at art museums, taking 20th place. It was the first museum in Asia to receive the Children in Museums Award by the European Museum Academy and Hands On! International Association of Children in Museums in 2018.
The Gallery also won the awards for "Best Theme Attraction" at TTG Travel Awards 2017, "Best Attraction Experience", "Breakthrough Contribution to Tourism" and "Best Customer Service (Attractions)" at the prestigious Singapore Tourism Awards in 2016 for its role in adding to the vibrancy of Singapore's tourism landscape.
Type of Services:
Location:
Singapore 178957
Contact: 6271 7000
Website: Website Link Here
---
#5 – Singapore Zoo
Introduction:
The Singapore Zoo, formerly known as the Singapore Zoological Gardens or Mandai Zoo, is a 28 hectares zoo located on the margins of Upper Seletar Reservoir within Singapore's heavily forested central catchment area.
Type of Services:
Preschool Programmes

Wild Africa Guided Tour $8/ person
Fragile Forest Guided Tour $8/ person

Primary Programmes

A Green Mandai Workshop $15/ person
Classification of Animals $Free

Secondary & Above Programmes

Together, we protect wildlife $300/ session
Zoo Careers Go to School $300/ session
Location:
80 Mandai Lake Rd, 729826
Contact: 6269 3411
Website: Website Link Here
---
#6 – Sungei Buloh Wetland Reserve
Introduction:
Discover the beauty and wonders of nature at Singapore's first ASEAN Heritage Park. Uncover a world filled with rich biodiversity as you wander through the wetlands with an extensive mangrove forest of Sungei Buloh Wetland Reserve.
Sungei Buloh was first opened as a Nature Park in 1993. In 2002, 130 hectares were officially gazetted as a Nature Reserve and renamed Sungei Buloh Wetland Reserve to better reflect its status. In the same year, it was recognised as a site of international importance for migratory birds and awarded a certificate by Wetlands International, marking the reserve's formal entry into the East Asian Australasian Shorebird Site Network, which includes Australia's Kakadu National Park, China's Mai Po – Inner Deep Bay and Japan's Yatsu Tidal Flats. And in 2003, Sungei Buloh Wetland Reserve became Singapore's first ASEAN Heritage Park.
Since then Sungei Buloh has expanded to include 202ha of mangroves, mudflats, ponds and forests, providing an even larger sanctuary for the flora and fauna that call it home. This includes the newest extension that houses a brand new Visitor Centre and new trails for visitors to explore and enjoy. This new extension is situated along Kranji Way, and is easily accessible by public transport, bringing Sungei Buloh even closer to the public.
Throughout the year: Trek through this ecological jewel's many trails and discover its native inhabitants such as mudskippers, crabs, shellfish, water snakes, birds, spiders, monitor lizards and otters. Admire the beauty of resident birds such as herons, kingfishers and sunbirds.
Seasonal from September to March: During the migratory season, catch sight of the diverse flocks of shorebirds or waders including plovers and sandpipers.
Type of Services:
Nature Nurtures
SUN Club: Special Projects to understand Nature
Location:
Visitor Centre:
60 Kranji Way, #01-00
Singapore 739453
Wetland Centre:
301 Neo Tiew Crescent
Singapore 718925
Contact: 6794 1401
Website: Website Link Here
---
_

Read Also:

Top 10 Singapore History Attractions

_
---
#7 – Little Skoolz
Introduction:
As the world's population ages, the need for well-rounded, educated individuals increases. At Little Skoolz, they create environments that educate and inspire children ages 4 to 12.
Their students can role-play, learn and explore various subject areas they're interested in. In addition, they strive to play a significant role in children's lives by showing them how fun learning with a heart can be.
Type of Services:
Doctor For A Week! Camp
Summer Twin Camp
Dental and Pharmacy Camp
Wildlife Camp: Pocket Monsters Edition
Location:
33 Ubi Ave 3, #06-35 Vertex, Singapore 408868
Contact: 6702 2071
Website: Website Link Here
---
#8 – Lee Kong Chian Natural History Museum
Introduction:
The Lee Kong Chian Natural History Museum is a museum of natural history at the Kent Ridge Campus of the National University of Singapore. It is named after Lee Kong Chian, a prominent Chinese businessman and philanthropist active in Malaya and Singapore between the 1930s and the 1960s.
Type of Services:
Museum Workshops

Animal Classification
Documenting Nature
Singapore Biodiversity and Adaptation
Evolution
Marine Ecology

Field Study Camps

St.John's Island
Day Camps
Location:
2 Conservatory Dr, Singapore 117377
Contact: 6601 3333
Website: Website Link Here
---
#9 – Singapore Philatelic Museum
Introduction:
Children's Museum Singapore is the first museum in Singapore dedicated to children 12 years and below! They believe in sparking wonder and the power of play in a safe environment. Book your tickets online, in advance.
Come and visit them!
Type of Services:
Self-Guided Visit @ CMSG: Little Explorer's Adventure
Self-Guided Visit @ CMSG: A Voyage Back in Time
Self-Guided Visit @ CMSG: A-maze-ing Birthday Party
Location:
Coleman St, 23-B, Singapore 179807
Contact: 6337 3888
Website: Website Link Here
---
#10 – The Maritime Experiential Museum
Introduction:
The Singapore Maritime Gallery explores Singapore's rich maritime heritage, the vital link between the maritime industry and our daily lives, and how Singapore maintains her position as a global hub port and leading international maritime centre, while tapping on technology to remain world-class and future ready.
Type of Services:
Location:
31 Marina Coastal Dr, Level 2, Singapore 018988
Contact: 6325 5707
Website: Website Link Here
---
Have a Place to Recommend?
Your contribution is valuable to us! Are there any outstanding businesses that you believe should be added to our list? If so, please send your recommendations to us at [email protected]. Tropika Club will review your suggestions and update the list accordingly. Thank you for your help in making our list of businesses as comprehensive and accurate as possible.
---
Meanwhile, Check out Tropika Club's Ecosystem of Websites

Tropika Club Magazine – Tropika Club Magazine is a Singapore-based publication that features articles on a wide range of topics with a focus on local businesses and content for the region. The magazine emphasizes supporting local businesses through its #SupportLocal initiative, which includes coverage of everything from neighborhood hawker stalls to aesthetic clinics in town. In addition to highlighting local businesses, Tropika Club Magazine also covers a variety of local content, including beauty, lifestyle, places, eats, and what's on in Singapore and the Asia Pacific region.
Tropika Club Deals – Tropika Club Deals is a leading online deals and voucher shopping site in Singapore, offering amazing discounts on beauty, wellness, and fitness products and services. It's the perfect platform for customers who want to discover the best deals without having to commit to a specific appointment date and time. These deals are available at major beauty stores, facial salons, hair salons, and other brands in Singapore, with no minimum spend required. Choose from guaranteed discounted deals in the categories of hairstyling, hair removal, facial & aesthetics, body slimming, brows & lashes, nails & makeup, massage & spa or fitness & wellness. Tropika Club Deals is also ideal for customers who want to buy vouchers as gifts or to use for the future. So whether you're looking to save money on your next haircut or want to treat yourself to a relaxing massage, Tropika Club Deals has got you covered with the best voucher and coupon deals in Singapore!