Singapore Top 10 Fitness Studios to Keep You in Shape
Staying in shape is important for both physical and mental well-being, and Singapore has no shortage of fitness options to help you achieve your goals. But with so many studios to choose from, it can be overwhelming to find the right one for you. That's why we've compiled a list of the top 10 fitness studios in Singapore to help you stay on track with your fitness journey. Whether you're looking for a high-intensity workout or a more relaxing yoga class, there's something for everyone on this list. So, grab your workout gear and get ready to sweat it out at one of these top-rated fitness studios in Singapore.
---
#1 – Ritual Gym
Introduction:
Get your endorphins in double-quick time. Welcome to the best 30 minutes of your day.
Showing up consistently is where the magic happens, so they made going to the gym as hassle-free as possible. Say hello to the most efficient, convenient, and user-friendly group fitness experience on earth.
Their ultra-efficient protocols mean you can get a safe, effective workout and be out the door in just half an hour.
With session every half hour, and a 30-minute cancellation policy, plugging them into your busy day couldn't be easier.
They've got clothes, towels and showers, and you don't need shoes—so with Ritual, all you gotta do is show up.
Type of Services:
Location:
11 North Canal Road #03-01, Singapore, 048824
Contact: +65 6536 7291
Website: Website Link Here
---
#2 – F45 Training
Introduction:
The F Stands for Functional Training, A mix of circuit and HIIT style workouts geared towards everyday movement. 45 is the total amount of time for sweat-dripping, haeart pumping fun.
F45 Training is a global fitness community specializing in innovative, high-intensity group workouts that are fast, fun, and results-driven.
Become part of the F45 family today and experience for yourself what makes them different.
Type of Services:
High-intensity interval training (HIIT)
Circuit training
Functional training
Location:
73/75 South Bridge Rd, Singapore 058705
Contact: 8202 3173
Website: Website Link Here
---
---
#3 – Pure Fitness
Introduction:
PURE Fitness offers state-of-the-art equipment, Group Exercise exhilaration, innovative programmes and Personal Training to fulfil your fitness aspirations.
Whether you want to tone your body, build muscle, relieve tension, pump up your cardio or get energised, they will take you there!
Once you've tried yoga classes at PURE Yoga, you may be interested in complementing your exercise regimen at PURE Fitness. They are dedicated to serving the community of healthy and active living, by bringing the best fitness experiences from around the world. In over a decade, PURE Fitness has established its fitness presence in Hong Kong and expanded into Singapore and Shanghai.
Specialty facilities include dedicated boxing and kickboxing spaces, Polar Cardio GX System, athletic turf, gymnastics movement zone, Technogym zone with VisioWeb internet access, Life Fitness and Iron Grip Resistance Training, Power Plate zone, Woodway Curve, Jacob's Ladder, and open functional training area in every fitness centre complete with advanced training tools such as Kettlebells, Bulgarian Bags, Pilates Reformer, TRX and Medicine balls, and complimentary induction sessions for all new joins.
Always on the ball when it comes to sourcing the latest and most advanced industry equipment, they feature big names like LifeFitness, Technogym, power lifting platform, Eleiko, Iron Grip, Total Gym, Power Plate, Woodway, Jacobs Ladder, Keiser and more.
Their professional team consists of PTA Global certified trainers and passionate instructors who lead over 50 types of Group Fitness classes weekly that are suitable for all levels of strength and experience. All that you'd expect to find at a world-class gym – internationally recognised Les Mills programmes, Immersive Cycling THE TRIP™, Pilates and Core Training, plus Indoor Cycling. Then there's the fun and flair of dance-inspired classes that run the gamut of Hip Hop, Latino Jam and Jazz Funk. Plus a host of specialised offerings such as TRX® Suspension Trainer and Rip Trainer, Barre, Tabata, Self-Myofascial Release.
In addition to their live classes, a vast range of Fitness On Demand virtual classes provide both convenience and flexibility. Complementing these exhilarating fitness experiences are Innovation Lab, Small Group Training (SGT), Private Dance sessions, workshops and special events with guest teachers from around the globe.
Need more motivation? All their cardio equipment is fitted with personalised entertainment systems, and there are complimentary workout gear, towels and toiletries.
No excuses – build your body with the best.
Type of Services:
Barre
Bodypump
Bodycombat
TRX Blast
Bodyattack
Roller Release
Bodyjam
Location:
Level 6, Asia Square Tower 1, 8 Marina View, 8 Marina View, #1, Singapore 018960
Contact: 6100 2233
Website: Website Link Here
---
---
#4 – Fitness First
Introduction:
Whatever your reason for focusing on fitness, they're here to keep you motivated to reach your goal whilst having fun along the way. Follow them for tips and advice on all things fitness! If you follow their simple recipe for fitness – exercise often, eat well and stay positive – you won't just watch your health, you'll enjoy it. Just bring your kit, they've got everything else covered.
Get fit and have fun at Fitness First with state-of-the-art gyms, swimming pools, over 800 group exercise classes a week (yoga, dance and more), Freestyle training (TRX® & BOSU® and more), access to over 15 clubs islandwide, over 330 clubs worldwide and qualified staff to help you achieve your fitness goals.
Their state-of-the-art award-winning clubs, passionate teams and fitness expertise help over one million members worldwide get results. What drives them? Helping everyone live better, fitter lives. "Best of Singapore" (Singapore Tatler, since 2005)
Type of Services:
Personal Training
Advance Flow Yoga
Aerial Flow Yoga
Animal Flow
Aqua Fit
Bag Drills
BodyJam
BodyAttack
BodyCombat
Location:
290 Orchard Rd, #08-13 Paragon, Singapore 238859
Contact: 6713 9120
Website: Website Link Here
---
#5 – Barry's Bootcamp
Introduction:
LA based celebrity trainer, Barry Jay has the idea for a one-stop cardio and strength-training workout held in an immersive atmosphere. Barry Jay partners with John and Rachel Mumford to open the first Barry's Bootcamp in West Hollywood. It was the launch of the boutique fitness studio revolution, and the origins of the cult of Barry's.
Barry's expands outside of Los Angeles for the first time, opening studios in San Diego.
Barry's opens studios in New York and launches the first of Barry's signature Fuel Bars.
Barry's goes international! Studios open across the world in Norway, London, Boston, Miami, Nashville, and San Francisco. Expansion continues across New York and the Hamptons. Barry's retail collections expand across studios, online and launch into Bloomingdale's.
Over 40,000 clients of the Barry's community take classes every week. Including celebrity clients; Ellie Goulding, Mandy Moore, David Beckham, Harry Styles and Isla Fisher.
Over 65,000 clients visit Barry's Studios per week and Barry's continues to expand into several new markets including Australia.
Type of Services:
Location:
218 Orchard Rd, Level 4 Gateway @ Emerald, Singapore 238851
Contact: 8833 3218
Website: Website Link Here
---
#6 – Yoga Movement
Introduction:
Since opening their doors in 2012, Yoga Movement (YM) has set out to do one thing — deliver nothing short of the best in brand and service to those who've signed up to the "YM Life".
They are passionate about delivery with consistency; matching up their culture with their spaces, music, team, and most importantly… their teaching. They like to ground themselves in good food, great coffee, music and art, along with an approachable feel to this crazy thing called yoga.
Type of Services:
Basics
Slow Flow
Power Flow
Elevate
Resistance
HIIT Yoga
Zen
Monster Hot
Hot Basics
Hot Slow Flow
Hot Power Flow
Hot Zen
Location:
Lorong Telok 1A, #2A, 049014
Contact: 6219 3320
Website: Website Link Here
---
_

Read Also:

5 Ways to Supercharge Your Workout [Ladies' Edition]

_
---
#7 – Anytime Fitness
Introduction:
Anytime Fitness is a franchise of 24-hour health and fitness clubs that is headquartered in Woodbury, Minnesota, United States. The company operates over 5,000 franchised locations in 50 countries. The gym facilities are open 24 hours a day, 365 days of the year.
Type of Services:
Strength/ Free Weights
Functional Training
Cardio
Training and Coaching Services
Location:
151 Lorong Chuan #01-12 New Tech Park, North East 556741
Contact: 8874 1521
Website: Website Link Here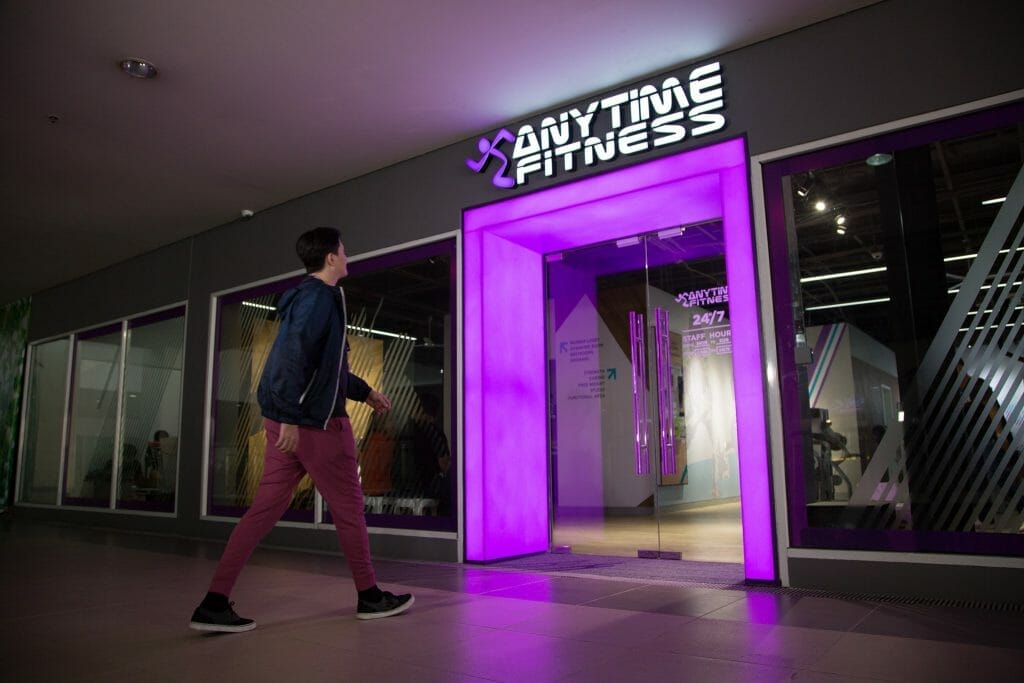 ---
#8 – Box Office Fitness
Introduction:
At Box Office Fitness (Singapore), they believe that fitness = fun and exercise = entertainment.
Here, they offer you a boxing-inspired, full-body workout suitable for anyone and everyone.
Type of Services:
Knockout: You will complete 10, 3-minute rounds of working out. The workout is split between the floor and our water-filled Aqua training bags. On the bags, you'll be punching out to boxing combinations projected on the screen. On the floor, expect to do everything from Strength Training, High-Intensity Interval Training and metabolic conditioning, all in just 45 minutes.
Knockout (Cardio+Core): The same format as Knockout classes – 10, 3 minute rounds of work but with a focus on cardio and core exercises on the floor!
Wildcard: 45 Minutes. Wildcard is interval training at its best. You'll still spend half the class boxing and half the class doing strength and hiit training but everything will be interval based. Why is it called wildcard? Because the intervals will always be a surprise. 45 seconds on 15 seconds off? 60 seconds on 5 seconds off? Anything goes!
Overdrive:
45 Minutes. Overdrive is boxing focused! 6 Rounds, 5 Minutes each round. 3 on the floor, 3 on the bag!
All rounds on the floor will be AMRAP rounds. What his means if you'll get more focus / interesting combinations on the bags.
TKO: 60 Minutes Long. Still 50% Boxing, 50% Floor but expect longer rounds that vary every class. Expect more endurance work and more strength training on the floor!
Location:
35 N Canal Rd, #03-01, Singapore 059291
Contact: 9233 3463
Website: Website Link Here
---
#9 – Ground Zero
Introduction:
They are a tribe connected by their passion for sweat, drive for growth and openness to change. They welcome all, and their family is grounded in respect and compassion. Leave your fears, ego and judgement at the door. They believe in practice over perfection, gritty over pretty.
Show up, move hard and sweat up a storm – this is their obsession. Come with an open mind and heart. The classes will test your limits, challenging you to be better than you think you are. Fuelled by music, your energy builds with every beat, guiding you to crushing your goals and intentions.
Ground Zero is a boutique gym offering 50 minutes of RESISTANCE (high intensity strength workouts) and RIDE (indoor cycling) classes set to the rhythm and beat of the music. We burn hard and focus on making you feel better than when you walked in.
Each class is set in a dimly lit room accompanied by futuristic lighting interiors and an underground club vibe. With curated playlists, our trainers will inspire you through hard hitting routines which incorporates explosive speed, technique and strength training.
Positioned as a centre of change, Ground Zero is also the beginning of beginnings and where no one gets left behind.
Type of Services:
Location:
18 Cross St, #B1-120, Singapore 048423
Contact: 6226 0083
Website: Website Link Here
---
#10 – Absolute You
Introduction:
ABSOLUTE was developed out of a desire to share the benefits and joys of fitness with everyone. Having first opened our doors in 2002 and stood the test of time, they have now grown to 9 studios in Bangkok and 4 studios in Singapore with over 100,000 members.
They pride themselves on their teaching methodology and top-quality instructors, trained by their own Absolute Academy program to ensure quality and consistency.
Type of Services:
Absolute Cycle
Absolute Pilates
Absolute Personal
Private Classes
Location:
176 Orchard Rd, #04-101 The Centrepoint, Singapore 238843
Contact: 3129 2894
Website: Website Link Here
---
Have a Place to Recommend?
Your contribution is valuable to us! Are there any outstanding businesses that you believe should be added to our list? If so, please send your recommendations to us at [email protected]. Tropika Club will review your suggestions and update the list accordingly. Thank you for your help in making our list of businesses as comprehensive and accurate as possible.
---
Meanwhile, Check out Tropika Club's Ecosystem of Websites

Tropika Club Magazine – Tropika Club Magazine is a Singapore-based publication that features articles on a wide range of topics with a focus on local businesses and content for the region. The magazine emphasizes supporting local businesses through its #SupportLocal initiative, which includes coverage of everything from neighborhood hawker stalls to aesthetic clinics in town. In addition to highlighting local businesses, Tropika Club Magazine also covers a variety of local content, including beauty, lifestyle, places, eats, and what's on in Singapore and the Asia Pacific region.
Tropika Club Deals – Tropika Club Deals is a leading online deals and voucher shopping site in Singapore, offering amazing discounts on beauty, wellness, and fitness products and services. It's the perfect platform for customers who want to discover the best deals without having to commit to a specific appointment date and time. These deals are available at major beauty stores, facial salons, hair salons, and other brands in Singapore, with no minimum spend required. Choose from guaranteed discounted deals in the categories of hairstyling, hair removal, facial & aesthetics, body slimming, brows & lashes, nails & makeup, massage & spa or fitness & wellness. Tropika Club Deals is also ideal for customers who want to buy vouchers as gifts or to use for the future. So whether you're looking to save money on your next haircut or want to treat yourself to a relaxing massage, Tropika Club Deals has got you covered with the best voucher and coupon deals in Singapore!