Singapore's Top 10 Most Affordable Fat Freeze Clinics According to Chat GPT
Unveiling Singapore's Top 10 Most Affordable Fat Freeze Clinics, meticulously curated by Chat GPT to help you achieve your body goals without breaking the bank. Embark on your journey to a more sculpted physique with these cost-effective options offering high-quality fat reduction treatments. Explore our carefully-selected list and find the perfect clinic that aligns with your budget, without compromising on results or safety. Transform your body and boost your confidence with these exceptional fat-freeze clinics in Singapore.
No Time to Read? Here's a Snappy Summary of This Article
Only Aesthetics: An established aesthetic chain with eight locations near major MRT stations.
BARE Hair Removal: Specializes in permanent hair removal.
The Organic Room: Offers sugaring hair removal.
Peachy Skin Bar: Offers SHR hair removal.
---
#1 – Wellaholic
Introduction:
Treatment will initially create a suction effect to pull the treated area into a probe or applicator. The treated areas will be warmed, and then be gradually frozen to an ideal sub-zero temperature. The treated area will become numb within a few minutes. Using the latest fat freeze technology, you can fat freeze up to 4 body parts per session in just 30 minutes or take between 45 to 70 minutes.
Type of Services:
WellaFreeze 360 Advanced Fat Freeze:
Uses the latest fat-freeze technology and is designed for customers who are looking to fat-freeze 4 body parts at once. Similar to Clatuu 360 or CoolSculpting 360, their WellaFreeze 360 cryolipolysis device is equipped with 4 probes or applicators for concurrent usage. Furthermore, the latest innovation in their fat freeze 360 probes increases the coverage area – meaning that you can freeze a large surface area per probe.
In clinical studies, advanced cryolipolysis 360 or fat freeze 360 was shown to reduce subcutaneous fat at the treatment site by up to 33% after one treatment.
By using the latest technology in fat freezing, Wellafreeze 360 Fat Freezing not only improves the percentage of area frozen by the handle, but it increases the effectiveness by another 19%, thereby improving the fat reduction by as much as 33%.
Designed with 360° Surround Cooling Technology, the handles or cooling cups can be adjusted to fit all body curves and contours for the best fat freezing possible.
WellaFreeze Fat Freeze:
Effectively targets the stubborn fat and cellulite areas of your body that do not react well to exercise and dieting. Similar to the CoolSculpting technology approved by FDA in 2011. Fat cells are "dissolved" by non-surgical means. Controlled cooling at sub-zero temperatures. Ideal for unwanted fat in targeted areas. Effective fat loss and affordable weight loss procedure.
In clinical studies, cryolipolysis or fat freeze was shown to reduce subcutaneous fat and cellulite at the treated area between 14% to 28% after one treatment.
Improvements in cellulite reduction were seen in 86% of treated subjects.
At 73%, the patient satisfaction rate from cellulite freezing is higher than with other technologies used for non-invasive lipolysis.
Location:
Upper Changi: 690 Upper Changi Rd E, B3-03 Downtown Line MRT Station, Singapore 485990
Farrer Road: 3 Queen's Rd, #02-155, Singapore 260003
Somerset: 5 Koek Rd, #03-21, Singapore 228796
Lavender: 16M Penhas Rd, level 2, Singapore 208180
Orchard: Far East Shopping Centre #04-11C, 545 Orchard Rd, 238882
Tanjong Pagar: 210A Telok Ayer St, Level 2, Singapore 068643
Jurong East: 2 Venture Dr, #02-17 Vision Exchange, Singapore 608526
Kovan: 208 Hougang St 21, #03-207, Singapore 530208
Contact:
Upper Changi: +65 9239 5823
Farrer Road: +65 8853 3424
Somerset: +65 8856 1338
Lavender: +65 6816 8038
Orchard: +65 8869 5640
Tanjong Pagar: +65 8499 8984
Jurong East: +65 8499 4980
Kovan: +65 9058 5640
Hotline: +65 8181 1814
Website: Website Link Here
---
#2 – 1Aesthetics, Medical & Surgery
Introduction:
It's natural to want to look great and feel comfortable with your body shape. An attractive body shape looks healthier, is able to fit into clothing better, boosts self-esteem and may even enhance your career prospects.
Unfortunately, even with a healthy, active lifestyle with good eating habits and adequate exercise, there are times when it is difficult to achieve a healthy weight and satisfactory body contour. Ageing, illness, pregnancy or stress may make it even more difficult to fight the flab, leading to insecurities about physical appearance.
Even after working hard to get in shape and shedding the pounds, excess skin or stubborn fatty deposits may remain, producing unsightly bulges. You can't exercise away loose skin, and sometimes fat clings to problem areas no matter how many squats, lifts and bench presses you do.
Many patients may need assistance to truly achieve a sculpted silhouette.
Type of Services:
Cryolipolysis:
Uses non-invasive controlled cooling technology to produce sub-zero freezing temperatures, just low enough to freeze fat cells but not skin, muscle and nerves. The frozen fat cells are naturally processed, eliminated and eventually flushed out through the lymphatic system. Once these cells are gone, they shouldn't reappear or migrate to another body area.
Location:
The Central Tower 1, #14-90, 8 Eu Tong Sen Street, Singapore 059818
Contact:
T: +65 6612 5173
Website: Website Link Here
---
---
#3 – The Body Firm
Introduction:
"When you look good, you feel good" – This is the belief Joyce and Stephen, the husband and wife team behind The Body Firm; a homegrown slimming centre in Singapore, hold firmly to.
Fuelled with a passion to help people look their very best, The Body Firm was born with the conviction that taking a holistic approach towards health and beauty enables the positive changes that their clients are searching for.
Bringing a wealth of beauty advisory services since its inception in 2007, The Body Firm strives to go above and beyond for their clients.
All women and men have different goals and agendas when it comes to beauty treatments, so a "one-size-fits-all" approach will not work, or give limited results at most. Which is why The Body Firm is dedicated to offering highly customised body and face treatments that address each client's specific beauty needs.
Through one-to-one consultations, we spend time understanding your body and skin conditions in detail before prescribing individualised and targeted solutions to achieve long-lasting positive effects on the skin and meet your beauty needs, effectively and safely.*
When you book a body or face treatment at The Body Firm, you are sure to always get the best experience. There's no hidden cost or hidden agendas. You are given the same top-of-the-line quality care, no matter if you are here for a free trial or a premium beauty treatment.
Type of Services:
Cryolipolysis:
Widely known as cryolipolysis, their fat freeze treatment uses a 360-degree handpiece to target stubborn fat cells at multiple body areas. Uses advanced controlled cooling technology to break down fats by 20% to 25%. These fat cells are then naturally processed and eliminated through your body's lymphatic system. An ideal treatment for achieving fat loss and precision spot targeting for all body areas.
After a typical course of dieting and weight loss, fat cells get smaller but the number of fat cells remains the same. When weight is gained, fat cells expand and get bigger.
Fat freezing procedure reduces the number of fat cells in treated areas by 20% to 25%. These fat cells are then naturally processed and eliminated, ensuring that it will not form in the treated areas in future or migrate to another area of your body.
*Disclaimer: Each individual's treatment and/or results may vary from person to person depending upon many variables such as age, gender and lifestyle. Testimonials within this site are not intended as guaranteed outcomes.
Location:
Orchard: 402 Orchard Road, Delfi Orchard #01-04, Singapore 238876
Raffles City: 252 North Bridge Road, Raffles City Shopping Centre #02-27B, Singapore 179103
Contact:
Orchard: +65 6838 0331
Raffles City: +65 6970 5331
Website: Website Link Here
---
---
#4 – SL Aesthetic Clinic
Introduction:
SL Aesthetic Clinic offers a continuously-updated array of minimal to non-invasive, FDA-approved, CE-marked, or HSA-approved medical aesthetic treatments in Singapore. The end goal is to empower you to become the best version of yourself.
Their Singapore doctors are medically trained and possess the various certification of competence recognised by the Singapore Medical Council's Aesthetic Practice Oversight Committee (APOC).
Dedicated to bringing clients an array of beauty-enhancing services, SL Aesthetic Clinic has been in the aesthetic services industry for over a decade. Offering augmentation via non-invasive facelifts and fillers, their doctors strive to help clients look their best selves. SL Aesthetic Clinic takes pride in going beyond expectations. SL Aesthetic Clinic believes that patrons are more than just paying customers; they are connections, friends that make what we are today.
Type of Services:
Liposuction:
They use liposuction to target different parts of your body. Liposuction is a procedure to reduce targeted areas of fat, rather than a means to lose weight. It is also able to remove small areas of fat, such as below the chin. It is commonly elected as a way to suck out fat in the flanks, thighs and stomach too.
They minimise your discomfort by administering anesthesia that can cut down on bleeding. Known as tumescent liposuction, the procedure follows after the injection of lidocaine, saline and epinephrine into the fats deposits. While some patients are mobile and return to work the day after the procedure, downtime varies by the individual. Liposuction can benefit you if you have existing conditions, including but not limited to:
Gynecomastia – This is a condition when men have fats collecting in their breasts like females
Lipomas – Refers to patients having harmless fat lumps
Lipodystrophy syndrome – This is a condition whereby a patient has fat present in some parts of the body but none existing in others
As with any procedure or treatment, results can vary by individual
Price:
Double Chin From $3000
Arms / Love Handles / Back / Abdomen From $5000
Front Thighs From $7000
Back Thighs From $7000
Location:
Causeway Point: 1 Woodlands Square, #04-21, Causeway Point S(738099)
Contact:
T: +65 6877 0144
Website: Website Link Here
---
#5 – Healthsprings Aesthetics
Introduction:
Healthsprings was established in 2000 with its first medical clinic located at Bukit Panjang. (visit Healthsprings' Group)
In 2001, the company ventured into the medical aesthetic field and has been offering Lasers, Peels, Fillers, Botulinum Injections and other aesthetic services.
In 2008, Healthsprings Laser and Aesthetic is opened in Orchard Road and has been known to specialise in different aesthetic procedures for the skin, face, body, and hair.
In 2014, the company launched a skincare range specially-formulated by Dr. Soh. These products cater to help treat various skin problems and to provide pre- and post-treatment care.
In 2016, Healthsprings Aesthetic, a spa-concept centre, is opened to offer more beauty care services.
Type of Services:
LipoCryo:
LipoCryo-The Ultimate Fat Removal Technology by cool sculpting has arrived at Healthsprings! It's a cool sculpting treatment by cooling the unwanted fat you wish to remove without surgery or downtime. 20% fat reduction in one session.
A special transducer is placed on the selected area. Vacuum action is applied and the treated area is cooled. The fat cells (adipocytes) in the subcutaneous tissue are sensitive to cold exposure; on the other hand, the other tissues such as blood vessels, nerves, melanocytes, fibrocytes are much less sensitive to the cold. This results in fat cells destruction without damage of the surrounding tissues.
Cool sculpting can treat the area every 4 to 6 weeks.
What will the results be and when will you see the results?
20% fat reduction can be achieved in one session. Slimming results are gradually shown four weeks after treatment.
Depending on the size and thickness of the treated area, the treatment time can last from 20 to 180 min.
During the LipoCryo treatment, you will feel cold and tight over the treated area by cool sculpting for about 30 minutes. After treatment, there may be redness and numbness over the treated zone which will resolve after a couple of hours. There may also be bruising which will resolve within a few days.
The treatment is non-invasive. It does not involve surgery, injections or painkillers. There is no downtime and can be done within an hour. Treatment is done by cool sculpting and is painless and does not affect your activities before or after the treatment.
Location:
541 Orchard Rd, #11-01 / 04 Liat Towers, Singapore 238881
524A Jelapang Rd, #02-01, Singapore 671524
105A Bidadari Park Drive #01-08, Singapore 341105
Contact:
Orchard:
T: +65 6836 8386
W: +65 9728 2861
Jelapang:
T: +65 6892 6681
W: +65 8799 8936
Bidadari Park:
T: +65 6908 1033
W: +65 8616 6166
Website: Website Link Here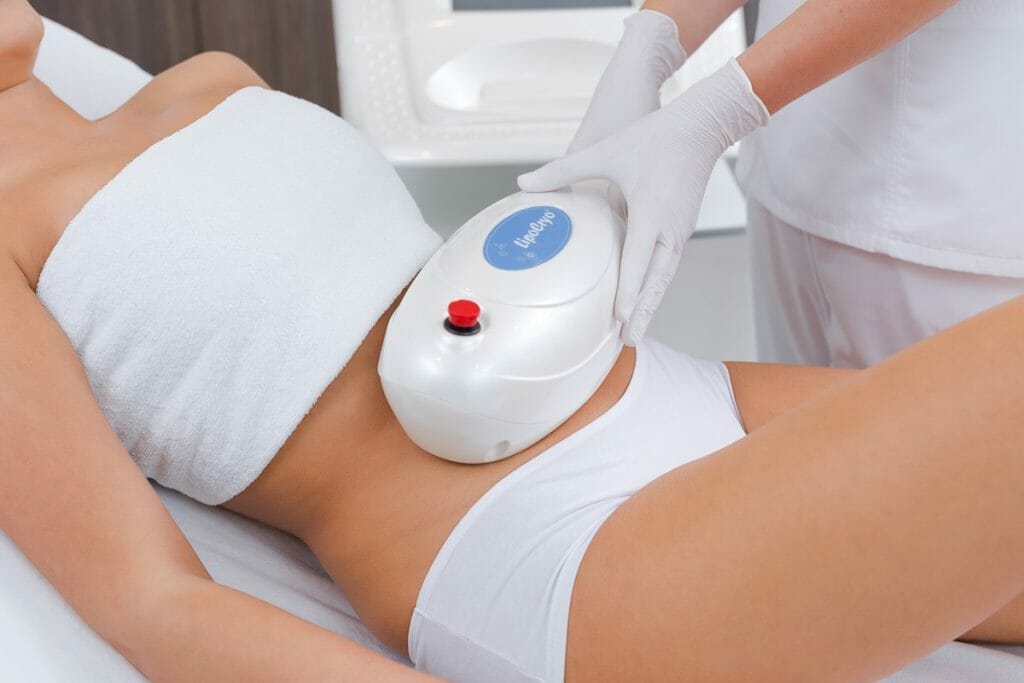 ---
#6 – Bio Aesthetic Medispa
Introduction:
Bio Aesthetic was established with a simple aim in mind: your well being. They have always worked to ensure that all those come to them for beauty solutions leave satisfied.
They are a step forward in the journey towards your full well being and perfect physical aesthetics. Redefine your beauty today – check out their range of services to choose what suits your needs.
Type of Services:
Fat Freeze:
Fat Freeze trial from $99 / cup
Fat freeze or its medical term, cryolipolysis is a non-invasive and non-surgical medical procedure used to destroy fat cells, by freezing. Fat Freeze Singapore is a body contour treatment utilising cooling plates on targeted areas. The suction will vacuum the fats into the cooling plate to cool it. As fats is sensitive to cold, the temperature will eliminate fat cells leaving the other tissues unharmed.
Often compared with traditional liposuction, Fat Freeze is the perfect alternative with no injection or surgery. Downtime is minimal with no side effects.
The science behind Fat freeze is to kill fat cells through cell apoptosis (fat cell death). The suction will vacuum the fats into the cooling plate to freeze it. Due to fat's sensitivity to cold, the cold temperature will freeze and eliminate the fat cells leaving the other tissues unharmed.
Fat freezing work by freezing your fat cells at temperature -5 degrees celcius leaving other tissues like skin, blood vessels and nerves unharmed. The temperature is constantly regulated to ensure the it doesn't burn the skin.
Over time, the dead fat cells will be slowly disintegrate and be naturally metabolised out of the waste system.
The result will be an overall reduction of subcutaneous fat. For optimal results, it is recommended to complete treatment protocols based on targeted fats area.
Location:
Palais Renaissance, 390 Orchard Road #03-01 Singapore 238871
Tampines 1 Mall, 10 Tampines Central 1,#04-35 Singapore 529536
Contact:
Orchard: +65 6333 4566
Tampines: +65 6782 2777
Website: Website Link Here
---
_

Read Also:

Top 10 Best Coolsculpting in Singapore

_
---
#7 – The Aesthetics Centre
Introduction:
Situated on the ground floor of the Great World City Office Tower in Singapore, The Aesthetics Centre has been providing innovative anti-aging and skin rejuvenation services for men and women since 2007.
Their trained and certified medical professionals perform innovative treatments with technology that is proven to be safe, efficient, and effective.
Their non-surgical, medical aesthetic treatments improve the texture and appearance of skin and hair, and enhance facial and body contours.
Type of Services:
Exilis Elite™ Body Contouring in Singapore:
Non-Surgical Tummy Skin Tightening and Body Contouring
Tummy Skin Tightening is a treatment that you might want to consider in Singapore. It is a non-invasive procedure that stimulates existing collagen and promotes the rise of new ones to address the slightly loose skin in the area. Supported by several studies to support its skin tightening action, it can also reduce the appearance of cellulite.Non-Surgical Tummy Skin Tightening and Body Contouring
Tummy Skin Tightening is a non-invasive treatment that uses radiofrequency energy to target the inner skin tissues to stimulate collagen renewal (McDaniel et al., 2014). It can address skin sagging in the abdomen, thighs, arms and buttocks. It can also smooth the look of dimpled skin on the body and temporarily reduce the appearance of cellulite.
The length of treatment depends on the part of the body that is being targeted and the condition of the skin. The abdominal area will take longer than the face, but they can give you an estimate after we are able to personally evaluate your case.
At The Aesthetics Centre, they use the new generation machine which delivers a cooling sensation when the device comes in contact with the skin. The radiofrequency pulse that stimulates collagen renewal can be felt like a brief heating sensation which is then followed by a cooling sensation. Through the course of the procedure, their team will also make sure that you are made comfortable adjusting accordingly so the heat can reach into the subcutaneous tissue, or the deeper layers of the skin without any pain (Araújo et al., 2015).
It was advertised back in the day that one treatment is enough, however, experts are abandoning this approach. The number of sessions needed will depend on their evaluation of your skin. Some patients may require more sessions than others, as they react differently to treatments. The condition of the patient's skin would also be taken into consideration in mapping out the treatment plan.
Location:
Main Office: 1 Kim Seng Promenade #01-137 Great World City (Office Tower), 237994 Singapore, Singapore
Contact:
T: +65 6820 3308 | +65 6820 3309
Website: Website Link Here
---
#8 – The Chelsea Clinic
Introduction:
Established in 1999, The Chelsea Clinic is one of Singapore's largest group of medical aesthetic clinics / wellness clinics that focuses on the holistic approach to a person's well-being, through medical aesthetics and personalised health care. Despite 20 years of experience in running an aesthetic clinic in Singapore, the best reward for us is seeing our patients walk out satisfied with the results.
Their commitment to excellence is evident by them being awarded Singapore Quality Brands 2013 / 2014 (for medical aesthetic clinic Singapore). With this, The Chelsea Clinic would like to express their gratitude and appreciation to everyone who has been a part of their journey right from the beginning. They promise to continue to give their utmost care to their patients and to be one of the best aesthetic clinics in Singapore. They strive to be the best aesthetic clinic in Singapore, to provide quality service and treatments for all clients who visit them.
Type of Services:
ZELTIQ COOLSCULPTING IN SINGAPORE®:
CoolSculpting is an FDA approved, clinically proven, non-invasive, no downtime, no needles, no scars treatment to get rid of fat under our skin by freezing the fat cells from outside your body in 40 minutes.
Freezing the fat cells causes them to self-destruct and die. As fat cells freeze at a higher temperature than the other cells, CoolSculpting can effectively kill fat without collateral damage to the surrounding tissues. Over the following weeks, your immune system will clear away the fatty cellular debris and remodel the area to give you a slimmer silhouette. Results usually become visible in 4-6 weeks after the procedure and can continue to improve in the next few months. Consistent dieting and exercising can also help to prolong the results.
After cryolipolysis, the body processes and eliminates these fats for good. CoolSculpting is permanent and is best paired with adequate exercise and diet control for the best results. Additional sessions will also enhance the results.
Most people tolerate the treatment very well. The common side effects are mild pain in the treated sites, bruising and nerve trauma. As Coolsculpting doesn't require incisions, there is no downtime and their patients can return to their normal activities almost immediately following the process. In fact, they may even undergo treatments during their lunch breaks.
The best candidates are those with noticeable fat bulges in certain areas they would like to get rid of. Candidates with unwanted fats that resists diet and exercise can also consider this treatment. CoolSculpting offers applicators that can fixate on small bulges and effectively freeze their fats. While CoolSculpting is a great alternative to liposuction, do note that CoolSculpting is not a weight loss solution for people who are obese.
This procedure is FDA-cleared for the love handle, abdomen, and thigh. It should only be done under the observation of a licensed doctor/clinic.
ZELTIQ COOLMINI:
CoolMini is based on the same cryolipolysis technology as CoolSculpting but uses a smaller applicator that treats smaller pockets of fats. Areas that can be benefited from CoolMini include the double chin, axillary (armpit) and knee.
An FDA approved fat-freezing treatment, CoolMini by Zeltiq has an applicator that is uniquely designed to treat small pockets of fat targeting chin, neck, underarm, bra bulge and other problem areas. It uses safe and controlled cooling to freeze and eliminate fat cells. Each session reduces up to 20-25% fat and can be done on a monthly basis until satisfied.
The procedure is non-invasive and you may resume normal activities after treatment.
Price:
The Coolsculpting price in Singapore depends on your area of concern and ultimate goals. For instance, flanks may require 2 cycles per session. Upon consultation, our doctors at The Chelsea Clinic will help you create a customised treatment plan specially tailored to your goals and budget. Currently, the Coolsculpting price is $399 per cycle.
Location:
501 Orchard Road #05-08A, Wheelock Place, Singapore- 238880
Contact:
T: +65 6735 8833
After Hours Hotline: +65 96616683
F: +65 6735 0508
Website: Website Link Here
---
#9 – Prive Aesthetics
Introduction:
Privé Aesthetics is a one-stop award winning medi-spa offering expert solutions for your skin, face, body and hair needs. Through advanced, clinically-proven technology and using medical-grade products, we are committed to helping their customers look – and feel – their very best.
Type of Services:
Cryo Fat Freeze:
Cryo Fat Freeze is a state-of-the-art coolsculpting technology that enables non-invasive and non-surgical body contouring. Cryo Fat Freeze works by freezing away stubborn fat using a targeted cooling process known as cryolipolysis.
Cryolipolysis is a medical treatment that uses the controlled application of cooling, within the temperature range of +5 to −5 °C. This non-invasive procedure enables the localized reduction of fat deposits, in order to reshape the contours of the body. The exposure to cooling causes the cell death (apoptosis) of subcutaneous fat tissue, but the overlying skin is not affected.
Cryo Fat Freeze is a fat freezing procedure that targets fatty areas that do not respond to exercise and good eating habits. The treatment utilises controlled cooling technology to target and crystallise fat cells. Only the fat cells are frozen, while the skin remains unharmed.
In the first few minutes of the treatment, you will likely feel intense cold. Certain applicators might give you a pulling sensation because the machine uses suction. During the procedure, the area being treated will typically become numb within 5-10 minutes.
After the treatment, you may feel a tingling sensation when the affected area is massaged for 2-3 minutes. The fat cells will be gradually removed by the immune system in the following weeks and months. The remaining fat cells will become condensed, resulting in the reduction of the fat layer.
Patients may see changes as soon as 3 weeks after their treatment, and better results after 2 months. Post treatment, patients' bodies will continue to eliminate fat cells for up to 4-6 months.
This is a safe and patented procedure, approved by the FDA. It can yield results of up to a 20% fat reduction.
Cryo Fat Freeze is a safe and non-invasive coolsculpting treatment employing cryolipolysis that is approved by the FDA. There is minimal downtime incurred. Usually, patients are able to resume their normal daily activities after the fat freezing treatment.
Possible side effects immediately after the treatment might include temporary redness, itching, tenderness, skin sensitivity, aching, blanching, bruising, firmness, tingling, swelling and stinging. However, these effects are temporary and will generally disappear within a few days.
Location:
390 Orchard Rd, #03 – 03, Singapore 238871
Contact:
T: +65 965 65 380
Website: Website Link Here
---
#10 – Illumia Medical
Introduction:
Welcome to illumia Medical, the go-to destination for bespoke medical aesthetic treatments. At illumia Medical, their patients are at the core of what they do. They believe in the enhancement – not transformation – of their patients' features, and they are committed providing their patients with long-term solutions rather than a simple quick fix. The team is led by Medical Director, Dr. Ram Nath, who has over 20 years of experience in medical aesthetics. They believe there is no one-size-fits-all solution when it comes to medical aesthetics. That is why their ethos is to help every patient achieve their beauty goals through comprehensive, customised treatment plans.
Type of Services:
Cooltech 360 Fat Freezing Treatment:
In short, the Cooltech 360 Fat Freeze is a full-body contouring treatment that targets multiple body areas using advanced controlled cooling technology. It can achieve permanent fat loss and targets virtually all areas of the body.
The only fat-freezing treatment in Singapore that targets 4 areas at the same time.
Suitable for every single part of the body, regardless of shape, size and contour.
Illumia Therapeutics is the first and only aesthetic centre in Singapore to offer Cooltech 360.
Location:
501 Orchard Road, #05-12B Wheelock Place, Singapore 238880
112 East Coast Road, #03-05/06/07 i12 Katong, Singapore 428802
Contact:
Orchard:
T: +65 6454 5465
W: +65 9656 5464
Katong:
T: +65 6518 9191
W: +65 9645 9499
Website: Website Link Here
Conclusion
If you're looking for a hair removal salon that caters specifically to men, there are plenty of options in Singapore. Some of the top salons include Only Aesthetics, BARE Hair Removal, The Organic Room, and Peachy Skin Bar. Only Aesthetics is an established aesthetic chain with eight locations near major MRT stations. They offer a range of hair removal services for men, including laser hair removal and IPL hair removal. They also have a team of experienced therapists who can help you choose the right treatment for your needs.
BARE Hair Removal specializes in permanent hair removal. They use advanced technology to remove hair from the root, leaving your skin smooth and hair-free. They also offer a range of other services, including facials and body treatments.
The Organic Room offers sugaring hair removal, which is a natural alternative to waxing. Sugaring is less painful than waxing and is suitable for all skin types. The Organic Room also offers other services such as facials and massages.
Peachy Skin Bar offers SHR hair removal, which is a painless and effective way to remove unwanted hair. They also offer other services such as facials and body treatments.
In conclusion, there are many great options for men's hair removal in Singapore. Whether you're looking for laser hair removal or a more natural alternative like sugaring, there's a salon out there that can help you achieve your desired look. So why not book an appointment today and see what these salons have to offer?
Frequently Asked Questions (FAQ)
Q: What are the best hair removal salons for men in Singapore?
A: Some of the top hair removal salons for men in Singapore include Only Aesthetics, BARE Hair Removal, The Organic Room, and Peachy Skin Bar. These salons offer a range of hair removal services for men, including laser hair removal and IPL hair removal.
Q: What is sugaring hair removal?
A: Sugaring hair removal is a natural alternative to waxing. It involves using a paste made from sugar, lemon juice, and water to remove hair from the root. Sugaring is less painful than waxing and is suitable for all skin types.
Q: What is SHR hair removal?
A: SHR stands for Super Hair Removal. It is a painless and effective way to remove unwanted hair. SHR uses a special technology that heats up the hair follicles to destroy them without damaging the surrounding skin.
Q: How much does laser hair removal cost in Singapore?
A: The cost of laser hair removal in Singapore varies depending on the salon and the area being treated. On average, laser hair removal can cost anywhere from $100 to $500 per session.
Q: Is laser hair removal permanent?
A: Laser hair removal is not completely permanent, but it can significantly reduce the amount of hair growth in the treated area. Most people require multiple sessions to achieve the desired results.
---
Have a Place to Recommend?
Your contribution is valuable to us! Are there any outstanding businesses that you believe should be added to our list? If so, please send your recommendations to us at [email protected]. Tropika Club will review your suggestions and update the list accordingly. Thank you for your help in making our list of businesses as comprehensive and accurate as possible.
---
Meanwhile, Check Out Tropika Club's Ecosystem of Websites

Tropika Club Magazine – Tropika Club Magazine is a Singapore-based publication that features articles on a wide range of topics with a focus on local businesses and content for the region. The magazine emphasizes supporting local businesses through its #SupportLocal initiative, which includes coverage of everything from neighborhood hawker stalls to aesthetic clinics in town. In addition to highlighting local businesses, Tropika Club Magazine also covers a variety of local content, including beauty, lifestyle, places, eats, and what's on in Singapore and the Asia Pacific region.
Tropika Club Deals – Tropika Club Deals is a leading online deals and voucher shopping site in Singapore, offering amazing discounts on beauty, wellness, and fitness products and services. It's the perfect platform for customers who want to discover the best deals without having to commit to a specific appointment date and time. These deals are available at major beauty stores, facial salons, hair salons, and other brands in Singapore, with no minimum spend required. Choose from guaranteed discounted deals in the categories of hairstyling, hair removal, facial & aesthetics, body slimming, brows & lashes, nails & makeup, massage & spa or fitness & wellness. Tropika Club Deals is also ideal for customers who want to buy vouchers as gifts or to use for the future. So whether you're looking to save money on your next haircut or want to treat yourself to a relaxing massage, Tropika Club Deals has got you covered with the best voucher and coupon deals in Singapore!