Singapore's Top 10 Most Cost-Effective Hair Removal Providers

Presenting Singapore's Top 10 Most Cost-Effective Hair Removal Providers, thoughtfully compiled by Chat GPT to help you achieve smooth, hair-free skin without burning a hole in your pocket. Explore our curated list of reliable providers offering affordable hair removal treatments without compromising on quality or safety. Embrace a fuss-free grooming routine and indulge in the best value-for-money services available in Singapore's bustling beauty scene. Browse through our top recommendations and discover the ideal hair removal provider tailored to your budget and needs.
---
#1 – Wellaholic
Introduction:
Wellaholic's mission statement is to empower individuals to look and feel their best by providing exceptional service, innovative products, and expert guidance in the areas of beauty, health, and wellness. With a commitment to customer satisfaction, continuous improvement, and the highest standards of professionalism, Wellaholic aims to create a positive and supportive community that inspires people to prioritize self-care, embrace personal growth, and live a healthier, happier lifestyle.
Type of Services:
SHR Hair Removal
Body Slimming
Technology Facials
Teeth whitening
Location:
16M, Penhas Road (Level 2), Singapore 208180
Contact: +65 6816 8038
Website: Website Link Here
---
#2 – Pink Parlour
Introduction:
Established in 2005, Pink Parlour entered the grooming scene in Singapore as the rebellious counterpart of day spas in a hip and groovy setting amidst party establishments along Mohammad Sultan.
On a mission to empower women to take control of how they can look and feel, Pink Parlour was dedicated to offering beauty treatments that enhance confidence – today it has over 60,000 clients across the region a testament that Pink Parlour keeps it promise and does not disappoint.

Dominating the waxing and grooming scene in no time, Pink Parlour set itself apart from the competition – having pioneered premium service such as top-of-the-line Brazilian wax treatments, its distinct specialty in male waxing and spray tanning offerings in Southeast Asia. Famed for its hair removal solution, Pink Parlour was the first to introduce the use of gloves, no double dips and anti-bacteria fumigation – setting industry standards experienced across the island today. Professional waxing techniques and procedures were also introduced to reduce discomfort while waxing and being time efficient for busy clients.
Type of Services:
Boyzilian Brazilian waxing
BumBum Facial
Alpha Light Hair Removal
Location:
277 Orchard Rd, B2-18/18A, Singapore 238858
Contact: +65 61008266
Website: Website Link Here
---
---
#3 – Blush Wax
Introduction:
Established in 2008, Blush is a beauty salon that specializes in professional hair removal services for ladies.
They take pride in offering you quality service and professional advice with regards to any body hair problems you might encounter. Treatments are provided by highly qualified, experienced and friendly therapists, all while strictly adhering to the highest industry standards in Singapore.
Blush is committed to being professional and reliable.
They wish to bring all of their clients effective hair removal results, and have them feeling fresh and carefree!
At Blush, they believe that a pleasant environment is important for their ladies' comfort. They provide services of the highest quality in spacious, well-equipped rooms, in order to bring the best results to their clients and make sure that they leave the room feeling happy and content.
Type of Services:
Permanent Hair Reduction
Waxing
Location:
176 Orchard Road, #03-19A, The Centrepoint, S238843
Contact: +65 9199 7313
Website: Website Link Here
---
---
#4 – Honeypot Wax Boutique
Introduction:
It seems only like yesterday when the hair-raising idea of a waxing boutique popped into their heads. It all happened during a summer debauchery in Europe. Sex Kitty had been frolicking in its fabulous culture for far too long and found herself a little too fuzzy down south.
Desperate times called for desperate measures so Sex Kitty trawled the cobbled streets of Europe to get a wax job done. After searching for days, she finally found a little place but agawd! It was decked out like a stuffy clinic; its therapists had not a smile on their face, were rough and barked orders at Kitty! And we know kitties don't like barks.
But being a kitty of beauty, she braved the wax job. A few suppressed meows and a scowl later, she emerged a little hissed off but fortunately unscathed.
It was at that moment that Sex Kitty put her paw down and said "Enough!" No other kitty would be subjected to the same unpleasantry ever again. Kitties who wax, deserve only the best – both in wax job and in service.
When Kitty returned to Singapore, she delved into months of research. Pile of sketches, hundreds of phone calls and some 50 wax formulas later, Kitty proudly introduced her own brand of wonderful, which they know today as Honeypot.
Type of Services:
Brazilian Waxing
Body Waxing
Facial Waxing
IPL Treatment
Location:
391B Orchard Road, #08-09 Tower B ,Singapore 238874
Contact: +65 6235 6686
Website: Website Link Here
---
#5 – Datsumo Labo
Introduction:
What makes Datsumo Labo the best choice for your Super Hair Removal (SHR) Treatment in Singapore? With over 50 outlets globally, we specialise in semi-permanent, full-body laser hair removal that is backed by scientific research and the latest technology. In just 6 simple steps, go beyond IPL treatments and achieve painless and effective hair removal results that is both pocket-friendly and long-lasting. With 2 centrally-located salons to choose from, they make it convenient for customers with hectic schedules to book their appointments online.
Type of Services:
SHR Hair Removal Treatments
Location:
#02-33/34 The Centrepoint, 176 Orchard Road
Contact: 8468 1029
Website: Website Link Here
---
#6 – SpaJelita
Introduction:
SpaJelita, a name synonymous with grandeur and luxury, is the essential destination to experience a Spa Journey that is a cradle of traditional Arabian customs and modern practices of Aromatherapy and first-class technologically advanced facial treatments. Relive the legend of Cleopatra and tales of the Velvet Nights with our selection of therapies.
Built in grandeur and sheer luxury, SpaJelita offer the opulence of ancient Arabia with up-to-the minute therapies enabling clients to taste, touch and feel the difference. From classic cures with indigenous ingredients such as henna, honey and dates, to more sophisticated rituals based on modern technology, SpaJelita demystifies the legends and demonstrates how these ancient rituals have become intricately linked with the modern Arabic spa experience.
Deepen your appreciation of the Arabian Spa, experience the exotic blend of time-honoured and truly unmatched natural therapies coupled with excellent service to soothe and enrich the body, mind and spirit.
Type of Services:
Location:
150, Changi Road, #01-02 Guthrie Building, Singapore 419973
Contact: (65) 63454565
Website: Website Link Here
---
_

Read Also:

Top 10 Most Affordable Hair Removal Providers in Singapore

_
---
#7 – Wink Wax Wellness
Introduction:
Wink Wax™ had no exceptions ,It all started from scratch in a tiny room by subletting and shared the space with others in Boat Quay Singapore. Overcoming the businesses challenges are not easy, especially in the year 2008 subprime crisis. Just like any successful businesses, Wink Wax™ focuses on managing relationships with the clients steadily on a gradually pace. Even today Wink Wax ™ have builds its client base to an enormous level, the company stay consistence, humble and focus which is already now becoming the DNA of Wink Wax ™ . Bring it back to present stage, Wink Wax™ have successfully metamorphosed from a simple service provider to a leading industry player for more than a decade. Today, Wink Wax™ is still seeking innovation that enable Wink Wax™ to catch up with the pace of better consumer experience from time to time. Wink Wax provides in-house waxing product to B2B market and is also an educational provider for student that keen to learns aesthetic treatments. Wink Wax™ is also a ITE training centre for ITE internship. Wink Wax™ believes in give back to society, thus Wink Wax™ is also a member of Specialists in Wellness Association Singapore (SWAS) and have been providing tremendous supports and advices to groom the future talent in beauty industry .
Wink Wax™ is also a subsidiary of Wink Groups holding since 2014 and this will allow the company to grow it corporate strategy as time to come.
Type of Services:
Waxing
IPL permanent hair removal treatment
DPL permanent hair removal treatment
Location:
99A Tg Pagar Rd, Level 2, Singapore 08852
Contact: 6536 8785
Website: Website Link Here
---
#8 – Japan IPL Express
Introduction:
At Japan IPL Express, we know exactly who we are, what we stand for, and how to get things done.
As Singapore's first unisex IPL salon, we're committed to offering the most effective and convenient IPL services dedicated to your needs and wants
"No Packages, No Appointment", that's their modus operandi.
Some salons require customers to sign contracts lasting longer than romantic relationships — not us. There's no need to call ahead or arrange your schedule around appointments.
Come when you want, and get what you want. You call the shots.
They are here to help you deal with the hair in the wrong places and the "how'd they get there" blemishes. They'll soothe your concerns with comfort and speed.
Type of Services:
IPL for Hair
IPL for Acne
IPL for Skin Blemishes
Location:
AMK Hub Shopping Center, #02-29
53 Ang Mo Kio Ave 3, S(569933)
Contact: +6566360550
Website: Website Link Here
---
#9 – Strip: Ministry of Waxing
Introduction:
Ministry of Waxing was born in Singapore at a time when the local wax culture was, shall they say, medieval.
They're talking dodgy waxing studios dishing out unhygienic and painful waxes that left you unable to walk in a straight line.
But their founder Cynthia Chua, the original smooth operator, believed that there was a place for body culture that's practised safely, hygienically and painlessly. So, she set about seeding the beginnings of a wax revolution.
Selflessly, she trialed and tested new techniques and experimented with new waxes. Eventually, she created a brand new set of Brazilian waxing techniques that was significantly less painful and embarrassing.
She made waxing elegant.
Type of Services:
Waxing
AFT Hair removal
Thermal Shape
Thermal Face Lift
Location:
3 Gateway Dr, #03-23, Singapore 608532
Contact: +65 6337 8747
Website: Website Link Here
---
#10 – Regina
Introduction:
Regina is a hair removal salon specialising in Super Hair Removal (SHR) treatments and face and body rejuvenation. They are committed to provide safe, hygienic, effective and long-lasting results at affordable prices.
They offer the latest in technology for their clients with SHR laser machines that can remove unwanted hair from any part of your body without pain or discomfort. The machine uses an intense beam of light to penetrate the skin surface and destroy the root cells which cause hair growth. It is also perfect for those who want to reduce their risk of ingrown hairs as it removes all traces of stubble after each treatment!
Type of Services:
SHR Hair Removal
Facials
Slimming
Location:
6 Eu Tong Sen St, #04-68 The Central, Singapore 059817
Contact: 6221 1558
Website: Website Link Here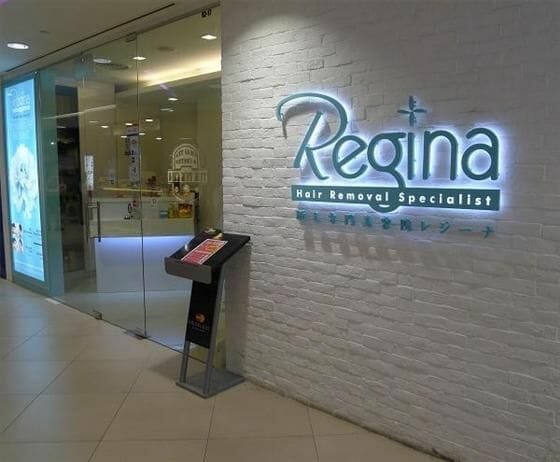 ---
Have a Place to Recommend?
Your contribution is valuable to us! Are there any outstanding businesses that you believe should be added to our list? If so, please send your recommendations to us at [email protected]. Tropika Club will review your suggestions and update the list accordingly. Thank you for your help in making our list of businesses as comprehensive and accurate as possible.
---
Meanwhile, Check Out Tropika Club's Ecosystem of Websites

Tropika Club Magazine – Tropika Club Magazine is a Singapore-based publication that features articles on a wide range of topics with a focus on local businesses and content for the region. The magazine emphasizes supporting local businesses through its #SupportLocal initiative, which includes coverage of everything from neighborhood hawker stalls to aesthetic clinics in town. In addition to highlighting local businesses, Tropika Club Magazine also covers a variety of local content, including beauty, lifestyle, places, eats, and what's on in Singapore and the Asia Pacific region.
Tropika Club Deals – Tropika Club Deals is a leading online deals and voucher shopping site in Singapore, offering amazing discounts on beauty, wellness, and fitness products and services. It's the perfect platform for customers who want to discover the best deals without having to commit to a specific appointment date and time. These deals are available at major beauty stores, facial salons, hair salons, and other brands in Singapore, with no minimum spend required. Choose from guaranteed discounted deals in the categories of hairstyling, hair removal, facial & aesthetics, body slimming, brows & lashes, nails & makeup, massage & spa or fitness & wellness. Tropika Club Deals is also ideal for customers who want to buy vouchers as gifts or to use for the future. So whether you're looking to save money on your next haircut or want to treat yourself to a relaxing massage, Tropika Club Deals has got you covered with the best voucher and coupon deals in Singapore!