The Best Alfresco Dining in Singapore: 10 Eateries to Enjoy the Great Outdoors
No Time to Read? Here's a Snappy Summary of This Article
Garden Oasis: Discover lush, picturesque gardens while savoring exquisite cuisine at Singapore's top alfresco dining spots.
Waterfront Romance: Experience romantic waterfront settings, perfect for couples seeking a charming outdoor dining experience.
Sky-High Delights: Dine amidst stunning cityscapes from rooftop eateries offering a taste of Singapore's skyline.
Cultural Fusion: Explore diverse culinary offerings in outdoor settings that celebrate Singapore's rich cultural heritage.
Island Vibes: Enjoy seaside dining with a tropical twist, complete with sea breezes and a laid-back atmosphere.
Hidden Gems: Uncover hidden alfresco gems, from secret gardens to tucked-away terraces, for unique dining adventures.
Introduction
Singapore—the food haven where global cuisines and cultures converge! With a gastronomic scene that's as diverse as its population, Singapore offers something for every palate, from hawker stalls to high-end restaurants. But if you're in the Lion City and find yourself yearning for a dining experience that extends beyond just good food, you're in luck. Singapore has an array of alfresco dining spots that offer not just a feast for your taste buds, but also an ambiance where the city's skyline and natural beauty play backdrop. Think starlit skies, tranquil waterfronts, and lush greenery, all adding a magical touch to your outdoor meal. So whether you're a local or a visitor eager to experience the city's epicurean offerings in the great outdoors, here's a guide to the best alfresco dining in Singapore that promises a multisensory dining affair you won't forget.
Whether it's a romantic dinner with your significant other or a laid-back weekend brunch with friends, alfresco dining has its own charm that's hard to beat. In Singapore, this style of dining is taken to a whole new level, combining scrumptious food with unbeatable views and a dash of that inimitable Singaporean sophistication. We've scoured the city to bring you 10 eateries that epitomize the best in open-air dining. These handpicked spots are not just about enjoying a meal; they are about savoring a complete experience that tantalizes all your senses. Get ready to dine under the stars, by the water, or amidst stunning architecture, and let the atmosphere add that extra zest to your dish. Cheers to great food and even better vibes!
---
#1 – Sol And Luna
Introduction: A vibrant bistro encased within the thriving Green Oasis of CapitaSpring, Sol & Luna offers both an intimate outdoor dining experience along with a spectacular view of the cityscape for social gatherings and celebrations. The bistro and garden oasis is also a charming destination for weddings, corporate and social events.
Menu Items:
Brunch Burger (Price $38)
Prawn & Octopus Niçoise Salad (Price $25)
Wood-Fired Wagyu (Price $42)
Tiramisu (Price $20)
Location: 88 Market St, #17-01, CapitaSpring 048948
Contact: 8031 4316
Website: Website Link Here
---
#2 – Stella Seaside Lounge
Introduction: Stella Seaside Lounge A casual chill out joint along Changi Beach, offering a magnificent view of the shoreline. Serving up American favourites, and cocktail as refreshing as the Sea breeze, a great place to chill with your family and friends.
Menu Items:
Seasonal Live Oysters (Price $32)
Truffle ham and cheese panini (Price $20)
Waffle and Sausage (Price $18)
PB&J Panini (Price $12)
Location: 11 Changi Coast Walk, Singapore 499740
Contact: 6214 9168
Website: Website Link Here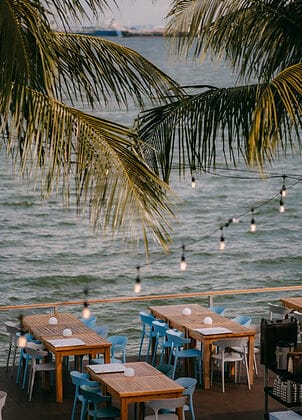 ---
---
#3 – ZORBA
Introduction: Get swept away with the tastes and smells of the Aegean with the authentic culinary experience that is Zorba the Greek Taverna. Located along the waterfront of Singapore River in Clarke Quay, Zorba Taverna is more than just your average Greek eatery. Whether it is a small romantic dinner for 2 or a large celebration for up to 90 of your closest family and friends, they will make you feel as if you are dining in Greece.
Menu Items:
GRILLED STUFFED SARDINE (Price $24)
CHICKEN SOUVLAKI (Price $26)
MEDITERRANEAN SEAFOOD STEW (Price $52)
VEGETARIAN MOUSSAKA (Price $20)
Location: 3A River Valley Rd, #01-01C to 01D Block A Clarke Quay, Singapore 179020
Contact: 8218 5602
Website: Website Link Here
---
_

Read Also:
---
#4 – Latteria Mozzarella Bar
Introduction: Latteria Mozzarella Bar, a slice of Southern Italy located just behind Singapore's bustling CBD area, in the charming Duxton Hill. Their restaurant offers the freshest Mozzarella and Burrata cheeses interpreted in various ways, as well as an extensive traditional Italian cuisine. Located in a historic shophouse, their cosy indoor restaurant comes with a lush alfresco terrace which provides an idyllic setting – perfect for an unforgettable dining experience.
Menu Items:
Burratina al Tartufo (Price $32)
Ciambella Bufala (Price $39)
Antipasto Latteria (Price $60)
Grilled Italian Sausages (Price $30)
Location: 40 Duxton Hill, Singapore 089618
Contact: 6025 6025
Website: Website Link Here
---
#5 – Dusk Restaurant & Bar
Introduction: At 100m above sea level surrounded by lush rainforest, Dusk Restaurant & Bar has the perfect vantage point for panoramic views of Harbourfront & Sentosa Island. Experience splendid sunsets on a hilltop and chill out with European tapas & specially curated wines and cocktails. From casual get-togethers to corporate functions and weddings — Dusk Restaurant & Bar is the perfect hotspot to be at.
Menu Items:
Eggs Benedict (Price $17)
Côte de Boeuf (Price $98)
Citrus Fremantle Octopus Tapas (Price $25)
Flambé Baked Alaska (Price $16)
Location: Faber Peak Singapore, Level 2, 109 Mount Faber Road, 099203
Contact: 6361 0088
Website: Website Link Here
---
---
#6 – Wildseed Café at Alkaff Mansion
Introduction: Cosied at the ground level of The Alkaff Mansion and surrounded by sprawling canopies, lies Wildseed café, a pet-friendly floral café and patisserie. In a setting imbued with a natural landscape of verdant greenery and welcoming spaces, Wildseed serves as a conduit for pet owners and families to congregate. Offering a hearty selection of brunch items, freshly baked cakes and luscious pastries, the blooming café that rests in the hill of Telok Blangah makes for a true escape from the bustling city.
Menu Items:
Wagyu Beef Pie (Price $14)
Big Pan Breakfast (Price $28)
Bak Kwa Pizza (Price $21)
Grilled Sea Bass Fillet (Price $26)
Location: 10 Telok Blangah Green, Singapore 109178
Contact: 8126 8484
Website: Website Link Here
---
#7 – FICO
Introduction: A casual Italian restaurant along East Coast Park by Chef Mirko Febbrile and The Lo & Behold Group, inspired by the simplicity of Cucina Povera. With indoor and al fresco dining options, Fico is the idyllic beachfront destination for any event.
Menu Items:
Fico Seafood Platter (Price $98)
Mafaldine (Price $30)
Beef Costata (Price $178)
Spaghetti (Price $26)
Location: 1300 East Coast Parkway, East Coast Park Area F, 468964
Contact: 8121 7208
Website: Website Link Here
---
#8 – Caffe Fernet
Introduction: NEW-ITALIAN CUISINE BY THE BAY
A fresh take on Italian fare and cocktails
Try their unique and comforting spin on Italian cuisine, which pairs the most unexpected ingredients and local produce for a beautiful dining experience.
Their New-Italian food programme is paired with a thoughtfully-crafted modern beverage programme and a great view of Marina Bay. Caffe Fernet is perfect for relaxing afternoon catch-up, after-work drinks, and romantic dinner dates.
Menu Items:
Salumi (Price $38)
Fremantle Octopus (Price $36)
Beef Tagliatelle (Price $45)
Berkshire Pork Chop (Price $64)
Location: 70 Collyer Quay, #01-05 Customs House, Singapore 049323
Contact: 9178 1105
Website: Website Link Here
---
#9 – Bee's Knees @ The Garage
Introduction: Snugged right in the middle of the botanic gardens, Singapore's first and only UNESCO World Heritage Site, Bee's Knees offers an diverse all-day dining menu and is a fun, laid-back, family and pet friendly garden cafe by day and casual hangout spot by night. Bee's Knees menu offerings ranges from eggs, croissant, salads, fruit bowls, pizzas, pastas, sandwiches, snacks, waffles, ice cream, pancakes, coffee and drinks with over 100 food and beverage options. 'Bee social,' 'bee connected' is the friendly promise here.
Menu Items:
Salmon Bagel Eggs Benny (Price $18)
Reuben (Price $19)
Truffle Tater Tots (Price $13.3)
Laksa Prawn Pasta (Price $23.3)
Location: Cluny Park Rd, Level 1 The Garage, 50, Singapore 257488
Contact: 9815 3213
Website: Website Link Here
---
#10 – Waterfall Ristorante Italiano
Introduction: A Love Story from Southern Italy Located in lush tropical gardens, Waterfall Ristorante Italiano offers authentic southern Italian cuisine. Within the eclectic colonial interiors of the restaurant lies a treasure trove of fresh seasonal produce. Diners can choose from an extensive collection of wines to embark on a tasting journey spanning all of Italy.
Menu Items:
LINGUINE AI CROSTACEI IN CROSTA DI PANE (Price $98)
VITELLO TONNATO (Price $30)
MARINARA (Price $28)
300G BURRATA CON SALUMI (Price $65)
Location: 22 Orange Grove Rd, Level One, Garden Wing, Singapore 258350
Contact: 6213 4398
Website: Website Link Here
Conclusion
Tropika Club Magazine agrees that Singapore offers some of the best alfresco dining experiences in the world. The city's diverse culinary scene, combined with its beautiful outdoor settings, makes it a top destination for food lovers. In our view, these 10 eateries highlighted in this article provide a perfect blend of ambiance and gastronomy. Whether you're a local looking for a special night out or a visitor eager to explore Singapore's culinary offerings, these alfresco dining spots offer a memorable experience. So, embark on a culinary journey and enjoy the great outdoors in style at these fantastic eateries!
Frequently Asked Questions (FAQ)
Q: What are the best months for alfresco dining in Singapore?
A: The best months for alfresco dining in Singapore are usually from November to February when the weather is cooler and less humid.
Q: Is it necessary to make reservations at these alfresco dining spots?
A: Yes, it's advisable to make reservations, especially during weekends and peak dining hours, to secure your outdoor table.
Q: Are these alfresco eateries family-friendly?
A: Many of them are family-friendly and offer kids' menus, but it's a good idea to check in advance for specific family amenities.
Q: Can I find vegetarian or vegan options at these alfresco restaurants?
A: Yes, most of these eateries offer vegetarian and vegan options to cater to a variety of dietary preferences.
Q: Do these alfresco dining spots have dress codes?
A: While some may have dress codes, the majority are casual, but it's recommended to check the specific restaurant's policy.
---
Have a Place to Recommend?
Your contribution is valuable to us! Are there any outstanding businesses that you believe should be added to our list? If so, please send your recommendations to us at [email protected]. Tropika Club will review your suggestions and update the list accordingly. Thank you for your help in making our list of businesses as comprehensive and accurate as possible.
---
Meanwhile, Check out Tropika Club's Ecosystem of Websites
Tropika Club Magazine – Tropika Club Magazine is a Singapore-based publication that features articles on a wide range of topics with a focus on local businesses and content for the region. The magazine emphasizes supporting local businesses through its #SupportLocal initiative, which includes coverage of everything from neighborhood hawker stalls to aesthetic clinics in town. In addition to highlighting local businesses, Tropika Club Magazine also covers a variety of local content, including beauty, lifestyle, places, eats, and what's on in Singapore and the Asia Pacific region.
Tropika Club Deals – Tropika Club Deals is a leading online deals and voucher shopping site in Singapore, offering amazing discounts on beauty, wellness, and fitness products and services. It's the perfect platform for customers who want to discover the best deals without having to commit to a specific appointment date and time. These deals are available at major beauty stores, facial salons, hair salons, and other brands in Singapore, with no minimum spend required. Choose from guaranteed discounted deals in the categories of hairstyling, hair removal, facial & aesthetics, body slimming, brows & lashes, nails & makeup, massage & spa or fitness & wellness. Tropika Club Deals is also ideal for customers who want to buy vouchers as gifts or to use for the future. So whether you're looking to save money on your next haircut or want to treat yourself to a relaxing massage, Tropika Club Deals has got you covered with the best voucher and coupon deals in Singapore!