Top 10 Things to See and Do at Jurong, Singapore
Jurong is a district located in the central region of Singapore. The district is famous for its shopping centres, such as Jurong East and Jurong West, as well as its large number of food courts and hawker centres. The district is also home to the Singapore Science Park and Jurong Lake Gardens. If you're looking for some fun things to do in Singapore, Jurong is a great place to start. Here are 10 of the best attractions in this district.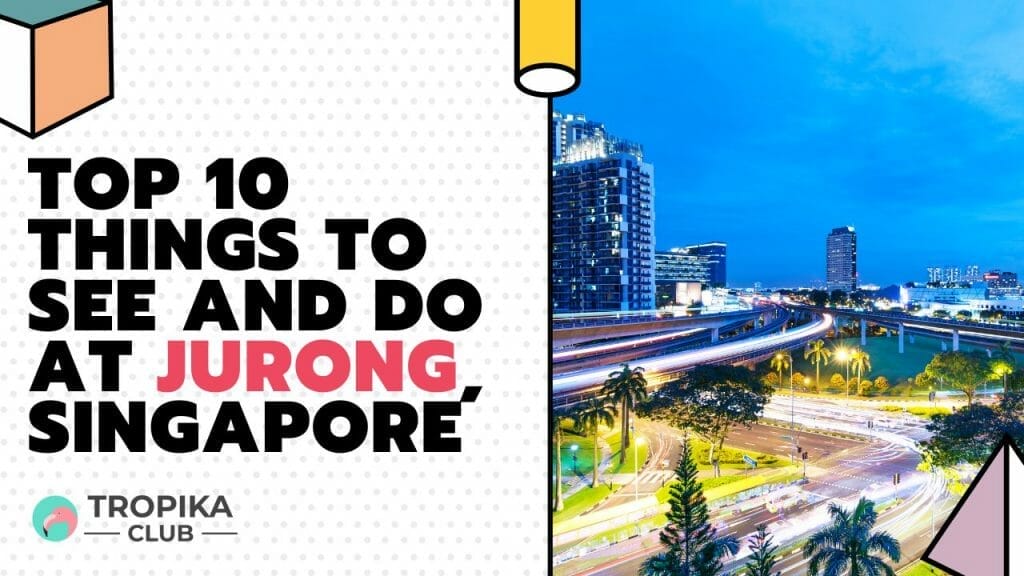 ---
#1 – Jurong Bird Park
Introduction: Fly into Asia's largest bird paradise. Jurong Bird Park has 3 popular zones which are African Treetops, Wings of Asia and Penguin Coast.
African Treetops: An estimated 2,500 avian species from 111 families have been recorded in Africa and its neighbouring islands like Madagascar and Seychelles.
Wings of Asia: With over 500 birds from 135 species, this exhibit houses the largest diversity of birds in the park. 24 of these species are threatened in the wild. These include the rare Santa Cruz ground-dove, Bali myna and black-winged myna, all of which have been successfully bred at the park.
Penguin Coast: Think cold ice and wind in the Antarctica. Then imagine waves gently lapping on an African coastline. Penguins are not only found in cold places, they have also made their homes on hot terrain. To find out more, march on down to Penguin Coast!
Jurong Bird Park is open from Thursdays to Sundays, eve of Public Holidays, Public Holidays and selected school holidays. Operating hours are from 8:30am to 6pm. Last admission at 5pm.
Activities:
Feed the Animals – Purchase a portion of food online and enjoy intimate encounters with their avian friends. All proceeds will help to fund their wildlife conservation efforts in the region.
Wildlife Tours – Hop on a buggy to tour their park! Choose between a guided tour where you can learn little-known facts about their avian friends or go free and easy by roaming the exhibits at your own pace.
Keeper Talk – In these interactive feeding sessions, enjoy informative and entertaining live commentary from their keepers as well as close-up encounters with the birds as they are being fed.
For Kids – From having a splashing good time, discovering fun avian facts to uncovering an extensive egg collection, there are loads of fun activities here for kids to fulfil their sense of adventure and curiosity.
Holiday Camps – Forget classrooms. Skip the homework. Jurong Bird Park camps provide a perfect opportunity for your kids to get out and about, and hands-on, learning about the amazing world of birds. From half day camps to overnight stays, look what's hatching on their camps calendar next!
Tickets:
Adult: $38
Child: $25
Senior: $20
Location: 2 Jurong Hill Singapore 628925
Contact: +65 6269 3411
Website: Website Link Here
---
#2 – Lee Kong Chian Natural History Museum
Introduction: The Lee Kong Chian Natural History Museum strives to be a leader in Southeast Asian biodiversity – in Research, Education and Outreach. A seven-storey green building providing 8,500 square metres of space, the museum is home to over 560,000 catalogued lots and over a million specimens from throughout the region. Apart from the natural history collections, adorning the building and its surroundings are landscaped areas simulating natural habitats of native plants as well as a phylogenetic garden. Take a trip back in time as they transport you to the beginning of life on earth and watch as this slowly transforms into the diversity that we now see. Come and be enthralled by the myriad of colours and forms of plants and animals in 15 different thematic zones from plants and amphibians to mammals and dinosaurs.
Museum Highlights:
Dinosaurs: The museum's three diplodocid sauropod fossils were among the largest and heaviest animals to ever walk on land. More than 80% complete, of which two of these skeletons come with skulls – a rarity as far as sauropod dinosaurs fossils are concerned! Found between 2007 and 2010 in a quarry in a small town of Ten Sleep in the United States, they are believed to be part of a herd or even a family.
Singapore Sperm Whale: On 10 July 2015, a 10.6 metre long female sperm whale (Physeter macrocephalus) was found dead off Jurong Island. The first record of a sperm whale in Singapore, a team from the museum worked quickly to study and salvage this specimen and it is now on display in the Mammal Zone of the museum.
Slice of The Changi Tree: Hopea sangal, locally known as 'chengal pasir', is a rare species of dipterocarp reputed to be the tree that gave Changi its name. Thought to be locally extinct, the lone specimen was discovered in 2002, but illegally felled that same year.
Neptune's Cup Sponge: First described from Singapore in 1820, Neptune's Cup Sponge (Cliona patera) were highly sought after for their scientific and commercial value. This resulted in over-harvesting and they were thought to have gone extinct globally for over a century until it was rediscovered in 2011 from the waters off Singapore's southern shores.
Price Range:
Singaporean/ PR Rate:
Child, Student, NSF, Senior Citizen & Person with Disability: $9.00
Standard Rate:
Child, Student, Senior Citizen: $13.00
Location: National University of Singapore
2 Conservatory Drive, Singapore 117377
Contact: +65 6601 3333
Website: Website Link Here
---
---
#3 – Japanese Garden
Introduction: The Japanese Garden is currently undergoing redevelopment. There will be floral and aquatic gardens to showcase the colours of the tropics. A section of the Japanese Garden will be enhanced with a layer of tropical flora. Mature trees, including the Cycads planted by Japanese Emperor Akihito and Empress Michiko in 1970, will form part of the enhanced landscape. New bridges to the north and east of the island provide greater connectivity within the Gardens as well as to the greater Jurong Lake District.
Highlights:
Flowering trees will be planted along ridge, providing a colourful backdrop to the terraced water garden.
View of the garden next to the multi-purpose hall complex.
Terraced water gardens which will feature the largest collection of water lilies in Singapore.
Floral show garden with vibrant displays of tropical blooms.
Rest House with a view of the mass and fern garden, which will be periodically inundated with water. Water is cleansed as it is filtered through the landscape.
Location: Yuan Ching Rd
Contact: 1800 471 7300
Website: Website Link Here
---
_

Read Also:
---
#4 – Science Centre
Introduction:
Science Centre Singapore was opened on 10 December 1977 by Dr Toh Chin Chye, then the Minister of Science and Technology. Today, the Science Centre Singapore, together with Omni-Theatre and Snow City, receives more than 1 million visitors annually.
Activities:
Stargazing
Ready Steady Science
Science at Home
Informal Science Programme
Tinker Fest Adventures
World Drug Day
Location: 15 Science Centre Rd, Singapore 609081
Contact: +65 6425 2500
Website: Website Link Here
---
#5 – Jurong Lake Gardens
Introduction:
Jurong Lake Gardens is Singapore's new national gardens in the heartlands. It is a people's garden, where spaces will be landscaped and created for families and the community to come together.
The 90-hectare Gardens comprises Lakeside Garden (formerly Jurong Lake Gardens West), Chinese and Japanese Gardens (formerly Jurong Lake Gardens Central) and Garden Promenade (formerly Jurong Lake Gardens East).
Lakeside Garden is open for visitors from 27 April 2019. The rest of Gardens (including Chinese Garden and Japanese Garden) is currently undergoing re-development.
Activities:
Birdwatching
Exercise and Workout
Biodiversity Tour
Location: 104 Yuan Ching Road S 618665
Website: Website Link Here
---
---
#6 – Sri Arulmigu Murugan Temple
Introduction: This temple has been named after Sri Arulmigu Murugan because in this temple He has been worshipped as main deity.Sri Arulmigu Murugan is the most popular deity for South Indians, along with Lord Shiva, Nine Planets, Lord Ganesha, Kalliamman.
Highlights:
Established in 1993 and consecrated in 2004, the Arulmigu Murugan Temple is the only Hindu temple in the Jurong area. The temple was built through community efforts whereby the Hindu community raised S$4 million towards its construction. At its consecration, the temple drew more than 15,000 devotees.
The temple's main tower is built in the Dravidian style by temple craftsmen from India. The temple has a six-foot statue is dedicated to their presiding deity, Lord Murugan. It is also the only Hindu temple in Singapore to feature a yagasalai, a permanent fixture for prayers involving the use of fire. The Arulmigu Murugan Temple also conducts religious classes for hymn recitals.
Today, the Arulmigu Murugan Temple services around 1000 worshippers each day and up to 3000 on weekends. Most devotees are Hindus from the Jurong, Yuhua, Teban, and Boon Lay areas, while there are also non-Hindu Chinese worshippers.
Location: 281Jurong East Street 21, Singapore 609605
Contact: +65 65633613
Website: Website Link Here
---
#7 – Snow City
Introduction: Snow City is Singapore's first permanent indoor snow centre. A family-centric attraction centre, Snow City receives an average patronage of some 250,000 visitors from around the world! A snow chamber that delivers snow experience all year round; and snow professionals that create not only fun and enriching educational programmes, but magic out of thin air as well!
Activities:
Snow Technology
Ice Hotel Gallery
Winter Shooting Arena
Drift on Ice
Location: 21 Jurong Town Hall Rd, Singapore 609433
Contact: +65 6560 2306
Website: Website Link Here
---
#8 – Yunnan Garden
Introduction:
With some 400 parks and 4 nature reserves under our care, NParks is responsible for maintaining and enhancing the greenery of our City in Nature. We are also actively involved in community engagement to encourage conservation of our urban greenery.
Engage in a range of recreational activities in our parks, the pockets of green spaces amidst our cityscape. Want to get even closer to nature? Take a trip down to our nature reserves, the frontiers of Singapore's biodiversity conservation where you can spot wildlife such as playful otters frolicking in their natural habitats. Experience the best that nature has to offer at our green spaces today!
Acivities:
Walks and Tours
Fun & Recreation
Fitness, Sport & Wellness
Experiencing Nature
Location: 12 Nanyang Dr, Singapore 637721
Contact: +65 6791 1744
Website: Website Link Here
---
#9 – IMM Outlet Mall
Introduction: IMM mall, located in Jurong East, stands as Singapore's largest outlet mall today. Talk of all the worldwide and local top brands, you will find them all at the IMM mall, making it a significant shopping arena in Singapore.
Stores Available:
Adidas
BOSS
Calvin Klien
COACH
Location: 2 Jurong East Street 21, Singapore 609601
Contact: +65 6665 8268
Website: Website Link Here
---
#10 – The Live Turtle & Tortoise Museum
Introduction:
Sense the mystery of the river turtle, the awesome power of the Alligator turtle and the beauty of the Radiated tortoise.
See and feel the spirit of the Sulcata Tortoise for luck, and the Malaysian Giant River Turtle for wishes. Be fascinated by the majestic Pig Nose Flying Turtle and the Six Legged Tortoise. Listen to the lonely noise of the Indian Star Tortoise and marvel at the strange looking Soft Shell Turtle from India.
Be entertained by the funny antics of Terrapins and Box Turtles roaming freely through the park. You can also pet and hand feed some of them. If you are in luck, you may even get a rare glimpse of nature at work as these reptiles mate.
More than just a collection of reptiles – a true learning experience for all.
At the Live Turtle & Tortoise Museum, we are committed to the health of our environment and to every turtle and tortoise large and small. This philosophy has given us a rare and precious chance to rescue and rehabilitate as many of the rarer species that we can.
Activities:
General Admmision
Group Tours
Volunteers with us
Join our Forum
Location: ORTO, 81 Lor Chencharu #01-16, Singapore 769198
Website: Website Link Here
---
Have a Place to Recommend?
We need your help! Do you know any other noteworthy beauty clinics or salons that deserves to be added to this list? If so, do write to us via our email at [email protected]. Tropika Club will do a review of your recommendations and update the list accordingly.
---
Meanwhile, check out Tropika Club's Ecosystem of Websites

Tropika Club Magazine – Tropika Club Magazine crafts articles on all things Singapore, but with a greater emphasis on local businesses based on our #SupportLocalSG initiative. We check out and feature local businesses of all categories, ranging from your neighbourhood hawker stalls to the aesthetic clinics in town. We also cover local content ranging from beauty, lifestyle, places, eats and what's on in SIngapore. Our Top 10 rankings include local food and service establishments based in different regions in Singapore.
Tropika Club Deals – Search for the best voucher and coupon deals. Tropika Club Deals is ideal for customers who want to discover the best deals without having to commit to a specific appointment date and time. Choose from guaranteed discounted deals in the categories of hairstyling, hair removal, facial & aesthetics, body slimming, brows & lashes, nails & makeup, massage & spa or fitness & wellness. Customers can also buy vouchers as gifts or to use for the future.