Top 10 Best Body Washes in Singapore
Showering is something that we likely do on our daily life. So, body wash is everyone's best friend as it is an essential item that we will use during a shower. A body wash normally comes in creamy liquid cleansers to clean our body and some of them include natural scrubs which can help to exfoliate dry skin to make your skin feel fresh. Furthermore, most of the body washes contain a level of 5.5 which is a safety zone with our skin. There are so many different types of body washes in the market, such as hydration body wash, anti-bacteria body wash and etc. Which one is most suitable for your concern? Come read on this article. The Tropika Club team has rounded up Top 10 Body Wash in Singapore. Check them out!
---
1. Dove Gentle Exfoliating Nutrium Moisture Body Wash
Description: Gently wash away dead skin with this exfoliating body wash that leaves skin feeling smooth and soft.
How to Use: Pour into hand or puff and work into a creamy lather. Then, rinse off.
Pricing: $9.75 for 1L
Where to Find: Guardian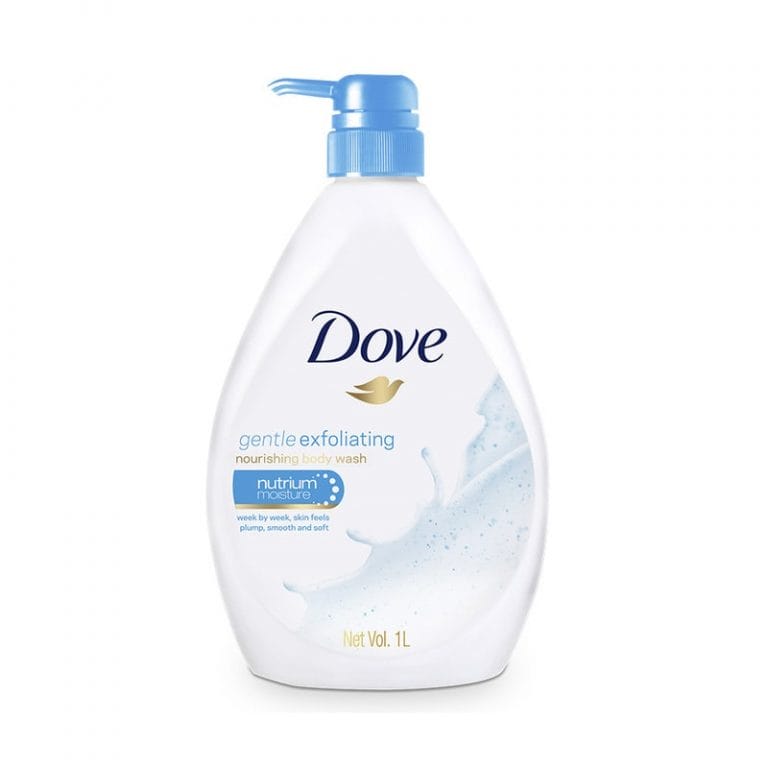 ---
2. Pine & Co. 'Seasons' Body Wash
Description: With natural and unique aromas that are sure to inspire and leave you wanting more, Pine & Co's "Seasons" Body Wash restores your skin's natural moisturising factor with Black Oats extract, nourishes and hydrates your skin with Olive extract, and protects you against germs with a plant-based, non-toxic, and non-harsh natural ingredient. Furthermore for people with sensitive skin, it contains Chamomile Floral Water which helps to calm and soothe the skin. Free from paraben, silicone, alcohol, triclosan, and colourants, every drop of this pure and all-natural body wash will certainly make you look forward to every shower.
How to Use: Pour into hand or puff and work into a creamy lather. Then rinse off.
Pricing: $14.90 for 500ml
Where to Find: Pine & Co | Shopee
Tel: +65 8908 9836
Email: [email protected]
Website: www.pineandco.com
---
3. Kora Organics By Miranda Kerr Essential Body Wash
Description: A gentle and refreshing body wash that cleanses and hydrates while providing your skin with all over anti-oxidant protection. Aloe Vera and Noni Fruit Extract soothe, hydrate and replenish your skin while Sandalwood and Ylang Ylang promote the skin's clarity and induce a sense of calm. It gently and thoroughly cleanses skin without drying and leaves your skin feeling fresh and invigorated.
How to Use: After wetting the skin, apply into your hands, or onto a loofah or washcloth, lather well onto the skin while massaging in circular motions, and then rinse thoroughly. For external use only. If irritation occurs discontinue use.
Pricing: $19 for 50ml / $55 for 300ml
Where to Find: Sephora
---
---
4. Aveeno Active Naturals Daily Moisturizing Body Wash
Description: This breakthrough formula combines ACTIVE NATURALS® Colloidal Oatmeal with natural oils and rich emollients to lock in moisture for softer, smoother skin. Lightly scented, soap-free and dye-free.
How to Use: Squeeze body wash onto a wet pouf, washcloth or hands. Work into a rich, creamy lather, then rinse
Pricing: $18.90 for 354ml
Where to Find: Watsons
---
5. Johnson's Baby Skin Nourishing Baby Wash With Vanilla & Oat Extract, Hypoallergenic & Tear Free Baby Wash
Description: Gently cleanse your baby's delicate skin and hair with Johnson's Skin Nourish Vanilla Oat Wash. Specially formulated for babies and suitable for the whole family, this baby wash creates a rich, creamy lather that gently cleanses baby's delicate skin, leaving it feeling touchably soft and smooth. Enriched with oat extract, and vanilla essence to add a soft fragrance to your bath time routine. The No More Tears formula is as gentle to the eyes as pure water. Formulated to be gentle, never harsh, this hypoallergenic baby bath wash is dermatologist tested and contains no harsh fragrances, parabens, phthalates, sulfates, or dyes.
How to Use: To use, wet baby's hair and body with warm water, apply wash with your hand or washcloth, gently lather, and rinse.
Pricing: $8.46 for 800ml
Where to Find: Amazon
---
6. Cetaphil Gentle Skin Cleanser
Description: Cetaphil Gentle Skin Cleanser is suitable for all skin types and ideal for facial and full body use. It works without causing skin irritation, pH-balanced and it is non-soap formulation. It can be used with or without water. Recommended by dermatologists.
How to Use:
With water – Apply and rub gently. Rinse off.
Without water – Apply and rub gently. Remove excess with a soft cloth.
Pricing: $21.90 for 500ml
Where to Find: Watsons
---
---
7. Neutrogena Body Clear Body Wash Pink Grapefruit
Description: With an uplifting blast of grapefruit plus Vitamin C, this unique formula clears body breakouts. Specially developed to treat body breakouts such as those on your back, shoulders and chest without over-drying. Bubbly lathering formula treats skin without sacrificing your shower experience.
How to Use: Use daily in the shower or bath. For maximum lather, massage over wet skin with a washcloth or body puff, concentrating on areas prone to breakouts. Rinse well.
Pricing: $13.70 for 250ml
Where to Find: iHerb
8. Dermalogica Body Therapy Conditioning Body Wash
Description: A deep-conditioning body cleanser. Provides a gentle yet thorough cleansing Contains exclusive oils of tea tree, lemon, eucalyptus & rosemary to purify skin Infused with essential oils of sandalwood, lavender, orange & clary sage for hydrating benefits. Leaves skin smooth & conditioned. Suitable for all skin types.
How to Use: Use a small amount on a sponge in the shower or bath. Rinse thoroughly and pat skin dry.
Pricing: $74 for 473ml
Where to Find: Zalora
---
9. Petal Fresh, Pure Soothing Bath & Shower Gel, Lavender
Description: Based in sunny Southern California, Petal Fresh was started by a group of passionate individuals pursuing a more natural and healthy lifestyle. At Petal Fresh, we believe that what you put on your body is just as important as what you put in it. We infuse our formulas with the most natural, Certified Organic ingredients to create effective high-quality products, naturally.
How to Use: Pour shower gel on wet loofa. Apply gently over wet skin to develop a luxurious lather. Rinse and pat dry. For best results, follow with Petal Fresh Pure Lavender Hand & Body Lotion.
Pricing: $4.28 for 90ml
Where to Find: iHerb
---
10. Cerave Gentle Hydrating Body Wash
Description: CeraVe Gentle Hydrating Body Wash Moisturizes Normal to Dry SkinCeraVe Gentle Hydrating Body Wash for Normal to Dry Skin a gentle, foaming formula that cleanses and moisturizes the skin. The formula contains hyaluronic acid to attract needed moisture tp skin's surface and 3 essential ceramides (1,3 and 6-II) to help repair the skin's protective barrier.
How to Use: Cleanse with Cerave Hydrating Body Wash. Then rinse off.
Pricing: $24.38 for 296ml
Where to Find: ezbuy
---
Got a Product to Suggest?
We need your assistance! Do you have a great experience with any products that fall into this category and would like to recommend for them to be listed? If so, do write to us via our email. Tropika Club will do a review of your recommendations and update the list accordingly.
---
Meanwhile, check out Tropika Club's Ecosystem of Websites

Tropika Club Magazine – Tropika Club Magazine crafts articles on all things Singapore, but with a greater emphasis on local businesses based on our #SupportLocalSG initiative. We check out and feature local businesses of all categories, ranging from your neighbourhood hawker stalls to the aesthetic clinics in town. We also cover local content ranging from beauty, lifestyle, places, eats and what's on in SIngapore. Our Top 10 rankings include local food and service establishments based in different regions in Singapore.
Tropika Club Deals – Search for the best voucher and coupon deals. Tropika Club Deals is ideal for customers who want to discover the best deals without having to commit to a specific appointment date and time. Choose from guaranteed discounted deals in the categories of hairstyling, hair removal, facial & aesthetics, body slimming, brows & lashes, nails & makeup, massage & spa or fitness & wellness. Customers can also buy vouchers as gifts or to use for the future.