Top 10 Best Car Workshops in Brisbane Australia

When it comes to keeping your car in peak condition, finding the right workshop can be a challenge. Whether you're looking for regular maintenance or repairs, Brisbane is home to some of the best car workshops in Australia. In this article, we'll look at five of the best workshops in Brisbane that offer a range of services and quality workmanship. From basic servicing to more complex restoration projects, these workshops are equipped with the latest tools and technology to provide superior repair services.
---
#1 – Genesis Autoworks Coorparoo
Introduction:
To put it simply: exceptional workmanship is in our blood.
The knowledge in their team has been passed down and refined through three generations of technicians, resulting in a level of expertise that is among the best in the local industry. Backed by their preferred suppliers, local training partners, and the panel of industry professionals, Genesis Autoworks is ready to become your trusted local garage. Now at 3 locations, Genesis Autoworks is a full-service vehicle repair workshop that caters to the maintenance and repair of privately owned, small business fleet, and corporate fleet vehicles. What being a "full service" workshop means is that all repairs including tires, wheel alignments, and diagnostic work are carried out in-house by their highly trained and certified technicians meaning your vehicle is delivered on time and on budget.
Type of Services:
Cylinder Servicing
Wheel Alignments
AC Service
Roadworthy Certificates (RWC)
Location:
64 Morley St, Coorparoo QLD 4151, Australia
Contact: +61 7 3162 2395
Website: Website Link Here
---
#2 – mycar Tyre & Auto CE Birkdale
Introduction:
Welcome to mycar CE Birkdale. Whether you're shopping around for new tires, investigating mechanics, or booking this year's car service, their team of qualified experts is on hand to answer your questions and make sure you get back on the road sooner. From simple and complex car repairs to logbook servicing, we're committed to delivering a one-stop shop for everything car related. They don't just look after cars, they look after the people who drive them.
Type of Services:
Car repairs
Tyre repairs
Car suspension scanning
Gearbox repair
Location:
Shell Coles Express Service Station Corner of Birkdale Road and, Napier St, Birkdale QLD 4159, Australia
Contact: +61 7 3215 8304
Website: Website Link Here
---
---
#3 – My Auto Hub
Introduction:
My Auto Hub vision is to become your go-to Auto Repair Shop. The trust mechanic that everyone raves about. The Auto Repair Shop goes above and beyond to bring your car in better condition than what is in when in with. Your reliable, trustworthy, and straight-up honest mechanic from next door.
Type of Services:
Minor & Major Service
Brake Pad Replacement
Safety Certificate/Uber Certificate
Air Conditioning Services
Location:
29 Dalton St, Kippa-Ring QLD 4021, Australia
Contact: +61 7 3487 1972
Website: Website Link Here
---
---
#4 – Rapid Tune Cleveland
Introduction:
Rapid Tune is a fast growing chain of Australian-owned automotive service centers. Rapid Tune workshops are nationally accredited featuring state-of-the-art equipment. Their highly certified technicians with years of industry experience are driving Rapid Tune to new heights with each passing day. They offer the highest level of customer service and automotive expertise.
Type of Services:
Log Book Servicing
General Servicing
Braking System Repairs
Auto-Electrical, Diagnostics & EFI
Location:
1/62 Shore St W, Cleveland QLD 4160, Australia
Contact: +61 7 3821 4549
Website: Website Link Here
---
#5 – Vulture Street Service Centre
Introduction:
Established in 1979, Vulture Street Service Centre (formerly Melbourne St Svc Ctr), is owned and operated by a fully qualified automotive engineer, James Baris. He's earnt a solid reputation not only as a reliable, expert car mechanic but also as a very honest and giving man throughout the South Brisbane small business community. After starting his mechanical engineering apprenticeship at the tender age of 15, James has fixed, repaired, and serviced literally thousands of cars with varying makes and models over his 30-plus-year career.
Type of Services:
Car servicing
Mechanical repairs
Brakes (replacement)
Batteries
Location:
197 Vulture St, South Brisbane QLD 4101, Australia
Contact: +61 7 3844 3096
Website: Website Link Here
---
#6 – Bridgestone Select Nundah
Introduction:
At Bridgestone Select Nundah you'll find an extensive range of quality tires, including car tires and 4×4 tires. At Bridgestone Select Nundah you can find a set of quality tires, book our auto repair service, or have your tire questions answered by one of our friendly Bridgestone Select Nundah staff. They'll help you choose your ideal tire from their extensive range, from car tires to 4×4 tires and more. They can also keep your car at its best with their auto repair services, including log book servicing and wheel alignment.
Type of Services:
Suspension
Mechanical Repairs
Wheel Alignment
Tyre Puncture & Repair
Location:
1288 Sandgate Rd, Nundah QLD 4012, Australia
Contact: +61 7 3905 3231
Website: Website Link Here
---
_

Read Also:

Top 20 Best Car Servicing Centres in Singapore

_
---
#7 -Brisbane Automotive Service
Introduction:
The team here at Brisbane Automotive Service is committed to providing the best service at a reasonable price. They do not undertake any work without first explaining the work that is needed and then providing you with a quote to complete the work. At Brisbane Automotive Service we take the time to work with you and explain in plain language any issues with your vehicle and provide options within your budget. It is important to us that they listen to their customers so minor issues do not turn into major ones.
Type of Services:
Repairs
Air Conditioning
Safety Certificate (RWC)
Automotive Electrical Service
Location:
1/19 Kitchener Rd, Kedron QLD 4031, Australia
Contact: +61 7 3350 3966
Website: Website Link Here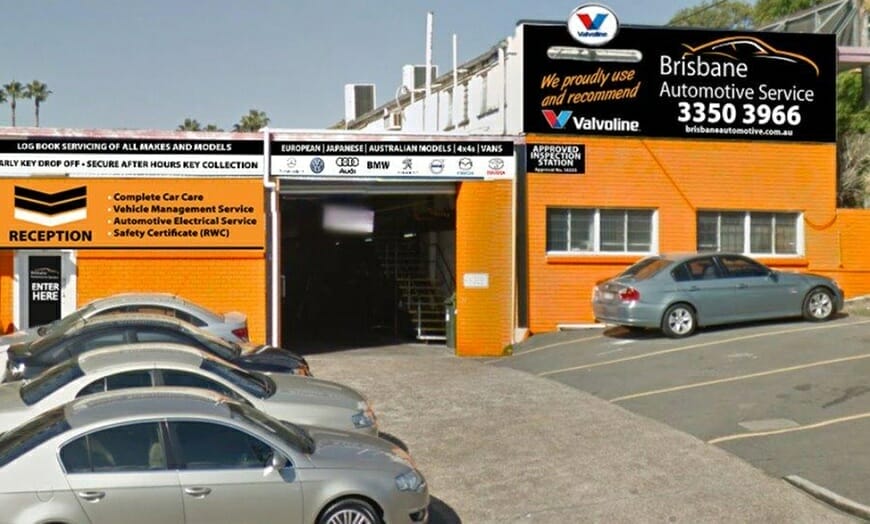 ---
#8 – Bridgestone Select Hendra
Introduction:
They offer full auto and car servicing, so whatever your make or model, book your next service with one of their qualified mechanics. They go out of their way to make sure your car performs at its best, and that you drive away completely satisfied. They can service your car without the risk of your vehicle manufacturer's warranty being voided and will tell you all the work to be done before we start, so you can have confidence you're getting the service you need.
Type of Services:
Mechanical Repairs
Steering
Suspension
Vehicle Safety Inspection
Location:
148 Gerler Rd, Hendra QLD 4011, Australia
Contact: +61 7 3532 3173
Website: Website Link Here
---
#9 – French Car Care
Introduction:
French Car Care is a family-owned business that has been operating since 1983. The company now has four permanent employees plus one casual and two working directors. Denis was born and raised in France and began working on French marques when he was 18 years old. When he immigrated to Australia in 1976 he brought with him a wealth of knowledge and expertise. Denis constantly updates his knowledge and the workshop equipment to enable our employees to give the same care and attention to both early and late-model vehicles.
Type of Services:
Tune-ups
Gearbox rebuilds and reconditioning
Engine rebuilding and reconditioning
RWC – Roadworthy Certificate
Location:
63 – 65 Caswell Street East Brisbane QLD 4169
Contact: 07 3391 6522
Website: Website Link Here
---
#10 – Future Auto Coopers Plains car care
Introduction:
Coopers Plains Car Care is a "Family Owned" business established 30 years ago by long-term locals Geoff and Margaret Smith. They are passionate about their mechanical craft and are proud to serve their local community with the highest quality care and workmanship. Over the years, they have grown from a one-man workshop to a dedicated and experienced team of nine. They truly value their staff and many of their team members have been with the business for over 10 years.
Type of Services:
4WD & AWD Services
Safe T Stop
Safety Certificates
Vehicle Diagnostics
Location:
38 Rosedale St, Coopers Plains QLD 4108, Australia
Contact: +61 7 3344 2293
Website: Website Link Here
---
Have a Place to Recommend?
Your contribution is valuable to us! Are there any outstanding businesses that you believe should be added to our list? If so, please send your recommendations to us at [email protected]. Tropika Club will review your suggestions and update the list accordingly. Thank you for your help in making our list of businesses as comprehensive and accurate as possible.
---
Meanwhile, Check out Tropika Club's Ecosystem of Websites

Tropika Club Magazine – Tropika Club Magazine is a Singapore-based publication that features articles on a wide range of topics with a focus on local businesses and content for the region. The magazine emphasizes supporting local businesses through its #SupportLocal initiative, which includes coverage of everything from neighborhood hawker stalls to aesthetic clinics in town. In addition to highlighting local businesses, Tropika Club Magazine also covers a variety of local content, including beauty, lifestyle, places, eats, and what's on in Singapore and the Asia Pacific region.
Tropika Club Deals – Tropika Club Deals is a leading online deals and voucher shopping site in Singapore, offering amazing discounts on beauty, wellness, and fitness products and services. It's the perfect platform for customers who want to discover the best deals without having to commit to a specific appointment date and time. These deals are available at major beauty stores, facial salons, hair salons, and other brands in Singapore, with no minimum spend required. Choose from guaranteed discounted deals in the categories of hairstyling, hair removal, facial & aesthetics, body slimming, brows & lashes, nails & makeup, massage & spa or fitness & wellness. Tropika Club Deals is also ideal for customers who want to buy vouchers as gifts or to use for the future. So whether you're looking to save money on your next haircut or want to treat yourself to a relaxing massage, Tropika Club Deals has got you covered with the best voucher and coupon deals in Singapore!