Top 10 Best Cat Litter Boxes for Your Feline
Choosing the right cat litter box can be a daunting task, but it's one that's well worth taking the time to do. Not only will your kitty be happy, but you'll also be ensuring that their litter box is clean and fresh. Here are ten of the best cat litter boxes on the market today.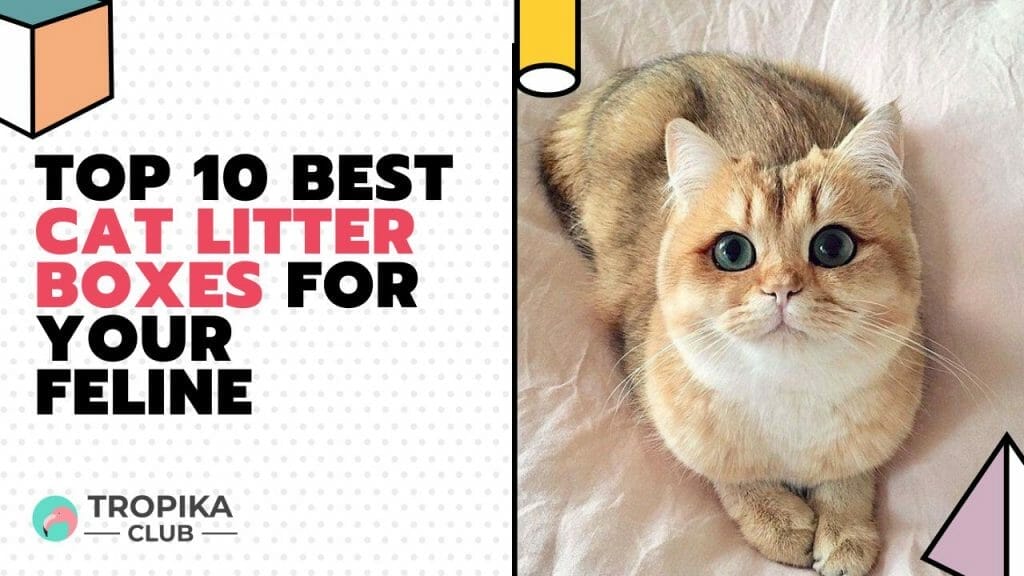 ---
#1 – PETKIT Pura Max Self-Cleaning Automatic Cat Litter Box
Description: Pura Max has several safety mechanisms as well as excellent smart sensors. The xSecure system offers your cat a safe potty experience and makes your life easier. The xSecure system consists of an infrared sensor, weight sensors, remote alerts, an accident protection system, and smart detections
Brand: Petkit
Features:
A self-cleaning cat litter box automatically removes all wastes for your convenience and is designed for the modern lifestyle.
Allows you to control the cat litter box anytime and anywhere via the PETKIT app.
Specification:
Weight : 13.96 kg
Materials: ABS
Dimensions: 620 x 538 x 552 mm
Connections: 2.4GHz WiFi + Bluetooth
Litter Box Type: Automatic
Pricing: $688.00
Where to Find: Link here
---
#2 – SAVIC NESTOR LITTER PAN
Description:
The Savic Nestor Cat Litter Box base tray has high sides that prevent leaks. The high back wall makes this litter box ideal for cats that like to tinkle standing up.
The two-tone cover has an integrated handle and attaches to the matching base tray with clips. The swing door and hood can be flipped up to offer easy access for cleaning. The carbon filter is fitted into the hood and helps to prevent any nasty smells from getting out. The filter should be changed at regular intervals.
The Savic Nestor Cat Litter Box is the perfect way to help anxious cats or kittens get used to using a covered litter box instead of a tray. You can simply leave the hood open at the start until your cat is used to the covered litter box. The base tray can also be used without the cover.
Brand: SAVIC
Features:
Easy to clean
Easy to rinse
The developed front can be far opened. In this way, the soiled cat litter can be removed carefully without removing the top part.
With a built-in handle and filter.
Specification:
Dimensions: L 56 X W 39 X H 38.50 cm
Color: Grey/ Brown
Litter Box Type: Covered
Pricing: $39.00
Where to Find: Link here
---
---
#3 – Stefanplast Furba Chic Cat Litter Tray
Description: Stefanplast Furba Chic Cat Litter Tray is a unique system for litter removal. The Furba Chic Cat Litter Tray consists of 2 removable litter trays and one strainer. By removing the outer rim, you can lift up the strainer, sifting the waste from the litter. With the Furba Chic Cat Litter Tray, you can just toss the waste straight from the strainer into the bin, without the need of using a litter scoop, thus it is more hygienic and clean. The double tray system allows you to interchange the litter trays for cleaning and it makes the litter removal process much easier and more convenient. The innovative Furba Chic Cat Litter Tray is made with premium, non-toxic plastic in Italy.
Brand: Stefanplast
Features:
Consists of 2 trays, 1 strainer, and 1 outer rim
The strainer sifts out the waste from the litter, removing the need for a litter scoop
2 tray systems can be used interchangeably
More hygienic and clean
Specification:
Weight: 1.75 Grams
Dimensions: 39 x 59 x H22 cm
Litter Box Type: Top Entry
Pricing: $46.67
Where to Find: Link here
---
Read Also:
---
#4 – PETKIT PURA X Auto Litter Box
Description: The Petkit Pura X litter box offers a broad array of features, including an app that provides real-time notifications about your cat's activity and weight, multiple sensors for maximum responsiveness and safety, as well as a rotating globe that cleans quietly and efficiently.
Brand: Petkit
Features:
Self-cleaning
Tofu or sand litter
APP control
Auto Deodorise
Multi-Cats use
Specification:
Weight: 5L
Dimensions: 50.4cm x 53.2cm x 60.4cm
Litter Box Type: Automatic
Pricing: $618.00
Where to Find: Link here
---
#5 – CATIDEA Litter Box
Description: Catidea Litter Box is a sleek, large and wide cat litter box perfect for any household with cats. Designed to effectively keep litter in, this litter box features a small mesh step and a high surrounding barrier to prevent spillage, keeping your floors clean and litter-free.
Catidea Litter Box gives your cat sufficient privacy with the high guards, while the open design makes it easy to clean and scoop out used litter. To complete the set, this litter box also comes with a convenient cat litter scoop to help make maintaining your cat's litter box a breeze.
Brand: Catidea
Features:
Big Mouth Cat Litter Scoop included
Suitable for large breed cats or multiple cats
Step screen traps litter from cat's paws
Ultra-high guard to prevent spillage
Specification:
Weight: 5.443 kilograms
Dimensions: Bread XL (15L) – 64(L) x 47(W) x 27(H) cm / Bread M (8L) – 51(L) x 38(W) x 25(H) cm
Pricing: $39.90
Where to Find: Link here
---
---
#6 – Catit Hooded Cat Pan Regular Blue
Description: When you have a cat one of the benefits is that they use the bathroom indoors, no walking required. However, this is also the downfall of owning a cat as you are going to have to scoop their litter box on a regular basis. The Catit Hooded litter pan makes this job much less messy and easier to complete.
Brand: Catit
Features:
Hooded design provides privacy for your cat
Plastic door and carbon filter contain the odour of the litter box
Built-in anchor pan for easy scooping
Available in three colours
Specification: product specifications
Weight: 3.894 lbs
Dimensions: (H) 46.5cm x (W) 39cm x (D) 57cm
Door Opening Dimensions: 26.5cm x 24.5cm
Colour: Pink / Blue / Grey
Litter Box Type: Pan
Pricing: $56.00
Where to Find: Link here
---
#7 – Catlink Young Automatic Cat Litter Box With Stairway
Description: The Cat link Young Automatic Cat Litter Stairway will assist in resolving the issue of litter spilling and tracking from the litter box to the floors and around your home. This can also retain the litter stuck to your cat's paws after they leave the litter box. As a result, there's no need to be concerned about cat litter being all over the floor! Furthermore, the height of this stairway is 15cm high, thus, allowing short-footed cats and elderly cats to comfortably and easily gain access to the litter box.
Brand: Catlink
Features:
Minimize wastage of litter
Multiple safety sensors to trigger Safety Stop if a cat enters the litter box during mid-cycle.
1x 20 sheets of waste liner
13L Extra Large Waste Bin
Suitable for Multiple Cats Use
It comes with a three-pin plug that is compatible with Singapore's power outlets
Specification:
Dimensions: 60 x 58 x 71cm
Colour: Blue, Green, Grey
Pricing: $588.00
Where to Find: Link here
#8 – PeeWee™ EcoHus Cat Litter Box
Description: The PeeWee EcoHus is a sturdy, hooded litter tray for normal-sized cats. The carbon filter at the top absorbs odours.
For larger cats you can consider the PeeWee EcoDome. For best results, use the PeeWee EcoHus in conjunction with . PeeWee is a double tray system for easy disposal of waste and sawdusts.
When the cat urinates onto PeeWee wood pellets in a PeeWee litter tray, 90% of the urine will disappear through the holes of the top tray into the bottom tray. The rest of the urine is absorbed and the compressed sawdust disintegrates. As the cat scratches, this loose sawdust then falls through the holes of the top tray into the bottom tray.
Brand: Peewee
Features:
Sturdy, hooded litter tray
Extra large
Closed Litter Tray
Environmentally friendly
Odour-absorbing carbon filter
Specification:
Dimensions: L56m x W39cm x H38.5cm
Colour: Black, Brown, Grey
Pricing: $104.00
Where to Find: Link here
---
#9 – ZeZe Free Cabin Enclosed Cat Litter Box
Description: Made for those that aspire to be comfortably different, the litter box features a unique dual-door design that serves as double entry points for your little ones to visit their personal bathroom. With a one-way traffic design, active kitties can enjoy easy entry from the front entrance and indulge in light fun and exercise when they exit via the top – which is thoughtfully paved with grated steps to prevent litter tracking. Aside from an activated carbon filter by the side to absorb foul odors, the double doors to this comfy hideaway litter box can also be completely folded open for easy clean-ups.
Brand: Zeze
Features:
Easy to clean design
Prevents litter tracking and urine spillage
Cat enters from the front opening and exits from top opening
Unique double-door design for cats and kittens
Enclosed design with ventilation vent
Specification:
Weight: 9.0 Lbs
Dimensions: 549 x 459 x 492mm
Litter Box Type: Corner
Material: Plastic
Pricing: $69.00
Where to Find: Link here
---
#10 – Petmate Basic Litter Box Gray
Description: Help your cat love their litter box with Petmate's Basic Litter Box. Petmate's Basic Litter Box comes in an inviting Sapphire Blue that is available in sizes ranging from small to jumbo. Ideal for cats who hate being enclosed in small spaces. The jumbo open-top design has low, rimmed sides, and the wide profile base helps prevent unwanted spills and litter scattering outside of the box. Petmate's exclusive design-breaking pattern improves structural stability for added strength and durability. Place anywhere in the home with easy access from any side. Made with eco-friendly plastic in the USA.
Brand: Petmate
Features:
Available in 3 sizes
Large and jumbo sizes great for multi-cat households
Rimmed sides for easy lifting, cleaning, or moving
Ideal for cats that don't like enclosed spaces
Keep your home clean and keep litter where it belongs
Specification:
Weight: 0.5 Lb
Dimensions: MEDIUM: 16″ L x 12″ W x 4″ H LARGE: 18.5″ L x 15.3″ W x 5″ H JUMBO: 22″ L x 16.5″ W x 6.5″ H
Colour: Blue, Grey
Litter Box Type: Pan
Pricing: $10.26
Where to Find: Link here
---
Have a Product to Recommend?
We need your help! Do you know of any other noteworthy product brands of this category that deserves to be added to this list? If so, do write to us via our email at [email protected]. Tropika Club will do a review of your recommendations and update the list accordingly.
---
Meanwhile, check out Tropika Club's Ecosystem of Websites

Tropika Club Magazine – Tropika Club Magazine crafts articles on all things Singapore, but with a greater emphasis on local businesses based on our #SupportLocalSG initiative. We check out and feature local businesses of all categories, ranging from your neighbourhood hawker stalls to the aesthetic clinics in town. We also cover local content ranging from beauty, lifestyle, places, eats and what's on in SIngapore. Our Top 10 rankings include local food and service establishments based in different regions in Singapore.
Tropika Club Deals – Search for the best voucher and coupon deals. Tropika Club Deals is ideal for customers who want to discover the best deals without having to commit to a specific appointment date and time. Choose from guaranteed discounted deals in the categories of hairstyling, hair removal, facial & aesthetics, body slimming, brows & lashes, nails & makeup, massage & spa or fitness & wellness. Customers can also buy vouchers as gifts or to use for the future.