Top 10 Best Men's Cleansers in Singapore
Most of the men think that cleaning their face by using any face wash products will make them lose their man points. Actually, men's cleansers are a fundamental to a healthy and proactive lifestyle because face is the most important assets for a men. Do you know that, guy's skin is particularly oilier than ladies. Other than oily skin, guys also having larger pores and more active sweat glands pose a particular threat compare to women. If using the wrong face cleanser, it can cause the sebum and dirt to be lodged inside the pores and will lead to breakouts. Generally, face cleansers are a non-foaming products to removes daily-accumulated dirt and grime off your face and makeup as well. To help get your face cleanser journey started, read on this article. The Tropika Club team has rounded up Top 10 Men's Cleansers in Singapore. Check them out!
---
1. ALPHA-H Triple Action Cleanser
Description: A light non-foaming gel cleanser that removes all traces of face and eye makeup while balancing the skin. It is formulated with thyme, a powerful natural extract that helps to minimise excess oil, and cucumber to cool and invigorate the skin.
How to Use: Dampen your face and apply the cleanser. Massage over the entire face and remove with a warm damp face cloth.
Pricing: $11.00 for 30ml / $46.00 for 185ml
Where to Find: Sephora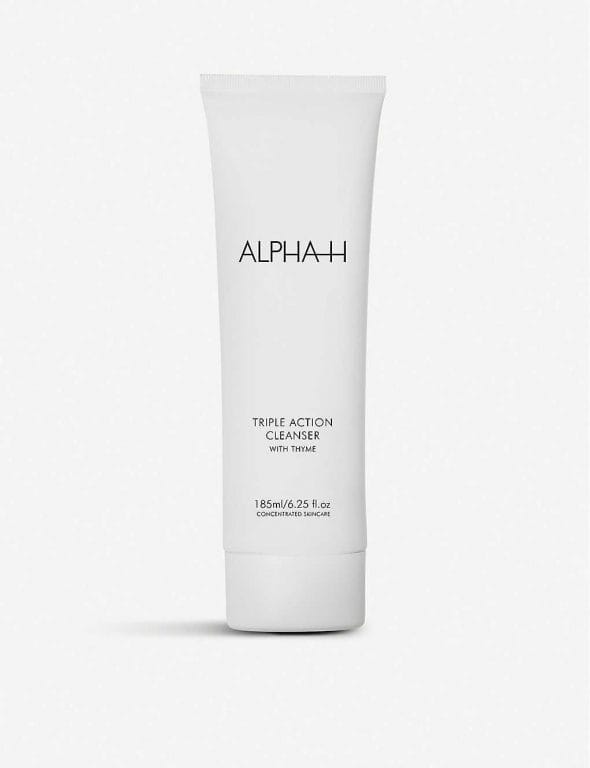 ---
2. Clinique For Men Face Wash
Description: Clinique For Men Face Wash is a gentle and thorough cleanser for normal to dry skin. This product leaves skin feeling fresh, comfortable, never tight or dry and preps skin for a comfortable shave.
How to Use: Use twice a day, morning and night. Lather between palms with tepid water. Massage all over damp skin to remove dirt and oil and soften beard. Rinse well and towel dry. Mornings, shave as usual
Pricing: $38.00 for 200ml
Where to Find: Sephora
---
3. ERNO LASZLO Sea Mud Deep Cleansing Bar
Description: Erno Laszlo's iconic, original cleansing bar removes impurities and exfoliates for soft, smooth skin. This 97% natural exfoliating black soap dramatically improves the overall quality of your skin with therapeutic Dead Sea mud. This product refines complexion and removes dead skin cells for more radiant skin and improves circulation and motivates natural skin regeneration. It also removes dirt, blackheads, impurities and makeup without stripping skin of natural oils. Each bar comes with the Erno Laszlo travel-friendly soap dish in glossy black and white and is enriched with 26 minerals, dead sea mud detoxifies, hydrates and restores the skin's own mineral levels.
How to Use:
Dampen the skin, and massage the cleanser onto the face and neck.
Follow with Erno Laszlo's Splashing Technique.
Pricing: $60.00 for 100g
Where to Find: Sephora
---
4. The Body Shop Tea Tree 3-in-1 Wash.Scrub.Mask
Description: This Tea Tree 3-in-1 Wash.Scrub.Mask gives you three products in one to help battle blemishes and excess oil. When used as a wash, the foaming product removes impurities and excess oil; as a scrub, the exfoliants unclog pores to leave skin feeling smoother. When applied as a mask, the drying clay deeply cleanses and mattifies and helps maintain clearer looking skin.
How to Use: Apply to a wet face and rinse off. As a scrub: massage gently onto a wet face and rinse off. As a mask: apply 1-2 times a week and leave for 5 minutes before rinsing off. For best results, combine with other products from our Tea Tree range.
Pricing: $30.00 for 125ml
Where to Find: The Body Shop
---
5. ESTÉE LAUDER Nutritious Micro-Algae Pore Purifying Cleansing Jelly
Description: A cleanser that to purify skin, remove impurities and reduce excess shine. This soft jelly micro-algae cleanser easily massages over skin, grabbing impurities as it breaks into a light silky foam, helping to cleanse and purify your skin, reducing excess shine, while leaving pores unclogged and more refined for a healthier complexion with a balanced look and feel. Its ingredients help to awaken your skin's natural beauty with the power of micro-algae, which is known to be a rich source of vitamins, minerals and nutrients, featuring Chlorella, Spirulina and Laminaria Saccharina.
How to Use: Lather and massage over damp face., avoiding the eye area. Use morning and night.
Pricing: $32.00 for 125ml
Where to Find: Sephora
---
---
6. ORIGINS Checks and Balances™ Frothy Face Wash
Description: When it comes to faces with dry and oily places, it takes a clever cleanser to balance the two. This gentle, frothy face wash carefully does both jobs without canceling each other out. Broad Leaf Kelp Extract discourages excess oil production, while Wheat Protein balances and protects dry prone zones. And Tourmaline actually makes water wetter to more easily disperse dirt and sebum down the drain. There's also aromatic Bergamot, Spearmint and Lavender to add pleasure to the process. Skin feels comfortably refreshed after cleansing, never tight, pulled or parched
How to Use: Squeeze small amount into palm, add tepid water to lather. Swirl over skin, steering clear of eyes. Rinse thoroughly. Great for morning and evening cleansing.
Pricing: $42.00 for 150ml
Where to Find: Sephora
---
7. LA ROCHE-POSAY Effaclar Foaming Purifying Gel
Description: Combines high purifying efficacy with optimum respect for extreme sensitive Skin, thanks to both a limited number and optimal concentration of cleansing agents. Soap Free, pH 5.5, Alcohol, colourant & Paraben Free. For oily sensitive Skin.
How to Use: Foam in the hand with a little water and apply to the face, massaging gently. Rinse thoroughly.
Pricing: $33.90 for 200ml
Where to Find: Watsons
---
8. FRESH Soy Face Cleanser
Description: A face wash with soy proteins that cleanses and removes makeup—but not essential moisture. This pH-balanced gel cleanser for all skin types has a cult following for the way it removes makeup— even mascara— without drying for soft, supple skin. It is made with amino acid-rich soy proteins, calming cucumber extract, and balancing rosewater. Sensitive skin? It also soothes and tones.
How to Use: Wet the skin. Massage over the face and eyes. Gently rinse off.
Pricing: $23.00 for 50ml / $63.00 for 150ml
Where to Find: Sephora
---
9. SK-II MEN Moisturizing Cleanser
Description: A purifying cleanser with Pitera™ essence and moisturizers. This easy-to-rinse cleanser lathers into a fine foam that flushes out impurities from pores with every wash. Infused with menthol, its formula leaves skin feeling refreshed, thoroughly clean,and moisturized. This product deeply cleanses skin and pores by removing dirt and blackheads.
How to Use: Use twice a day, morning and night. Lather between palms with tepid water. Massage all over damp skin to remove dirt and oil and soften beard. Rinse well and towel dry. Mornings, shave as usual
Pricing: $93.00 for 120g
Where to Find: Sephora
---
10. CETAPHIL Gentle Skin Cleanser
Description: Cetaphil Gentle Skin Cleanser is suitable for all skin types and ideal for facial and full body use. It works without causing skin irritation, pH-balanced and it is non-soap formulation. It can be used with or without water. Recommended by dermatologists.
How to Use:
With water – Apply and rub gently. Rinse
Without water – Apply and rub gently. Remove excess with a soft cloth.
Pricing: $21.90 for 500ml
Where to Find: Watsons
---

Got a Product to Suggest?
We need your assistance! Do you have a great experience with any products that fall into this category and would like to recommend for them to be listed? If so, do write to us via our email. Tropika Club will do a review of your recommendations and update the list accordingly.
---
Meanwhile, check out Tropika Club's Ecosystem of Websites

Tropika Club Magazine – Tropika Club Magazine crafts articles on all things Singapore, but with a greater emphasis on local businesses based on our #SupportLocalSG initiative. We check out and feature local businesses of all categories, ranging from your neighbourhood hawker stalls to the aesthetic clinics in town. We also cover local content ranging from beauty, lifestyle, places, eats and what's on in SIngapore. Our Top 10 rankings include local food and service establishments based in different regions in Singapore.
Tropika Club Deals – Search for the best voucher and coupon deals. Tropika Club Deals is ideal for customers who want to discover the best deals without having to commit to a specific appointment date and time. Choose from guaranteed discounted deals in the categories of hairstyling, hair removal, facial & aesthetics, body slimming, brows & lashes, nails & makeup, massage & spa or fitness & wellness. Customers can also buy vouchers as gifts or to use for the future.