Top 10 Best Pest Controllers in Adelaide Australia
Pest control is an important part of life in Adelaide, Australia. With insects and other pests being a common nuisance, it's important to have reliable pest controllers to rely on when needed. To help you make the right decision, we've put together a list of the top 10 best pest controllers in Adelaide. Our list was created using feedback from local customers, reviews from industry experts, and an analysis of each company's services.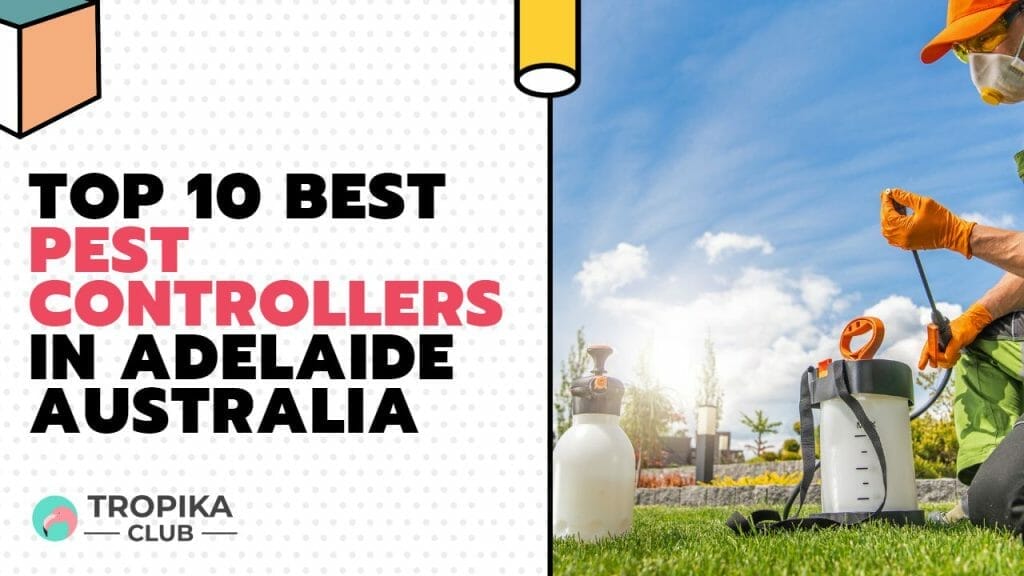 ---
#1 – Allstate Pest Control
Introduction:
Allstate Pest Control is Adelaide's leading family-owned pest control company. They protect homes and businesses with pest control services across greater Adelaide.
Established in 1986, their knowledgeable and highly trained pest control technicians deliver fast and effective treatment for all pests, helping to avoid any nasty pest infestations.
They provide a guaranteed and trusted pest control service for both domestic and commercial customers servicing all suburbs across Adelaide.
Type of Services:
Removal, treatment, prevention and control of all pests like termites, ants, cockroaches, spiders, birds, bed bugs, bees & wasps, rats and mice, possums and biting insects.
Preventative, control and emergency services to solve problems effectively and as quickly as possible including their advanced pest management service for major facilities.
Location:
686 South Road
Glandore, SA 5037
Contact:
+ 61 8371 1277
Email: [email protected]
Website: Website Link Here
---
#2 – Tom's Pest Control Adelaide
Introduction:
Tom's Pest Control is a leading name in the pest control industry of Australia with service networks in all the major cities. They offer advanced pest control solutions by combining the use of the latest technology and years of service.
Their unmatched expertise in providing tailored pest control services for properties with complex pest issues is the major driving factor for the popularity of their services. One of the biggest factors that helped them to give high-quality pest control services is their team.
Type of Services:
Pest control services including extermination
Property inspection
Location:
Suite 4146, 3/55 Gawler Place Adelaide SA, 5000
Contact:
+61 8 8876 5311
Website: Website Link Here
---
---
#3 – Best Pest Control Adelaide
Introduction:
Best Pest Control Adelaide has earned a fantastic reputation for being the leader in pest control services in the last 20 years they have been around.
Whether it's bedbugs or Portuguese millipedes, their pest control technicians know how to efficiently remove any pest from your home; ensuring you and your family have a happy and healthy living environment.
Their certified pest control professionals are equipped with all of the tools necessary, and are ready to quickly respond when a customer needs any kind of pest control.
They have helped an incalculable number of customers throughout the years with our "Get it done the first time, the right way" mentality.
Their experienced professionals tend to each situation with care and expertise. While every job is different, their main goal is always the same.
They aim to provide each customer with excellent service, in an efficient, attentive manner and allow the home or business to return to normal function immediately.
They believe that it's this approach that has helped them earn an incredible reputation for customer service through the years.
Type of Services:
Pest and Building Inspection
Commercial and Residential Pest Control
Pests Extermination
Location:
Level 3, 97 Pirie St Adelaide South Australia 5000
Contact:
+61 8 6169 5012
Website: Website Link Here
---
---
#4 – Flick Pest Control – Adelaide
Introduction:
Our local experts in Adelaide / South Australia provide safe and effective pest control services across Adelaide. Located in Kilburn they are able to cover the entire Adelaide metropolitan area including Glenelg, Gawler and Henley Beach. Their expert technicians that know the area they are committed to providing safe and effective pest control solutions to all Adelaide residents that they have proudly served Australia for over 100 years. Adelaide's warm and wet climate makes it fantastic for outdoor activities, but it's also the ideal environment for household pests to thrive. In addition to providing residential treatment solutions, their expert technicians service commercial and industrial properties alike.
Type of Services:
Home Protection
SMART Digital Rodent Monitoring
Termite Protection for Homes
Residential Disinfection
Real Estate and Strata Pest Management
And many more
Location:
9 Mill Court, Kilburn, South Australia 5084
Contact:
1300 270 019
Website: Website Link Here
---
#5 – Oz Pest Adelaide
Introduction:
They aren't the slick sales type here. Just an honest hard working company that will provide you with the best pricing and will ensure the correct solution to your needs.
Sometimes there is so much information out there, it can blow your fuse. They at Oz Pest Adelaide believe that educating the customer is very important.
Type of Services:
Home Inspections
Home Sanitisation Treatments
Ants, Spiders, Cockroach, Bees & Wasps, Mice-Rats,Termites, Pigeons Control and Extermination
Location:
South Australia, Andrews Farm, Andrews Farm, SA, Australia, 5114
Contact:
+61 447 799 470
Email: [email protected]
Website: Website Link Here
---
#6 – Precision Pest Control Adelaide
Introduction:
Whether for your current home, business premises or other property or during a pest control Adelaide, pest inspection Adelaide, pre purchase pest inspection Adelaide of a potential buy, you'll want to be completely confident that any termite or other one-off or regular pest inspection Adelaide and control services are carried out by experienced professionals. You'll expect them to use proven techniques matched to the latest innovations in pest inspection and control technology. That's why so many people already turn to their team here at Precision Pest Control.
Type of Services:
Commercial adnd Residential Pest
Pest Inspection
Pest Control
Termite Inspection
Pre Purchase Inspection Adelaide
Location:
2 Hillbank Rd, Hillbank SA 5112
Contact:
+61 402 682 738
Website: Website Link Here
---
_

Read Also:

Top 10 Best Freight Forwarders in Singapore

_
---
#7 – Hindmarsh Pest Control
Introduction:
Hindmarsh Pest Control are locally owned, Adelaide-focused pest control specialists. They identify the root cause and eradicate pest problems efficiently and cost effectively, and minimise the chances of them coming back. Whatever's bugging you, leave your pests to the best.
Pest Control Adelaide – Guaranteed results and superior service
When it comes to protecting your family, home and business from pests, you don't want to take any risks. Choose a pest control company you can trust. Choose Hindmarsh Pest Control.
Type of Services:
Termites Inspections and Treatments
Pigeons and Solar Panels
Pest Control Residential and Commercial
Location:
West Hindmarsh, SA 5007
Contact:
+61 8 8340 8181
Website: Website Link Here
---
#8 – Southern Suburbs Pest Control Adelaide
Introduction:
Southern Suburbs Pest Control is a family owned business servicing many suburbs of Adelaide since 2010, attending to both residential and commercial areas with fully licensed technicians operating in accordance to current Australian standards. Also liaising with many Property Managements in Adelaide delivering the below services for your rental properties.
Type of Services:
Control and manage termites (white ants), spiders, rodents, bees/wasps, possums, black ants, cockroaches along with most flying & crawling insects.
Visual Termite Inspections & Pre-Purchase Timber Pest Inspections
Liquid Chemical Treatments
Location:
263a Main Rd, McLaren Vale SA 5171, Australia
Contact:
+61 8 8386 1507
Email: [email protected]
Website: Website Link Here
---
#9 – Adelaide Pest Exterminators
Introduction:
Their mission is to deliver guaranteed solutions for all pest situations at an affordable price!
Adelaide Pest Exterminators offer timely, pro-active prevention with minimum impact on your family, home life and budget. That makes them one of the best affordable services.
Type of Services:
Pests Extermination
Residential and Commercial Pest Control
Termite Inspection and Treatment
Concrete Curing
Location:
Greenwith , Adelaide, SA, Australia, South Australia
Contact:
+61 468 823 106
Email: [email protected]
Website: Website Link Here
---
#10 – Pest Aid
Introduction:
PEST AID IS A FAMILY OWNED AND OPERATED PEST CONTROL COMPANY.
They pride themselves on pleasing their customers, known for their outstanding value for money, customer service and innovation.
With over 25 years of living and breathing the Pest Control Industry, they never settle, always looking for new ways, methods and products to make your life easier. Along with their constant investment in their people you can rest assured you will receive a service second to none.
Type of Services:
Household Pest Control
Termite Inspections and Extermination
HACCP Pest Control Programs
Location:
24 Hindmarsh Ave, Welland, SA, Australia, South Australia
Contact:
+61 139 007
Email: [email protected]
Website: Website Link Here
---
Have a Place to Recommend?
We need your help! Do you know any other noteworthy beauty clinics or salons that deserves to be added to this list? If so, do write to us via our email at [email protected]. Tropika Club will do a review of your recommendations and update the list accordingly.
---
Meanwhile, check out Tropika Club's Ecosystem of Websites

Tropika Club Magazine – Tropika Club Magazine crafts articles on all things Singapore, but with a greater emphasis on local businesses based on our #SupportLocalSG initiative. We check out and feature local businesses of all categories, ranging from your neighbourhood hawker stalls to the aesthetic clinics in town. We also cover local content ranging from beauty, lifestyle, places, eats and what's on in SIngapore. Our Top 10 rankings include local food and service establishments based in different regions in Singapore.
Tropika Club Deals – Search for the best voucher and coupon deals. Tropika Club Deals is ideal for customers who want to discover the best deals without having to commit to a specific appointment date and time. Choose from guaranteed discounted deals in the categories of hairstyling, hair removal, facial & aesthetics, body slimming, brows & lashes, nails & makeup, massage & spa or fitness & wellness. Customers can also buy vouchers as gifts or to use for the future.