Top 10 Best Rojak in Singapore
Rojak means an "eclectic mix" in colloquial Malay, and the dish sure lives up to its name. Its ingredients reflect the cultural diversity of Singapore, bringing together disparate items with strong flavours into a harmoniously tasty blend. It is a local salad of mixed vegetables, fruits, and dough fritters that is covered in a sticky black sauce and garnished with chopped peanuts and finely-cut fragrant ginger flowers for a piquant taste [source]. Tropika Club aggregated rankings or "ranking of rankings" compared from the following sources to further ascertain the final rankings. This is further refined using the TripAdvisor rankings to decide between the position in case there is a tie. Read on to find out where are the Top 10 Best Rojak in Singapore.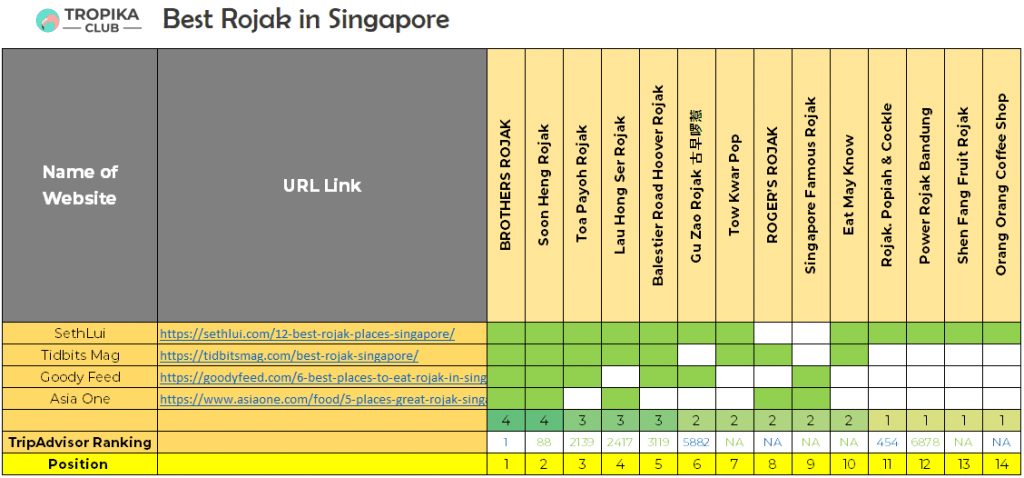 ---
1. Brothers Rojak
Introduction: Brothers Rojak is a humble stall in the corner of the Kopitiam managed by 2 brothers who always greet customers with a smile in Clementi. It is quite common to see a snaking long queue at this small stall waiting to tuck into the savoury delights. It has got almost all the elements we needed in the rojak. The sweet-and-savoury concoction complements the dose of freshly-cut fruits.
Offerings: Brothers Rojak offers the standard Chinese style rojak served with you tiao, tau pok and fruits plus super thick and delicious prawn paste and bright red chilli sauce. There is also a choice to add different kind of cuttlefish and century egg which are placed at the top of their stall shelf. The key to a good Rojak is always a good thick concentrated prawn paste mixed with tamarind sauce, sugar giving the dish a multiple taste experience of savoury, sour, sweet and spicy. Lastly, a generous dose of finely grinded peanuts is added on top of Brothers Rojak. Lime is added into the sauce for a more refreshing finish.
Location: 449 Clementi Ave 3, #01-211, Singapore 120449
Contact: +65 9710 2700
Website: https://www.facebook.com/Brothers-Rojak-Clementi-1137220233098148/
---
2. Soon Heng Rojak
Introduction: Located within the Toa Payoh HDB Hub Gourmet Paradise food court lies a rojak stall well-known by locals for its rojak having awesome taste and fresh ingredient. This stall is popular, the queue is always present; the queue is so long that it will take averagely at least 15 minutes to buy the rojak. But for the great quality of the rojak, they would say it is worth queuing for.
Offerings: The rojak consists of the usual ingredients such as youtiao, white radish slices, pineapple chunks, cucumber slices, jicama slices, etc mixed with sweet rojak dressing and prawn paste topped with peanut bits. Also if you order the ones $5 and above, it comes with additional sotong. The rojak has a generous, amount of peanut bits covering most of the rojak. The dish tastes very sweet due to the strong and sweet dressing they use, and the ingredients were fresh, pineapple and cucumber chunks have a juicy crunchy feel when eaten, the youtiao is crispy.
Location: 480 Lorong 6 Toa Payoh #B1-01 HDB Hub Singapore 310480
Contact: NIL
Website: https://www.facebook.com/pages/Soon-Heng-Rojak/163658833668469
---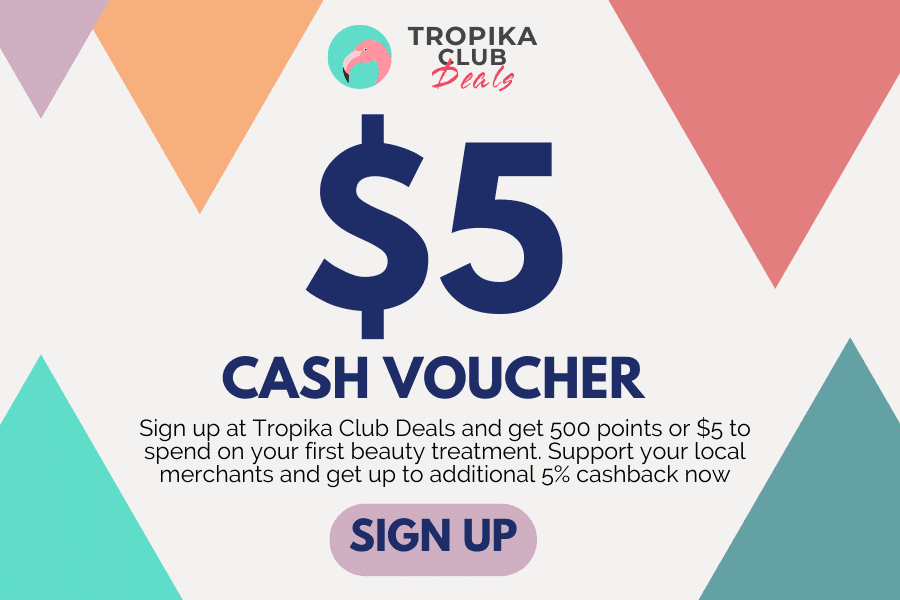 ---
3. Toa Payoh Rojak
Introduction: Toa Payoh Rojak has implemented a system of getting a queue number to order and this how you know they are doing serious business. Previously located at HDB Hub, they've since moved and set up a store at Old Airport Road Food Centre.
Offerings: The sauce is sweet, creamy and luscious with a concentrated prawn paste flavour. One interesting thing that they add to their rojak is… spinach. After trying it out Rojak with spinach, it was nice as it does work pretty well together.
Location: 51 Old Airport Rd, #01-108, Singapore 390019
Contact: +65 6958 9380
Website: https://www.facebook.com/pages/Toa-Payoh-Rojak/574204406334673
---
4. Lau Hong Ser Rojak
Introduction: Lau Hong Ser Rojak at Dunman Road Food Centre is pretty popular. The stall only starts running from 5 pm onwards. The queue time at Lau Hong Ser Rojak can be horrendous with a wait from thirty minutes to even a full hour but that is a clear testament to its popularity. Despite the line of customers, the owner of this unassuming hawker stall continues to serve painstakingly charcoal-roasted youtiao with toasted peanuts that he crushes himself and chilli paste he makes.
Offerings: Lau Hong Ser separates the grilled stuff from the plate of rojak and serves it with another bowl of sauce, to not have it soggy. This way, ingredients won't be over-drenched and customers get to choose how saucy they want it. Pineapple slices are fresh and the sauce is viscous, being a little bit on the spicier side.
Location: Dunman Road Food Centre Stall 271 Onan Road #02-14, Singapore 424768
Contact: +65 9466 8250
Website: https://www.facebook.com/Lau-Hong-Ser-Rojak-1411746249126428/
---
5. Balestier Road Hoover Rojak
Introduction: Balestier Road Hoover Rojak, the critically acclaimed one. The queue was rather long and Hoover Rojak doesn't use cuttlefish, instead, they serve jellyfish in their rojak.
Offerings: People would queue for this Rojak, their sauce is something else. It has julienned lime, which adds zest to the otherwise sweet and rich sauce. Coupled with the green mango slices, the special Penang prawn sauce is now a blend of both sweet and tang, a match made in heaven. Complementing that is the fresh youtiao, fresh fruits and aromatic peanut.
Location: Whampoa Wet Market & Food Centre 90 Whampoa Dr, Singapore 320090
Contact: +65 6253 0137
Website: https://www.facebook.com/pages/Hoover-Rojak/167434159951400
---
6. Gu Zao Rojak 古早啰惹
Introduction: Located inside Ang Mo Kio Avenue 3 is Gu Zao Rojak, at Block 347's Food House. And this extremely down to earth and unassuming little kiosk can be easily missed as it is placed right next to another rojak stand that boasts of bigger signages.
Offerings: One of the cheaper rojak seen and tried, it doesn't discount on the flavour though. It is one of the better ones. The youtiao is grilled till it's golden brown and has a nice aroma, especially when combined with the rich sauce that has little bursts of coarse sugar granules.
Location: AMK 347 Food House, 01-2150, Ang Mo Kio Avenue 3, Block 347, Singapore 560347
Contact: NIL
Website: NIL
---
7. Tow Kwar Pop
Introduction: With decoratively cute signage, there's no way you can ever miss Tow Kwar Pop in Tiong Bahru Market, on the second level where all the food lies. The tau kwa served here is still hand-grilled, they stick to traditions and simply because of that, the tau kwa used in the rojak is phenomenal, albeit life-changing.
Offerings: Thick airy and fluffy on the inside, charred fragrant and crispy on the outside. Sandwiched between are tow gheys (beansprouts) that adds textures and it helps in balancing out the heavy rojak sauce. Served with xue yu (codfish) slices instead of cuttlefish because their supplier ran out of stock, there is an optional extra serving of sauce on the side as well for those who prefer a 'wetter' rojak.
Location: Tiong Bahru Market, 30 Seng Poh Road, #02-06, Singapore 168898
Contact: NIL
Website: https://www.facebook.com/Towkwarpop/
---
8. ROGER'S ROJAK
Introduction: Roger's Rojak is within Dignity Kitchen which is Singapore's first hawker training ground for the disadvantaged. Roger was a successful financial advisor before a stroke in 2010 which paralysed his right arm and affected his speech but his spirit was not beaten.
Offerings: Choose between Roger's prawn paste or vegetarian-friendly plum paste for your generous heap of rojak.
Location: 267 Serangoon Ave 3 #02-02 Dignity Kitchen Singapore 550267
Contact: +65 9068 4367
Website: https://www.facebook.com/Rogers-rojak-622715158135653/
---
9. Singapore Famous Rojak
Introduction: Aside from its proximity to Bugis Plus and Bugis Junction, Albert Centre Market & Food Centre is located in a heritage district, making it a very attractive destination among locals and tourists. One of its stalls serves the so-called "Singapore Famous Rojak", and is run by the second generation of the family.
Offerings: Rojak is an Asian-style 'salad' of chopped fruits and vegetables, peanuts, bean curd, and fried dough fritters in a dark sweet thick dressing. Their special home-made sauce is on the sweet side and not too thick, just adequate to coat the cut-up pineapple, cucumber, turnip, bean sprouts, and tau pok.
Location: 270 Queen Street #01-45 Albert Centre Market & Food Centre Singapore 180270
Contact: NIL
Website: https://www.facebook.com/pages/Singapore-Famous-Rojak/442055503033660
---
---
10. Eat May Know
---
11. Rojak. Popiah & Cockle
---
12. Power Rojak Bandung
---
13. Shen Fang Fruit Rojak
---
14. Orang Orang Coffee Shop
---
15. Rojak Line
---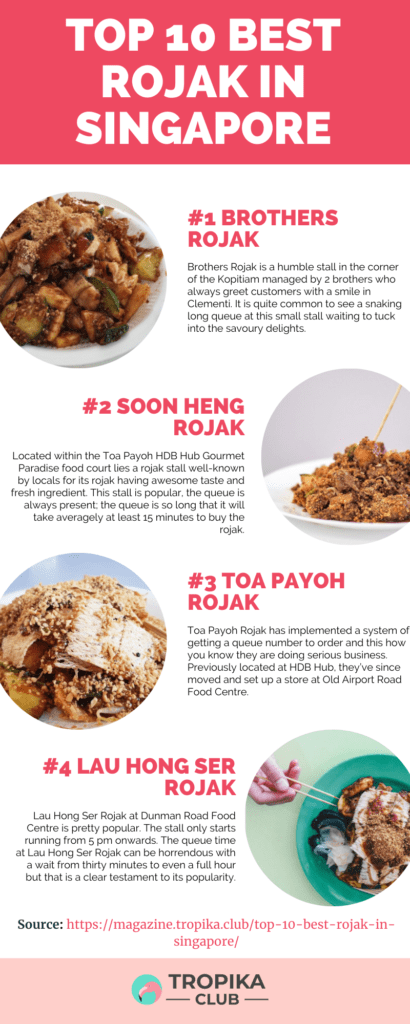 ---
Got a Place to Suggest?
We need your help! Do you know any other noteworthy eating places that deserves to be added to this list? If so, do write to us via our email. Tropika Club will do a review of your recommendations and update the list accordingly.
---
Meanwhile, check out Tropika Club's Ecosystem of Websites
Tropika Club Deals – Search for the best voucher and coupon deals. Tropika Club Deals is ideal for customers who want to discover the best deals without having to commit to a specific appointment date and time. Deals allow customers to buy vouchers and coupons in advance and to arrange the appointment directly with the merchant or business. Customers can also buy vouchers as gifts or to use for the future.
Tropika Club Bookings – Discover and book services at amazing off-peak discounts. Tropika Club Bookings is ideal for customers who want to see the full selection of a merchant or business. Customers can search by merchant or service categories and then choose from a full range of service offerings. Customers can also see if there are any off-peak discounts for the selected service(s). Customer will book the appointment for the specific date and time.
Tropika Club Magazine – Get the latest scoop on beauty, wellness, eats and all things Singaporean. Tropika Club Magazine crafts and curates articles for the discerning Singapore male and female. We provide up-to-date articles on Beauty and Vogue for gals, and articles on Grooming and Style for guys. We also cover local Singaporean content under City. Supporting Tropika Club's vision to bring the best beauty, wellness and fitness services to our visitors, we also have a review section on the best services and selections under Top Picks. This features the Top 10 rankings for your beauty and wellness salons based on the various regions in Singapore.