Top 10 Best Translation Services in Sydney Australia

Are you looking for the best translation services in Sydney, Australia? Finding quality and reliable translation services can be a challenge. Not to worry – this article outlines the top 10 best translation services in Sydney, Australia. Whether you need to translate documents for business purposes or for personal reasons, these companies are trustworthy and reliable. With years of experience and an extensive network of professionals, each of these companies offers high-quality translations that are accurate and efficient.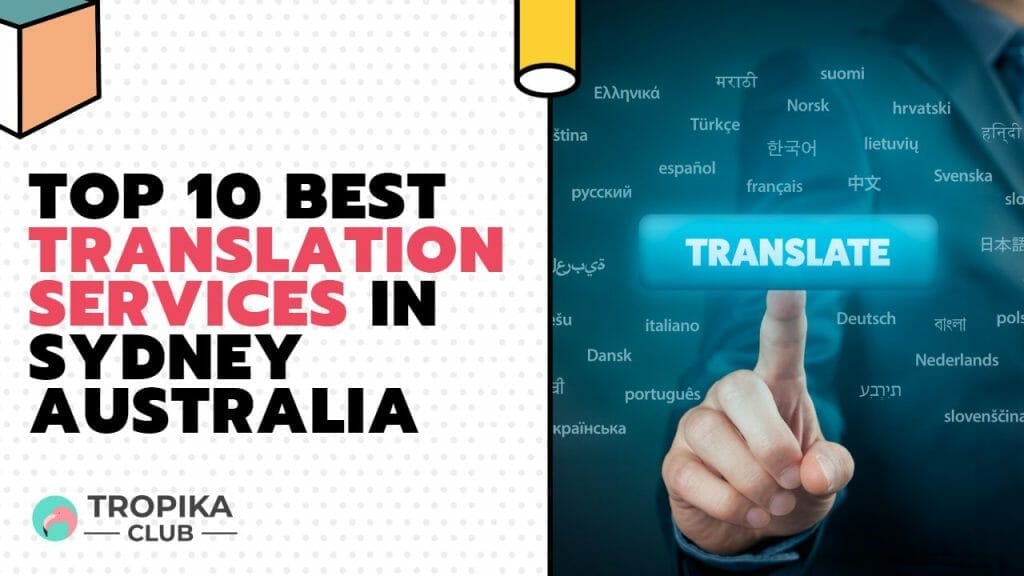 ---
#1 – Australian Translation Services
Introduction:
NAATI (National Accreditation Authority for Translators and Interpreters) is a government-recognized organization in Australia that sets the standards for translation and interpreting services. It provides accreditation to translators and interpreters based on their language proficiency, education, and professional experience. NAATI accreditation is widely recognized in Australia and is a requirement for many immigration and government-related activities.
Their team of NAATI-accredited translators are highly skilled, native-speaking linguists with years of experience in providing accurate and reliable translations. They are bound by a code of ethics, ensuring that their translations are accurate, impartial, and maintain confidentiality. Whether you're a business looking to expand your reach, an individual seeking to communicate with people from different backgrounds, or a traveler in need of assistance navigating a foreign count their team has the expertise to deliver quality translations that are accurate and culturally appropriate.
Type of Services:
Birth Certificate
Business Translation
Website Translation
Financial Translation
Location:
Room 7/Suite 6, Level 8, 11 The Boulevarde, Strathfield, NSW 2135
Contact: https://australiantranslationservices.com.au/contact-us/
Website: Website Link Here
---
#2 – Francelations (French Translation)
Introduction:
Francelations is a Sydney based French translation company with over 20 years of linguistic experience. They offer complete translation and editing services in English and French for businesses in all industries. They can translate all types of documents from technical manuals or migration documents to legal contracts or financial statements . They translate from French to English or English to French.
They are also specialised in translating visa application documents for those wanting to live or work in Australia. These include personal documents such as birth or marriage certificates, police checks, drivers licences, as well as diplomas, transcripts and passports and the like.
Type of Services:
Business Translation
Personal/Visa Translation
Location: Sydney
Contact: +61 417 062 837
Website: Website Link Here
---
---
#3 – Associated Translators & Linguists
Introduction:
The team at Associated Translators & Linguists combines strong and diverse individual experiences and cultural diversity to ensure they provide a professional service to you. Whether you are a Client, an Interpreter or a Translator, ATL is an industry leader in Sydney, and in Australia. Their cultural diversity, spoken languages and passion for quality encapsulates the spirit of their founder: Dimo Galiungi. As the oldest private language service provider in NSW, their experience and work ethic gives their staff the ability to deal with any urgent request, and provide you with the best linguists in the industry.To learn more about the service they provide, check their company profile or read what their clients and linguists think about ATL's services and experience.
Type of Services:
TYPE-SETTING AND PROOF-READING SERVICES
TRANSLATION CHECKING SERVICES
TRANSLATION CHECKING SERVICES
Location:
GPOBOX 4136
Sydney NSW 2001
Contact: (02) 9231 3288
Website: Website Link Here
---
---
#4 – The Migration Translators
Introduction:
The Migration Translators are a leading translation agency in Australia. Most of their work is done by translators and interpreters with NAATI translator accreditation, which is a prerequisite for many official procedures in Australia (and overseas)
Type of Services:
Translate Documents
NAATI Certified Translator
Express Translation
Translations For Migration Agents
Location:
The Migration Translators
Suite 215 / 377 Kent Street
Sydney NSW 2000
Contact: 1800 900 063
Website: Website Link Here
---
#5 – Linguistico
Introduction:
Linguistico offers clients a first-class language translation service with a focus on quality, efficiency, understanding and value for money.
Linguistico sets itself apart from its competitors through our ability to really specialise and the use of industry-experienced translators, their commercial insight, attention to detail, accurate language translator service and stringent project management methodologies. Rather than hand out projects as they come in, they carefully assign your project to a team that is best qualified to handle your project with precision and depth.
They offer a complete digital translation services solution, meaning all work can be handled online, making they service simple and convenient.
Through experience in providing clear language advice to worldwide corporate entities, they truly understand the importance of accuracy, deadlines, confidentiality and value.
Type of Services:
documents for legal purposes
documents for migration and/or official purposes
medical and healthcare documentation
government-related documentation
Location:
Level 57, MLC Centre, 19-29 Martin Place, Sydney, NSW 2000, Australia
Contact: (02) 9025 3700
Website: Website Link Here
---
#6 – Speak Your Language
Introduction:
Their NAATI certified expert interpreters and translators provide customised solutions to organisations, government departments and individuals throughout Australia.
With staff in Sydney, Melbourne, Adelaide, Canberra, Brisbane, and Perth, they deliver unparalleled access to language experts that results in faster communication response times without ever sacrificing quality or client service.
Speak Your Language is large enough to handle the big complex translation & interpretation projects, while approachable and nimble enough to provide each client with outstanding and dedicated customer service. Apart from their size,their know-how and open work culture assist in providing added flexibility for clients, regardless of project type.
Type of Services:
Legal
Medical
Technical
Certificate
Location:
Suite 17. 80-82 Bathurst St Liverpool NSW, 2170
Contact: 1300 000 795
Website: Website Link Here
---
_

Read Also:

Top 10 Best Translators in Kuala Lumpur Malaysia

_
---
#7 – Australian Multilingual Sydney Translation Services
Introduction:
They are Australia's leading professional translation company. Working closely with government, corporate and private clients. Document, website and video translation. Conference, telephone and on-site interpreting.
Type of Services:
Translations for Print Media
Industry Specific Translation
Translations for Websites & Digital Applications
Location:
Australian Multilingual Translation Services Sydney CBD
Level 17, Angel Place,
123 Pitt Street, Sydney, NSW 2000
Contact: 02 9365 1044
Website: Website Link Here
---
#8 – Barnes, Thompson & Brown Legal Translation Solutions
Introduction:
Welcome to Barnes, Thompson & Brown – a leading provider of translation solutions for law firms. Headquartered in Sydney, Australia, they service members of the legal profession in Australia, the US, and Europe. Law firms and corporate legal departments on three continents trust us when it comes to handling foreign languages. With a decade of experience in even the most challenging legal scenarios, any law firm collaborating with Barnes, Thompson & Brown will benefit from a streamlined workflow and a reliable partner in even the most hectic times. They're a language service provider that thinks and acts like a law firm.
Type of Services:
Affidavit Translation
Contract and Agreement Translation
Divorce Document
Immigration Document Translation
Marriage Document Translation
Location:
Suite 703, Level 7
The Trust Building
155 King Street
Sydney NSW 2000
Australia
Contact: 1800 827 582
Website: Website Link Here
---
#9 – Worldwide Interpreting and Translation
Introduction:
The National Accreditation Authority for Translators and Interpreters Ltd (known as NAATI) is the national standards and accreditation body for translators and interpreters in Australia. NAATI's mission, as outlined in the NAATI Constitution, is to set and maintain high national standards in translating and interpreting to enable the existence of a pool of accredited translators and interpreters responsive to the changing needs and demography of the Australian community. The core focus of the company is issuing certification for practitioners who wish to work as translators and interpreters in Australia.
Type of Services:
Certified Document Translation
Legal Translation
Certificate Translation
Business Translation
Location:
Suite 809, Level 8
187-189 Liverpool Street
Sydney, NSW 2000
Australia
Contact: 0451 082 021
Website: Website Link Here
---
#10 – Suyi Translation
Introduction:
As an online translation company, SUYI is specializes in providing professional NAATI translation services in Australian market. SUYI Translation always takes translation quality as the primary pursuit. At the same time, they are also thinking about how to improve service quality and increase operational efficiency through modern network technology. , Broaden the scope of business.
Type of Services:
Driver's License Translation
Birth Certificate Translation
Passport Application Translation
University Document Translation
Location:
Level 45, 680 George St, Sydney, New South Wales, 2000, Australia (Please make an appointment before visiting our office.)
Contact: 0492125650
Website: Website Link Here
---
Have a Place to Recommend?
Your contribution is valuable to us! Are there any outstanding businesses that you believe should be added to our list? If so, please send your recommendations to us at [email protected]. Tropika Club will review your suggestions and update the list accordingly. Thank you for your help in making our list of businesses as comprehensive and accurate as possible.
---
Meanwhile, Check out Tropika Club's Ecosystem of Websites

Tropika Club Magazine – Tropika Club Magazine is a Singapore-based publication that features articles on a wide range of topics with a focus on local businesses and content for the region. The magazine emphasizes supporting local businesses through its #SupportLocal initiative, which includes coverage of everything from neighborhood hawker stalls to aesthetic clinics in town. In addition to highlighting local businesses, Tropika Club Magazine also covers a variety of local content, including beauty, lifestyle, places, eats, and what's on in Singapore and the Asia Pacific region.
Tropika Club Deals – Tropika Club Deals is a leading online deals and voucher shopping site in Singapore, offering amazing discounts on beauty, wellness, and fitness products and services. It's the perfect platform for customers who want to discover the best deals without having to commit to a specific appointment date and time. These deals are available at major beauty stores, facial salons, hair salons, and other brands in Singapore, with no minimum spend required. Choose from guaranteed discounted deals in the categories of hairstyling, hair removal, facial & aesthetics, body slimming, brows & lashes, nails & makeup, massage & spa or fitness & wellness. Tropika Club Deals is also ideal for customers who want to buy vouchers as gifts or to use for the future. So whether you're looking to save money on your next haircut or want to treat yourself to a relaxing massage, Tropika Club Deals has got you covered with the best voucher and coupon deals in Singapore!