Top 10 Best Water Heaters in Singapore
Who doesn't love a hot shower after a long day? Have one of the Best Water Heaters in Singapore get you some hot water at the ready. The newer electric water heaters are more energy efficient, which can help keep the electricity usage low. But they're still able to provide instant heating for any water temperature you prefer. Some of them have a sleek design that don't lack safety features too.
---
1. Rubine x SGPLUMBERMART RWH-1388 Instant Water Heater
Price Range: $119.00
Brand: Rubine x SGPLUMBERMART
Key Features:
Easy installation
Adjustable shower bracket
UL- approved high quality heating element technology from UK
Built-in auto water flow sensor
Water saving 3 function hand shower
Splash proof protection (IP25 protection)
3-in-1 Compact stop, Flow and Filter valve
Power: 3.5 kW
Voltage : 230V
Max. Water Flow : 9L/min
Min. Water Flow : 1.25L/min
Max. Working Pressure : 600kPa
Min. Working Pressure : 20kPa
Available Color: Black & White
Website: Buy at Shopee
---
2. Toshiba Electric Instant Water Heater
Price Range: $108.00
Brand: Toshiba
Key Features:
Auto Test
Built-in ELCB
Line Fault indicator
NTC Thermal Cut-Out
Built-in auto flow sensor
Double Copper Heating Element
Splash-proof IP25 Standard
Website: Buy at Shopee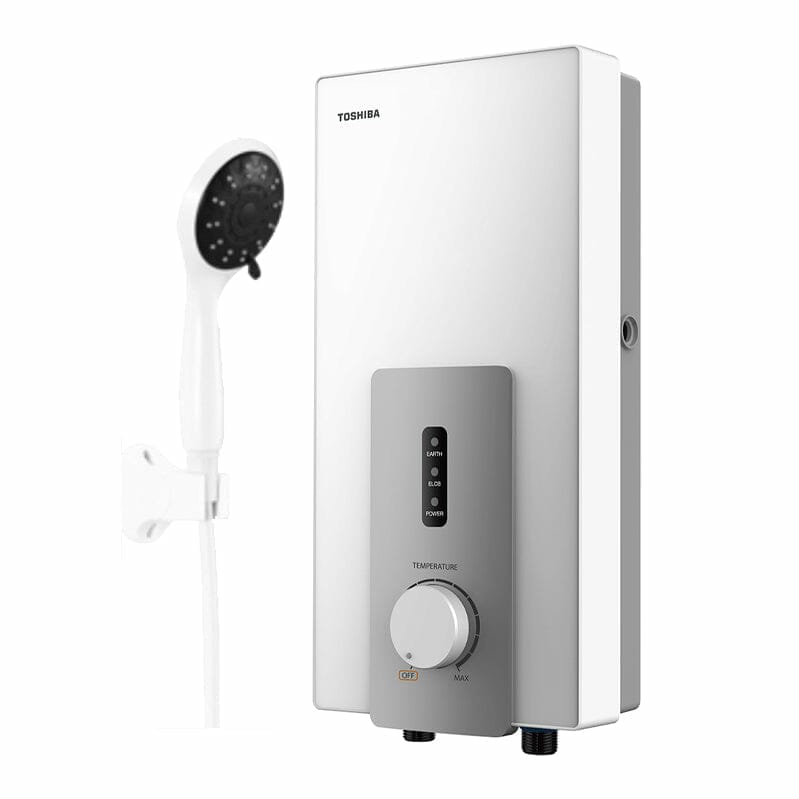 ---
3. Mistral Instant Shower Heater [MSH303i]
Price Range: $69.90
Brand: Mistral
Key Features:
Voltage : 230V| 50/60 Hz – Power : 3.3kW
Min. Water Flow Rate: 3.0 L/min
Min. Water Pressure: 13.8kPa(2p.s.i.)
Max. Water Pressure: 0.3Mpa(43.5p.s.i.)
Water Connection: 15mm diameter
Dimension (W x D x H): 19.2 x 8.6 x 29 cm
Website: Buy at Shopee
---
---
4. Champs City Instant Water Heater
Price Range: $71.50
Brand: Champs
Key Features:
High Quality Polymer Tank
Energy and Water Saving
Massage Shower Set
IPX5 Splash Proof
Anti-Scald Safety Device
Website: Buy at Shopee
---
5. EuropAce Instant Water Heater
Price Range: $69.90
Brand: EuropAce
Key Features:
Copper Heating Element
5 Spray Patterns
Anti Scalding Design
Splash Proof Protection
White Shower Set
Website: Buy at Shopee
---
6. Rinnai REI-C330NP-W-S Hydroto Series Instant Water Heater with Shower Head
Price Range: $78.00
Brand: Rinnai
Key Features:
Stepless Electronic Power Control
Dual Temperature Thermal
Cut-Off Protector
Plastic Resin added UV – prevent white turn yellowish
Extra Large Inlet Filter
Super Hi-Gloss Finishing
IP25 Splash Proof
RoHs Compliance Product Free
Website: Buy at Shopee
---
---
7. Ariston Storage water Heater
Price Range: $252.00 – $285.00
Brand: Ariston
Key Features:
Accurate temperature indication to keep water temperature always under control.
Copper heating element for extra durability.
Scalding prevention indicator to avoid burning.
Shower ready friendly indicator for hot water availability.
Titanshield technology for best tank protection with titanium enameling and enhanced Mg anode.
AG+ technology with antibacterial properties providing greater hygiene.
High density insulation for energy saving.
Premium Italian art design by Umberto Palermo
Website: Buy at Shopee
---
8. 707 x sgPlumbMart Kensington Electric Storage Water Heater
Price Range: $245.00 – $265.00
Brand: 707 x sgPlumbMart
Key Features:
Effective – Responsive with multiple features to suits everyone's needs
Efficient – Great energy and water saving ratings
Reliable – Consistent and robust performance for a long duration of time
Safe – Top certifications in appliance safety
Website: Buy at Shopee
---
9. Joven SA15m Instant Heater
Price Range: $180.00
Brand: Joven
Key Features:
Stylish JOMET Silver or JOVEN White Casing
Built-In ELCB System
Stepless Electronic Power Control
IP25 Splash Proof Protection
Quarter Turn Ceramic SF Valve (Built-In Filter, Water Saving Volume Control and Stop Valve)
Slim Slider Bar Set Design
3 Click Select Spray Pattern Hand Shower
Durable, Safe and Hygenic Reinforced 3 Layer Flexi-Hose
Website: Buy at Shopee
---
10. 707 Princeton Instant Heater
Price Range: $260.00
Brand: 707
Key Features:
Material: Copper Tank
Eco-friendly and energy efficient
Oracle Rain-shower
Copper class tank
Anti-slip rubber clad knobs
Made in Singapore
Technology From UK
2 years warranty
Website: Buy at Shopee
---
---
HAVE A PRODUCT TO RECOMMEND?

We need your help! Do you know any other noteworthy products that deserve to be added to this list? If so, do write to us via our email at [email protected]. Tropika Club will do a review of your recommendations and update the list accordingly.
---
MEANWHILE, CHECK OUT TROPIKA CLUB'S ECOSYSTEM OF WEBSITES

Tropika Club Magazine – Tropika Club Magazine crafts articles on all things Singapore, but with a greater emphasis on local businesses based on our #SupportLocalSG initiative. We check out and feature local businesses of all categories, ranging from your neighbourhood hawker stalls to the aesthetic clinics in town. We also cover local content ranging from beauty, lifestyle, places, eats and what's on in SIngapore. Our Top 10 rankings include local food and service establishments based in different regions in Singapore.
Tropika Club Deals – Search for the best voucher and coupon deals. Tropika Club Deals is ideal for customers who want to discover the best deals without having to commit to a specific appointment date and time. Choose from guaranteed discounted deals in the categories of hairstyling, hair removal, facial & aesthetics, body slimming, brows & lashes, nails & makeup, massage & spa or fitness & wellness. Customers can also buy vouchers as gifts or to use for the future.