Top 10 Brows & Lashes In South West Of Singapore
Get Your Top 10 Ranking Brows & Lashes Salons in South West Of Singapore
Still getting yourself to wake up early to draw your eyebrows every day? It would be your best choice to follow us. The Tropika Club Team has rounded up the Top 10 Brows & Lashes salons in the South West of Singapore (This includes Tiong Bahru, Harbourfront, Clementi & Queenstown areas) that will help you to solve your problem. Read on to find out more.
No Time to Read? Here's a Snappy Summary of This Article
Introduction: The article lists the top 10 brows and lashes salons in the southwest of Singapore, including Tiong Bahru, Harbourfront, Clementi, and Queenstown areas.
Brow Art Asia: A leading brow embroidery salon that provides realistic and natural-looking brows with a painless process and a variety of styles.
Beautii Slim: A slimming and beauty salon that offers eyebrow embroidery and eyelash extension services with professional consultation and customization.
Beaute Brow: A brow and lash specialist that uses advanced techniques and quality products to create natural and long-lasting results for customers.
Arch Angel Brow: A premium beauty salon that provides brow shaping, embroidery, lash lifting, and extension services with a team of experienced and certified therapists.
Limmy's Nail and Beauty Lounge: A cozy and relaxing salon that offers nail, brow, lash, and facial services with high hygiene standards and affordable prices.
Poly Beauty: A one-stop beauty salon that provides a range of services such as brow embroidery, lash extension, facials, waxing, and slimming treatments with skilled and friendly staff.
Green Beauty Solutions: A holistic beauty salon that uses natural and organic products to provide brow embroidery, lash extension, facial, body massage, and hair removal services with a focus on customer satisfaction.
The Lash Company: A lash boutique that specializes in lash extension and lifting services with a variety of styles, lengths, and curls to suit different preferences and occasions.
esBoudoir: A beauty studio that offers brow embroidery, lash extension, nail art, and makeup services with a team of trained and passionate artists who aim to enhance customers' natural beauty.
Glam Life Beauty & Nails: A chic and modern salon that provides nail, brow, lash, and makeup services with high-quality products and equipment and a comfortable environment.
---
#1 Brow Art Asia
Introduction: Brow Art Asia is Asia's Leading Team. They aim to provide each client with exceptional, professional service. Therefore, their brow embroidery artists are well trained and professional. All their embroidery artist will always attend the overseas training course and join the competition to improve and update their skills. Mission of this company is to achieve a multi-dimensional effect that allows the brows to look and feel equally realistic and natural. A painless process which produces style eyebrows that only expert artists can achieve on their own every day.
The Treatment:
Eye brow embroidery: Their expert will design your eyebrow depending on what eyebrow style you would prefer and will give you advice on what suit you the best before embroidery start.
Eyelash Growth Treatment: They are using the latest technology to grow your eyelash 100% naturally, to make your lashes look thicker, longer, darker and painless, regardless of lash style. Get the latest updates from their Facebook page.
Get more details at:
Location: 302 Tiong Bahru Rd, #03-113 Tiong Bahru Plaza, Singapore 168732
Hotline: +65 6270 7863
#2 Beautii Slim
Introduction: Beautii Slim is a company established in 2003, Beautti Slim prides themselves in delivering the best results with their team of over 30 qualified, highly professional therapists. While they specialise in slimming treatments, other services such as brow embroidery and lash extensions are also very well received by customers
The Treatment: The treatment provided for eyebrow and lashes service are Single Lash By Lash Eyelash Extension and Eyebrow Embroidery.
Eyebrow Embroidery : A form of semi permanent makeup which adds colored pigment to the skin ,filling in spare area on the brow ,embroidery specialist will have an eyebrow design and grooming consultation with customer to find out suitable preferences.
Eyelash Extension : Enhance your natural eyelashes by adding volume ,thickness and length. Depending on customer preferences ,the extension are available in various length, curl, thickness and colours for creating different looks. Get the latest updates from their Facebook page.
Get more details at:
Location: 1 Maritime Square, Harbourfront Centre 03-15, 099253 Singapore
Hotline: +65 6270 1638
Website: http://beauttislim.com.sg/
---
#3 Beaute Brow
Introduction: Beaute Brow specialises in Eyebrow & Eyeliner Embroidery. Angel, Creative Director, has more than 20 years of experience. She has completed more than a thousand embroidery over the years. Her unmatched creativity & experience puts her in a league of her own, drawing clients from all over the world. She is a trusted beautician and friend to all.
The Treatment: Beaute brow is an eyebrow embroidery specialist, their treatment includes Eyebrow and Eyeliner embroidery, tinting & threading as well as last lift.. With their professional skills they will help you create unique and attractive natural brows. Follow them on their Instagram page for the latest designs. Get the latest updates from their Facebook page.
Get more details at:
Location: No. 1, Maritime Square, #02-71, HarbourFront Centre, 099253 Singapore
Hotline: +65 6469 8922
---
#4 Arch Angel Brow
Introduction: Arch Angel Brow is an brow embroidery specialist that first opened its doors in July 2015 at 321 Clementi, a new mall situated a stone's throw away from Clementi MRT station. An oasis of tranquility amidst the bustling city landscape, Arch Angel Brow is the brainchild of two enterprising ladies, Kelly and Eileen, who have combined experience of 18 years in the beauty industry.Apart from the sea of beauty salons in Singapore with state of the art technology and beauty techniques imported from Korea, they pride themselves for being the first to introduce Korea Combo Eyebrow Embroidery in Singapore. This unique, breakthrough embroidery technique from Korea is exclusive only to Arch Angel Brow and allows you to achieve natural looking, well groomed brows immediately with.
The Treatment: Eyes are the windows to human souls. Besides framing them with a set of well groomed brows, beautiful lashes play an important role in adding definition to your eyes too. At Arch Angel Brow, you can achieve your dreams not only through Korea Eyebrow Embroidery but also Eyelash Perming, 6D Eyelash Extensions and Natural Eyelash Extensions. They have professional beauty consultants to offer some advice based on the density and length of your natural lashes as well as the shape of your eyes to minimise any flaws and bring out their beauty. The process is painless and doesn't cause any irritation. They also provide follow-up touch up. Get the latest updates from their Facebook page.
Get more details at:
---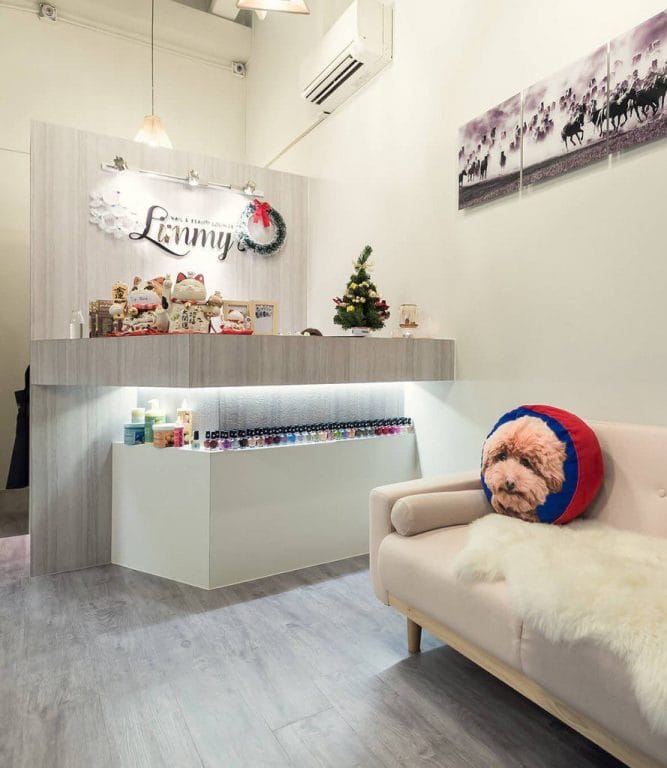 #5 Limmy's Nail and Beauty Lounge
Introduction: Limmy's Nail and Beauty Lounge is a cozy modern minimalist style nail cum beauty sanctuary. At Limmy's they pride themselves in providing exquisite, hygienic and unique brow embroidery as well as nail and beauty services to all patrons. With a decadent range of designs to offer and top of the line nail and beauty products that they spoil on all clientele, they aim to be the benchmark amongst nail salons for both impeccable quality and ageless design to suit the fancy of any woman's needs. Their growing popularity stems from directing every aspect of their upscale services towards meeting all patrons' expectations. From professionally trained staff to the intensely high standards of hygiene, Limmy's aims to pamper all their clients with utmost dedication.
The Treatment: They use an advanced single strand application technique, applying synthetic lashes one by one to your own individual lashes, let you look and feel weightless. Their artists will help you decide on the desired length, curl and thickness of the lashes. Their adhesives are also surgical grade, FDA APPROVED and formaldehyde free.Services that they provide are including Diamond Lash Extensions,Mink Lash Extensions & Collagen lash lift. Follow them on their Instagram page for the latest designs. Get the latest updates from their Facebook page.
Get more details at:
(Location: 88 Rangoon Road #01-05 Singapore 218374 (Farrer Park MRT exit B)
Hotline: +65 8112 0232
Website: https://www.limmys.com.sg/
---
---
#6 Poly Beauty
Introduction: Their founder, Mdm Ong Poh Lee first started out as a bridal make up artist 25 years ago. As she feels that there is a need for brides or woman on contrary to have good skin, she starts out her journey as a beautician, with a goal in mind to make every woman beautiful. At 1984, Poly Beauty is born with a mission in her hands to create beauty. Poly Beauty has won several recognition such as the Singapore Woman's Weekly 2009 Best Divine Quickie for its express facials and Lip Embroidery.
The Treatment: Their treatment includes brow embroidery, Eyebrow shaping & tweezing ,Eyelash perm and Eyebrow resurrection. Get the latest updates from their Facebook page.
Get more details at:
#7 Green Beauty Solutions
Introduction: Green Beauty Solutions founded by Salon Director Tammy Wei in 2009.Green Beauty Solutions is a cozy heaven for your complete rejuvenation. It has been providing quality beauty treatments and products to many satisfied clients. Besides, their friendly therapists are highly trained to customise a beauty regime just for customer, because they understand every client is unique and special.
The Treatment: Their wide range of beauty services includes eyelash extension and eyebrow embroidery. They have provided different types of lashes which include cluster lashes, natural series, single strand lashes & premium lashes. Follow them on their Instagram page for the latest designs.
Get more details at:
Location: 01-85, 442 Clementi Ave 3, 120442 Singapore
Hotline: +65 6777 9438
#8 The Lash Company
Introduction: The lash company is a singapore base premium salon specialising in eyelash extension service. Founded by Fiona who served more than 1000 valued clients in the past. With her professional experience, knowledge and her team will help to create more and more unique lashes for clients.
The Treatment: Healthy natural eyelashes result in longer lasting eyelash extensions. People who like a natural everyday look, or a more voluminous and dramatic effect, can visit this good place. As each set of eyelash extensions is specially tailored to complement your natural eyelashes, with the right arches.. Their services include brow embroidery Natural classic, Full classic ,2D volume, Full Volume and Lower Lash. They also provide follow-up touch up. Get the latest updates from their Facebook page.
Check them out at: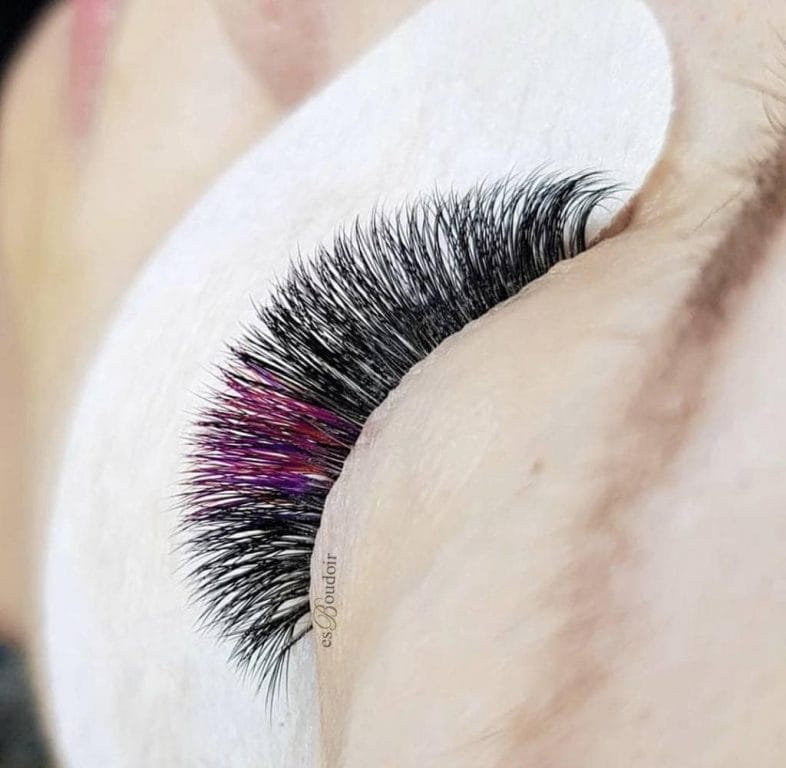 #9 esBoudoir
Introduction: esBoudoir is a full-fledged nail care salon providing professional services like Natural Nail Cares, Acrylic, Gel, Gel Polish, Nail Arts and Design, Exclusive Spa Treatments. Offering a soothing and relaxing environment for customers to unwind while getting pampered at the same time. esBoudoir uses only carefully selected premium nail products, with well known brands such as OPI, Orly, Essie, Misa and Professional Lacquer. Other services offered include eyebrow trimming, eyelash perming , extension and facial threading as well as an array of brow services for all skin types.
The Treatment:
Eyelash Perming : Instantly add length and volume to your natural eyelashes. Longer eyelashes give you the ability to be more alluring and to take on a more wide eyed look that can enhance the overall beauty of your eyes. The slightly curved eyelash create a natural and full look and are perfect for those who are tired of using mascara and eyelash curlers.
Eyebrow Trimming : The right eyebrow shape not only can make you look younger, it also helps to firm up your eyes when combined with the lifting effects of an eyelash extension or eyelash perm. Having longer eyelashes and the right eyebrow shape can transform your entire look to produce a younger, more confident you! They focus on the Golden Proportion for brows, and also provide follow-up touch up session.
Check them out at:
#10 Glam Life Beauty & Nails
Introduction: Glam Life Beauty & Nails is well on their way to becoming the best eyelash salon in Singapore. 8Relish in classic mani-pedis, gel mani-pedis, touch-ups, as well as beauty services like eyelash extensions. They also provide hair removal treatments including Full-Arm, Full-Leg and Bikini Waxing. Other than that, they also have a full set of eyebrow and eyelash services such as Eyelash Perming, Single Eyelash Extensions and 5D or 6D Eyelash Extensions.
The Treatment: You'll be treated to a stunning assortment of Brows & Lashes services, such as Eyebrow Embroidery, Eyelash Perming, Single Eyelash Extension, 5D/6D Eyelash Extension, and Eyelash Extensions 3D/4D, and Eyelash Perming. They also provide follow-up touch up.
Check them out at:
Location: 40 Beo Crescent #01-20, Singapore 160040
Hotline: +65 9476 0745
---
Conclusion
If you're looking for a way to upgrade your brows and lashes, you don't have to travel far. The southwest of Singapore has plenty of salons that can help you achieve your desired look. Whether you want natural and subtle or dramatic and glamorous, there's a salon for you.
In this article, we've introduced you to the top 10 brows and lashes salons in the southwest of Singapore. These salons offer various services such as brow embroidery, lash extension, lash lifting, and more. They also have professional and experienced staff who can advise you on the best style and technique for your face shape and features.
Some of the salons we've featured are Brow Art Asia, Beautii Slim, Beaute Brow, Arch Angel Brow, Limmy's Nail and Beauty Lounge, Poly Beauty, Green Beauty Solutions, The Lash Company, esBoudoir, and Glam Life Beauty & Nails. Each salon has its own unique selling points and specialties, so you can choose the one that suits your needs and budget.
We hope this article has helped you find your ideal salon for brows and lashes in the southwest of Singapore. Remember to book your appointment in advance and follow the aftercare instructions to maintain your beautiful results. And don't forget to share your experience with us in Tropika Club Magazine! We'd love to hear from you.
Frequently Asked Questions (FAQ)
What is brow embroidery?
Brow embroidery is a semi-permanent makeup technique that involves creating fine strokes on the skin to mimic natural brow hairs. The strokes are filled with pigment that matches your natural brow color, resulting in fuller and more defined brows. Brow embroidery can last up to two years, depending on your skin type and lifestyle.
What is lash extension?
Lash extension is a cosmetic procedure that involves attaching synthetic or natural lashes to your natural lashes using a special adhesive. Lash extension can enhance the length, thickness, curl, and volume of your natural lashes, giving you a more glamorous and expressive look. Lash extension can last up to six weeks, depending on your lash cycle and aftercare.
How to prepare for brow and lash services?
Before going for brow and lash services, you should:
Avoid any facial treatments or exfoliation at least a week before
Avoid any waxing, threading, or tweezing of your brows at least three days before
Avoid any mascara, eyeliner, or eye makeup on the day of the service
Avoid any caffeine, alcohol, or blood thinners on the day of the service
Inform your artist of any allergies, sensitivities, or medical conditions you have
How long does it take to do brow and lash services?
The duration of brow and lash services varies depending on the type and complexity of the service, as well as the skill and speed of the artist. Generally, brow services can take from 30 minutes to 2 hours, while lash services can take from 45 minutes to 3 hours. You should also factor in some extra time for consultation, preparation, and aftercare.
How often do you need to do brow and lash services?
The frequency of brow and lash services depends on the type and quality of the service, as well as your natural brow and lash cycle and lifestyle. Generally, brow services can last from 6 months to 2 years, while lash services can last from 2 weeks to 6 weeks. You may need to do touch-ups or refills in between to maintain optimal results. You should also follow the recommended aftercare instructions to prolong the lifespan of your brows and lashes.
Have a Place to Recommend?
Your contribution is valuable to us! Are there any outstanding businesses that you believe should be added to our list? If so, please send your recommendations to us at [email protected]. Tropika Club will review your suggestions and update the list accordingly. Thank you for your help in making our list of businesses as comprehensive and accurate as possible.
---
Meanwhile, Check out Tropika Club's Ecosystem of Websites
Tropika Club Magazine – Tropika Club Magazine is a Singapore-based publication that features articles on a wide range of topics with a focus on local businesses and content for the region. The magazine emphasizes supporting local businesses through its #SupportLocal initiative, which includes coverage of everything from neighborhood hawker stalls to aesthetic clinics in town. In addition to highlighting local businesses, Tropika Club Magazine also covers a variety of local content, including beauty, lifestyle, places, eats, and what's on in Singapore and the Asia Pacific region.
Tropika Club Deals – Tropika Club Deals is a leading online deals and voucher shopping site in Singapore, offering amazing discounts on beauty, wellness, and fitness products and services. It's the perfect platform for customers who want to discover the best deals without having to commit to a specific appointment date and time. These deals are available at major beauty stores, facial salons, hair salons, and other brands in Singapore, with no minimum spend required. Choose from guaranteed discounted deals in the categories of hairstyling, hair removal, facial & aesthetics, body slimming, brows & lashes, nails & makeup, massage & spa or fitness & wellness. Tropika Club Deals is also ideal for customers who want to buy vouchers as gifts or to use for the future. So whether you're looking to save money on your next haircut or want to treat yourself to a relaxing massage, Tropika Club Deals has got you covered with the best voucher and coupon deals in Singapore!