Top 10 Facial Services in Northwest Singapore
Have your face pampered in one of the top picks facial salon in Northwest Singapore
Embark on a journey to discover the Top 10 Facial Services in Northwest Singapore! In today's fast-paced world, taking the time to pamper and rejuvenate your skin is essential for maintaining a healthy, radiant complexion. Amidst the hustle and bustle of the city, the northwest region of Singapore offers an oasis of tranquility, where you can find a diverse selection of facial services designed to cater to every skin type, concern, and preference.
Our carefully curated list features top-notch beauty establishments, ranging from luxurious spas to cozy boutique salons, all of which provide exceptional facial treatments tailored to your unique needs. Whether you're seeking an indulgent spa experience, advanced skincare technology, or organic and holistic remedies, these facial services will leave you feeling revitalized and glowing.
So, without further ado, let's dive into the Top 10 Facial Services in Northwest Singapore and uncover the best skincare sanctuaries in the area!
---
#1 De Laco Beauté Concept
Introduction: De Laco Beauté is an innovation driven beauty company, with a mission to empower today's women through self care and wellness. Led by a team of dedicated and passionate industry practitioners, they are modernising the delivery of eyebrow aesthetic with their creative brow embroidery techniques, producing stylish eyebrows that exudes confidence, elegance and screams individuality. Their therapeutic skin management program aims to mitigate the effect of environmental pollution on the human skin, enabling women of all ages to maintain healthy, youthful looking skin.
By placing customer's well-being at the heart of everything they do, they envision the company to be the preferred beauty services provider in Singapore and beyond.
The Treatment: A wide range of skincare services including skin rejuvenating facial, hydro facial and many more. Recommendations will be shared based on individual skin type.
They will only be able to provide recommendation upon doing an analysis of your skin. For normal cleansing, their fundamental facial is at $58.
Check them out at:
---
#2 Allure Beauty (West Mall)
Introduction: Established in April 2002, Allure Beauty Saloon is a complete one stop shop for all your beauty needs. Whether you are looking at achieving a crystal clear radiant look; firm and toned body contours and/or cosmetics procedures to enhance your overall look, Allure Beauty Saloon has it all.

Everyone is born beautiful but maintaining the natural beauty that each is born with, needs a lot of hard work and determination. At Allure Beauty, they listen to customers needs and tailor made a customized beauty regime that specifically address the customer's beauty concerns and works effectively within your time and budget. At Allure Beauty, all their staff are experienced, committed and passionate in enhancing and bringing out the natural beauty in their customers.
The Treatment: Allure Beauty provide wide range facial treatments, like Hydro Exfoliating Facial Treatment/Red Rice Bubble Enzyme with Face Bojin Treatment and classic facial. Whether you're looking to deep cleanse your pores, reduce puffiness around your eye area or get rid of the dreaded back acne, you can try out Hydro Exfoliating facial to helps replenish and cleanse skin, tighten the pore to improve skin texture and whitening.
Check them out at:
---
#3 Channlyn Beauty Wellness
Introduction: Channlyn Beauty Wellness is dedicated in the curation of a suite of holistic beauty services delivered with absolute quality and professionalism. They are offering facials and eyebrow microblading treatment. You will leave each and every visit elegant, younger and beautiful. Their commitment is to have you looking and feeling your best.
The Treatment: Removing blackheads and stubborn whiteheads can be a nightmare. Channlyn Beauty Wellness is known for its extraction facial, which promises to rid the bacteria trapped within your pores completely and painlessly. They offer packages for deep pore cleansing treatment at $380 for 10 sessions. (Usual price is $680!)
Check them out at:
Location: 359 Bukit Batok Street 31, #01-399, Singapore 650359
Hotline: +65 8139 0878
---
#4 Pretty Face Beauty Salon
Introduction: With over 20 years of experience in the industry, they never compromise on quality and they are dedicated to help you achieve results. No tricks; no cutting corners; no nonsense! There is a reason why their clients have been with them for over a decade.
The Treatment: Facials are a great way to maintain skin health and treat all skin types. Everyone's skin is different, but whether skin is dry, oily, a combination of the two, sensitive or normal, they have different types of facial that cater to the needs. Otherwise, their recommend facial is Weightless relaxing facial treatment- not only does it refresh and revitalize your skin, it promises to deliver clear and beautiful skin to anyone who steps through its door.
Check them out at:
Location: Blk 258, #01-64, Bukit Panjang Ring Rd, 2nd Level, Singapore 670258
Hotline: +65 6763 4281
---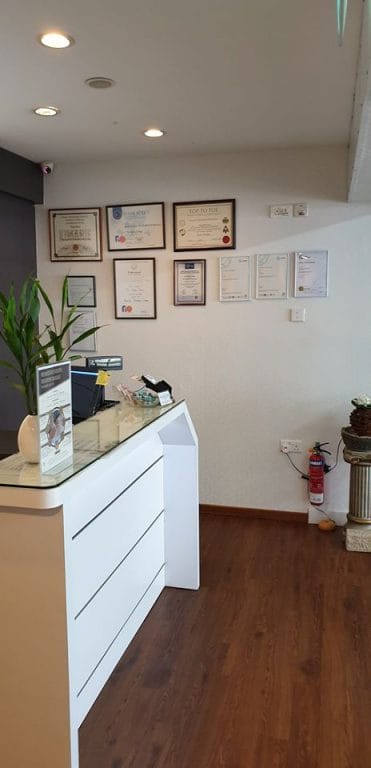 #5 Jia Yu Chun Face & Body Spa
Introduction: Jia Yu Chun signifies a blessed village- One big family, working together to rejuvenate all who seek shelter under their roof with top to toe face and body care. They are equipped with the best in products and technologies, delivering a better care for their customer holistic beauty and well-being with the personalized treatment .
They seek to present you with a one-stop face and body beauty wellness salon- A sanctuary where you can rest and refresh weary body and soul, while nurturing your natural beauty from within with their time-tested treatments. From your very first step into Jia Yu Chun, They commit to take you closer towards your health and beauty targets. And in time, with your collaborative efforts, they always deliver – for that's the standard of quality that they will never compromise.
The Treatment:
Meridian Lifting Facial (First Trial) 2 hours at $38: Meridian Lifting Facial combines two traditional Chinese therapies that follows the meridians of the body – the foundation of TCM.
RET-Lift Facial (First Trial) 2 hours at $98: RET-Lift Facial is the one and only intra-oral procedure that is unique from the others in the market.
Aqua Glow Facial (First Trial) 2 hours at $38: This treatment gently exfoliates dead skin cells, thoroughly cleanses skin, extract blackheads and to provide hydration and nourishment to skin.
Check them out at:
---
---
#6 Meditrina
Introduction: Meditrina started out as a professional skin & body product range sold exclusively to spas and beauty salons. Their mission is to help every woman to recapture their youth, sparkle and vitality, feel beautiful, confident and sexy, like a woman! Its vision is for every woman to look younger, feel more energetic and be healthier than her age. At Meditrina, they are passionately committed to making your anti-ageing regime healthy, effective, safe and enjoyable.
The Treatment: Their beauty treatments are based on the natural healing philosophies of bSoul, a Certified Natural phytoceutical-grade skincare brand from Tuscany, Italy. A consultation will be done first to know your skin concerns and will recommend a suitable facial for you.

Their signature Meridians and Tissues Manipulation (MTM) Face TherapyDe-puffs the face by reducing water retention and firming facial muscles. This also educes the appearance of capillaries and fine lines, and it comes with added wellness benefit: Unknots tissue blockages in the face, reducing the occurrence of constant migraines.(75 mins/session)
Check them out at:
---
#7 Essential Home Beauty
Introduction: Essential Home Beauty is an upscale beauty salon specializing in facial treatments. Located in the lovely town of Choa Chu Kang, western Singapore's premium home salon offers an intimate experience in a quiet, residential neighborhood. Vivian, experienced beautician and owner of Essential Home Beauty, brings more than 15 years of industry experience to the table. Certified by the Confederation of International Beauty Therapy and Cosmetology (CIBTAC) in the United Kingdom, Vivian has undergone extensive training to ensure her clients receive top-of-the-line service.

If you are looking for the best facial treatment Singapore has to offer, then you have come to the right place. Vivian works with products of the highest quality to detoxify your pores and give you the experience of a lifetime. If you enter Essential Home Beauty with dry, tired skin, expect to leave your appointment looking more radiant than ever before. In order to maintain your glow, Vivian will offer custom-tailored advice and recommendations on how to care for your skin at home. Should you find yourself in Choa Chu Kang, don't hesitate to book an appointment at Essential Home Beauty. Your skin will thank you!
The Treatment: Have a try at their acne and oxygenating treatment. You can see tremendous improvement after the treatment. If you are experiencing severe hormonal acne, worry not as it is treated with care during the extraction. Extraction is painless and mild redness can be observed after the treatment, not too red though! Most importantly, they do not hard-sell.
Check them out at:
#8 The Spa-Lon – Choa Chu Kang
Introduction: Established in 1990, The Spa-Lon is a spa and beauty salon in Singapore. They are one of the biggest spa and salon hybrids on the island. Here at The Spa-Lon, the place is cozy and the staff are excellent and well trained.

The Spa-Lon locations features a comfortable, customer-friendly & streamlined operational infrastructure, where the salons are sized between 2500 to 3000 square feet each. Each year, The Spa-Lon beauticians visit various countries (such as United States, Paris, Italy, Belgium, and Hong Kong) with the aim of keeping their skills abreast of the latest developments and technologies in the beauty and skincare industry.
The Treatment: You can choose from a treatment menu that covers face treatments, eye treatments, body treatments, massages, treatments for him, as well treatments for hand & feet.
For facial area, the individual treatment include White Lumination Brightening Radiance Treatment, Acnipur Blemish Solution Treatment, Citylife Anti-Pollution Skin Freshness Treatment, and Pioneer Treatment Youth Revealing
Check them out at:
Location: Blk 304, Choa Chu Kang Ave 4, #01-661, Singapore 680304
Hotline: +65 6242 0013
Website: https://thespa-lon.com/
#9 The Ultimate Resort Spa
Introduction: The Ultimate Resort Spa is a spa in Singapore that is located within Bukit Batok Civil Service Club. It is one of the biggest names in Singapore's spa directory. The Ultimate Resort Spa is nestled amidst the lushness of nature and rich foliage. Spreads over 8,000 square feet of serenity, this is one spa that exudes total tranquility and calmness where they offer relaxing and high quality services.

Journey into an oasis of pure relaxation the moment you step into this minimalist-styled spa that is coupled with nature-derived accents. Experience the peace and harmony in their standalone couple pavilions set on the tropical hillside. With untouched natural surroundings that form the picturesque backdrop as you indulge yourself, this is truly the perfect retreat from the everyday stresses.
The Treatment: The Ultimate Resort Spa provides 3 main services- Facial, Spa and Massage that includes services such as Oxygen Face Spa Diamond Whitening System Face Spa and Shiatsu Massage. Their signature best anti-aging facial C+C vitamin face spa is an award winning treatment in the Singapore Women's Weekly Spa Awards. Serving up the ultimate vitamin cocktail to your skin in the form of Natura Bissé C+C Vitamin Face Spa, this contains a powerful dose of Vitamin C to counter the impact of free radicals, resulting in radiant and firm skin.
Check them out at:
#10 Ucara Spa
Introduction: UCARA is a skin care brand that focuses on your skin's health and balance, where they introduce beauty experience of "botanical healing, inner harmony". Incorporated in 1987, they were previously known as "Pretty Care", where they specialized mainly in facial services using the finest herbal and floral ingredients. Over the years, the company has shifted into a new brand identity along with a new contemporary lifestyle concept.
The Treatment: Beautiful skin begin with facial care. You can try their Enhanced face which help your skin retain moisture and reduce comedones and black head.
Ucara Spa treatments are unhurried as hurrying hurt the skin. Results do not come instantly, because those just instantly fade. Techniques are non-invasive, just as they are never forceful in their recommendations. Botanical blends are formulated to act gently and effectively in due course. Wherever you are on the path to beauty, continue the journey together with them.
Check them out at:
Location: Blk 253, Choa Chu Kang Ave 1, #01-18, Keat Hong Shopping Centre, Singapore 680253
Hotline: +65 6766 2228
---
INTERESTED TO BE FEATURED ON THIS LIST?
If you are interested to be featured in Tropika Club's top picks, do write to us via our email. Tropika Club will do a comprehensive review of your treatments and customer journey as part of our verification and validation process.
---

Tropika Club Magazine – Tropika Club Magazine crafts articles on all things Singapore, but with a greater emphasis on local businesses based on our #SupportLocalSG initiative. We check out and feature local businesses of all categories, ranging from your neighbourhood hawker stalls to the aesthetic clinics in town. We also cover local content ranging from beauty, lifestyle, places, eats and what's on in SIngapore. Our Top 10 rankings include local food and service establishments based in different regions in Singapore.
Tropika Club Deals – Search for the best voucher and coupon deals. Tropika Club Deals is ideal for customers who want to discover the best deals without having to commit to a specific appointment date and time. Choose from guaranteed discounted deals in the categories of hairstyling, hair removal, facial & aesthetics, body slimming, brows & lashes, nails & makeup, massage & spa or fitness & wellness. Customers can also buy vouchers as gifts or to use for the future.