Top 10 Hair Styling Salons in Northern Singapore
Looking for a Great Salon for Your Hair Styling Needs? We have the Top Picks.
Who said heartlanders can't have swagger? There are quite a few top-notch hair salons in North Singapore for colouring, highlights, balayage and dip-dye. Don't let anyone near your hair until you've read this. The Tropika Club team travels north to Toa Payoh, Bishan, Ang Mo Kio, and even to Sembawang and Yishun to compile this list of great hair styling places in northern Singapore. Try them out!
---
No Time to Read? Here's a Snappy Summary of This Article
Introduction: The article lists the top 10 hair styling salons in northern Singapore for colouring, highlights, balayage, and dip-dye.
DF Salon: A salon that uses natural and sustainable ingredients for hair colouring, perm, straightening, treatment and spa.
De Arte Hair Studio (Northpoint): A premium salon that specialises in hair styling, colouring, retexturing, treatment and scalp treatment.
Three Hair Salon: A salon that offers creative and trendy hair services such as balayage, ombre, highlights and perm.
VESURE Hair Therapy: A salon that provides hair loss solutions and scalp treatments using natural herbal extracts and advanced technology.
Salon #1: A salon that offers professional hair services such as cut, colour, perm, rebonding and treatment at affordable prices.
K1 Salon: A salon that provides quality hair services such as cut, colour, perm, rebonding and treatment with experienced stylists and premium products.
Alan & Guys: A salon that offers a range of hair services such as cut, colour, perm, rebonding and treatment with a focus on customer satisfaction and innovation.
Cross Hair Salon: A salon that provides personalised hair services such as cut, colour, perm, rebonding and treatment with skilled stylists and quality products.
Crescendo Hairdressing: A salon that delivers professional hair services such as cut, colour, perm, rebonding and treatment with a passion for excellence and creativity.
Estilo Studio: A salon that offers stylish and fashionable hair services such as cut, colour, perm, rebonding and treatment with a friendly and cosy atmosphere.
#1 DF Salon
Introduction: DF Salon is founded in 1995, named after a loving couple Doris and Francis. Only till 2011, Collin; join DF… Collin begins his hairdressing career in the year 2000 after he graduated from hairdressing school as he found his passion in hairdressing during the course. His continuous persuasion in the Art of Hair leads him to great opportunities & excel quickly. Through the years, he gains precious experience as a hairdresser in major hairdressing salons like Mahogany and as the vice-principal of International Hairdressing School. After several years he pursue further in the hairdressing industry to sharpen his skills and widen his exposure; he was invited to join international companies like AVEDA and DAVINES (International Brands) which gave him the opportunity to learn international exposure in the Art of Hair as well as handling Hair care solutions.
The Treatment: DF Salon provides services to take care of the customer's hair image and hair health. Other than the general haircut that may be found in many salons, Their core services are in hair coloring, perm, straightening, hair treatment, and hair spa treatment. As far as possible the above services use natural and sustainable ingredients. In addition, they have a retail area for customers' home care where they may also take care of their own and their family's hair well-being at home. Their products are mainly Davines which is also a homegrown company from Italy, developed and manufactured in Italy. They do the extra mile with the influence of Davines on being environmentally friendly.
Check them out at
Location: Blk 116, Bishan Street 12, #01-30 Singapore
Hotline: +65 6353 6589
Website: DF Salon
---
#2 De Arte Hair Studio (Northpoint)
Introduction: Established in 2010, it bills itself as a one-stop full-service salon. De Arte Hair Studio is a premium salon that's no stranger to the exacting standards of Singapore's hair industry in their extensive array of hair treatments. They specialize in hair styling, hair coloring, retexturing, hair treatments, and scalp treatments.
The Treatment: Give your hair a proper fix-up with the 5-Step Intensive Restructure by De Arte Studio. Or, add a subtle flair for your locks with the Creative Highlight – Ombre/Balayage.
Check them out at:
Location: 1 Northpoint Drive, Northpoint City South Wing, #B1-172/173, S7680195
Hotline: +65 6254 3255
Website: De Arte Hair Studio
---
#3 Three Hair Salon
Introduction: Founded in 1988 by Sally Ong, Three Hair Salon was originally named Shufen Unisex Beauty and Hair Salon. After 28 years in operation, it was renamed Three Hair Salon by Heidi Huang, the youngest of Sally's three daughters. The two now work together in the same salon, serving customers from both ends of the age spectrum.
The Treatment: Definitely one of the best services that give an analysis of customer hair conditions and recommend ideas and products to better maintain hair conditions. All staff are highly skilled and polite. Three Hair Salon takes great care of its customers' needs very well and would suggest hairstyle that suits the face and style. They also provide Colour/Perm/Styling/Hair and Scalp treatment
Check them out at
---
#4 VESURE Hair Therapy
Introduction: Their primary mission is to provide the highest level of customer service to each client, thereby establishing a long-lasting relationship of trust and commitment. VESURE has a long history in the hair and scalp care industry. Its first generation of herbal-based products was developed in 1993 and its commitment to continuously improve its product has given rise to its current 3rd generation of products. VESURE Hair Therapy is delighted to bring VESURE to Singapore, adding to its presence in Taiwan, South Korea, Hong Kong, and China. Quality products, modern technology, and precise practice are common in all our services. They aim to provide a holistic approach to hair and scalp care.
The Treatment: Building on its strong foothold in TCM, VESURE blends modern technology with rigorous scientific research to formulate a comprehensive suite of products and associated treatments, targeting common hair loss, grey hair, scalp, and hair problems. All products and treatments are developed through empirical research and clinical trials conducted in established Hair and Skin Research Centre.
Check them out at:
Location: Ang Mo Kio Central Ave 6 Blk 714 #01-4012 Singapore
Hotline: +65 6259 0977
---
#5 Salon #1
Introduction: Salon One is dedicated to service and value. All of their licensed specialists sincerely enjoy what they do and it is reflected in the smiles and repeat businesses of their clients. They promise individual attention and great value for all of their customers. At Salon One they use and offer their clients the very best in hair care products. They passionately care about your hair services and the integrity of your hair.
The Treatment: They have highly trained staff with professional and expert-level stylists, all continuously receiving education to ensure that they are up to date with the latest trends and techniques. The stylist creates new hair looks with cuts, blow-dry, deep conditioning, and additional artistic colour treatments.
Check them out at:
Location: Blk 513 #01-518 Bishan Street / 13 & 53 Ang Mo Kio Hub #02-04/05 / Blk 520 Toa Payoh Lor 6 #01-54 (1.29 km) 570513 Singapore
Hotline: +65 6356 6618
Website: https://www.facebook.com/Salon1.sg/
---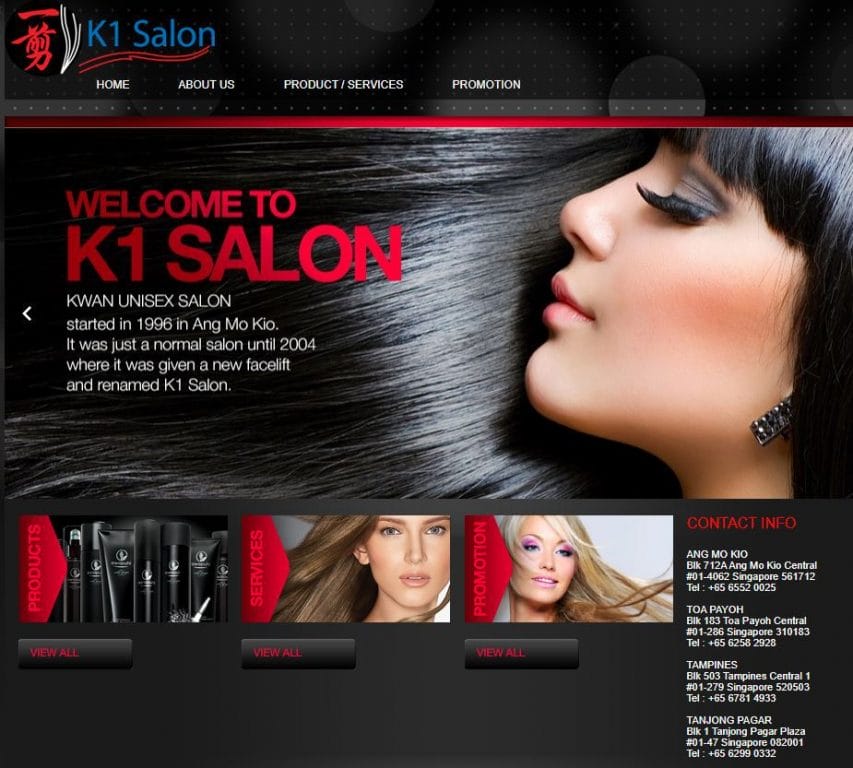 #6 K1 Salon
Introduction: Kwan Unisex Salon started in 1996 in Ang Mo Kio. It was just a normal salon until 2004 when it was given a new facelift and renamed to K1 Salon.
The Treatment: Its services include hair cut, hair wash, hair colouring, perming, rebonding, digital perm, hair treatment, and scalp treatment. In 2009, new technologies and techniques were introduced like new hair and scalp treatment.
Check them out at: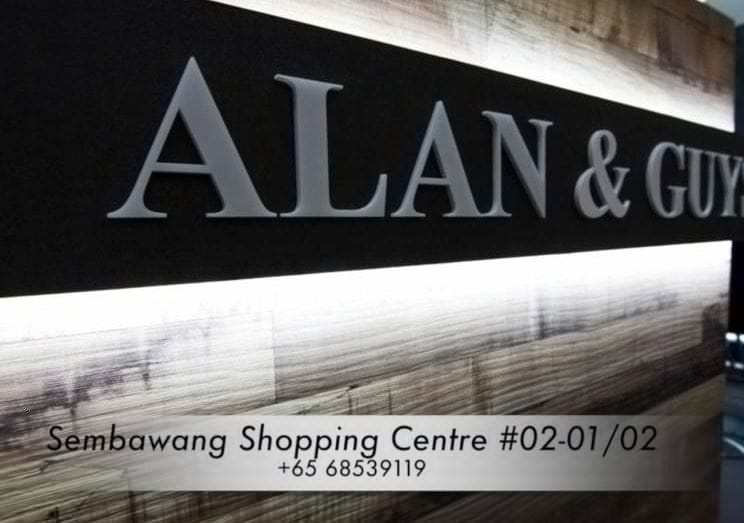 #7 Alan & Guys
Introduction: Established in 1999, Alan and Guy's 1st salon began in Sembawang Shopping Centre, with just 3 stylists including Alan himself. Over the years, the successful operations of their chain of hair salons provided them with invaluable experience and knowledge of the needs and demands of the profession. Striving to not only create but also to stay updated with current trends, their team travels and constantly upgrades themselves to bring you the greatest and the latest
The Treatment: If you are lazy to move out too far from your comfortable home in Sembawang, Alan & Guys Hair Salon at Sembawang Shopping Centre looks like a safe place to try! With male haircuts costing $15(cut only) and friendly hairstylists, Alan & Guys looks like a no-frills option for a haircut – almost like a $10 QBhouse except that you can make appointments and choose stylists beforehand. It's a neighbourhood salon so don't expect exceptional service or luxurious decor. Still, the salon is so popular, it expanded from its flagship outlet in Sembawang to Yishun, Clementi and Hougang. Looks like there's certainly something here! Alan and Guy provide 3 main services in Singapore which are colouring, styling and scalp treatment.
Check them out at:
Location: Sembawang Shopping Centre 604 Sembawang Road #02-01/02 Singapore 758459
Hotline: +65 6853 9119
Website: http://www.alanhairgroup.com
---
#8 Cross Hair Salon
Introduction: Since our establishment in 1994, Cross Hair Salon has grown from strength to strength. Having won numerous awards in prestigious hairdressing competitions worldwide, we have earned the confidence of our clients
Besides being a common sight at these hair-styling contests, Cross Hair Salon had also been a winner on numerous occasions. This fame and joy had been hard-earned due to the amount of preparatory work needed. However, it also brought about new levels of confidence in their ability and inspired them to showcase their skills abroad as they participated in international competitions in Malaysia, China and even Japan. During these competitions, they even won the reputable Grand Winner Sakura award in Japan. These competitions enabled them to learn from their fellow hair stylists and inspired them to reach greater heights. This certainly is reflected in their motto as they aim at constant improvement, keeping up with, as well as setting new trends by showcasing only their best.
The Treatment: Hair Spa Treatment, Styling Service, Cut & Wash, K-Gloss Hair Treatment.
Check them out at:
Location: Blk 934 Yishun Central 1 #01-55 Singapore, Singapore 760934
Hotline: +65 9730 1846
---
#9 Crescendo Hairdressing
Introduction: Crescendo Hairdressing, a L'Oréal Professional hairstylist, welcomes you for a unique and unforgettable salon experience. Choose the nearest Crescendo Hairdressing outlets to you at Far East Plaza, Changi City Point, Djitsun Mall and Waterway Point.
The Treatment: Crescendo Hairdressing in Singapore offers unique solutions and the latest trends in haircuts, hair colour, care and styling for a total look. Trust the professional expertise of your hairdresser in Singapore or read Crescendo Hairdressing reviews to know how good the hair salon is In your Singapore hair salon, you'll find the innovative L'Oréal Professionnel products. For services ranging from pro-keratin treatments to new permanent hair colour or balayage, you will find all the professional products to achieve the best trendy haircuts and look for your hair in Singapore. At Crescendo Hairdressing you can get the Loreal hair treatment at a Groupon price of $18 and topped-up $25 for the mist and light therapy machine. The mist is produced in smaller particles than steam so it is able to penetrate hair follicles better. For light therapy, there is a choice of blue or red, which target different problems.
Check them out at:
Location: 5 Ang Mo Kio Central 2 Djitsun Mall Singapore 569663
Hotline: +65 6758 0323
---
#10 Estilo Studio
Introduction: Estilo means style in Spanish and our mission is to bring out your style whatever it may be #daretoestilo. They pride in bringing out your style hence their slogan "Your Estilo, Our Pride" #yourestiloourpride Estilo Lead Stylist Jessica has more than 10 years of experience as a hairstylist. Before setting up Estilo Studio, She was a senior hairstylist at a major hair services group in Singapore for more than 7 years. She has been trained in using and styling American, European and Japanese Hair Products. Wanting to pursue her dream of having an integrated beauty services hub of hair, mani/pedi, and facials and inspired by recent trends of young entrepreneurs going into the heartlands serving restaurant food, she decided to take the plunge and bring her expertise and skills to the heartlands as she believes everyone should have the opportunity to showcase their style. #myestilo
The Treatment: Providing professional, high quality and creative hair services in the heartlands. Hair Plays a Significant part in Everyone's Appearance, they are experienced and well trained with herSkilful Hands & Creative Minds. They offer Hair colour, All Creative Colouring will be at $188 Nett only, you will get! 1) Unlimited Bleaching 2) Unlimited Colour 3) Unlimited Scalp Protection 4) Unlimited Hair Protection ( Limited to only 5 customers per day.) K Gloss Hair Treatment The latest professional hair smoothing system.$158 for all lengths for the first 20 customers.
Check them out at:
Location: 532 Ang Mo Kio Ave 10 #01-2479 (9.00 km) 560532 Singapore
Hotline: +65 9176 0556
---
Conclusion
If you live in the north of Singapore, you don't have to travel far to find a great hair salon. Whether you need a simple haircut, a stunning colour change, or a relaxing scalp treatment, there's a salon near you that can cater to your hair needs. We've rounded up the top 10 hair styling places in northern Singapore that offer professional services, quality products, and friendly staff. From Bishan to Yishun, these salons will make you feel pampered and confident with your new hairstyle. So go ahead and book an appointment with one of these salons today and get ready to rock your new look!
Frequently Asked Questions (FAQ)
Q: What are the benefits of hair colouring, highlights, balayage and dip-dye?
A: Hair colouring, highlights, balayage and dip-dye are different ways of adding colour to your hair to enhance your appearance, express your personality, or change your mood. Hair colouring can cover grey hair, brighten dull hair, or create a dramatic effect. Highlights can add dimension, depth, and contrast to your hair. Balayage is a technique of hand-painting colour onto the hair to create a natural-looking gradient effect. Dip-dye is a method of dipping the ends of the hair into a different colour to create a sharp contrast.
Some of the benefits of these hair colouring techniques are:
They can make you look younger, fresher, and more vibrant.
They can complement your skin tone, eye colour, and facial features.
They can boost your confidence, self-esteem, and happiness.
They can allow you to experiment with different styles, trends, and colours.
They can protect your hair from sun damage, pollution, and heat styling.
Q: How to choose the best hair salon for your hair needs?
A: Choosing the best hair salon for your hair needs can be a daunting task, especially with so many options available in Singapore. However, there are some factors that you can consider to help you narrow down your choices and find the salon that suits you best. Some of these factors are:
The reputation and reviews of the salon. You can check online platforms such as Google, Facebook, or Tropika Club Magazine to see what other customers have to say about their experiences with the salon. Look for positive feedback, ratings, and testimonials that indicate the quality of service, products, and results.
The location and accessibility of the salon. You may want to choose a salon that is convenient for you to reach by public transport or car. You may also prefer a salon that is close to your home or workplace, or in an area that you frequent. Alternatively, you may be willing to travel further for a salon that offers exceptional service or value.
The services and prices of the salon. You should look for a salon that offers the services that you need or want for your hair. For example, if you are looking for hair colouring, you may want to find a salon that specializes in that technique or has a wide range of colours to choose from. You should also compare the prices of different salons and see which one fits your budget and expectations. You may want to look for promotions, discounts, or packages that can save you money or give you more benefits.
The stylists and atmosphere of the salon. You should look for a salon that has professional, experienced, and friendly stylists who can understand your needs and preferences and give you honest advice and recommendations. You should also feel comfortable and relaxed in the salon environment, which should be clean, hygienic, and well-equipped.
Q: How to take care of your hair after colouring?
A: After colouring your hair, you should take extra care of it to maintain its health and vibrancy. Here are some tips on how to take care of your coloured hair:
Use shampoo and conditioner that is specially formulated for coloured hair. These products can help preserve your colour, prevent fading, and nourish your hair. Avoid using harsh or clarifying shampoos that can strip away your colour or damage your hair.
Protect your hair from heat styling and sun exposure. Heat styling tools such as blow dryers, curling irons, or straighteners can dry out your hair and cause colour fading or breakage. Sun exposure can also bleach your hair and make it dull or brassy. You should use heat-protectant products before styling your hair and wear a hat or scarf when going out in the sun.
Hydrate and moisturise your hair regularly. Colouring can dehydrate your hair and make it brittle or frizzy. You should use hydrating and moisturising products such as masks, oils, or serums to restore your hair's moisture balance and elasticity. You can also visit a salon for professional treatments such as keratin or deep conditioning.
Trim your hair every few weeks. Colouring can cause split ends or uneven growth in your hair. You should trim your hair every six to eight weeks to get rid of damaged ends and keep your hair healthy and neat.
Q: Where can I find more information about the top 10 hair styling places in northern Singapore?
A: You can find more information about the top 10 hair styling places in northern Singapore by visiting their websites, social media pages, or online platforms. You can also contact them directly by phone, email, or online booking to inquire about their services, prices, or availability. Alternatively, you can read more about them in Tropika Club Magazine, where you can find detailed descriptions, reviews, and ratings of each salon. You can also browse other articles in Tropika Club Magazine to discover more beauty and wellness tips, trends, and deals in Singapore.
---
INTERESTED TO BE FEATURED ON THIS LIST?
If you are interested to be featured in Tropika Club's top picks, do write to us via our email. Tropika Club will do a comprehensive review of your treatments and customer journey as part of our verification and validation process.
---
Meanwhile, check out Tropika Club's Ecosystem of Websites

Tropika Club Magazine – Tropika Club Magazine crafts articles on all things Singapore, but with a greater emphasis on local businesses based on our #SupportLocalSG initiative. We check out and feature local businesses of all categories, ranging from your neighbourhood hawker stalls to the aesthetic clinics in town. We also cover local content ranging from beauty, lifestyle, places, eats and what's on in SIngapore. Our Top 10 rankings include local food and service establishments based in different regions in Singapore.
Tropika Club Deals – Search for the best voucher and coupon deals. Tropika Club Deals is ideal for customers who want to discover the best deals without having to commit to a specific appointment date and time. Choose from guaranteed discounted deals in the categories of hairstyling, hair removal, facial & aesthetics, body slimming, brows & lashes, nails & makeup, massage & spa or fitness & wellness. Customers can also buy vouchers as gifts or to use for the future.