Top 10 Best Perfumes For Women
The Top 10 Best Perfume for that Romantic Date
Sense of smell is one of the most important of the five senses. Sometimes, you can simply get attracted to someone because of your perfume. Generally, perfume is a mixture of fragrant aroma compounds or essential oil used to give the human body an agreeable scent. It is usually in liquid form and can used to give a pleasant scent to a person's body throughout the day. Besides, perfume also helps to boost up your confidence and makes you stand out from the crowd. In conclusion, adding fragrance to your daily routine can give you a positive personal investment. The Tropika Club team has rounded up Top 10 Perfume for Women. Read on!
---
1. Jo Malone London Lime Basil & Mandarin Cologne
Description: A modern classic and signature fragrance, this cologne features peppery basil and aromatic white thyme, bringing an unexpected twist to the scent of limes on a Caribbean breeze.
How to Use:
Step 1: Spritz generously onto your wrists, neck and pulse points.
Step 2: Wear alone or layer with another Cologne or your favourite Bath & Body products.
Pricing: $110 for 30 ml / $215.00 for 100 ml
Where to Find: Sephora
---
2. Lancôme La Vie est Belle Eau de Parfum
Description: Discover a life made even more beautiful with Lancôme La Vie Est Belle Eau De Parfum. Exude exceptional sophistication and let an uplifting aura emanate with this new feminine fragrance. Be in awe of the overflowing radiance this iris gourmand can give and realise that life is indeed beautiful. The juice is made with the most precious natural ingredients with a twist of gourmand. Combines the elegance of iris with the power of Patchouli and the sweetness of a gourmand blend for a deep, complex scent.
How to Use: Spray nozzle at pulse points, sides of the base of neck and both wrists.
Pricing: $150.00 for 50 ml
Where to Find: Sephora
---
3. Tom Ford Black Orchid Eau De Parfum Spray
Description: A luxurious and sensual fragrance of rich, dark accords and an alluring potion of black orchids and spice, TOM FORD's Black Orchid is both modern and timeless. Bottled in fluted, black-glass, Black Orchid makes an unforgettable statement of iconic style and worldly glamour.
How to Use: Spray once or twice on clean skin. Do not rub.
Pricing: $172.95 for 100 ml
Where to Find: Cosmetics Now
---
4. Gucci Bloom Gocce Di Fiori Eau De Toilette
Description: Presenting Gucci Bloom Gocce di Fiori, the new scent from the Gucci Bloom family that encapsulates the scenes and senses of Spring. Blended to convey the budding first days of the season, and the heightened rush of promise in everything new, Gocce di Fiori is a delicate Eau de Toilette rendition of the original Gucci Bloom fragrance. Ethereal and soft like the raindrops that fall in Spring, Gucci Bloom Gocce di Fiori is a light, fresh version of the original scent. Delicately perfuming the skin, the fragrance is reflected in its Italian name 'Gocce di Fiori', meaning flower drops. Gocce di Fiori is blended by master perfumer Alberto Morillas, who also created the other Gucci Bloom scents from the idea of Gucci's creative director Alessandro Michele. Instead of a classical fragrance pyramid construction of top, heart and base notes, Gucci Bloom Gocce di Fiori opens fully at once with a trio of highly-concentrated noble ingredients: Jasmine Bud extract, Natural Tuberose absolute and Rangoon Creeper—the flower that embodies the Gucci Bloom scent story's concept and name, as it changes colour from white, gradually darkens to pink then finally to red when it blooms.
How to Use: Spray on the skin for a thrill of pure freshness and sensuality.
Pricing: $198.00 for 50 ml
Where to Find: Sephora
---
5. Yves Saint Laurent Black Opium Eau de Parfum
Description: An oriental spicy fragrance for contemporary women. Sweet, creamy, delectable, warm, unique & captivating. Top notes of pink pepper, orange blossom and pear.
How to Use: Spray on the skin for a thrill of pure freshness and sensuality.
Pricing: $146.00 for 50 ml
Where to Find: Zalora
---
Read Also

Top 10 Best Facial Mist in Singapore



---
6. MARC JACOBS FRAGRANCE Daisy Eau So Fresh Daze Eau De Toilette
Description: This fragrance opens with luscious white peach and orchard blossoms, mingling to create a sense of comforting freshness. The Daisy Daze limited editions are a fresh and fruity twist on the classic daisy fragrances and offer an olfactive escape to an unexpected daisy universe.
How to Use: Spray on pulse points around the body to increase the longevity of the fragrance.
Pricing: $142.00 for 75 ml
Where to Find: Sephora
---
7. Byredo Velvet Haze Eau de Perfume
Description: Velvet Haze evokes the daze state attained in artificial paradises. The opulence of the scent embarks us in a psychedelic whirlpool. Along this exhilarating path, the sweetness of coconut water soon gives way to the feverish power of patchouli leaves. An experience of all senses that the velvety cacao and the wild musk enrich with their earthy envelope.
How to Use: Spray once or twice on clean skin. Do not rub.
Pricing: $214.80 for 50 ml
Where to Find: Lazada
---
8. ESTÉE LAUDER Beautiful Belle Eau De Parfum
Description: The fragrance of a thousand flowers. A rich blend of Rose, Lily, Tuberose and Orange Flower. Brightened with citrus, warmed by woods. This fragrance is romantic, carefree and irreverent. Fall head over heels for this irresistible blend of Lychee, Mimosa, Rose Petals, Orange Flower, Gardenia and Marzipan Musk.
How to Use: Spray onto the pulse points of your body.
Pricing: $48 for 6 ml / $101.00 for 30 ml
Where to Find: Sephora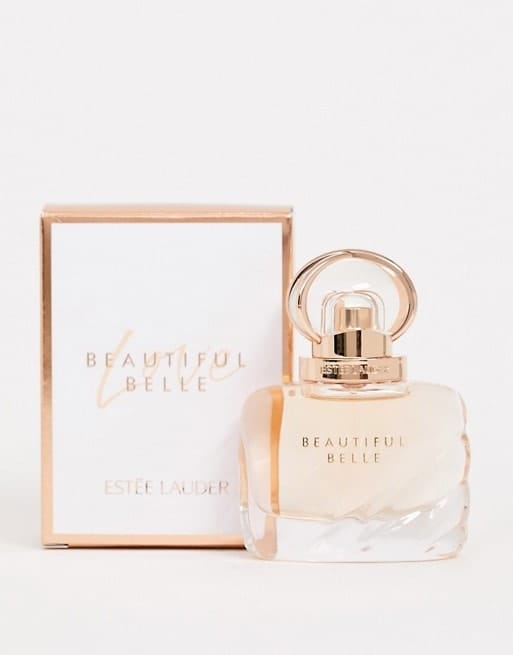 ---
9. Kenzo World Eau De Toilette
Description: A fruity floral eau de toilette of radiant and sensual Almond Blossom. This sparkling fragrance is for a woman who does not take herself seriously. Its lingering fragrant trail, led like a burst of laughter by the perfumer duo, Francis Kurkdjian and Maïa Lernout, offers an amazing fruity floral accord between sparkling pear, luminous peony and almond blossom, and feminine orris – a definitely feminine bouquet smiling at life.
How to Use: Spray onto the pulse points of your body.
Pricing: $83 for 30 ml / $116 for 50 ml / $142.00 for 75 ml
Where to Find: Sephora
---
10. Dior Miss Dior Blooming Bouquet Eau De Toilette
Description: A discreet and elegant glass bottle topped with a delicate pearl for a free and easy new approach to fragrance application. For fragrance touch-ups or perfuming on the go, Miss Dior Blooming Bouquet Roller-Pearl is as precious as a gem. A glass bead tip delivers just the right amount of fragrance right where you want it, with no waste. This floral bouquet pays homage to Christian Dior's legendary passion for flowers. At its heart lies the tenderness of a peony and Damascus rose accord honed by a radiant Calabrian bergamot. Its poetic trail is adorned with a lacework of white musks. A springtime floral signature for a playful and charming Miss Dior.
How to Use: Spray on the skin for a thrill of pure freshness and sensuality.
Pricing: $70 for 20 ml / $137 for 50 ml / $196.00 for 100 ml
Where to Find: Sephora
---
Got a Product to Suggest?
We need your assistance! Do you have a great experience with any products that fall into this category and would like to recommend for them to be listed? If so, do write to us via our email. Tropika Club will do a review of your recommendations and update the list accordingly.
Meanwhile, check out Tropika Club's Ecosystem of Websites

Tropika Club Magazine – Tropika Club Magazine crafts articles on all things Singapore, but with a greater emphasis on local businesses based on our #SupportLocalSG initiative. We check out and feature local businesses of all categories, ranging from your neighbourhood hawker stalls to the aesthetic clinics in town. We also cover local content ranging from beauty, lifestyle, places, and eats in Singapore. Our Top 10 rankings include local food and service establishments based in different regions in Singapore.
Tropika Club Deals – Search for the best voucher and coupon deals. Tropika Club Deals is ideal for customers who want to discover the best deals without having to commit to a specific appointment date and time. Choose from guaranteed discounted deals in the categories of hairstyling, hair removal, facial & aesthetics, body slimming, brows & lashes, nails & makeup, massage & spa or fitness & wellness. Customers can also buy vouchers as gifts or to use for the future.