Top 10 Restaurants in Novena Square Velocity
Novena Square Velocity is Singapore's dedicated sports and active lifestyle mall. Located atop of Novena MRT station, the mixed-use development comprises two blocks of offices in addition to the retail mall. They have plenty of variety when it comes getting delicious meals. So check out the Top 10 Best Restaurants in Novena Square for when you're in the area.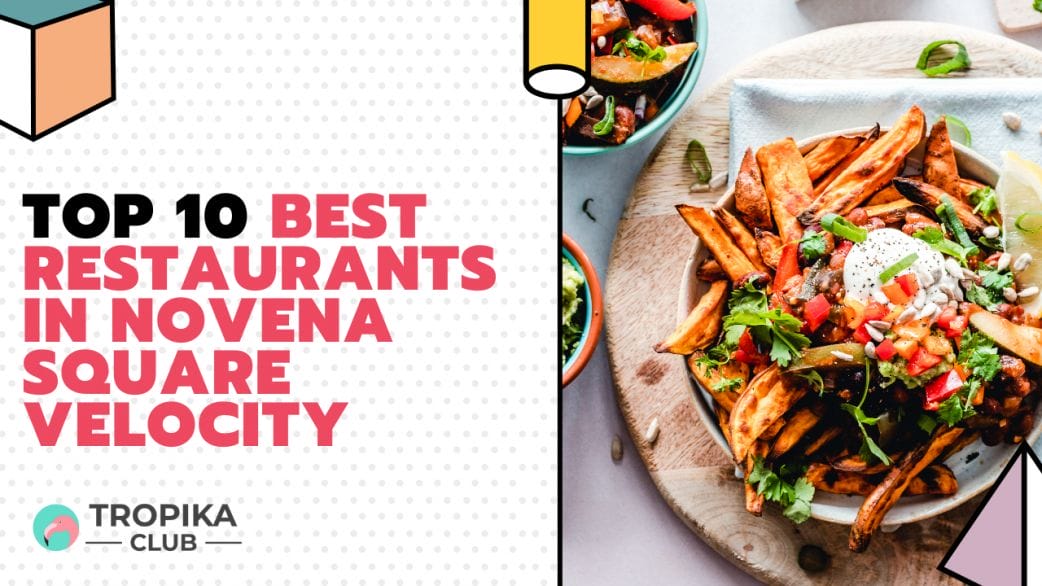 ---
1. Guzman Y Gomez
Introduction:
At GYG, they're all about the food. They pour passion into every ingredient their choose, where it comes from, and how it's prepared. This means you get real Mexican flavor in every bite. Their passion is creating delicious food out of real ingredients. Up to 24-hour marinades, chip-tasting sessions and chilies really get us going! They don't take shortcuts in their restaurants – they use fresh ingredients and authentic techniques. It's not always easy, but it's always worth it. ¡Buen provecho!
Offerings:
Location: 238 Thomson Rd, #01-68/69 Velocity @ Novena Square, Singapore 307683
Contact: +65 8499 0236
Website: https://www.gyg.com.sg/
---
2. Han's Cafe
Introduction:
Han's offers a wide variety of hearty and great-tasting food that comforts. Start your morning with our Set Breakfast, and fills your day with a selection from our Main Course Set Meals, Pasta, Local Favorites to Signatures dishes. With a whole range of quality menus at reasonable prices, Han's is a place for you to spend with your family, friends, and colleagues. Come home to Han's!
Offerings:
Fish & Chips
Spaghetti
Chicken Chop
Grilled Pork Chop
Location: 238 Thomson Rd, #01-19/21 Velocity @ Novena Square, Singapore 307683
Contact: +65 6708 6759
Website: https://hans.com.sg/
---
3. A-Roy Thai Restaurant
Introduction:
A-ROY THAI RESTAURANT is famous for its uncompromising dedication to authentic Thai cuisine. Most of the ingredients, such as herbs and spices, are delivered fresh from Thailand.
Every ingredient is carefully and meticulously hand-picked by the restaurant manager, conveying the love, care, and concern A-ROY THAI RESTAURANT has for its customers. This tradition of care and attention to detail is the cornerstone of A-ROY THAI RESTAURANT's success for the past quarter of a century. Every dish is prepared by a host of Thai chefs, each specializing in one area. Food preparation is mostly done by hand, and A-ROY THAI RESTAURANT uses only the freshest ingredients.
Offerings:
Click link for menu

Tom Yam
MANGO STICKY RICE WITH COCONUT MILK
Papaya Salad
Deep Fried Seabass with Fresh Herbs
Location: 239 Thomson Rd, #03-61/63 Velocity @ Novena Square, Singapore 307683
Contact: +65 6338 3880 / +65 6352 1446
Website: https://aroythai.com.sg/
---
---
4. Josh's Grill
Introduction:
A dining destination that offers the complete grill experience with premium cuts from high-grade beef meats to Grilled Chicken Chops, Josh's Famous Onion Rings, Fish & Chips, Prawn Aglio Olio, and sharing dishes like Porterhouse Steak and Tomahawk Steak. The promise of affordability and quality comes from sourcing and hand-selecting the best ingredients from the freshest seafood, and poultry to cut meat. Beautifully grilled marks showcase the delicate process of all meats cooked to order at low temperature for an hour, retaining their moisture, deep char, and smoky caramelized flavor.
Offerings:
Location: 240 Thomson Rd, #02-68/69/70/71/72 Velocity @ Novena Square, Singapore 307683
Contact: No contact number
Website: https://joshgrill.com.sg/
---
---
6. Curry Times
Introduction:
Established in 1956 along Mackenzie Road near the Rex Cinema, Old Chang Kee's humble beginnings are synonymous with the fond memories of Singaporeans, young and old, taking mouthfuls of curry that burst with flavourful enjoyment every bite, complemented with the crispy goodness of fragrant, freshly fried pastry.
Known affectionately as 'Rex curry puffs', people travelled from every corner of Singapore to get a taste of the perfect snack. Every curry puff was made with painstakingly prepared ingredients; succulent curried potatoes, bite-sized chicken nibbles, slices of boiled egg, mixed into a perfect combination of herbs and curry spices, creating the flawless flavor and texture that Singaporeans have come to love over the past five decades.
Offerings:
Location: 242 Thomson Rd, #02-33/34/41/42 Velocity @ Novena Square, Singapore 307683
Contact: +65 6354 3206
---
7. Cedele Bakery Cafe
Introduction:
Cedele's love affair with all things natural is substantial as we offer a delicious range of bread, cakes, pies, pastries, sandwiches, salads, soups, and desserts with no trans fat. And Celede uses organic unrefined sugar.
Offerings:
Location: 243 Thomson Rd, #01-01 Velocity @ Novena Square, Singapore 307683
Contact: No contact number
Website: https://www.facebook.com/profile.php?id=100068725366664
8. Lao Beijing
Introduction:
You will experience the new and improved flavors which draw inspiration from the essence of traditional classics. Dishes like Chow Mein, General Tso's Chicken, Sweet & Sour Pork, Chop Suey, and more. And to offer you a truly complete dining experience, just take a look around the restaurant to feel the vibes! Specially-designed wall art visuals lend a touch of fun and vibrancy to the dining space.
Offerings:
Location: 252 North Bridge Rd, Raffles City Shopping Centre, B1, #44M, Singapore 179103
Contact: +65 6358 4466
Website: https://www.laobeijing.com.sg/
---
9. Monster Curry
Introduction:
Their signature dishes include the Monster Combo Curry that serves up to two, the Cheese Pork Katsu, stuffed with fresh Mozzarella cheese, the protein-rich Natto and Egg Curry, and Pork Shabu-Shabu.
To give the curry sauce an extra kick, Monster Curry serves all its dishes at five different levels of spiciness, thanks to a hot sauce that is a concoction of chili padi, garlic, ginger, and celery.
Offerings:
Location: 245 Thomson Rd, #02-78/79 Velocity @ Novena Square, Singapore 307683
Contact: +65 6250 8235
Website: https://www.monstercurry.com.sg/
---
10. Poke Theory
Introduction:
Poke Theory is a fast food-first concept with its eyes set on health, balanced nutrition, and the all-important burst of delectable flavors.
Offerings:
Location: 246 Thomson Rd, #01-53 Velocity @ Novena Square, Singapore 307683
Contact: +65 6904 6010
Website: https://poketheory.com.sg/
---
Have a Place to Recommend?
We need your help! Do you know any other noteworthy places that deserves to be added to this list? If so, do write to us via our email. Tropika Club will do a review of your recommendations and update the list accordingly.
---
Meanwhile, check out Tropika Club's Ecosystem of Websites

Tropika Club Magazine – Tropika Club Magazine crafts articles on all things Singapore, but with a greater emphasis on local businesses based on our #SupportLocalSG initiative. We check out and feature local businesses of all categories, ranging from your neighbourhood hawker stalls to the aesthetic clinics in town. We also cover local content ranging from beauty, lifestyle, places, eats and what's on in SIngapore. Our Top 10 rankings include local food and service establishments based in different regions in Singapore.
Tropika Club Deals – Search for the best voucher and coupon deals. Tropika Club Deals is ideal for customers who want to discover the best deals without having to commit to a specific appointment date and time. Choose from guaranteed discounted deals in the categories of hairstyling, hair removal, facial & aesthetics, body slimming, brows & lashes, nails & makeup, massage & spa or fitness & wellness. Customers can also buy vouchers as gifts or to use for the future.