Top 13 Best Property Management Firms in Singapore
The Best Property Management Firms in Singapore are here to help property owners of all kinds. These property managers from these property management services can help you manage your property, be it your residential property, rental properties, or commercial properties! They also provide a wide range of property management services such as financial services, staff services, corporate relocation, and more. You can eve et a property management company to help with your property project management too.
---
1. Barringham International
About Company:
Barringham Singapore. Starting out with just five highly motivated individuals, they've steadily grown from their humble beginnings; they now employ more than 389 dedicated professionals and have become one of the region's leading international Strata Management Services firms.
They believe that success begins with service. Serving both commercial and residential property markets, Barringham International offers a complete range of strata, freehold logistics and industrial facilities management assistance and advice. Currently serving clients in Singapore, Malaysia, Australia, Dubai, Brunei, Indonesia and China, their goal is to build the very best international strata management company around. Every member of their professional staff has just one mission in mind – to provide each of their clients with the very best services available.
Contact: + 65 6466 4703
Location: 701, Geylang Road, #03-04, Teambuild Centre, Singapore 389687
Website: http://www.barringham.com.sg/
---
2. Benham & Reeves
About Company:
They opened their Singapore office in 1999 and it has been managed by Lynne Geeves since 2002. Together with her team of multi-lingual staff, she works closely with our London offices to provide a seamless property leasing and management service to Singapore-based clients with London investment properties. This ranges from organising a snagging and handover service for new-build properties, to arranging furnishing packages, sourcing fully referenced tenants and ongoing property management. Accounts and management queries can be addressed in their client's time zone by their personal, local property manager, without the need to make expensive overseas calls.
To provide you with current insights into the London property market, their Directors visit all their overseas offices on a regular basis to meet with clients. If you live in Singapore and have a property in London that you would like to let, please get in touch.
Contact: + 65 6463 6026
Location: 328 North Bridge Road, #02-24, Raffles Hotel Arcade, Singapore 188719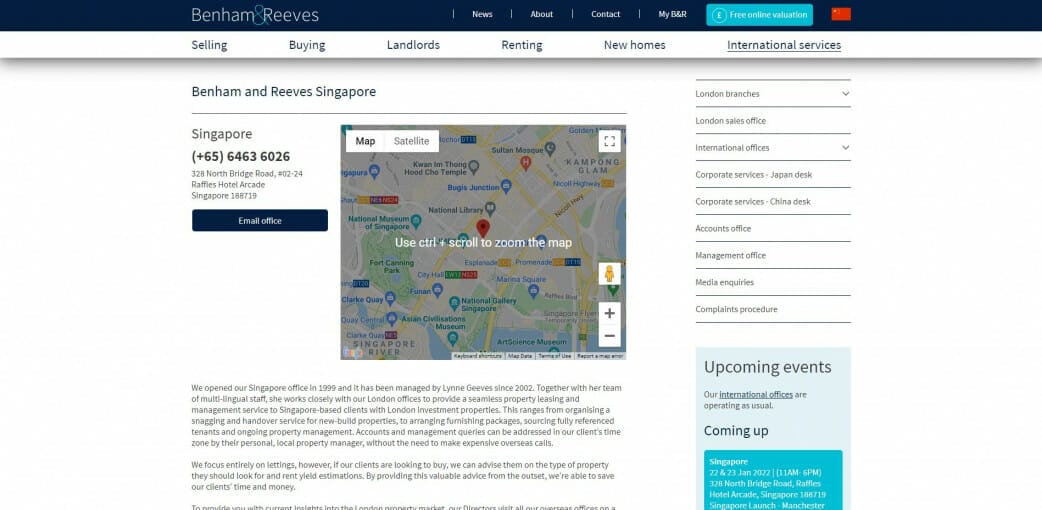 ---
3. Citiprop Property
About Company:
Established in 1980, Citiprop is a boutique real estate agency providing highly personalized services to their largely expatriate clientele. From a foundation in residential property leasing, Citiprop has expanded to offer property sales and purchases, property management, and corporate services.
Their international team includes realtors and support staff from around the globe, hailing from over twelve countries, speaking fifteen languages, and with more than a hundred years of combined experience in real estate, relocation, and property management.
Their mission is to serve their clients, be it Multi National Corporations or an individual, with the same excellence, professionalism, and dedication to achieving "Jia" – a congenial place to live.
Contact: + 65 6473 2777
Location: 22 Sin Ming Lane, #06-76 Midview City, Singapore 573969
Website: http://www.citiprop.com/
---
---
4. Hilandas Property & Facilities Management
About Company:
Despite being a newcomer in the industry since 3 March 2004, Hilandas is able to convince clients and achieve good result. Today, they are managing more than 25 projects of sizes ranging from 21 to 1093 units.
The success comes about from the strong belief of its founder, Ms Jasmine Yap who believes that every voice of her customers has to be, not only just being heard but also being felt. With this passion, she found Hilandas, shaping this dynamic property and facilities management firm, an office with talented and committed property professionals, and a brand which property owners are proud to call Hilandas their managing agent.
Contact: + 65 6342 0778
Location: 28 Sin Ming Lane #02-145 Midview City, Singapore 573972.
Website: http://www.hilandas.com.sg/index.htm
---
Read Also:
---
5. Asia Properties and Assets Consultancy
About Company:
Asia Properties & Assets Consultancy Pte Ltd is one of the fastest-growing real estate and property asset management companies in Singapore. They dedicate their time to understand your investments and provide management solution that best fits your needs through Asset, Tenancy and/or Strata Building Management. They aim to tailor services that suits your needs.
Contact: + 65 6802 3129
Location: 33 Ubi Ave 3 #02-55/56 Vertex Singapore 408868
Website: https://www.asiapty.com/
---
6. Absolut Properties Pte Ltd
About Company:
Absolut Properties provides a full-suite of property related services under the following specialisations:
Property Management;
Facility Management;
Asset Management;
Dispute Resolution.
Their dedicated team of multi-disciplinary professionals are committed in providing you with a wide array of building solutions, customised to your needs.
They uphold their mission to operate their business by serving with dedication, integrity and honesty. They strive to add value at every significant stage underpinned by your vision and ethos in providing you the best advice, solutions and service standards.
Absolut Properties' expertise in property, facility and asset management services extends to strata management, building audits, contracts management, project management, risk management, tenant mix management and health and safety management and beyond. They employ the highest industry standards in their work processes to ensure regulatory compliance, consistency and service excellence.
At Absolut Properties, they also provide dispute resolution services and the related services involved such as arbitration, mediation, expert witnessing and building surveying on matters related to real estate, building and the construction sector.
Location:
Absolut Properties Pte Ltd
8 Burn Road
#17-06 Trivex
Singapore 369977
Contact: +65 6702 6018
Website: http://www.absolutprop.com/
---
---
7. Teams Strata Management Services
About Company:
An acronym for (F)ITNESS (A)ND (ME), FAME.SG is a 24-hour fitness centre that wants to remind people that fitness itself is a personal relationship and journey between your own mind and body. The gym is fully furnished with fitness equipment that targets a variety of muscle groups, and also offers an array of yoga, Zumba, and Muay Thai classes. With that, FAME.SG aims to help you forge ahead in your personal fitness journey.
To ensure that everyone can access quality fitness, FAME.SG provides very attractive gym admissions, to as low as $12 for a single gym entry, and even lower during off-peak hours. You can also choose a monthly gym membership or a door-step Personal Training session. Find them at 231 Mountbatten Road.
Location: 194 Pandan Loop #07-02
Pantech Business Hub
Singapore 128383
Contact: +65 6440 7948
Website: https://www.teamssms.com/
---
8. Exceltec Property Management
About Company:
Exceltec was incorporated in 1997 and is a progressive Property & Facilities Management company in Singapore. The company provides a comprehensive suite of property related advisory and management services, empowered with technology and delivered through great service.
Their core range of services include:
Property and Strata Management Services
Integrated Facilities Management Services
Environmental & Cleaning Services
Project Management & Consultancy Services
Green Sustainability
Location: No. 2 Jurong East Street 21
#05-05 IMM Building
Singapore 609601
Contact: +65 6566 5055
Website: https://www.exceltec.com.sg/
---
9. A4 International
About Company:
A4 International Pte Ltd is a property, strata and facility management company with more
than 20 years of industry expertise. Their mission is to provide high standards of property and
asset management services at all times with a focus in meeting and delivering their clients'
needs and objectives. They envisioned to be a one stop solutions provider and to provide
tailored suit of services to their clients.
The company was formed in 1996 as a small proprietor firm to undertake 2 residential
projects. It was subsequently privatized in 2002 and continues to hold fast to the core values
of providing quality property and asset management for their clients.
Over the years, the company has sought to provide solutions and commitments to all their
clients. A4 International Pte Ltd is based on a creed that quality management services with
client-oriented objectives is the way to run estates and buildings effectively.
In addition to A4 International Pte Ltd being a licensed managing agent, they are also an
accredited managing agent as well as a member of Association of Strata Managers. Their
organization is capable of taking care of your property maintenance needs and upkeep
your estate in pristine condition in a cost effective manner. Their commitment is to make
your estate a safe and secure environment, strengthen its social cohesion and value-add to
potentially increase marketability and maximize returns for the owners.
Let them relieve you from the day to day management of your estate with our team of trained
professionals who are expert in their own fields.
Location: 60 Kaki Bukit Place, #02-10 Eunos Techpark Singapore 415979
Contact: +65 6441 1184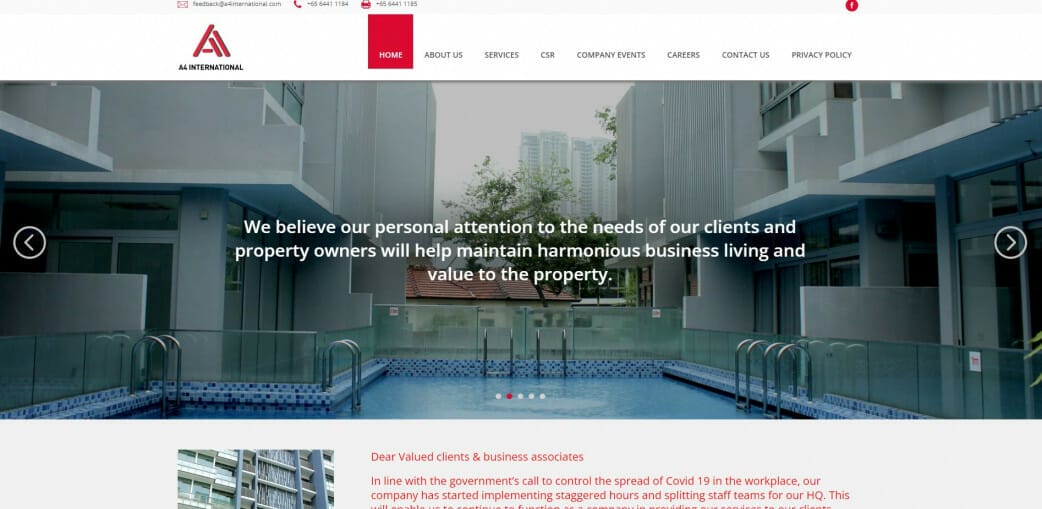 ---
10. First Services
About Company:
They work to ensure people's comfort at their home, and to provide the best and the fastest services at fixed prices. They stand for quality, safety and credibility, so you could be sure about their work.
They have been working for decades to improve their skills, to expand the spheres of their work and to using the latest tools, so you could receive better results. They strive to enhance their expertise, skills and use of high-tech technology.
Location: 100 Jalan Sultan Singapore 199001
Contact: +65 8585 3440 or +65 8199 9409
Website: https://www.1st.services/
---
11. Rhodo Property & Estate Management Services
About Company:
Rhodo Property & Estate Management Services Pte Ltd is an Estate Management Company established in 1994 by a group of professionals. Striving to preserve and increase the value of the properties managed by them over time, they share the same mission in delivering quality and professional Property & Strata Management and Integrated Facilities Management.
Location:
Headquaters: Blk 531 Upper Cross Street
#03-52 Hong Lim Complex
Singapore 050531
Regional Office: T-Space @ 1 Tampines North Drive 1
#08-57 & #09-57
Singapore 528559
Contact: +65 6533 3375
Website: https://rhodoem.com/
---
12. Savills Property Management
About Company:
Savills Property Management team have in-depth experience with professional advise in the area of Estate Management.
Their team of multi-disciplinary professionals provides property management and asset management services with proficient solutions, tailored to meet your expectations.

Their property management services cover all areas and asset types from large scale shopping centres, residential to industrial portfolios, their team can provide advice on a range of services from strata management to asset management.
Today, Savills Property Management manages over 43,000 units in 135 properties locally, including notable residential properties such as The Interlace and Orchard Scotts Residences, and assets such as Orchardgateway and Orchardgateway @Emerald.
Location: 30 Cecil Street,
20-03 Prudential Tower049712
20 Martin Road,
#03-01,
Singapore, 239070
Contact: Raffle Place: +65 6836 6888
Martin Road: +65 6346 3238
Website: https://www.savills.com.sg/
---
13. Abacus Property Management
About Company:
Abacus Property is an ISO 9001: 2015 accredited industry leader with portfolio value of more than S$10 billion, in excess of 70,000 units and 10,000,000 sf of residential, industrial commercial, hostel and government properties including Sports SG and SMU.
As national advocate, they reach out to government bodies on accreditation schemes, progressive wage model, internships and graduates support, training for both service buyers and working professionals.
They have developed and improved over time; a system of monitoring, check and balances that has given them an advantage to maintain a consistent quality assurance program to achieve better living standards for their clients.
Location: 1 Scotts Road
#22-11 Singapore 228208
Contact: +65 6511 1811 or Whatsapp +65 6511 1818
Website: https://www.abacusproperty.sg/
---
Have an Article to Suggest?
Tropika Club is always looking for new and exciting content to feature in their magazine and they value the input of our readers. If you have any noteworthy content or articles that you believe would be a great addition to Tropika Club's magazine, we are open to suggestions and encourage you to reach out to us via email at [email protected]. By doing so, Tropika Club values your expertise and knowledge in the matter and appreciates your willingness to help. We will review your recommendations and update our list accordingly
Meanwhile, Check Out Tropika Club's Ecosystem of Websites
Tropika Club Magazine – Tropika Club Magazine is a Singapore-based publication that features articles on a wide range of topics with a focus on local businesses and content for the region. The magazine emphasizes supporting local businesses through its #SupportLocal initiative, which includes coverage of everything from neighborhood hawker stalls to aesthetic clinics in town. In addition to highlighting local businesses, Tropika Club Magazine also covers a variety of local content, including beauty, lifestyle, places, eats, and what's on in Singapore and the Asia Pacific region.
Tropika Club Deals – Tropika Club Deals is a leading online deals and voucher shopping site in Singapore, offering amazing discounts on beauty, wellness, and fitness products and services. It's the perfect platform for customers who want to discover the best deals without having to commit to a specific appointment date and time. These deals are available at major beauty stores, facial salons, hair salons, and other brands in Singapore, with no minimum spend required. Choose from guaranteed discounted deals in the categories of hairstyling, hair removal, facial & aesthetics, body slimming, brows & lashes, nails & makeup, massage & spa or fitness & wellness. Tropika Club Deals is also ideal for customers who want to buy vouchers as gifts or to use for the future. So whether you're looking to save money on your next haircut or want to treat yourself to a relaxing massage, Tropika Club Deals has got you covered with the best voucher and coupon deals in Singapore!