Top 14 Great Cafes in Jurong, Singapore
Forget Chye Seng Huat Hardware and Wheeler's Yard, Westies can definitely get a great brunch and a cup of aromatic coffee at these Top Best Cafes in Jurong, and save the hassle of travelling all the way to the usual coffee hotspots along Bukit Timah Road, Upper Thomson, Tiong Bahru and Amoy Street. Jurong has its fare share of aesthetic cafes if you're on the hunt for a beauty shot at an Instagrammable cafe, Jurong East has its fair share of beautiful cafes with an extensive menu, serving their own blend of specialty coffee, comfort food—and even chilli crab. Just imagine, acool cafe in Jurong that lets you enjoy your cup of coffee amidst verdant, lush greenery. Be it French cooking or Korean food, here are some of the Top Best Cafes in Jurong.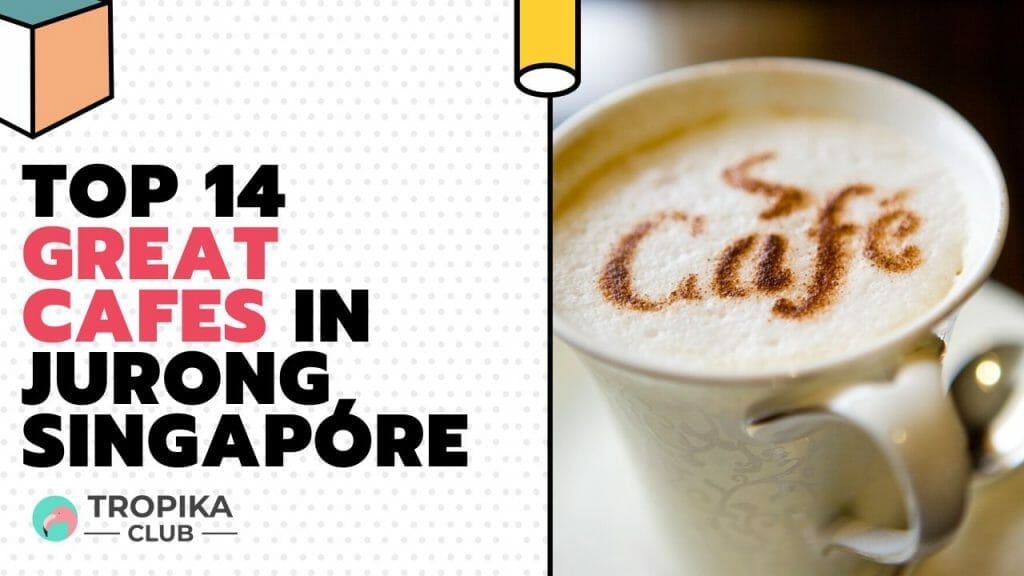 ---
1. Bojio Cafe
Introduction: A lovely family-owned café located in the heartland of Tampines. Their homemade Ice Creams, Waffles & Toasts are pleasant for the young generation to the senior citizens. A healthier choice for delicious desserts venue that allows friends and families to Meet & Melt together in happiness. Their top priority remains with creating a healthier & desirable dessert for people.
Offerings:
Highlight:

Original Lava Toast
Raclette Cheese Toast
Charcoal Lava Toast
Shibuya Toast
Location: 3 Gateway Drive, #02-28, Westgate, Singapore 608532
Contact: +65 8742 1688
View this post on Instagram
---
2. Smoocht Pantry
Introduction: Smoocht Pantry Located within the creative enclave of Bold At 319 in the east of Singpoare, Jurong Yuhua district. They set up by its namesake, Smoocht, serves up fun and mouthwatering plant-based desserts and light bites. While enjoying their good food, please do not forget to explore the adjacent spaces and other offerings this community node has to offer!
Offerings:
Highlights from Menu include

Champion Brunch
Shrooms Avocado Toast
Sweet Maple Berry Cereal
Cheezy Blackpepper Burger
Classic Chocolate Brownie
Location: Multiple Locations.
Contact: Multiple Contacts
View this post on Instagram
---
3. Time Table Cafe
Introduction: A café in the neighborhood of Jurong west area makes it easier for a group of friends to gather and chit chat over some food away from hectic city. It's convenient and a good alternative to keep ourselves out of the bustling malls.
Time Table Café is a humble family-oriented and simple café with great service and food for all age group. They serve affordable western cuisine and beverage such as Chicken Alfredo at $7.90, sirloin steak at $15.90, Red Grapefruit Mojito at $5.60 (Large), Mango Mint at $5.60 (Large) and many others. Enjoy delicious desserts and freshly brewed coffee over with warm hospitality over at their café.
Offerings:
Highlights from Menu include

Salted Egg Yolk Crayfish Spaghetti
Chicken Cordon Bleu
Grilled Chicken Salad
Red Grapefruit Mojito
Mango Mint
Location: Jurong West Street 41, #01-726 Block 456, Singapore 640456
Contact: +65 6566 5088
Website: https://timetablecafe.getz.co/?StoreID=6de8bf31-426b-4208-8092-ef1db3abeaa4&Service=PickUp&lang=EN
View this post on Instagram
---
---
4. Lady M
Introduction: Lady M® New York is the pioneer of the well-loved Mille Crêpes cake. The Signature Mille Crêpes features no less than twenty paper-thin handmade crêpes layered with ethereal light pastry cream, gently caramelized on top until golden. With the combination of French pastry techniques with Japanese etiquette of precision, Lady M New York prides itself on creating the freshest and finest cakes and confectionary desserts in the world. Since opening its first 600 square feet cake boutique in New York's Upper East Side in 2001, Lady M New York has assembled a phenomenal little black book of fans around the world and internationally.
Offerings:
Highlights from Menu include

Rose Mille Crepes
Green Tea Mille Crepes
Salted Caramel Mille Crepes
Royal Milk Tea Mousse
Pistachio Mille Crêpes
Location: Multiple Locations.
Contact: Multiple Contacts
Website: https://ladym.com.sg/
View this post on Instagram
---
5. Nunsaram Korean Dessert Café
Introduction: Do you miss Korea especially the nice Korea food and dessert? If Yes, let's come to Nunsaram Korean Dessert Café! Nunsaram means "snowman" in Korean terms, which they are offering variants flavor of Bingsu. The owner of Nunsaram (the owner of Korean BBQ restaurant K Cook as well) stressed that Nunsaram is a "real Korean dessert café". Besides having Korean desserts, they also have other korean food that will satisfy their customer who miss korea or from korea.
Offerings:
Highlights from Menu include

Injeolmi Bingsu
Special Tteokbokki
Injeolmi Toast
Original Gimbap
Choco Banana Bingsu
Location: Multiple locations
Contact: +65 9664 2574
View this post on Instagram
---
Read Also:

Top 22 Great Cafes in Punggol, Sengkang
---
6. Venture Drive Coffee
Introduction: Venture Drive Coffee is a hidden minimalist café in Venture Drive which is located 5 minutes walk from the Jurong East MRT. Venture Drive Coffee is mostly painted white, and its brewery area is kept clear as can be. For coffee lovers, black coffee, white coffee, or Mocha are suggested. For non-coffee drinkers, they do serve tea as well, so here will be the ideal place for friends and family to hangout and have a wonderful time. The space is decked in monochromatic hues, with a sleek bar which allows the customer to watch how the barista makes their coffee.
Offerings:
Highlights from Menu include

Raspberry Rose Brownie
Iced Latte with Oat Milk
For Specialty Coffee in the West
8oz White & Black
Location: 2 Venture Dr, Vision Exchange #02-41 Singapore 608526
Contact: Multiple Contacts
Website: https://www.venturedrive.coffee/
View this post on Instagram
---
7. Good Coffee Please
Introduction: The idea came about after the usual get together sessions among friends with the owner. Coincidentally, one of the friend was in the healthcare industry and was complaining about the lack of good coffee available in hospitals. The owner did not think much about it until a few years later they had an opportunity to start their café in a hospital. There is something for everyone at Good Coffee Please Café! The café are a takeaway café that serves handcrafted coffee, gourmet sandwiches and lovely cakes/pastries at a much more affordable price.
Offerings:
Highlights from Menu include

Butter Croissant
Ondeh Cake
Mini Swiss Roll
Jalapeno Tuna Sandwich
Mini Danishes
Location: 1 Jurong East Street 21, #02-28, Ng Teng Fong General Hospital Tower A, 609606
Contact: +65 6635 8708
Website: https://www.good-coffeeplease.com/
View this post on Instagram
8. Poppy Pops
Introduction: Poppy Pops was created since 2016 because of their passion on ice cream. Their target is to bring the most unique and fresh ice cream to their customers of all group age, and it's something they hope to be doing for years to come. Poppy Pops make unique and delicious flavours that will leave their customer wanting and desiring for more. Come down and meet them!
Offerings:
Highlights from Menu include

Brown sugar raspberry
Caramel coffee & cookie
Chilli Mango
Black sesame miso caramel
Thai milk tea coconut fudge
Location: 50 Jurong Gateway Rd, #06-03 Jem, Singapore 608549
Contact: +65 6262 0339
Website: https://www.poppypops.co/
View this post on Instagram
---
9. Cafe O
Introduction: CAFE O concept is conceived to be a showcase of Singapore's unique coffee shop culture whereby all locals will find comfort & familiarity with – think of "kopi O, Teh Tarik, Roti Prata etc". The proposed design concept for CAFE O is based on a reinterpretation of the traditional Singapore coffee shops of days gone by. Customers can expect to enjoy their kopi-siew-tai & half boiled eggs while seated on traditional coffee shop timber chairs or 1950's style formica bench over mosaic tiled floor. CAFE O aspires to be a truly unique concept to showcase Singapore's unique multi-racial culture & most importantly for all Singaporeans & visitors to enjoy.
Offerings:
Highlights from Menu include

Signature Nasi Lemak
Roti Prata
Nasi Briyani
Kopi O
Location: Multiple locations
Contact: +65 6262 0339
View this post on Instagram
---
10. Ned's Crepe
Introduction: If you are looking into a food stall that is humble and able to provide pleasant experience with their menu featuring a variety of delicious dessert, Ned's Crepe is the one of the best choices. They presents a wide selection of handmade soft chewy crepes and crispy crepes, cheesecakes, fruit cup and crepe cakes. They will only using freshest and most delicious on their menu, which able to satisfy customer tastebud. They created their very own unique recipe, they offers one of the best crepes in town, from soft chewy crepes to crispy crepes. That allows Ned's Crepe to be a great place where families and friends can share and enjoy delectable dishes in a comfortable and relaxed setting.
Offerings:
Highlights from Menu include

Nutella & Marshmallow Crepe
Frozen on Top
Soft Crepe
Cheesy Chocolate Crepe
Location: Multiple locations
Contact: Multiple locations
Website: https://www.facebook.com/nedscrepe/
View this post on Instagram
---
11. Coffeesmith
Introduction: Coffeesmith is derived from the English suffix "-smith", which means that someone is a skillful craftsman of one's product. Their welll blend or "craft" finest Arabica coffee bean just for serve a true coffee lover. They also focus on intense but smooth flavor by blending 5 kinds of high-quality Arabica coffeebean with craftsman's skill. Coffeesmith formulated " A friendly hangout" coffee lovers enjoying and hanging around together. They hopes to provide coffee and cultural space that can be shared with all coffee lovers and be memorized as a beautiful memory and moment.
Offerings:
Highlights from Menu include

Sunday Brownie
Cappuccino Waffle
Smith Honey Baguette
Pistachio Chocolate
Iced Latte
Location: Multiple locations
Contact: Multiple locations
Website: http://www.coffeesmith.com.sg/
View this post on Instagram
---
12. Paris Baguette
Introduction: Paris Baguette is a company that provides a unique experience to customers by introducing a new trend-setting bakery and café. For 70 years, they have been refining their philosophy and techniques in the kitchen thanks to the parent company, SPC Group. Their journey thus far has been a rewarding endeavor as they innovate fresh concepts and offer a brand new, unique experience for all their customers.
Offerings:
Highlights from Menu include

Ham Cheese Baguette Sandwich
Seafood Cobb Salad
Danish Cream Cheese Pastry
Korean Power Garlic Bread
Location: Multiple locations
Contact: Multiple locations
Website: https://www.parisbaguettesg.com/
View this post on Instagram
---
13. Poolside Café
Introduction: The Poolside Café is a casual, yet picturesque dining spot situated by the club's free-form swimming pool. Featuring both indoor air-conditioned and al fresco seating, the Poolside Café offers visitors the choice of dining in comfort, or outdoors where they can enjoy the refreshing warmth of sunlight, or the cooling breeze in the evening. With a wide selection of local and Western cuisine available, diners will have the luxury of satisfying their appetite for traditional breakfast fares and local favourites, or Western delights.
Offerings:
Highlights from Menu include

Cheesy Baked Rice
Unagi Don
BBQ Skewer Combo
Nyonya Curry Chicken
Location: 48 Boon Lay Way, Singapore 609961
Contact: +65 6668 8905
View this post on Instagram
---
14. MADLYGOOD
Introduction: The founders of MADLYGOOD are a couple who loves travelling, and who tremendously enjoys eating, drinking, and creating amazing food together. Their hobby quickly led them to opening this dessert café, a place where people from all over Singapore can meet to enjoy our specialty waffles and coffee in a modern and comfortable atmosphere. Freshness, quality and creativity are their favorite ingredients. Their menu is varied and the service is unmatched. Whether people are looking for waffles to satisfy that sweet tooth, or a welcoming cup of latte, people will always feel at home here with them.
Offerings:
Highlights from Menu include

Whipped Oreo Crepe
Nutella Brownie Crepe
Classic French Crepe
Espresso Matcha Latte
Location: JCube, 2 Jurong East Central 1, #03-12, 609731
Contact: +65 6694 3235
Website: https://www.madlygood.online/
View this post on Instagram
---
Have a Place to Recommend?
Your contribution is valuable to us! Are there any outstanding businesses that you believe should be added to our list? If so, please send your recommendations to us at [email protected]. Tropika Club will review your suggestions and update the list accordingly. Thank you for your help in making our list of businesses as comprehensive and accurate as possible.
---
Meanwhile, Check out Tropika Club's Ecosystem of Websites
Tropika Club Magazine – Tropika Club Magazine is a Singapore-based publication that features articles on a wide range of topics with a focus on local businesses and content for the region. The magazine emphasizes supporting local businesses through its #SupportLocal initiative, which includes coverage of everything from neighborhood hawker stalls to aesthetic clinics in town. In addition to highlighting local businesses, Tropika Club Magazine also covers a variety of local content, including beauty, lifestyle, places, eats, and what's on in Singapore and the Asia Pacific region.
Tropika Club Deals – Tropika Club Deals is a leading online deals and voucher shopping site in Singapore, offering amazing discounts on beauty, wellness, and fitness products and services. It's the perfect platform for customers who want to discover the best deals without having to commit to a specific appointment date and time. These deals are available at major beauty stores, facial salons, hair salons, and other brands in Singapore, with no minimum spend required. Choose from guaranteed discounted deals in the categories of hairstyling, hair removal, facial & aesthetics, body slimming, brows & lashes, nails & makeup, massage & spa or fitness & wellness. Tropika Club Deals is also ideal for customers who want to buy vouchers as gifts or to use for the future. So whether you're looking to save money on your next haircut or want to treat yourself to a relaxing massage, Tropika Club Deals has got you covered with the best voucher and coupon deals in Singapore!