Top Anti-Ageing Facial Salons in Western Singapore
You Can Look Younger by a Few Years with Their Anti-Ageing Facials
An anti-ageing facial is a type of facial that focuses on improving the elasticity in your skin to reduce the signs of ageing. Many people in their 20s and 30s turn to anti-ageing facials as a preventative measure. An anti-ageing facial will have all the steps of a basic facial, but with ingredients that are targeted to ageing or "mature" skin, which is usually age 40 and up. But you can have anti-ageing facials even when you're in your late twenties or early thirties because the skin is already showing signs of maturity. Tropika Club discovers the following establishments in Western Singapore (think Jurong, Boon Lay, Clementi) that will help you shave off a few years in your complexion. Check out the top anti ageing facials in Singapore.
---
No Time to Read? Here's a Snappy Summary of This Article
Wellaholic (Jurong East): This is a beauty and wellness establishment that offers various aesthetic services, such as hair removal, skin rejuvenation, body contouring, and teeth whitening.
Theresa Body Skin Wellness (Jurong East): This is a beauty salon that specializes in body and skin treatments, such as slimming, detox, and anti-ageing.
Avone Beauty Secrets (JEM): This is a beauty salon that offers a range of services, such as eyebrow embroidery, eyelash extensions, nail art, and facial treatments.
Skin Lab 360: This is a skin care clinic that provides customized solutions for various skin concerns, such as acne, pigmentation, ageing, and sensitivity.
---
#1 Wellaholic (Jurong East)
Introduction:
Wellaholic (Jurong East) is a renowned beauty and wellness establishment located in the heart of Jurong East, Singapore. This branch, like other Wellaholic outlets, is committed to helping clients look and feel their best through a wide range of top-notch aesthetic services. They offer cutting-edge treatments, such as their signature hair removal services, which include SHR (Super Hair Removal). These advanced techniques provide effective and long-lasting results, ensuring that customers enjoy smooth, hair-free skin.
Apart from hair removal services, Wellaholic (Jurong East) also offers other aesthetic treatments, such as skin rejuvenation, body contouring, and teeth whitening. With a team of highly skilled and certified professionals, they ensure that all treatments are performed safely and effectively. Their dedication to customer satisfaction has earned them numerous positive reviews and a loyal customer base.
The Treatment: WellaFacial™ incorporates the best-of-breed technology facial treatments at an affordable monthly pricing. With weekly treatments of 6-step Elight Facial Collagen Boost, together with weekly-alternating Microneedling and Radio Frequency V-Lift treatments, you will see a drastic improvement in the reduction of wrinkles, fine lines and achieve a clearer complexion. Unlike typical facial treatments in Singapore which involves steaming the face, and manual extraction of blackheads, etc., Wellaholic advocates the use of technology and scientifically proven methods to help their customers in Singapore with their anti-ageing facial regime. The result – visible differences over the course of a three-to-six month period.
Check them out at:
---
---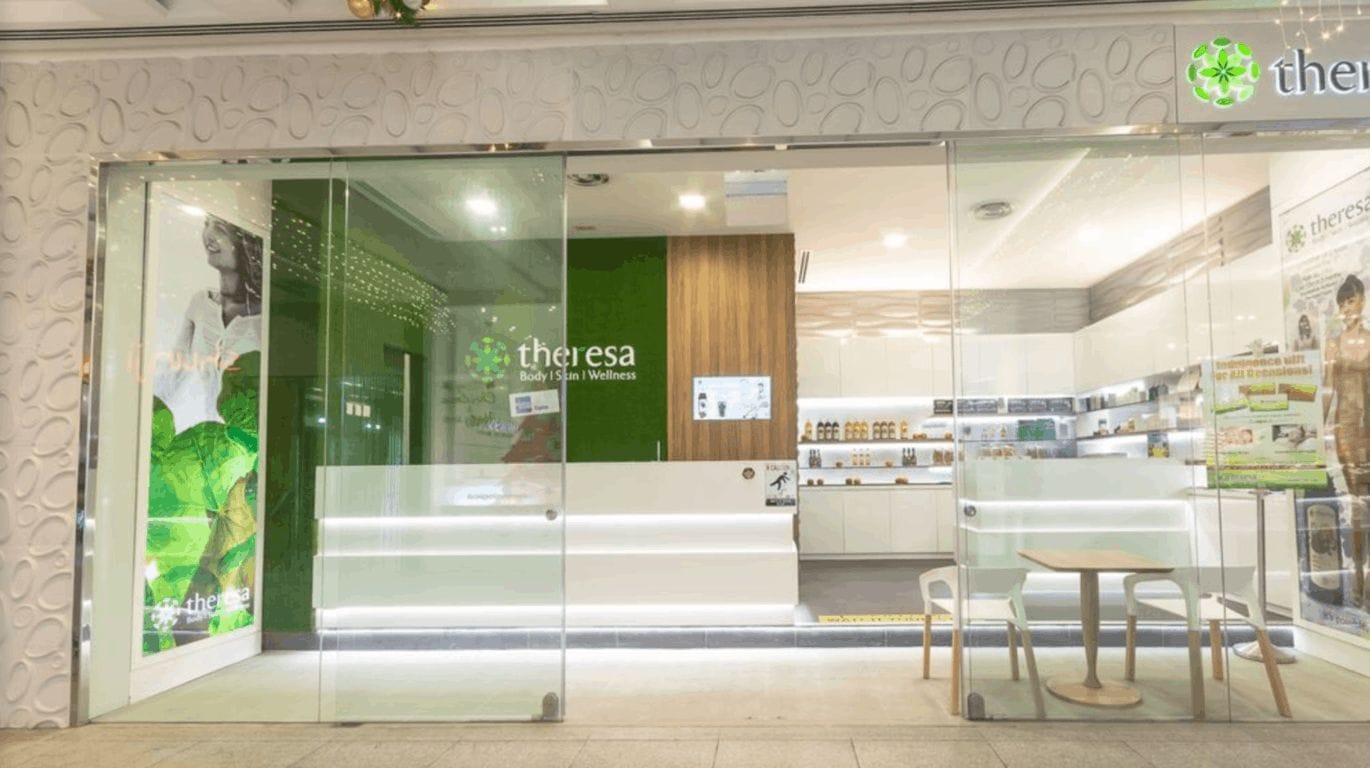 #2 Theresa Body Skin Wellness (Jurong East)
Introduction: Established in 1987, Theresa Beauty started out in Ang Mo Kio with its first outlet and expanded to other outlets islandwide. Theresa Body Skin Wellness started out with humble beginnings and through their team of experienced aestheticians, we have established the brand as a household name with the support of their loyal customers and team members.
The Treatment: SygmaLIFT HIFU is the latest HIFU (High-Intensity Focused Ultrasound) technology designed to enhance non-surgical face lifts. The face-lift transformation process is pain-free, injection-free & surgical-free. There's also the Skin Booster. Popularly known as 水光针, this treatment is the most requested in all of Korea's aesthetic clinics as it's the break through innovation from Asia that instantly quenches & hydrates skin. Skin booster will replenish the nutrients that their quenching skin loses over time due to ageing.
Check them out at:
Location: Blk 130 Jurong Gateway Road, #01-217 Singapore 600130
Hotline: +65 6565 8887
Website: https://theresa.com.sg
---
#3 Avone Beauty Secrets (JEM)
Introduction: Avone Beauty Secrets – Avone Beauty Secrets (ABS) is the only Beauty and Embroidery Faceworks Chain in Singapore to receive recognition from the prestigious International Beauty And Health General Union of Korea. They have been recognised for their revolutionary Embroidery Techniques which are the results of an extensive research together with the International Semi-Permanent Association in Korea. Each unique embroidery technique uses different (Korean Manufactured) specialised embroidery needle blades specifically designed to enhance the delivered techniques giving amazing results. The ever-popular ABS 6V Korean Virtual Brows Embroidery has won the hearts of the Beauty editors, judges and readers.
The Treatment: Try Avone's Korean Nano-Tech BB Radiance Treatment. A revolutionary aesthetics facial treatment that helps to brightens dull skin complexion instantly, smoothen uneven skin texture, minimises enlarged pores, reduces the appearance of lines & wrinkles and helps boost hydration for supple and dewy looking skin.
Check them out at:
Location: 50 Jurong Gateway Road, #03-42, Singapore 608549
Hotline: +65 6734 7311
Website: https://www.avone.sg
---
#4 Skin Lab 360
Introduction: Skin Lab 360 is located at Bukit Timah Plaza and offer state of the art beauty treatments, facials and rejuvenating skin treatments. Skin Lab 360 is a one-stop beauty salon that offers customised facial treatments using advanced technology and premium products. Their team of professional therapists are trained to analyse your skin condition and recommend the best solutions for your needs.
The Treatment: Skin Revive provides the 100 minute Neck Treatment. Get your skin refreshed with a signature meridian Bo Jin facial by Skin Revive which is known for the focus it places on meridian points to improve circulation, nourish skin tissues, reduce signs of ageing, and more. Included in this package is a choice of eye or neck treatment which keeps you pampered throughout this session.​ Their Anti-Ageing Lifting Facial is a powerful treatment that targets sagging skin, fine lines and wrinkles. It uses high-intensity focused ultrasound (HIFU) to deliver heat energy deep into the skin layers, stimulating collagen synthesis and tightening the skin tissues. The result is a lifted, contoured and youthful appearance.
Check them out at:
Conclusion
If you want to keep your skin looking young and radiant, you might want to consider getting an anti-ageing facial. These facials are not just a pampering treat, but a powerful way to boost your skin health and prevent or reduce the signs of ageing. Here are some of the benefits of an anti-ageing facial:
It stimulates collagen production. Collagen is a protein that gives your skin its firmness and elasticity. As you age, your collagen levels decline, leading to sagging and wrinkling. An anti-ageing facial can help stimulate collagen production by using various techniques, such as microcurrent, radio frequency, ultrasound, or LED light therapy. These techniques can help lift and tighten your skin, as well as smooth out fine lines and wrinkles.
It hydrates and nourishes your skin. Hydration and nourishment are essential for healthy and glowing skin. An anti-ageing facial can help hydrate and nourish your skin by using products that contain moisturizing and antioxidant ingredients, such as hyaluronic acid, vitamin C, or plant extracts. These ingredients can help replenish your skin's moisture barrier, protect it from free radical damage, and brighten your complexion.
It exfoliates and detoxifies your skin. Exfoliation and detoxification are important for removing dead skin cells, impurities, and toxins that can dull your skin and clog your pores. An anti-ageing facial can help exfoliate and detoxify your skin by using methods such as microdermabrasion, chemical peels, or facial steaming. These methods can help improve your skin texture and tone, unclog your pores, and enhance your skin's absorption of other products.
It relaxes and rejuvenates you. An anti-ageing facial is not only good for your skin, but also for your mind and body. An anti-ageing facial can help relax and rejuvenate you by providing a soothing massage, aromatherapy, or music. These elements can help reduce your stress levels, improve your blood circulation, and promote a sense of well-being.
As you can see, an anti-ageing facial can offer you many benefits that can make a difference in how you look and feel. If you are interested in getting an anti-ageing facial, you might want to check out some of the top anti-ageing facial salons in Western Singapore that we have listed in this article. These salons have professional and experienced staff who can provide you with customized and effective treatments that suit your needs and goals.
So what are you waiting for? Book an appointment today and treat yourself to an anti-ageing facial that will make you look younger by a few years!
Frequently Asked Questions (FAQ)
Q: What are the benefits of an anti-aging facial?
A: An anti-aging facial can help you:
Eliminate excess toxins from your facial skin by increasing blood flow
Even out your skin tone by reducing scars, sun spots, and wrinkles
Moisturize your skin and prevent dryness and flakiness
Improve your skin elasticity and firmness by stimulating collagen production
Q: How often should I get an anti-aging facial?
A: The frequency of anti-aging facials depends on your skin type, condition, and goals. Generally, it is recommended to get one every 4 to 6 weeks to maintain optimal results. However, you may need more frequent treatments if you have specific concerns such as acne scars, hyperpigmentation, or sagging skin. Consult with your esthetician to determine the best schedule for your needs.
Q: What are the types of anti-aging facials?
A: There are several types of anti-aging facials that target different aspects of aging skin. Some of the most common ones are:
Microdermabrasion: a mechanical exfoliation technique that removes dead skin cells and improves skin texture and tone
Chemical peel: a chemical exfoliation technique that uses acids or enzymes to dissolve the outer layer of skin and reveal smoother and brighter skin underneath
Microcurrent: a low-level electrical current that stimulates facial muscles and tightens the skin
LED light therapy: a noninvasive treatment that uses different wavelengths of light to penetrate the skin and stimulate cellular activity
Lymphatic drainage: a massage technique that improves blood circulation and reduces puffiness and inflammation
Q: Are anti-aging facials suitable for all skin types?
A: Anti-aging facials can be customized to suit different skin types and conditions. However, some treatments may not be suitable for people with certain skin sensitivities, allergies, or medical conditions. For example, microdermabrasion and chemical peels may irritate or damage sensitive or inflamed skin. Microcurrent and LED light therapy may not be safe for people with pacemakers, epilepsy, or pregnancy. Always consult with your esthetician before booking an anti-aging facial to ensure it is safe and effective for you.
Q: Where can I find the best anti-aging facial salons in Western Singapore?
A: If you are looking for the best anti-aging facial salons in Western Singapore, you can check out our list of top picks here. We have curated a selection of reputable and reliable salons that offer high-quality anti-aging facials at affordable prices. Whether you want to try microdermabrasion, chemical peel, microcurrent, LED light therapy, or lymphatic drainage, you can find a salon that suits your preferences and budget.
---
Have a Place to Recommend?
Your contribution is valuable to us! Are there any outstanding businesses that you believe should be added to our list? If so, please send your recommendations to us at [email protected]. Tropika Club will review your suggestions and update the list accordingly. Thank you for your help in making our list of businesses as comprehensive and accurate as possible.
---
Meanwhile, Check Out Tropika Club's Ecosystem of Websites

Tropika Club Magazine – Tropika Club Magazine is a Singapore-based publication that features articles on a wide range of topics with a focus on local businesses and content for the region. The magazine emphasizes supporting local businesses through its #SupportLocal initiative, which includes coverage of everything from neighborhood hawker stalls to aesthetic clinics in town. In addition to highlighting local businesses, Tropika Club Magazine also covers a variety of local content, including beauty, lifestyle, places, eats, and what's on in Singapore and the Asia Pacific region.
Tropika Club Deals – Tropika Club Deals is a leading online deals and voucher shopping site in Singapore, offering amazing discounts on beauty, wellness, and fitness products and services. It's the perfect platform for customers who want to discover the best deals without having to commit to a specific appointment date and time. These deals are available at major beauty stores, facial salons, hair salons, and other brands in Singapore, with no minimum spend required. Choose from guaranteed discounted deals in the categories of hairstyling, hair removal, facial & aesthetics, body slimming, brows & lashes, nails & makeup, massage & spa or fitness & wellness. Tropika Club Deals is also ideal for customers who want to buy vouchers as gifts or to use for the future. So whether you're looking to save money on your next haircut or want to treat yourself to a relaxing massage, Tropika Club Deals has got you covered with the best voucher and coupon deals in Singapore!