Top 10 Best Cordless Vacuum Cleaners in Singapore
The Best Cordless Vacuum Cleaners in Singapore can certainly lend you a hand in keeping your home spotless. Cordless vacuums can be a powerful vacuum cleaner, with suction power that'll help you clear up anything from pet hair to micro dust—that'll surely help with your dust allergies. Be amazed by the dust busting abilities of the Best Cordless Vacuum Cleaners in Singapore.
---
1. Black & Decker 14V 2-In-1 Li-Lon Floor Handheld Cordless Vacuum Cleaner
About:
Product details of Black & Decker 14V 2-In-1 Li-Lon Floor Handheld Cordless Vacuum Cleaner Stick SVA420B. Smooth pivot steering provides plenty of maneuverability to get around furniture. On/off powered brush bar allows you to thoroughly clean your carpets and area rugs with a motorized brush roll. Low profile design allows you to easily reach under furniture while cleaning. A translucent, bagless dirt bowl makes it easy to see dirt and easy to empty. Self-standing design lets you stand this vacuum upright where you need it
Features:
Charging base with accessory storage
Washable Pleated Filter
Washable Pre-Filter
Crevice nozzle
Brush
Battery: Lithium-ion powered
Battery life: Charge up to 1,500 times
Pricing: $167.38
Where to Find: Lazada
---
2. Eluxgo Lightweight (0.85KG) EC19C Cordless Vacuum Cleaner
About:
Eluxgo's Vacuum Cleaners motor and batteries come with 1 year warranty, 1 to 1 exchange. Their motor is selected for durability and long-lasting performance. Removes dust-mites and allergens effectively with a bed or mattress brush. Brush away pet fur, fine particles or dirt with 0.03mm thin Nylon made bristles, square brush. Focal point design suction increases power for picking up fine dust and dirt at tight areas, enhanced suction power with a crevice tool.
Features:
All-in-one, EC19C (Upgraded model)
Dual-Power30min on Silent mode15min on Power modeSpecification
Weight: 840g (Vacuum Unit)
Lithium-ion 2000mAAccessories
Bed Brush
Square Bristle Brush
Crevice Tool
Angle BrushCharging Base
adaptor2 Extension Pipes+ Floor Brush
Pricing: $62.90
Where to Find: Lazada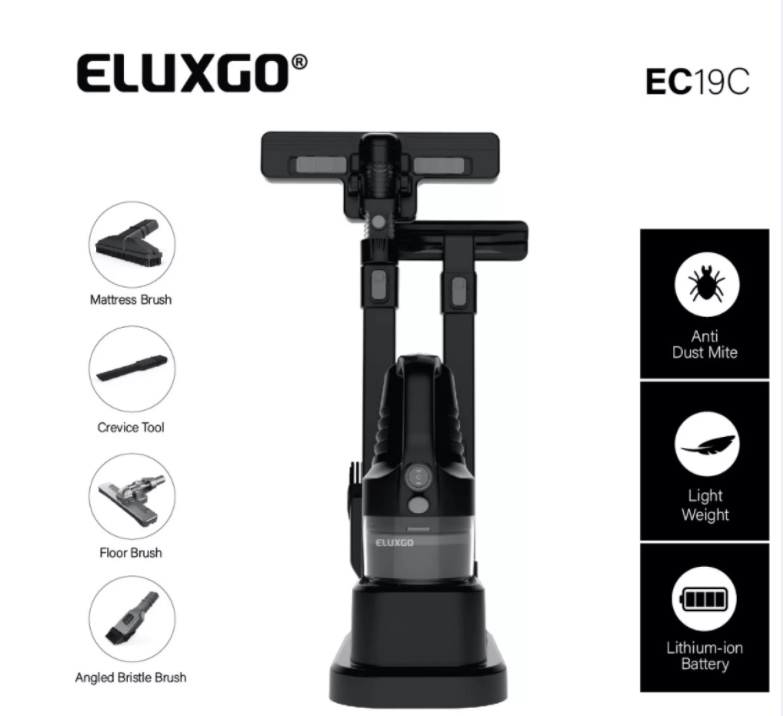 ---
3. Airbot Supersonics Plus 25000Pa
---
---
4. PowerPac Handheld Vacuum cleaner
About:
Product details of PowerPac Handheld Vacuum cleaner Lightweight Cordless Stick Vacuum cleaner with 0.8L Dust container. Cordless with ergonomic handle design, clean everywhere. Two-speed control for efficient and thorough cleaning on different occasions, Handwashing filter cotton design, durable. 2 pieces of small tools, which can clean the hard ground as well as the short hair carpet
Features:
Multistage cyclone separation system, silent large wheel design.
Large capacity dust bucket design with multiple accessories, can meet different needs
Suitable for cleaning on hardwood, carpet, tile floors, car, bed, etc., Continuous operate for up to 35 mins
Suction Power Vacuum 9500pa
Battery voltage 22.2V, Battery Li-ion 2200mAh
Voltage 110-240V, 50/60Hz
Motor Power 120 Watts, Safety Mark 200179-24
Pricing: $77.90
Where to Find: Lazada

---
5. Tefal Dual Force 2 in 1 Cordless Stick Cleaner
About:
Tefal Dual Force 2 In 1 Cordless Stick Cleaner TY6756. Clean everywhere in no time. Experience the dual force 2-in-1 vacuum cleaner; a cordless vacuum and built-in handheld vacuum cleaner in one eaasy-to-use device, to save time and add ultimate convenience to the cleaning process. A suction head with motorized brush and LED lights comes together with a high runtime Lithium-lon battery, all in an ultra-lightweight design for effortless cleaning in no time.
Features:
2-in-1 Handstick to save time cleaning
Motorized brush with LED lights
Foldable handle for easy storage options
Ultra-lightweight and comfortable
Efficient even for thorough cleaning
Long-lasting cordless performance
Good cleaning result
Effortless cleaning
Pricing: $209
Where to Find: Lazada

---
---
6. Xiaomi Deerma VC01 Lightweight Cordless Stick Handheld Vacuum Cleaner 8500Pa
About:
Xiaomi Deerma VC01 Lightweight Cordless Stick Handheld Vacuum Cleaner 8500Pa Strong Suction 30 Minutes Long Battery Life. German iF Design Award: Deerma wireless vacuum cleaner won the German iF design award for its outstanding performance in creativity, usage, and ergonomics. New Foldable Air Filter: Favorably prevents second pollution, and it is also with the structure of the triple filter cabin to clean the dust exhaust outlet and prevent clogging, ensuring long-lasting.suction.
Features:
Powerful Brushless Motor
Equipped with Wet Mopping Components
Add Disinfectant As Needed
Stand Upright, Easy to Remove
Straight Air Duct Design
45min Battery Life
Easy to Pour Out Trash & Washable Design
Pricing: $89
Where to Find: Lazada
---
7. Philips SpeedPro Max Aqua Series 800 Vacuum Cleaner
About:
Philips SpeedPro Max Aqua Series 800 Vacuum Cleaner- XC8147/01. Smart Digital Display, you can always control the motor and adjust its speed to your needs! Our Smart Digital Display will also show you when the filter needs to be cleaned. The filter cleaning indicator will help you take care of the maintenance of the product, always ensuring the highest performance. Different surfaces require different nozzles and accessories. In Philips sticks, accessories are easy to use and always at hand with one click, like the small crevice integrated in the handheld and the brush attachment integrated in the tube. For any extra needs there is the mini turbo brush ideal for removing pet hair and the extra long crevice tool for hard to reach areas. Philips Cordless Vacuum 8000 Series is flexible and easy to manoeuvre in tight and difficult-to-reach spots.
Features:
Vacuum and wipe Nozzle 360° Suction Nozzle Up to 80 min
28 min of Turbo Mini Turbo Brush
Extra filter Dust capacity: 0.6 L Vacuums and wipes dust,
You can add detergent to capture up to 99% of bacteria
Always Clean coating protects cloth from bacteria growth
Longest lasting turbo mode, more than 125m² on one charge
Different needs require different options.
Durable and long-lasting 25.2V lithium ion batteries
Pricing: $780.96
Where to Find: Lazada
8. Dyson Digital Slim™ Fluffy Extra Cordless Vacuum Cleaner
About:
Dyson's Lightest Cord-Free Vacuum, with Strong Power and No Loss of Suction. The Dyson Digital Slim delivers the powerful performance you'd expect from a Dyson. yet it's 30% lighter and 20% smaller than the Dyson V11 vacuum. With up to 40 minutes of fade-free suction. Pioneering Dyson technology, concentrated. Dyson Hyperdymium motor generates powerful suction to pick up particles as small as 0.3 microns that's 100 times finer than human hair.
Features:
Dyson Pioneering Technology Condensed
Realizing Unparalleled Cleaning Performance.
An Adapted Dyson Hyperdymium Motor.
11 Scrolled Cyclones & 5-Step Filtration System.
A New Soft Roller Cleaner Head.
Removable Battery Cells.
Pricing: $229.80
Where to Find: Lazada
---
9. Tefal Air Force 360 Handstick Vacuum Cleaner TY5510
About:
Tefal Air Force 360 Handstick Vacuum Cleaner TY5510. Enjoy a deep cleaning and extremely smooth handling experience with AirForce 360 Light, the ultra light with high performances versatile handstick vacuum cleaner that can transform into a handheld or high-reach tool in just a click. Excellent cleaning performances thanks to a powerful motor delivering up to 60AW suction power, combined with a motorized soft head ideal on hard floors
Features:
CLEAN AIR RELEASE
DETACHABLE & REPLACEABLE BATTERY
HIGH AUTONOMY
3 ACCESSORIES INCLUDED
Pricing: $365
Where to Find: Lazada
---
10. Tefal X-pert 3.60 Handstick (White) TY6935
About:
The X-Pert 3.60 Cordless Vacuum Cleaner picks up dust in a single stroke, for fast and easy cleaning in no time. Discover the convenience of bagless and cordless vacuuming with a high-quality Lithium batteryoffering 45 minutes* of autonomy, and versatile 3-in-1 cleaning power to save time and cover every inch of your home, from floor to ceiling.
Features:
45 minutes* of autonomy
Motorized brush for quick cleaning
22V Lithium battery
3-in-1 cleaning from floor to ceiling
LED lights for better visibility
Easy-charging with removable battery
Pricing: $249
Where to Find: Lazada
---
Have a Product to Recommend?
Your contribution is valuable to us! Are there any outstanding brands that you believe should be added to our list? If so, please send your recommendations to us at [email protected]. Tropika Club will review your suggestions and update the list accordingly. Thank you for your help in making our list as comprehensive and accurate as possible.
---
Meanwhile, Check Out Tropika Club's Ecosystem of Websites

Tropika Club Magazine – Tropika Club Magazine is a Singapore-based publication that features articles on a wide range of topics with a focus on local businesses and content for the region. The magazine emphasizes supporting local businesses through its #SupportLocal initiative, which includes coverage of everything from neighborhood hawker stalls to aesthetic clinics in town. In addition to highlighting local businesses, Tropika Club Magazine also covers a variety of local content, including beauty, lifestyle, places, eats, and what's on in Singapore and the Asia Pacific region.
Tropika Club Deals – Tropika Club Deals is a leading online deals and voucher shopping site in Singapore, offering amazing discounts on beauty, wellness, and fitness products and services. It's the perfect platform for customers who want to discover the best deals without having to commit to a specific appointment date and time. These deals are available at major beauty stores, facial salons, hair salons, and other brands in Singapore, with no minimum spend required. Choose from guaranteed discounted deals in the categories of hairstyling, hair removal, facial & aesthetics, body slimming, brows & lashes, nails & makeup, massage & spa or fitness & wellness. Tropika Club Deals is also ideal for customers who want to buy vouchers as gifts or to use for the future. So whether you're looking to save money on your next haircut or want to treat yourself to a relaxing massage, Tropika Club Deals has got you covered with the best voucher and coupon deals in Singapore!