Top Salons for a Gorgeous Perm in Downtown Singapore
Perming hair is a popular hairstyling option that can change the appearance of hair. Perms can be temporary or permanent, and there are many different perm styles available. Many people choose to have their hair permed because it changes the appearance of their hair and it can be easier to style. Looking for a top salon to give you a gorgeous perm? Look no further than the top downtown salons in Singapore! From luxurious to affordable, these salons will give you the perfect style for any occasion.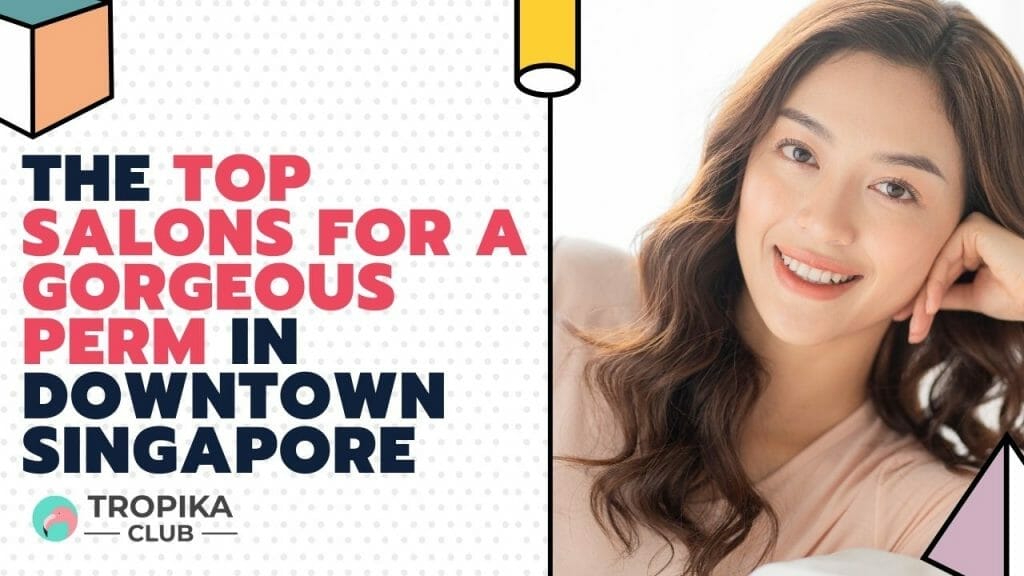 ---
No Time to Read? Here's a Snappy Summary of This Article
SPIQ Hair Base: This is a Japanese hair salon that specializes in perms, highlights and bleaching. It offers various styles and prices for different types of perms.
The Vogue Professional (Novena): This is a salon that provides extensive hair services and education for hairstylists. It uses organic hair colour for its dyeing services and offers creative perms with director's haircut.
D'Cut Studio: This is an affordable salon located at Cathay Cineleisure. It offers root colour, full colour, basic perm, digital perm, Korea hair design colouring and scalp protector treatment.
X'treme Professional Hair Studio: This is a salon with two outlets at Bencoolen and Hillion mall. It offers rebonding, perm, colouring, treatment and haircut services with experienced stylists.
Salon Infinity: This is a salon located at Suntec City that uses Aveda products for its hair services. It offers natural-looking perms with botanical treatments that nourish the hair.
Hair Plus Korean Salon: This is a salon that brings Korean expertise and trends to Singapore. It offers various types of perms such as volume rebonding, C-curl perm, S-curl perm and wave perm.
Hairloom: This is a salon that creates customized hairstyles for its clients. It offers digital perms, cold perms and air wave perms that suit different hair textures and lengths.
Chez Vous: This is a salon that has been in the industry for over 20 years. It offers innovative perms such as the #RightColourMatters Perm, the #FakeAsh Perm and the #AiryEnds Perm.
Walking on Sunshine: This is a salon that combines beauty and dining in one place. It offers Korean-style perms with natural ingredients and organic products.
1. Chez Vous
Since 1995, Chez Vous in-depth expertise & pioneering spirit have resulted in many first-to-market innovations such as: Hair Defence Technology, Sugar Hair Lamination & Hair Botox + Fillers Therapy. If you are looking at cutting-edge hairstyling and treatments, Chez Vous is the undisputed leader.
Featured Treatment: Movement Perm with Hair Defence Technology
Other than finding the right hair salon and stylist, the main factor that determines the outcome of a perm procedure depends on the existing condition and texture of your hair! All perm specialists would agree that perming hair that's healthy and elastic will create bouncier and glossier curls, that are less frizzy.
Introducing the all-new Chez Vous' Hair Defence Technology, which will significantly strengthen and reconstruct your hair before any chemical service.
During the perm procedure, cuticles are swelled, causing a loss of amino acids, moisture and cell membrane complex. Also, bonds will inevitably be broken. These will lead to hair breakage, brittleness and dryness. Therefore, amplifying your hair's resilience before a perm will allow it to better cushion the impact from harsh chemicals.
By incorporating Chez Vous' Hair Defence Technology into the perm service, multiple state-of-the-art ingredients such as K18 Peptides, 18 different Amino Acids and Cell Membrane Complex are used to effectively reduce damage by up to 50%! Hence, enhancing the final perm result thanks to its elasticity-boosting and nourishing functions, leaving your hair drastically less damaged and dry, unlike conventional perm procedures.
Address: 391 Orchard Road, Ngee Ann City Podium, #05-05, S238872
Website: https://chezvoushair.com/
Contact: +65 6732 9388
---
2. SPIQ Hair Base
SPIQ Hair Base is a Japanese hair salon located at 261 Beach Road, and specialises in cutting-edge perms, highlights and bleaching. You can check their website for the various styles that they do. You can also check their online menu for the various hair-styling.
The store is bright and deep, with seats spaced comfortably apart so that customers can concentrate on their treatment. The interior has a stylish and relaxed atmosphere, a far cry from the trendy cafe-style decorations. SPIQ Hair Base's specialty is hair colouring, but they also provide hair perm, rebonding as well as haircuts. They have both Japanese and Local stylists available.
In order to achieve the ideal shade of color, it is necessary to select the right agent and application technique according to the hair type. The more advanced the color, the more knowledge and skill is required, and at SPIQ, the stylists, including their stylists, have a wealth of skill, experience, and knowledge in coloring. They are confident that "coloring is SPIQ's strength, and they are particular about the technical aspects"
Address: 261 Beach Road, Singapore 199541
Website: https://www.spiq-hairbase.com/
Contact: +65 9862 5659
---
3. D'Cut Hair Studio
Having an affordable hair cut and treatment in town is not a dream, especially if you are near Cathay Cineleisure to catch a movie. At D'Cut Hair Studio, you can get a root colour from just $68 or full colour from just $88. D'Cut Hair Studio also provides a range of hair perm options, ranging from basic perm to digital perm. You can also enhance your locks with their Korea Hair Design Colouring and add on a Scalp Protector treatment.
Their highly trained stylists are here to tackle all of your needs with a high-quality Colouring that will leave you looking and feeling your best. They recommend combining this service with their hair treatments for a truly unparalleled experience. Pamper yourself with their refined hair treatments. With their 3-step processes, you are bound to leave the salon with silky smooth hair.
Address: 8 Grange Rd, #03-02 Cathay Cineleisure, Singapore 239695
Website: https://www.dcut-hair.studio/
Contact: +65 6235 6992
---
---
4. X'treme Professional Hair Studio
X'treme Professional Hair Studio has two outlets; one located at Bencoolen while the other one sits at the Hillion mall at Bukit Panjang. X'treme Professional Hair Studio offers beauty care services including trendy haircut and styling, rebonding, perming, and much more, with experienced stylists using their skill and the latest hair technology to bring out the best in you. For their perm services, choose between Normal Perm, Japanese Digital Perm or the Nano Digital Perm. Prices start from $60 and go up to about $200.
As a beloved, professional Hair Salon since 2011, X'treme Professional Hair Studio has everything to keep you looking and feeling ravishing for that special occasion you have lined up. Their goal is to make sure you get VIP treatment so you walk out as the best version of yourself. At X'treme Professional Hair Studio, they believe in providing their customers with guaranteed quality they can count on. At X'treme Professional Hair Studio, they believe in having a great time!
Address:
180 Bencoolen Street, – #01-29, The Bencoolen
Hillion, 17 Petir Road – #02-09/10
Website: https://www.xtremeprofessionals.com/
Contact: +65 6884 6637
---
---
5. Craft Salon Singapore
Craft Salon Singapore is located at Mayo Street, nearby the Bugis area and within walking distance to Jalan Besar MRT station. Sporting an industrial chic design with wood and dark metal, the hairstyling professionals have gathered a loyal following with their creative cuts and perms. The owner Cindy is friendly with first-time customers, and often provides free consultation on the right kind of perm and design.
Address: 6 Mayo Street, #01-01 Singapore
Website: https://www.facebook.com/CraftSalonSingapore/
Contact: +65 6291 6916
---
6. The Vogue Professional (Novena)
The Vogue Hair Professional provides extensive hair services, as well as education for budding hairstylists around Singapore. Services like colouring, cut, and chemical services to add a little bit of flair to their everyday look. The Vogue Hair Professional utilises an organic hair colour for its dyeing services, certified organic and manufactured in the UK to ensure their patrons' locks are cared for without the taint of chemicals and toxins. Try their creative perm together with the Director's haircut.
Address: Novena Velocity, #03-39/40/41
Website: https://www.facebook.com/thevoguehairprofessional
Contact: +65 6970 9059
---
7. Hairloom
In 2008, Hairloom was started as a way to offer customers the best in the craft of hairstyling. The skills they hone here are like valuable heirlooms, passed down from hand to hand. At Hairloom, they are dedicated to quality and constantly improving, growing, and evolving to serve you better.
You can be certain of a committed and dedicated trained team of creative stylists, with chemical and technical experts with years of experience creating customer hairstyles and providing quality haircare for you. Their perm starts from $150 (cold perm too) and from $320 for a digital perm
Address: 6 Raffles Boulevard, Marina Square, #01-230/231, Singapore 039594
Website: https://hairloom.sg/
Contact: +65 ​6295 2088
---
Read Also:
---
8. Black Hair Salon
Black Hair Salon is a hair salon in Singapore, founded by Raymond and Anthony in year 2000. Inspired by the love for fashion and beauty, the salon is driven with the passion to strive towards delivering the best services to their loyal customers. By placing emphasis on providing hospitality and a vibrant atmosphere, customers come to our salon and get a sense of warmth that feels just like home. They show creativity in our work to ensure that each and every customer gets a personalized experience so that they walk out the salon with style that exudes individuality and confidence.
Check out their online website for a gallery of the hair creations and design.
Address: 13 Stamford Rd, #B2-44 Capitol Singapore, Singapore 178905
Website: http://blackhairsalon.com.sg/
Contact: +65 6835 9976
---
9. Nine By Sweet Basil
Nine by Sweet Basil was recently opened in 2014 and all stylists are Japanese andtrained in Tokyo. They're located in a nice quiet shophouse opposite Raffles Hotel, at Purvis street. You might almost walk past their entrance but look out for the red outlined door (above). The salon is on the second floor!
They focus on texture, form and color, and adapting to Japanese-style hairstyling. Perm (including Olaplex) starts from $180 onwards.
Address: 26A Purvis St, Singapore 188603
Website: http://nine-sg.com/
Contact: +65 9021 9144
---
10. Picasso Hair Studio
Picasso Hair Studio's team of experienced hair designers are trained in recognizing face shapes and skin tones. They use this knowledge for their clients' benefit by recommending the best hairstyles that will bring out your natural beauty!
Picasso specialists in various perms. Root perm starts from $95 onwards, while Volume Perm and Digital Perm ranges from between $255 to $310.
Address:
662 North Bridge Rd, Singapore 188798
1 Goldhill Plaza, Singapore 308899
Website: http://www.picassohairstudio.com.sg/
Contact:
+65 6291 0691 (Bugis)
+65 6224 0221 (Novena)
---
Conclusion
If you're looking for a way to spice up your hairstyle, a perm might be just what you need. A perm can give you natural-looking waves, curls or volume that suit your personality and lifestyle. Whether you want a C-curl, an S-curl, a digital perm or a ceramic perm, there's a salon in downtown Singapore that can cater to your needs. You can trust the experts at these salons to give you a gorgeous perm that will make you feel like a star. Plus, you can enjoy the perks of using Tropika Club to book your appointment online and get discounts and rewards. So don't wait any longer, book your perm today and get ready to rock your new look!
---
Frequently Asked Questions (FAQ)
Q: What are the benefits of having a perm?
A: A perm can give you a new look that enhances your features and personality. It can also make your hair easier to style and manage, as well as add volume and texture to your hair.
Q: What are the different types of perms available?
A: There are many types of perms available, such as C-curl, S-curl, digital perm, ceramic perm, air wave perm, and build perm. Each type of perm has its own characteristics and effects on the hair. You can consult with your hairstylist to find out which type of perm suits you best.
Q: How long does a perm last?
A: A perm can last from three to six months, depending on the type of perm, the condition of your hair, and how you care for your perm. You should avoid washing your hair for at least 48 hours after getting a perm, and use gentle shampoo and conditioner that are suitable for permed hair. You should also avoid heat styling and chemical treatments that can damage your perm.
Q: How much does a perm cost in Singapore?
A: The cost of a perm in Singapore varies depending on the salon, the type of perm, the length and thickness of your hair, and the experience of the hairstylist. Generally, a perm can cost from S$100 to S$400 or more.
Q: How can I book an appointment for a perm at one of the top salons in downtown Singapore?
A: You can use Tropika Club to book an appointment online at one of the top salons in downtown Singapore. Tropika Club is a platform that connects you with the best beauty and wellness services in Singapore. You can browse through the salons' profiles, reviews, prices, and availability, and book your preferred slot with just a few clicks. You can also enjoy discounts and rewards when you book with Tropika Club.
---
Have a Place to Recommend?
Your contribution is valuable to us! Are there any outstanding businesses that you believe should be added to our list? If so, please send your recommendations to us at [email protected]. Tropika Club will review your suggestions and update the list accordingly. Thank you for your help in making our list of businesses as comprehensive and accurate as possible.
---
Meanwhile, Check Out Tropika Club's Ecosystem of Websites

Tropika Club Magazine – Tropika Club Magazine is a Singapore-based publication that features articles on a wide range of topics with a focus on local businesses and content for the region. The magazine emphasizes supporting local businesses through its #SupportLocal initiative, which includes coverage of everything from neighborhood hawker stalls to aesthetic clinics in town. In addition to highlighting local businesses, Tropika Club Magazine also covers a variety of local content, including beauty, lifestyle, places, eats, and what's on in Singapore and the Asia Pacific region.
Tropika Club Deals – Tropika Club Deals is a leading online deals and voucher shopping site in Singapore, offering amazing discounts on beauty, wellness, and fitness products and services. It's the perfect platform for customers who want to discover the best deals without having to commit to a specific appointment date and time. These deals are available at major beauty stores, facial salons, hair salons, and other brands in Singapore, with no minimum spend required. Choose from guaranteed discounted deals in the categories of hairstyling, hair removal, facial & aesthetics, body slimming, brows & lashes, nails & makeup, massage & spa or fitness & wellness. Tropika Club Deals is also ideal for customers who want to buy vouchers as gifts or to use for the future. So whether you're looking to save money on your next haircut or want to treat yourself to a relaxing massage, Tropika Club Deals has got you covered with the best voucher and coupon deals in Singapore!