Top 10 Best Rice Cookers in Singapore
A rice cooker or rice steamer is an automated kitchen appliance designed to boil or steam rice. It consists of a heat source, a cooking bowl, and a thermostat. The thermostat measures the temperature of the cooking bowl and controls the heat. Rice cookers can cook more than just rice. The appliance can be used to make meals, like ribs, chili, or pizza. Rice cookers can also be used to cook other grains, like barley or quinoa. You can also prepare breakfasts like oatmeal or pancakes in a rice cooker. The Tropika Club team has rounded up Top 10 Rice Cookers in Singapore. Check them out!
---
1. Tefal Mini Rice Cooker RK5001
Description: Compact with versatile programs to make cooking easy! A compact frame maximizes convenience, with a versatile range of programs, including 11 functions: Rice, Quick Cook, Steam, Congee, Instant Noodles, Porridge, Brown Rice, Reheat, Keep Warm, Adjustable Timer and Preset.
Powered with Fuzzy Logic technology, this high-performance rice cooker uses artificial intelligence to deliver perfectly-prepared dishes.
A five-layer ceramic pot with diamond shape coating ensures durable performance, while features like keep-warm and a 24-hour delayed start help you take your cooking to the next level.
The Tefal Mini Rice Cooker features a versatile range of programs and settings, combining 11 functions into one compact cooking package: Rice, Quick Cook, Steam, Congee, Instant Noodles, Porridge, Brown Rice, Reheat, Keep Warm, Adjustable Timer and Preset.
How to Use:
Create strong outside-in waterflow to heat grains evenly
10 dedicated cooking menus for the contemporary cook
12 hours keep warm
Detachable inner lid for easy cleaning
Large digital display provides easy-to-read menus and time
Pricing: $108
Where to Find: Courts
---
2. Philips Avance Collection IH Rice Cooker
Description:
Tasty multigrain with every grain well cooked
Patented iSpiral IH technology stepping out of traditional IH thanks to our leading IH structure and micro processor form ultra strong outside-in currents that enables every grain well cooked. 10 multifunction programs with separate menus for rice, multigrain and beans for a variety of dishes. Keep the food warm and fresh for up to 12 hours. Bakuhanseki coating contains minerals and trace elements which are all essential to a healthy human body; 5-layer iron pot with superior heat conductivity and durable.
How to Use:
Put the bath bomb in the water.
Sit back in the tub for 15-20 minutes.
Consider rinsing off in the shower.
Pricing: $279
Where to Find: Philips
---
3. Tiger Microcomputer Controlled Rice Cooker JAX-S10/18S
Description: Time and Energy Saving, With Tiger latest Rice Cooker technology – Tacook is going to bring a whole new perspective to Meal Preparation using a rice cooker. he cooking plate is specially designed to ensure that flavors from the dish do not affect the flavor or texture of the rice. Now, healthy meals will be ready in an hour with a touch of a button. There is no need to cook separately anymore as one function does it all.Now, healthy meals will be ready in an hour with a touch of a button. There is no need to cook separately anymore as one function does it all.
Specifications:
Made in Japan
Micro Computerized Technology
4-In-1 rice cooker – "Rice Cooking" , "Synchro Cooking", "Steaming" and "Slow-Cooking"
Multi menu setting: Plain Rice, Synchro-Cooking, Quick Cook, Sweet / Mixed, Porridge, Multi-grain, Brown Rice, Slow Cook / Steam.
Easy to Operate LCD control panel with timer for Preset Function
Black Spherical Inner Pot creates good heat circulation for perfectly cooked rice
Pricing: $298
Where to Find: Lazada
---
4. XiaoMi Smart Electric Rice Cooker IHFB01C
Description: How to make a bowl of delicious rice? You need a smart IH Pressure Rice Cooker. MiJia IH Pressure Rice Cooker is your best choice, it not only has the most advanced electromagnetic heating technology, but also a modern micro-pressure heating technology that allows to heat rice uniformly.
The base layer of cast iron combined with the intelligent heat control gives an unmatched thermal stability and permeability, and can be adjusted according to different preferences and different rice types.
Specifications:
Product name: Xiaomi IH Rice Cooker
Model Number: IHFB01CM
Capacity: 3L / 4L
Application : 3L: 3-4 people; 4L 5-7 people
Weight: 3L: 4.5 kg, 4L: 5.5 kg
Dimension: 25.00×20.00×30.00 cm (3L) / 334 × 282 × 230 mm (4L)
Heating: IH Heating
Inner pot material: Cast iron
The Power Rating: 1130w/1300w
Voltage/Rated Frequency: 220 v ~ 50 hz
The Rated working pressure: 20 kpa
Wireless connection: wi-fi IEEE 802.11 b/g/n 2.4 GHz
This device contains a type approval code: CMIIT ID: 2014 dp5056 radio transmitter module
Pricing: $109.90
Where to Find: Qoo10
---
5. Song Cho 1.8L Induction Heating Rice Cooker SC-IH50F
Description: Song Cho rice cookers range from simple conventional to multi-functional digital smart version. Most of our inner pots are made of food grade multi-ply stainless steel, no coating and no peeling. Their inner pot is made of multi-ply stainless steel which is safe, hygienic, durable and acid-resistant. The high thermal conductivity outer layer provides fast and even heat distribution.
Specifications:
Capacity 1.8L
Induction heating technology
3-ply stainless steel inner pot
18.8 stainless steel inner lid
Multi-segment smart cooking, even heat distribution
Easy to operate
Min 2 cups of white rice; Max 10 cups of white rice (1 cup = approx 2 bowls of cooked rice)
Inner pot size – D23.5cm x H13.8cm
Pricing: $7.00 for set
Where to Find: Song-Cho Website
---
Read Also: Top 10 Best Body Washes in Singapore
---
6. Cuchen CJH-PC10 IH Pressure Rice Cooker
Description: Cuchen induction heating pressure rice cooker CJH-PC10 is an elegant and beautiful rice cooker with its rose gold colour, which will be a great addition to the modern-day kitchen. It is equipped with a full-colour LCD screen, and comes with various smart functions. Be ready for perfectly-cooked rice in less than 30 minutes. The Cuchen Rice Cooker does more than just cooking of fragrant Korean rice. It is also a Steamer, Pressure Cooker & oven. Cook your own delicious pot of food with Cuchen All in One Cooker. The Cuchen Rice Cooker Comes with its own IH technology that heats the pot simultaneously and cooks your rice more evenly making your rice tastier without additional effort.
Specifications:
LCD Display + Button Suggestion + Smart rotation
New technology charcoal coating (Eco-friendly charcoal coating, use coating avoid sticking.)
Thermal Spraying inner pot with Stainless
Smart rotation control button
Steam warming
Convenient double clean + Clean STS : Separation type cover + Automatic washing + Hygienic stainless
Bookmark (Save up to 6 favorite modes)
Voice guide (English, Cantonese, Putonghua)
Breakdown guide: Guide problem and A/S contact.
Energy saving mode
20 types of safety equipment
3 types of smart warming
3 layers of sealing
Pricing: $399
Where to Find: Cuchen Website
---
7. Ninja Foodi Multi Cooker and Air Fryer OP300
Description:
ALL-IN-ONE COOKING APPLIANCE: Replaces your Pressure Cooker, Air Fryer and Slow Cooker. You can grill, steam, bake, roast, pressure cook, air fry, slow cook & etc…. all in one compact kitchen machine. Ninja Foodi – The only pressure cooker that crisps.
TenderCrisp™ Cooking Technology: When you combine pressure cooking and air frying, you get the best of both worlds—meals that are juicy on the inside and crispy on the outside.
Customer Review: Love how easy and fuss-free it is to use the Foodi! Still exploring more recipes and ways of utilising the cooker. This is such a wonderful gadget for people who love to experiment with cooking different kinds of cuisine, especially those who are time-starved. Truly one of my best buys in 2020! Wish I'd discovered the Foodi earlier 🙂
Specifications:
Replaces your Pressure Cooker, Air Fryerand Slow Cooker. You can grill, steam, bake, roast, pressure cook, air fry, slow cook,
All in one compact kitchen machine – TenderCrisp™ Cooking Technology
– Pressure & crisping lids
– 3.7 litre Cook & Crisp™ Basket
– Reversible rack
Pricing: $399
Where to Find: Lazada
---
8. Cuckoo Multi Cooker CRP-HN1054FR (1.8 litres)
Description: Making a deservingly good meal for your loved ones after a long day is no longer a dream. With CUCKOO's range of intelligent pressure multi-cookers / multi-cookers / rice cookers, cooking dishes that are both truly delicious and healthy is just as simple as pressing a few buttons.
Features:
1.1 Soft Steam Cap: All about Safe and Silent
1.2 Automatic Steam Emission: Without Operation after Cooking
1.3 Auto Steam Cleaning: Clean And Sanitary with HOT Steam
1.4 MEGA Thermal Power: By Induction Heating Technology
1.5 Water Draining System: Easy Maintenance
1.6 Hydraulic Slow Opening Mode: Slower And Smoother
1.7 Detachable Cover: Easy And Simple Cleaning
1.8 Full Stainless Innerpot Cover: 100% Stainless
1.9 Double Layered Rubber-packing: The Way Of Controlling High Pressure
Specifications:
Pressure Cooking : Vitamins & Minerals Are Well Preserved, Faster Cooking Times, Up To 70% Energy Saving
14 Computerised Cooking Modes: Rice, Quick Cook, Gaba Rice, Sushi Rice, MixedRice, Porridge, Roast, Soup, Cake, Multi Cook, Steam, Fry, Stew, Oven
"X-wall" Shine interior, Titan Extreme Exterior , Durable Thick Inner Pot
3 Language Smart Voice Navigation Guide :English, Mandarin, Cantonese
Auto Steam Cleaning Feature
Energy Saving
16Safety Features : Ensure 100% Safe Operation
Luxurious FND display
Capacity: 1.8L
Rated Cooking Power/ Pressure: 1455W/ 1.9kgfcm2
Made In Korea
Pricing: $468
Where to Find: Heap Seng
---
9. Mayer Ceramic Rice Cooker MMRC1000
Description: The Mayer Ceramic Rice Cooker has 9 cooking functions, and its simplistic and modern design allows it to be placed conveniently at any kitchen, yet adding both style and function to the simple process of cooking rice. It can cook up to 5 cups of rice at once, making it an ideal companion for singles, couples of smaller families. What's more, the Mayer Ceramic Rice Cooker has an affordable price point. If you are not looking for advanced functions, this is a great choice for you.
How to Use:
5cups
Ceramic cooking pot
Digital control panel with sensor touch button
Strong heat retention
9 cooking function menu
Preset time up to 24 hours
High efficiency and energy saving
Multiple safety protection
Accessories: steamer rack, rice spatula, ladle and measuring cup
Product dimension(mm): 350x280x240
500 watts
Pricing: $68
Where to Find: Lazada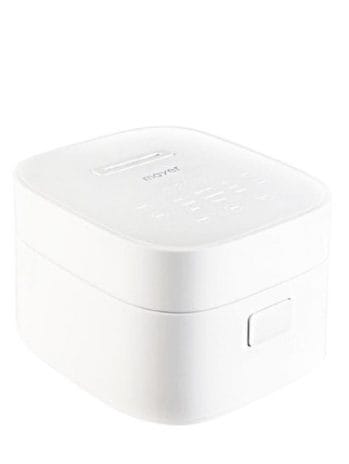 ---
---
10. PowerPac Rice Cooker with Steamer PPRC66
Description: If you are looking for a rice cooker that's cheap, affordable yet functional, then you will want to consider the PoewrPac Rice Cooker with Steamer PPRC66 (1.5 litres). This handy gadget not only cooks rice, but comes with an additional steamer that allows you to prepare multiple dishes together, thereby saving lots of time.
Specifications:
Auto switch form cook to keep warm for perfect rice
Includes measuring cup and rice paddle
Steamer included for steamer food when cooking rice
Non-stick cook pot
500-594 watts. 220V-240V. 50Hz-60Hz
Safety Mark 130665-12
Pricing: $35.90
Where to Find: PowerPac Website
---
---
Meanwhile, check out Tropika Club's Ecosystem of Websites

Tropika Club Magazine – Tropika Club Magazine crafts articles on all things Singapore, but with a greater emphasis on local businesses based on our #SupportLocalSG initiative. We check out and feature local businesses of all categories, ranging from your neighbourhood hawker stalls to the aesthetic clinics in town. We also cover local content ranging from beauty, lifestyle, places, eats and what's on in SIngapore. Our Top 10 rankings include local food and service establishments based in different regions in Singapore.

Tropika Club Deals – Search for the best voucher and coupon deals. Tropika Club Deals is ideal for customers who want to discover the best deals without having to commit to a specific appointment date and time. Choose from guaranteed discounted deals in the categories of hairstyling, hair removal, facial & aesthetics, body slimming, brows & lashes, nails & makeup, massage & spa or fitness & wellness. Customers can also buy vouchers as gifts or to use for the future.

<!