Top 10 Best Upholstery Services in Singapore
When looking for the best upholstery services in Singapore, it can be hard to know where to start. There are many different companies offering a range of services, so it can be difficult to narrow down your choices. To help make the decision easier, we have compiled a list of the top 10 best upholstery services in Singapore. These services offer a wide variety of options, ranging from custom designs and repairs to specialised fabric and furniture protection treatments.
---
#1 – Seatware Haus Pte Ltd
Introduction:
Seatware Haus® is a sofa manufacturer in Singapore that delivers custom made, high quality furniture.
Their team of professional designers, fabric specialists and experienced craftsmen ensure that the entire production process is undertaken with care and high quality assurance checks – from conception of idea to the final stages of production.

From scratch (or even sketch), every part of the furniture is hand made in Singapore and individually upholstered to the very last stitch. From the cutting of fabrics to application and sewing, followed by upholstery, every stage is done manually. With a wide variety of choice in colours and fabric, the quality in finishes and details of Seatware Haus' furniture is unrivalled. Customers' satisfaction is guaranteed.

They produce in compliance to Green Environmental Management System (EMS) under ISO 14001:2004.
About
Together, their brand name represents their dedication to design movement in the soft furnishing industry. Quality designed seatware is their passion and calling – they seek to be a solution provider for designers and architects when it comes to customisation needs for their projects (both corporate and commercial). They pride ourselves on being able to deliver custom furniture that matches and satisfies their clients' specifications, qualities and deadlines.
THey are committed to the craftsmanship of quality designed seatware. They pride ourselves for being the go-to manufacturer for designers, architects, business professionals and home owners looking for custom furniture solutions. Every project is different with its own set of unique challenges, but they have established some basic steps in their production process:
Location:
63 Ubi Ave 1 #05-09, Singapore 408937
Contact: +65 67422388
Website: Website Link Here
---
#2 – J&C Furniture & Furnishings
Introduction:
They have than 1000 sample to let you customize your sofa cover and cushion. Their service staffs have more than 17-years of sofa handcraft experience and skills. Quality is their first priority. Your sofa will return home with a bright new look or even better than a new piece.
About
For Various Types of Furniture-Sofa, Reclining Seats, Auditorium seats, Antique chairs etc. High Quality Services At Affordable Price.
They are committed to working pro-actively alongside their client, to continually achieve results that not only meet, but frequently exceed, their expectations. They keep their client at the centre of their work. Careful consideration of all aspects of a project ensures excellence at every stage. They can be relied upon to deliver superb design and craftsmanship, on time and within budget.
Location:
59 UBI Crescent ​Singapore 408597
Contact: +65 67411780
Website: Website Link Here
---
---
#3 – Centrepiece Furnishing
Introduction:
As a direct manufacturer, we eliminate unnecessary costs that retail stores must compensate for by charging higher. Their workshop location costs a fraction of that per square foot a month and since they are only open to the public by appointment, utilities are low too. With expenses at a fraction of the price of other retailers, they deliver better value for high quality products. The price you pay is for the actual items and not for extravagant displays or expenses.
About
We have a vast collection of eclectic pieces, ranging from traditional to contemporary styles. Our comprehensive collections allows dedicated home-owners to choose from different styles, textures and colours. Whether your style rides into the traditional lines or the more modern and minimalist style. Furniture are, essentially, individualistic pieces that come together to complement your lifestyle. At Centrepiece, lifestyle is a culture. We inculcate this belief into our collection.
Centrepiece caters to all ideas. Their customised made-to-order sofa and upholstery services come direct from their factory. Receive from their reliable and quality workmanship with the highest assurance. Many have benefitted from using their services, and if you do not know about them yet. Perhaps it is time you get into their circle of friends who have benefitted from them.
Location:
Northstar@AMK, 7030 Ang Mo Kio Ave 5, #06-62, Singapore 569880
Contact: +65 90305057
Website: Website Link Here
---
---
#4 – Forest Leather
Introduction:
At Forest Leather, from the smallest detail of workmanship to the cleanliness, they take pride in things they do. With years of experiences, their masters & consultants will provide ideas & solutions for every difficulty that they come across. They will treat your furniture with care.
They try their best to make upholstery a affordable thing to do. Not just to save the environment but to allow most of the people have a chance to choose and decorate/design their house with beautiful furniture.
They treat every client with a genuine sincere smile & they hope its a two-way gesture. They will be nice if you are nice to them too!
About
Furniture reupholstery is giving your old furniture a makeover. The old padding, covering or cushion is carefully removed so that the frame of the furniture is revealed. The joints and integrity of the frame are examined. Repairs and tightening are done so that the frame is strong and renewed. A new padding, covering or cushion of your chosen material, quality and design is then fixed onto the frame. Your furniture looks and feels totally new, all at the fraction of the price of a new one!
Furniture customisation is having your new furniture built according to your preferences. You get to choose the material and design of the frame, the fabric and finishing of your furniture. This is important when you want a distinct style for your furniture so that no other people in the world have the same design as yours. This is important when you want a distinct style for your furniture so that no other people in the world have the same design as yours. Usually, businesses such as hotels, retail shops and restaurants do this as part of their branding efforts.
Location:
Blk 38 Defu Lane 10 #01-27 Singapore 539215
Contact: +65 9362 9948
Website: Website Link Here
---
#5 – Kia Meng Trading
Introduction:
Since 1986, Kia Meng Trading has been around specializing in customizing and reupholstery services on sofa, cushions, furnitures and wall panels in Singapore. They have created many reupholstery masterpieces in renowned places such as Singapore Changi Airport , Balacava ,cushion playground of Hai Di Lao outlets all around Singapore. They also cater to reupholstery of sofa and cushions as they understand the importance of your home furnishing to you.
They DO NOT Outsource their upholstery or reupholstery services to ENSURE product Quality Control and Affordable Prices for their customers.
Their Quality Assurance: Kia Meng Trading is committed to all their customers' upholstery and reupholstery needs and wants and strives to give 100% satisfactions in all their upholstery and reupholstery job.
Do kindly contact them if u have any enquires or quotation needed for upholstery or reupholstery services or custom made furniture matters. Whether it is sofa upholstery or reupholstery or chair upholstery or reupholstery, their services will delight you.
About
Traditional reupholstery or upholstery is a craft which evolved over centuries for padding and covering chairs, seats and sofas, before the development of sewing machines, synthetic fabrics and plastic foam. In today fast paced Singapore, who doesn't like a piece of nostalgia. It might be a vintage chair, a sofa that you are so fond of that has gone through wear and tear. Instead of throwing it away, visit Kia Meng Trading to reupholster your beloved piece of furniture.
Their Quality Assurance: Kia Meng Trading is committed to all their customers' upholstery and reupholstery needs and wants and strives to give 100% satisfactions in all their upholstery and reupholstery job.
Location:
Ang Mo Kio Industrial Park 1, Block 4002 #01- 16 ,S569623
Contact: +65 90485804
Website: Website Link Here

---
#6 – Dks International Supplier & Services
Introduction:
It wasn't really a business for them back in 1997, 24 years ago. In fact it was just a small door to door home repair service with no "business model" or proper structure. They only had some really good knowledge about furniture and how they can actually help people restore and repair them to make it look new and awesome again.
With that in hand and along with the help of plenty of customers they started Dks International, with a simple and straightforward business plan. Which has a clear objective to help others & provide great home solutions.
Having that in mind they are out to help as many people as we can to improve their home by keeping up with the latest trend in design & style without having to compromise by throwing their beloved furniture.
About
At DKS they believe that furniture by no means gets old. You simply need to give it a little attention and it'll look as good as new once again. Much like how they feel memories are develop through the different parts of the house, they feel furniture are usually a part of these memories too. If your furniture isn't appearing as good as they should, don't throw it away. DKS International is now here to change that. But most importantly, their company is here simply because they care a lot about your home, office and furniture just like you do.
Simply put, they would like your home to shine much like you'd do. Whether it is an upholstery service, carpet service, curtain service, carpentry service or furniture repair, buying products to maintaining your furniture, DIY-tools intended for day to day home use or just books, they're small enough to take serious pride in each and every task they do, yet agile enough to take on jobs of all sizes. 'Bring it on!', as they say in those awesome movies.
Location:
37 Defu Lane 10 #01-41, Singapore S539214
Contact: +65 62844186
Website: Website Link Here
---
Read Also:

Top 10 Best Places to Shop for Furniture in Singapore

_ 
---
#7 – Ho Soon Lee Sofa Maker
Introduction:
Whether you are looking for upholstery or reupholstery services, you've come to the right place. Established since 1976, their skilled masters of upholstery possess the dedicate skills and eye for details that sets the benchmark till today.
They're passionate about delivering the best quality upholstery works. Whether is it making a new piece of sofa, custom make an artwork that is uniquely yours, reupholstering an old chair, even as simple as adding a cushion to your baby's room, rest assure that it will be of utmost quality that none can match.
Being consumers ourselves, they know what you want. High quality products that are handcrafted by senior artisans, you can't find an equivalent product like theirs.
About
They provide a wide range of upholstery services. Be it changing an existing sofa, dining chair, cushion, headboard, bedframes. You can choose to change it to fabric, genuine leather, synthetic leather or any material that you want to provide them with.
Making a new sofa? No problem. They can customise the sofa to fit into any specific size. Nothing too small or too big for them.
Location:
Block 5022 Ang Mo Kio Industrial Park 2 #01-39 (S)569525
Contact: +65 64825023
Website: Website Link Here
---
#8 – Z.Mivins Furniture & Furnishings
Introduction:
Z.Mivins is 1 of Singapore's most experienced sofa reupholstery masters. Their master craftsman has more than 25 years of experience helping both their Residential as well as Commercial customers repair and reupholster their sofa, chairs, seatings and bedroom headboard.
About
They offer a complimentary on-site quotation. Simply give us a call at 9109 9189 and they will head down to your premise to inspect your sofa/seating/headboard/etc. They can give you a quotation on the spot. This service is absolutely free of charge (FOC). Hence, do not hesitate to give them a call. They may be able to help you savage your precious sofa/seating/headboard. They are also proud to share that they are 1 of the rare few recliner sofa reupholstery specialist in Singapore. No sofa or seating is too complex for them.
They understand that for many of their customers, buying a new set of chairs/sofas is simply out of the question. The reason is that the seating/sofa sitting in the living room contains many memories and many of their customers cannot bear to change this to a brand new sofa. Here's where their expertise will come in!
Location:
3 Lor Bakar Batu #07-01 S348741
Contact: +65 91099819
Website: Website Link Here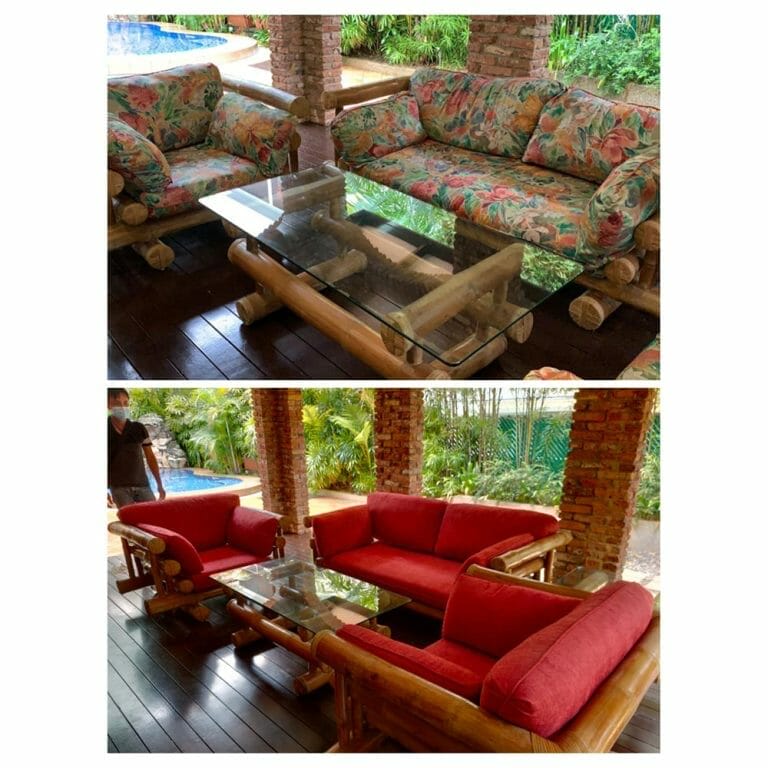 ---
#9 – Sin Hock Heng Upholstery
Introduction:
Established in 1980, SHH has a vast experience in upholstery for automotives.
Over the years, they have added windscreen replacement and insurance claims into their services as well.
About
Their track record over the years have proven their finest craftsmanship and precision for automotive upholstery.
They have done projects ranging from classic vintage cars to luxury continental sports cars, so rest assured when you leave upholstery project with them.
Location:
7 Sin Ming Industrial Estate Sector C, #01-90, Singapore 575642
Contact: +65 64548160 / +65 64548179
Website: Website Link Here
---
#10 – Leather One Pte. Ltd.
Introduction:
From trading hides & high-quality leather, they evolved into providing quality leather restoration for home furniture and automobile seats. Experience gained from exposure to European upholstery houses in the Netherlands, the United Kingdom and New Zealand further spurred their expansion into providing upholstery services to business establishments like cinemas, hotels, clubhouses, MCST's & Estate Managers, Institutes of Higher Learning as well as millitary camps and many other establishments.
About
Established in 2010, their expansion saw them occupying a larger production factory in mid-2017, more than twice the size of the old factory. Their skilled craftsmen specialise in all types of upholstery work for home and office furniture, rejuvenating your custom-made sofa, treasured lounge suites, sofa beds & couches, recliners, cushion cover & loose cushion, window bay cushion, dining & kitchen chairs, massage chairs, ottomans, bed frame, headboard etc to a brand new splendour.
In making the process a less time consuming experience, they adopt a one-stop-service to complete the re-upholstery work for their clients. The process kicks off with the initial assessment of the furniture on the make and model (pictures from WhatsApp or email or physical viewing by their sales team), choosing of fabrics or leather, pick up of your sofa set, the re-upholstery work proper and finally the delivery of the completed work. They endeavour to achieve a smooth and non-disruptive system so as to minimise inconvenience to their clients.
Location:
37 Kallang Pudding Road, Tong Lee Building, Units 01-12, Singapore 349315
Contact: +65 62880898
Website: Website Link Here
---
Have a Place to Recommend?
Your contribution is valuable to us! Are there any outstanding businesses that you believe should be added to our list? If so, please send your recommendations to us at [email protected]. Tropika Club will review your suggestions and update the list accordingly. Thank you for your help in making our list of businesses as comprehensive and accurate as possible.
---
Meanwhile, Check out Tropika Club's Ecosystem of Websites
Tropika Club Magazine – Tropika Club Magazine is a Singapore-based publication that features articles on a wide range of topics with a focus on local businesses and content for the region. The magazine emphasizes supporting local businesses through its #SupportLocal initiative, which includes coverage of everything from neighborhood hawker stalls to aesthetic clinics in town. In addition to highlighting local businesses, Tropika Club Magazine also covers a variety of local content, including beauty, lifestyle, places, eats, and what's on in Singapore and the Asia Pacific region.
Tropika Club Deals – Tropika Club Deals is a leading online deals and voucher shopping site in Singapore, offering amazing discounts on beauty, wellness, and fitness products and services. It's the perfect platform for customers who want to discover the best deals without having to commit to a specific appointment date and time. These deals are available at major beauty stores, facial salons, hair salons, and other brands in Singapore, with no minimum spend required. Choose from guaranteed discounted deals in the categories of hairstyling, hair removal, facial & aesthetics, body slimming, brows & lashes, nails & makeup, massage & spa or fitness & wellness. Tropika Club Deals is also ideal for customers who want to buy vouchers as gifts or to use for the future. So whether you're looking to save money on your next haircut or want to treat yourself to a relaxing massage, Tropika Club Deals has got you covered with the best voucher and coupon deals in Singapore!