What to Eat at Dempsey Singapore
Dempsey Singapore is a food lover's paradise, with a wide range of cuisines to choose from. Whether you're looking for a quick bite or a leisurely meal, there's something for everyone at Dempsey Singapore. Here are some of our top picks for what to eat at Dempsey Singapore.
---
#1 – Min Jiang at Dempsey
Introduction:
The award-winning Min Jiang restaurant continues to expand its footprint with the opening of Min Jiang at Dempsey. Set amidst the luscious greens of Dempsey Hill, this is the second independent restaurant that Goodwood Park Hotel fully manages off-site.
Housed in a 5,000 square foot black and white one-story colonial building with the main dining area, 3 private dining rooms, a timber decked alfresco for outdoor dining, and a cozy bar, there will be ample space for 110 guests. It is also a lovely venue choice for couples who wish to hold their wedding in a unique location.
Celebrated architect and interior designer, Ernesto Bedmar, has cleverly chosen elements of gold, yellow and green for a hint of glamour, combining it with clean, minimalistic lines to achieve a perfect blend of oriental charm and chic modern style. Sleek marbled surfaces, chinoiserie interiors, and contemporary furnishings reflect a refined sophistication for an enjoyable dining experience.
Featuring contemporary Sichuan and Cantonese fare, the house specialties include the authentic Beijing Duck prepared according to an ancient Chinese recipe, the exquisitely prepared dim sums as well as roast meats.
Menu Items:
Chef Goh's Appetiser Platter
• Wok-tossed Lobster Medallion coated with Creamy Salted Egg Yolk
• Sliced Pork with Marinated Shredded Papaya and Black Garlic
• Steamed Egg and Pan-fried Scallop with Truffle Oil
The Heritage Treasures Platter
• Crisp-fried Teochew-style Shrimp Roll
• Braised Pork in Wuxi-style
• Deep-fried Crabmeat with Chicken Liver and Salted Egg Yolk
• Stir-fried Freshly Harvested Seasonal Greens and Macadamia Nuts
Chilled Drunken Chicken in Min Jiang-style
And many more
Location: 7A &, 7B Dempsey Rd, 249684
Contact: 6774 0122
Website: Website Link Here
---
#2 – Candlenut
Introduction:
The world's first Michelin-starred Peranakan restaurant, Candlenut takes a contemporary yet authentic approach to traditional Straits-Chinese cuisine. The restaurant serves up refined Peranakan cuisine that preserves the essence and complexities of traditional food, with astute twists that lift the often rich dishes to a different level. Helmed by chef Malcolm Lee, Candlenut is committed to continually create inspired and elevated Peranakan dishes using the freshest seasonal produce available.
Menu Items:
'Taste of Candlenut' August (Price $128++ per person)
Bakwan Kepiting Soup (Price $14)
Ngoh Hiang (Price $22)
Snake River Farm Kurobuta Pork Neck Satay (Price $ 24)
Wing Bean Salad (Price $22)
Sweet Corn and Mizuna Salad (Price $24)
Sambal "Four Heavenly Kings" (Price $24)
Ikan Bakar (Price $38)
Ikan Assam Pedas (Price $32)
All prices subject to 10% service charge and prevailing government taxes
Location: Block 17A Dempsey Road, Singapore 249676
Contact: 1800 304 2288
Call us at + 65 8121 0176 between 10:30am and 9:00pm to place takeaway orders.
Pick up and delivery timings:
Monday to Sunday & PH
11:30am – 9:00pm
Website: Website Link Here
---
---
#3 – Red Sparrow
Introduction:
Red Sparrow Singapore is an authentic Vietnamese restaurant in the heart of Dempsey. Right on Dempsey Road, not far at all from Queenstown MRT, the chefs at Red Sparrow Singapore use specially imported herbs and spices to create their fresh, homemade broths that are used across much of the menu. As such, one dish from many that you absolutely have to try is the signature pho – soupy goodness that they can't get enough of. Also good at this stylish Vietnamese restaurant – there are hand painted murals on the walls – is the grilled BBQ and collagen hot pots. Red Sparrow Singapore has made quite the name for itself and is therefore very popular. Advanced reservations are essential.
Menu Items:
Bún Bò Nam Bộ (Price $24)
Phở Đặc Biệt (Price $22)
Phở Bò Viên (Price $19)
Bánh Canh Cua (Price $32)
Bún Ốc (Price $25)
Miến Cua (Price $22)
Location: Dempsey Road, #01-18 11, 249673 Singapore
Contact: +65 6776 6118
Website: Website Link Here
---
_

Read Also:

Top 10 Best Spanish Rioja Red Wines for under $80
---
#4 – Atout
Introduction:
Atout is Chef Patrick Heuberger's biggest asset.
The Geneva-born chef came to Singapore in 2001 is now firmly settled into his role as a husband, father and chef-owner of the restaurant of his dreams.
Providing a welcoming place for guests to come at any time of the day for a simple snack or a full meal and drinks.
"What makes me happy is seeing my customers leaving the restaurant fully satisfied," he says. "It's difficult because there are so many parameters – the staffs, the supplies that you fight for with demand from all over the world. It's a challenge but it's satisfying when it goes well.''
Even after 20 years, Chef Patrick has the same simple wish: to learn. "I want to do better everyday and improve, and have fun doing it.
That has not changed.'' Neither has his desire to manage and nurture his team and treasure trove of recipes. "I want to watch both of them grow.''
And, no doubt, his customers will grow with him at the same time.
Menu Items:
Atout speciality:
"PEPPERSTEAK" Angus Beef Ribeye with Brandy Sauce 500 g (Price $98)
Char-Grilled Angus Beef Prime Rib 1kg (Price $160)
Canadian Pork Chop, "Char Grilled" or "Pepper Crust" or Porcini Mushrooms (Price $68)
Char-Grilled Toulouse Pork Sausage (Price $34)
Monthly Specials:
Steamed French Bouchot Mussels with Saffron Cream Sauce or White Wine (Price $48)
Cake Of The Month – Ondeh Ondeh Soju Cake (Price $10.80/ sliced)
Wine Collection:
Château La Mission Haut-Brion 2006, Pessac-Léognan (Price $890)
Sassicaia 2009 (Price $670)
HomeMade Cakes:
Peach Melba (Price $108)
World Champion St. Honoré Cake (Price $11.80/ sliced)
Bordier Butters:
Pre-order-Bordier Plain Butter, Semi-Salted (Price $7.50/125gm)
Pre-order-Bordier Seaweed Butter (Price $10.55/125gm)
Location: 40C Harding Road, Singapore 249548
Contact: +65 87994567
Website: Website Link Here
---
#5 – PS.Cafe Harding
Introduction:
One of the pioneer venues of Dempsey Hill PS. Cafe at Harding Road has remained a firm favourite with their guests since its opening in 2005. Boasting a modern and spacious design concept and panoramic views of the lush jungle through its floor-to-ceiling windows, this light and expansive outlet provides the perfect escape when you have a few hours to spare.
PS. Cafe at Harding offers a menu packed with classic PS. dishes, as well as some exclusive menu items only to be found at this location. On top of that, you can also find a full dessert counter offering an expanded range of PS. Cafe's indulgent cakes and pastries.
Menu Items:
Breakfast:
EGG & BACON BUNWICH
SAUSAGE & CARAMELISED ONION BUNWICH
GOOD OL CINNAMON & BLUEBERRY PANCAKES
CURED SALMON, EGG & DILL BUNWICH
All Day Menu:
PS. CRAB & PRAWN LAKSA
SUZY'S SPAGHETTI CRAB 'MEE GORENG'
THAI CHICKEN & BASIL BOWL
CRAB TART
Location: 28b Harding Road, Singapore 249549
Contact: +65 6708 9288
Website: Website Link Here
---
---
#6 – Da Paolo Dempsey Restaurant & Bar
Introduction:
Da Paolo Dempsey offers a modern twist to traditional Italian cuisine with a live pasta making counter, Italian wood-fired oven for handstretched pizza, and an extensive wine and cocktail menu. This experiential dining guarantees that whether you're here for gourmet shopping or to have a delectable meal, you can get an enriching insight into Italy's vibrant food and wine culture whilst soaking
up the convivial spirit.
From pasta made fresh at the pasta counter to Da Paolo's signature Tiramisu, Executive Chef
Andrea goes back to the basics of Italian cuisine, embodying the heart of his father's, Paolo, vision when he opened his first trattoria. Indulge in authentic Italian gelato, handstretched wood-fired pizza, hearty brunch, quality cuts & cheese, complemented with an extensive wine and cocktail list.
Menu Items:
Beef lasagna
Spaghetti Aglio Olio e Funghi
Spaghetti Carbonara
Tagliatelle alla Bolognese
Spicy Lobster Linguine
Wholesome Kale Bowls
Naples style Wood-fired Pizzas
Location: #01-13 Dempsey Rd, Blk 8, Singapore 247696
Contact: +65 6261 3128
Website: Website Link Here
---
#7 – The Dempsey Cookhouse & Bar
Introduction:
World-renowned Chef Jean-Georges Vongerichten's legendary involvement in every aspect of his restaurants – concept, menu, architectural design, staff selection and training – shows through in The Dempsey Cookhouse and Bar, his Singapore flagship here at COMO Dempsey. Featuring an enticing menu that showcases his signature contemporary Asian-inspired European fare, its creative flavour combinations and ingenious use of fresh, locally-sourced produce enliven the senses. The elegant restaurant setting with its open kitchen elevates the cooking process into a performance, while communal dining makes the experience more familial and relaxed.
*Dine-ins will be subject to government guidelines.
Menu Items:
Guacamole with Peas, Warm Crunchy Tortillas (Price $20)
3 cheese, Asparagus, Salami Pizza (Price $28)
Cracking Chicken, Creamed Corn, Buttery Hot Sauce (Price $34)
Tiger Prawns (Price $44)
Location: Block 17D Dempsey Road, Singapore 249676
Contact:
Call us at + 65 8121 6122 between 10:30am and 9:00pm to place takeaway orders.
Pick up and delivery timings:
Monday-Sunday
Lunch 12:00pm – 2:30pm Dinner 6:00pm – 9:00pm
Website: Website Link Here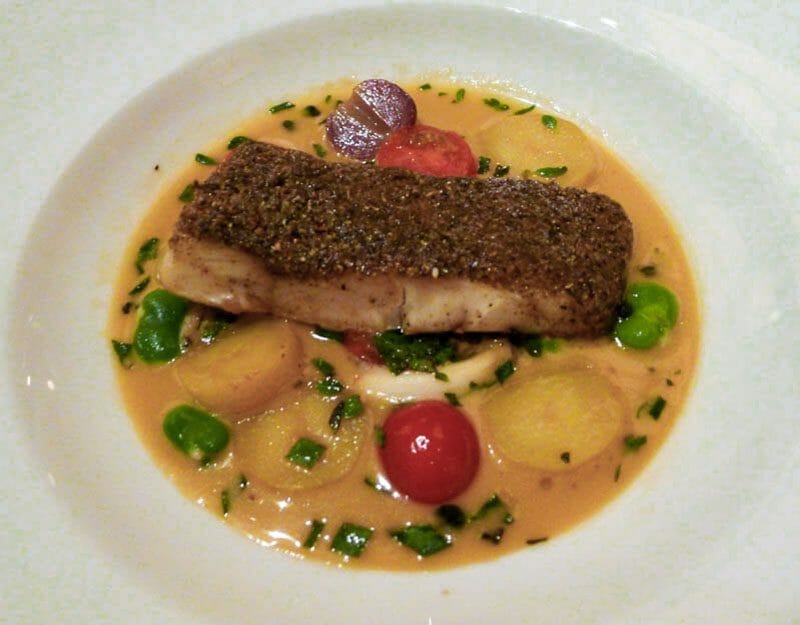 ---
#8 – La Salsa
Introduction:
Bienvenido!
Welcome to La Salsa's contemporary twist to the Latin and Mexican cuisine whilst preserving the region's vibrant culture symbolizing its influence and diversity of exotic, robust flavours specially curated by Chef Jeff.

Since the age of 16 Chef Jeff has been intrigued with the flavours native to Mexico brought alive in the tales from his seaman father after trips to Latin America. His years of culinary experiments and flair continue to astound diners to this very day.

In their timeless popular classics and exciting wood fire grilled fare, Chef Jeff meticulously shapes each dish with pride, capitalizing on the variety of spices native to Mexican households for your dining pleasure.
Which can only mean it's fiesta time at La Salsa as you are transported to the streets of Mexico sipping on their delicious margaritas, mezcals and sangrias right in the heart of Dempsey Hill! Buen provecho amigos
Menu Items:
Chips y Salsas (Price $28)
Jalapeno Relleno (Price $19)
Sopa de Mariscos (Price $15)
Nachos (Price $19)
Ensalada de Cuernavaca (Price $16)
Quesadilla (Price $19)
Location: 11 Dempsey Road, #01-17 Singapore 249673
Contact:
Tel: +65 6475 6976
Whatsapp: 65 8139 8893
Website: Website Link Here
---
#9 – Chop Suey Café
Introduction:
The first new concept and brand created by PS.Cafe, Chopsuey Cafe at Dempsey Hill opened in 2013, remains a popular destination for relaxing lunches and hearty dinners. Featuring an extensive menu packed with delicious Anglo-Chinese fare, Chopsuey Cafe's offering is inspired by the comforting take on Chinese dishes found in Europe and beyond. Expect to see large portions of flavourful classic Chinese dishes with the brand's unique twists. All this is enjoyed in the relaxing and lush colonial garden setting, featuring both indoor and outdoor dining spaces.
Menu Items:
THE CHOPSUEY GOOD LUCK SALAD
SPICY MUSHROOM SPRING ROLLS
SAN CHOY PAU A.K.A DIY LETTUCE CUPS
SWEET CORN & FRESH CRAB EGG DROP
SATAYS CHICKEN & TOFU, PORTOBELLO, TOFU & PINEAPPLE
LONG LIFE VEGETARIAN NOODLES
Location: Block 10, Dempsey Road, #01-23, Singapore 247700
Contact:
CONCIERGE : +65 6708 9288
(Concierge Operating Hours : 10am to 10pm daily)
Website: Website Link Here
---
#10 – JUMBO Seafood (Dempsey Hill)
Introduction:
JUMBO Seafood is where it all began. Their most prominent brand had humble beginnings in 1987, operating from a single outlet (now their flagship restaurant) in East Coast Seafood Centre. The restaurant soon gained a loyal following, garnering a reputation for serving only the freshest seafood cooked to perfection, with iconic dishes such as the Singapore Chilli Crab and Black Pepper Crab capturing the hearts of local and overseas gastronomes. As its reputation grew, so did the number of outlets.
Today, JUMBO Seafood comprises multiple restaurants in Singapore and The People's Republic of China, with franchises all over Asia.
In addition to serving its JUMBO Award-winning Chilli Crab, JUMBO Signature Black Pepper Crab, Golden Salted Egg Prawns and Crispy Fried Baby Squid, the chain of restaurants offer other innovative and distinctive menu items, including special seasonal dishes.
JUMBO Seafood has garnered many prestigious culinary and service accolades over the years. These include Singapore Tatler's Best of Singapore 2018, Excellent Service Award 2017, TripAdvisor Certificate of Excellence 2017 and the Ctrip Food Award 2016 [Singapore Choice: JUMBO Seafood (Dempsey Hill)], just to name a few.
Menu Items:
Live Boston Lobster Braised with Superior Broth (Price $69/ each approx 500g)
Beef Fillet with Black Pepper Sauce (Price $16/each)
Baby Lamb Rack Grilled with Pepper and Honey Sauce (Price $18/ portion)
Scallops Wrapped in Yam Ring (Price $22/ portion)
Seafood Bacon Roll Tossed with Salad Cream (Price $ 16/ each)
Location: Block 11 Dempsey Road #01-16, Dempsey Hill, Singapore 249673
Contact:
Tel : +65 6479 3435
Fax : +65 6476 6329
Website: Website Link Here
---
Have a Place to Recommend?
Your contribution is valuable to us! Are there any outstanding businesses that you believe should be added to our list? If so, please send your recommendations to us at [email protected]. Tropika Club will review your suggestions and update the list accordingly. Thank you for your help in making our list of businesses as comprehensive and accurate as possible.
---
Meanwhile, Check out Tropika Club's Ecosystem of Websites

Tropika Club Magazine – Tropika Club Magazine is a Singapore-based publication that features articles on a wide range of topics with a focus on local businesses and content for the region. The magazine emphasizes supporting local businesses through its #SupportLocal initiative, which includes coverage of everything from neighborhood hawker stalls to aesthetic clinics in town. In addition to highlighting local businesses, Tropika Club Magazine also covers a variety of local content, including beauty, lifestyle, places, eats, and what's on in Singapore and the Asia Pacific region.
Tropika Club Deals – Tropika Club Deals is a leading online deals and voucher shopping site in Singapore, offering amazing discounts on beauty, wellness, and fitness products and services. It's the perfect platform for customers who want to discover the best deals without having to commit to a specific appointment date and time. These deals are available at major beauty stores, facial salons, hair salons, and other brands in Singapore, with no minimum spend required. Choose from guaranteed discounted deals in the categories of hairstyling, hair removal, facial & aesthetics, body slimming, brows & lashes, nails & makeup, massage & spa or fitness & wellness. Tropika Club Deals is also ideal for customers who want to buy vouchers as gifts or to use for the future. So whether you're looking to save money on your next haircut or want to treat yourself to a relaxing massage, Tropika Club Deals has got you covered with the best voucher and coupon deals in Singapore!