What to Eat at Yishun Singapore
Yishun is a town located in the north of Singapore. There are many food options available in Yishun, ranging from local to international cuisine. In this article, we will be looking at what to eat when you are in Yishun. We will be discussing five different food options that are popular among locals and tourists alike. Whether you are looking for a quick meal or something more substantial, there is something for everyone in Yishun.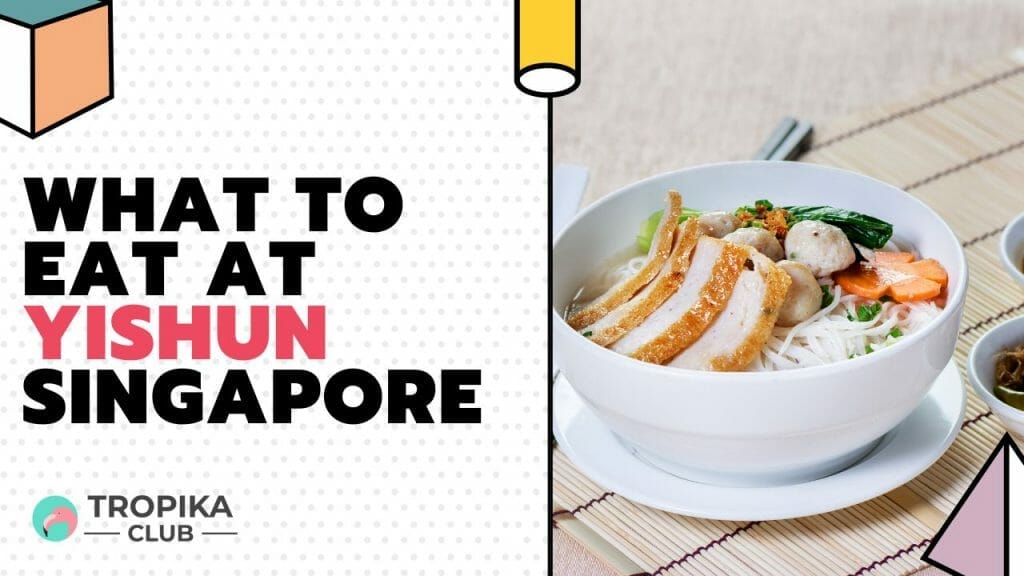 ---
#1 – White Restaurant
Introduction: When you talk about food in Singapore, The Original Sembawang White Bee Hoon is very much considered as one of their uniquely Singaporean dishes that is part of their National Identity, much like Hainanese Chicken Rice and Chilli Crab.
Originally prepared as a homely dish by their founder Mr Tay, the dish today has developed into a well-loved dish by all, that tastes anything but common, fully deserving of an identity on its own.
With many pretenders by no contender for its throne, they have since rebranded ourselves (currently known as White Restaurant) in relation to their signature white beehoon dish, in efforts to dignify its uniqueness and heritage. So let them welcome you with great food and better conversation every day.
Menu Items:
Mala White Beehoon – S $9.90 M $14.90
Mee Goreng – S $7.90 M $13.90
Hokkien Mee – S $7.90 M $13.90
Hor Fun / Dry Hor Fun – S $7.90 M $13.90
Location: 30 Sembawang Dr, #03 – 12, Singapore 757713
Contact: +65 6483 2002
Website: Website Link Here
---
#2 – Coba Coba
Introduction: In a father and son's bid to pay homage to their background, the idea of Coba Coba (Bahasa Indonesia:try try) was conceptualised. Established in 2014, they try to bring traditional handmade Indonesian food catered to families and friends in a clean, homely and halal environment. Naturally, they specialised in the old-school way of sharing Nasi Ambeng and Nasi Padang with the important people in your lives.
Amongst 30 over dishes, the signature dishes at Coba Coba are its tahu telur, lemak siput sedut, sotong sumbat and provide catering services for all occasions from home to corporate events to your convenience.
Most importantly, the Coba Coba team is thankful to have grown steadily due to the close rapport between customers, staff and friends
Menu Items:
Solo Beef Rendang Nasi Ambeng – $11.80
Solo Ayam Nasi Ambeng – $12.30
Chicken Wing Set – $4.90
Beef Redang Set – $7.40
Location: 156 Yishun Street 11 #01-106 Singapore 760156
Contact: +65 6382 2622
Website: Website Link Here
---
---
#3 – Heng Hua Restaurant
Introduction: Pu Tien Restaurant is named after Putian which is a coastal town located in the Fujian Province of China and it serves the local cuisine of the Xinghua people. Lor Mee has always been a bowl of thick flat yellow noodles in a thick, dark, and starchy sauce with ingredients like fish cake, pork belly, and hard-boiled eggs, in fact, the lor mee that Heng Hua is selling is hand-made on their own, and also came out with different color which is white lor mee. This is one of his popular items in Heng Hua.
Menu Items:
Heng Hua Style Lor Mee – $4.50/8/12
Heng Hua Style Noodles – $4.50/8/12
Heng Hua Style Mee Sua – $4.50/8/12
Heng Hua Style Fried Bee Hoon – $4.50/8/12
Location: Yishun Street 72, #01-212 Block 748, Singapore 760748
Contact: +65 6757 1762
Website: Website Link Here
---
_

Read Also:

Top Great Cafes in Woodlands, Yishun and North Singapore
---
#4 – Sembawang Traditional Claypot Rice
Introduction: Sembawang Traditional Claypot Rice is well-known for its authenticity—every pot of claypot rice is cooked fresh upon order.
Menu Items:
Traditional Claypot Rice – $12.80
Curry Fish Head – $36.80
Steamed Fish – $36.80
Crispy Salted Egg Sotong – $17.80
Location:4 Jln Tampang, Singapore 758948
Contact: +65 6757 7144
Website: Website Link Here
---
#5 – Holy Cow Creamery
Introduction: With their first outlet nestled amidst the quiet, laid-back charms of the old Yishun town since 2014, Northerners found a place to call their own, just a stone's throw distance from home.
In 2021, they expanded their pastures to their second outlet in Lavender. Just 3 minutes from Lavender MRT, Holy Cow Creamery has retained their cosy heartland feel amidst the hustle and bustle of central Singapore.
Enjoy their handcrafted ice cream concocted in their very own kitchens, paired with their crisp waffles. Try their aromatic coffee and creamy milkshakes, while basking in the serenity of their spaces.
Escape to Holy Cow for your dose of Ice Cream & good times. Recharge your happy meters today. See you soon!
Menu Items:
Classic Flavour Premium Flavour – Single $2.90 Double $5.40
Waffle – $4
Waffle with ice cream – $4.50
Take Me Home – Classic $10.50 Premium $14.50
Milkshake – Classic $5.50 Premium $6.50
Location: 292 Yishun Street 22, #01-291, Singapore 760292
Website: Website Link Here
---
---
#6 – Bei Sheng Taste of Thailand
Introduction: When you need restaurants in the Singapore(Yishun) area, there can be so many choices but Bei Sheng Seafood Restaurant provides excellent service in the area of restaurants! Their restaurant is non halal . You are allowed to order takeaway. They do not sell desserts in their restaurants.
Menu Items:
Thai Chili Crab – Market Price
Bei Sheng Cereal Prawn – $13/$19/$24
Thai Deep Fried Fish Delight – $18/$22/$26
Thai Style Chili Cuttlefish – $10/$15/$18
Location: 701A Yishun Ave 5, #01-01, Singapore 761701
Contact: +65 6756 4883
Website: Website Link Here
---
#7 – Chong Pang Nasi Lemak
Introduction: Chong Pang Nasi lemak had its humble beginning in the former rustic Chong Pang Village Hawker Centre in 1973.
Menu Items:
Set A (Nasi Lemak/Chicken Wing/Omelette/Fish Fillet/Hot Dog) – $4.40
Set B (Nasi Lemak/Chicken Wing/Omelette/Sambal Long Bean/Mackerel Otah) – $5.50
Set C (Nasi Lemak/Chicken Wing/Omelette/Fish Fillet/Mackerel Otah) – $5.50
Set D (Nasi Lemak/Sweet & Sour Chicken/Omelette/Fish Fillet/Hot Dog) – $5.50
Location: 447 Sembawang Road Singapore, Singapore 758404
Contact: +65 9655 1868
Website: Website Link Here
---
#8 – Thailand Street Food
Introduction: Thailand Street Food was founded in September 2018. We aim to serve affordable, delicious and authentic Thai food to North-dwellers (for-now) in Singapore.
There is NO GST & Service Charge!
Menu Items:
Mango Salad – $7
Tom Yam Clear Soup – $7/$10
Fried Grouper w/ Herbs & Spices – $28
Pineapple Fried Rice – $6/$10
Location: 18 Yishun Avenue 9 Singapore, Singapore 768897
Contact: +65 9699 5959
Website: Website Link Here
---
#9 – Baker's Brew Studio
Introduction: At Baker's Brew, they pride themselves in providing baking classes and courses that are of the highest standards. Their professional yet friendly instructors are extremely passionate in their craft and would never hold back in imparting their knowledge to students. They cater to both passionate beginners and experienced enthusiasts alike, assuring you of a holistic baking experience like no other.
Here, they offer engaging and interactive hands-on baking classes in a studio that is equipped with home-based equipment and appliances, to facilitate the continuing of your baking at home. They strive to be the best baking school in Singapore and they want to be a part of your baking journey!
Menu Items:
The Louvelle Collection (Assorted, Box of 4) – $78
Earl Grey Lavender Cake – $58
Ondeh Ondeh Cake – $58
Full Chocolate Cake – $58
Location: 1 Woodlands Square #B1-K01 Singapore 738099
Contact: +65 6980 7667
Website: Website Link Here
---
#10 – Old World Bak Kut The
Introduction: Old World Bakuteh is a kopitiam stall in Yishun selling their specialty fried porridge, together with a Teochew-style bak kut teh.
Menu Items:
Pork Ribs Soup – $6
Mixed Pig's Organ Fried Porridge – $5
Mixed Pig's Organ Soup – $4
Braised Big Intestines – $5
Location: 732 Yishun Ave 5, #01-380, Singapore 760732
Contact: +65 9388 5288
Website: Website Link Here
---
Have a Place to Recommend?
Your contribution is valuable to us! Are there any outstanding businesses that you believe should be added to our list? If so, please send your recommendations to us at [email protected]. Tropika Club will review your suggestions and update the list accordingly. Thank you for your help in making our list of businesses as comprehensive and accurate as possible.
---
Meanwhile, Check out Tropika Club's Ecosystem of Websites

Tropika Club Magazine – Tropika Club Magazine is a Singapore-based publication that features articles on a wide range of topics with a focus on local businesses and content for the region. The magazine emphasizes supporting local businesses through its #SupportLocal initiative, which includes coverage of everything from neighborhood hawker stalls to aesthetic clinics in town. In addition to highlighting local businesses, Tropika Club Magazine also covers a variety of local content, including beauty, lifestyle, places, eats, and what's on in Singapore and the Asia Pacific region.
Tropika Club Deals – Tropika Club Deals is a leading online deals and voucher shopping site in Singapore, offering amazing discounts on beauty, wellness, and fitness products and services. It's the perfect platform for customers who want to discover the best deals without having to commit to a specific appointment date and time. These deals are available at major beauty stores, facial salons, hair salons, and other brands in Singapore, with no minimum spend required. Choose from guaranteed discounted deals in the categories of hairstyling, hair removal, facial & aesthetics, body slimming, brows & lashes, nails & makeup, massage & spa or fitness & wellness. Tropika Club Deals is also ideal for customers who want to buy vouchers as gifts or to use for the future. So whether you're looking to save money on your next haircut or want to treat yourself to a relaxing massage, Tropika Club Deals has got you covered with the best voucher and coupon deals in Singapore!