Top 10 Best Car Cushion for Driving Comfort
Driving long distances can be a pain in the neck, and car seats only make the experience worse. If you're looking for a way to make your trip more comfortable, a car cushion is a great solution. Here are 10 of the best car cushions available on the market today.
---
#1 – Anomeo Neck Support Pillow for Car Use
Description:
Ergonomic Neck Pillow made of high density, high quality memory foam with balanced support and comfort. Absorbs pressure on your neck and relieves neck pain and muscle tension on long drives or while working.
Comes with easily attachable elasticated strap and hypoallergenic, washable cover. The essential accessory for your car, home or office. Relieves pain due to long hours of driving or work
Brand: Anomeo
Features:
Comes with easily attachable elasticated strap and hypoallergenic, washable cover. The essential accessory for your car, home or office.
Relieves pain due to long hours of driving or work
High-quality memory foam and contoured structure offer unparalleled comfort
Ergonomically designed to provide support and relief for head, neck, back and legs
Lightweight and portable
Hypoallergenic
Specification:
Material: Memory Foam Pillow
Pillow cover: 94% polyester, 6% spandex; Inner part: 100% polyurethane
Care instructions: washable cover – delicate hand wash
Pricing: $25.90
Where to Find: Link here
---
#2 – Art Living Gel Mat Cushion Car Seat TPE Silicone Cooling Honeycomb
Description:
Honeycomb design can provide maximum support and comfort while reducing stress. People can sit still for a long time without feeling tired. It combines soft sitting comfort with stable support to evenly absorb and dissipate body pressure .And it also support low back pain caused by prolonged sitting, sitting collapse, pelvic problems.
Brand: –
Features:
Flexible And Excellent Deformation Resistance:
Soft and elastic gel material, double design, excellent flexibility, can be squeezed back to the original shape immediately after stretching, it will always maintain its original shape and it won't lose its support, even after a long term use. It is more durable than ordinary cushions.
Nice Breath Ability And Durability:
The gel cushion adopts a honeycomb structure to circulate air, so it has good breath ability. Even if you sitting for a long time,you will not feel tired.Gel material cushion will retain its original shape and it won't lose its support.Nice companion for hot summer!
Easy Cleaning & Portable:
Gel Chair Seat Cushion with Machine-washable zippered .which is easy for cleaning.The gel seat is light and portable .You can take them to your home, office, wheelchair and movie theater. And it is small enough to carry to the airplane for long flights.
Specification:
2 patterns 4 sizes to choose:
Type A: 34X28X4cm
Type B: 42X34X4cm
Type C: 40X34X3.8cm
Type D: 42X42X4cm
Pricing: From $16.90 – $20.39
Where to Find: Link here
---
---
#3 – Car Seat Cushion Memory Foam Coccyx Orthopedic Chair
Description:
DESIGN: The cushion is hollow in the middle, helps to ventilate. Front end U shaped ergonomic design.
ORTHOPEDIC DOCTOR RECOMMENDED: We use a U shaped ergonomic design recommended by orthopedic surgeons and medical doctors across the globe for treatment of chronic or acute pain by alleviating pressure in strategic areas. Helps to relieve symptoms of: Sciatic Nerve Pain or Sciatica, Arthritis, Low Back, Lumbar, Tailbone, Coccyx, Prostate, Hip, Piriformis, Spine, Leg Pain, Backaches, Sores, Hemorrhoids, and post surgery, injury or pregnancy pain relief.
Brand: –
Features:
VERSATILE: Enjoy our pillow's soft exterior and nonslip gel rubber bottom. A perfect solution for your office or kitchen chair, car, truck, airplane, wheelchair, computer desk chairs at home or at work, recliner, stadium seat & bleacher, and couch! Can be used as a seat riser, lift cushion, or car cushion to increase the height of any seat. It's portable and small size also helps you find extra relief when you travel via plane. Plus its Pillowcase is machine washable.
Specification:
Colour:
PinkMemory Foam
GreyNoGel
BlueNoGel
GreyMemory Foam
PinkNoGel
BlueMemory Foam
Pricing: From $27.84 – $41.34
Where to Find: Link here
---
_

Read Also:
---
#4 – FD/Memory Foam Cushion/Lumbar Seat Relieve Support Pillow
Description:
The Memory Foam Seat Cushion was designed after years of research to craft the perfect shape to support your lower back, coccyx and hips. Breathable, Comfortable, and Secure in Place -Sculpted from premium highest grade memory foam, you can comfortably sit for hundreds of hours and the cushion will retain its shape without flattening.
IMPROVE AND PROTECT YOUR POSTURE- The U-shape­d cut provides support, comfort, and helps straighten and correct your posture, with utmost support along your lower back's natural arcs. Protects you from sitting wrong in harmful positions.
HIGH QUALITY-MEMORY FOAM PILLOW- Machine-washable zippered velour cover and mesh cove for EASY CLEANING. Made with premium quality,100% memory foam. Firmness for all memory foam products changes with temperature. Your cushion will feel softer in warm and firmer in cold temperatures. Room temperature is ideal for optimal performance!
Your cushion is gently firm on all sides so that it stays in place without shifting. You can work and move around on it easily and securely.
Easily transportable and lightweight – take the Memory Foam Seat Cushion wherever you go, so you can sit better all the time.
FITS FOR ANY SEATING including kitchen chair, office chairs, cars & trucks. Great for people who weigh up to 220 lbs
DOCTORS RECOMMEND the ergonomic seat cushion for drivers, pregnant women, mommies after childbirth, teenagers as prophylaxis for scoliosis & osteochondrosis
Brand: –
Features:
Back Pain Relief and Healing
Healthy posture
Proper spine alignment
Improved blood flow to your lower back and extremities
Soothing comfort, Ease Pain and Pressure, and Sit Right
Specification:
Model:
[upgraded] – dark black
[upgraded] – Navy
[upgraded] – silver moon grey
[upgraded] – Cherry Blossom
(standard) – Navy
(standard) – silver moon grey
(standard) – Cherry powder
Pricing: From $18.88 – $21.20
Where to Find: Link here
---
#5 – GTIOATO Car Seat Cushion
Description:
Fits for All Cars,Fit for Sedan and SUV
Brand: GTIOATO
Features:
More space,Extra pocket on the front and rear seat cover
Easy to Install,non-slip silicone on the back of seat cover.
One size fits all cars,universal model for most cars.
Airbag compatible and easy to install,change your interior car in 15 seconds.
Easy to clean— 100% washable, and durable to use.
Good ventilation effect and comfortable to sit, give protection from long sitting problems.
Specification:
Season: Four Season Universal
Color: Black / Gray / Coffee / Beige
Fitment: Fits for All Cars
Pricing: From $11.49 – $38.99
Where to Find: Link here
---
---
#6 – Soft Memory Foam Lumbar Waist Cushion
Description:
Sit Comfortable With Premium Quality Lumbar Cushion
Brand:-
Features:
High-density and high resilience memory foam gives you a perfect balance between firmness and softness and contour of your lower back, disperse your pressure, alleviate fatigue from your spine.
The mesh cover keeps air circulating and prevent discomfort from accumulated heat. The durable mesh cover with zipper is removable and washable.
The adjustable elastic strap fits any chair and keeps the lumbar cushion in position, the extension strap make the lumbar cushion compatible with any office chairs, executive chair, car seat, SUV, automobile, sofa, airplane, wheelchair, recliner etc.
Ideal gift for individuals that suffering the lower back pain and sitting for long hours, such as office clerk, taxi/druck/bus driver, game player etc.
Specification:
Colour:
Black
Brown
Purple
Grey
RED
Navy Blue(no pocket)
Pricing: From $12.90 – $13.90
Where to Find: Link here
---
#7 – PNSL Car Seat Cover Protector
Description:
The products are manufactured in international standard sizes and are suitable for more than 95% of the models on the market. The seats of individual models may be slightly larger and smaller. If you have perfect requirements, please go to the 4S shop to order.
Brand: –
Features:
Comfortable and breathable (luxury car seat cover)
Washable, durable and easy to clean
Non -slip silicone bottom
Chinese embroidery crafts
Environmental protection and odorless
Make your car look luxurious
Specification:
Material: Flannel
Color: Black/Brown/Red
Size:
Front seat cover: 50 cm x 50 cm
Rear seat cover: 134 cm x 48 cm
Pricing: From $27.29 – $147.34
Where to Find: Link here
#8 – Car Bamboo Charcoal Leather Seat Cushion Breathable Therapy Chair Cover Pad
Description:
Suitable for drivers and office use.
Made of Bamboo Charcoal, & Sponge of high elasticity.
Package Including:
1 X Car seat cover pad
Brand: –
Features:
Comfortable and breathable
Quicken metabolism and prevent bacteria
Health Keeper, useful to relieve fatigue
Specification:
52*50 cm(L x W)
Colour: Beige / Gray / Black / White
Pricing: From $9.07
Where to Find: Link here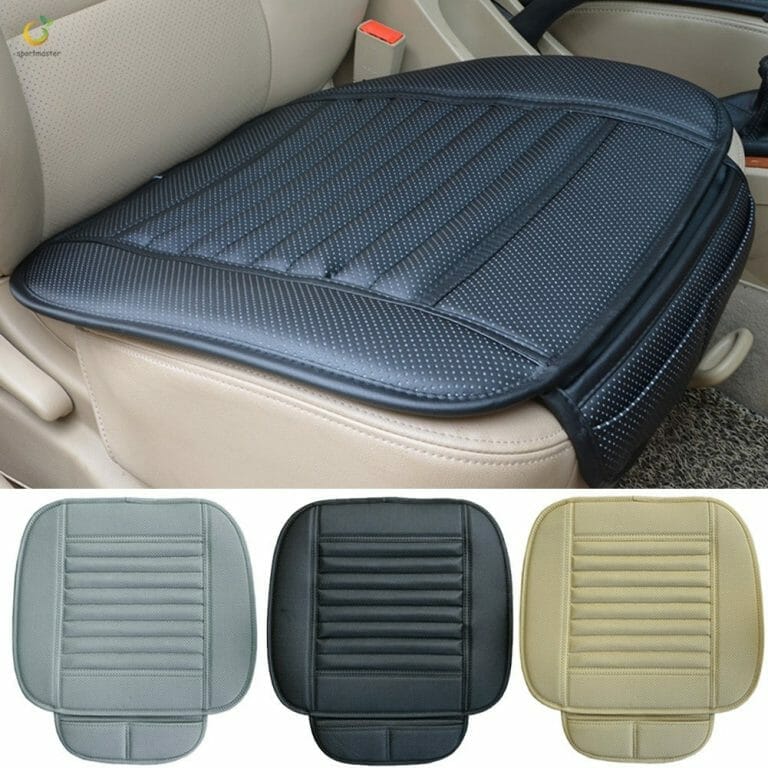 ---
#9 – Waterproof PU Leather Universal Car Seat Covers
Description:
Made of PU leather material, comfortable and smooth.
Suitable for year round use and for all cars.
Package Including:
1 X Car Seat Mat Cover
Brand: –
Features:
Natural environmental PU leather gives delicate feeling.
Protect the car seats, and keep the car the same.
Specification:
Colour: Red / Blue / White / Black / Coffee
Pricing: From $20.10
Where to Find: Link here
---
#10 – Car Seat Cover Cushion Auto Vehicle Wooden Bead
Description:
Easy to install and fits most vehicle bucket seats with removable headrest, using the adjustable tie string to secure the cushion to the seat.
Material: Wooden beads,healthy and Eco-friendly
Package Including:
1 x Car Cushion
Brand: –
Features:
Double mesh yarn, make cushion more stable
The wooden beads are cool and breathable,make your summer cooler
Cushion gently massage your back and legs while you drive.
Specification:
Colour: Winered / Beign / Coffee
Pricing: From $19.80 – $20
Where to Find: Link here
---
Have a Product to Recommend?
We need your help! Do you know of any other noteworthy product brands of this category that deserves to be added to this list? If so, do write to us via our email at [email protected]. Tropika Club will do a review of your recommendations and update the list accordingly.
---
Meanwhile, check out Tropika Club's Ecosystem of Websites

Tropika Club Magazine – Tropika Club Magazine crafts articles on all things Singapore, but with a greater emphasis on local businesses based on our #SupportLocalSG initiative. We check out and feature local businesses of all categories, ranging from your neighbourhood hawker stalls to the aesthetic clinics in town. We also cover local content ranging from beauty, lifestyle, places, eats and what's on in SIngapore. Our Top 10 rankings include local food and service establishments based in different regions in Singapore.
Tropika Club Deals – Search for the best voucher and coupon deals. Tropika Club Deals is ideal for customers who want to discover the best deals without having to commit to a specific appointment date and time. Choose from guaranteed discounted deals in the categories of hairstyling, hair removal, facial & aesthetics, body slimming, brows & lashes, nails & makeup, massage & spa or fitness & wellness. Customers can also buy vouchers as gifts or to use for the future.