Singapore Top 10 Hidden Gems: Uncover the City's Best-Kept Secrets
Embark on an extraordinary journey as we reveal Singapore's Top 10 Hidden Gems, the city's best-kept secrets waiting to be discovered. From serene nature trails to vibrant cultural enclaves, uncover the lesser-known side of the Lion City that goes beyond the usual tourist attractions. Delve into this comprehensive guide and prepare to be captivated by the hidden wonders of Singapore, a bustling metropolis full of surprises and unique experiences.
---
Singapore's Best-Kept Secret #1: The Southern Ridges
Introduction:
Go on a hike in the great outdoors and enjoy the serenity on offer at the Southern Ridges. Comprising 10 km of green, open spaces that connect Mount Faber Park, Telok Blangah Hill Park, HortPark, Kent Ridge Park and Labrador Nature Reserve, these ridges are an alternative for walking enthusiasts, history buffs, shutterbugs, nature lovers, bird watchers and families looking for a different kind of family outing.
Steeped in history and one of the best spots in Singapore to enjoy panoramic views of the city, harbour and the Southern Islands, the Southern Ridges is home to a wide variety of flora and fauna.
Henderson Waves, a structure not to be missed, connects Mount Faber Park to Telok Blangah Hill Park. Standing 36 metres above Henderson Road, it is the highest pedestrian bridge in Singapore, and is frequently visited for its artistic, distinctive wave-like structure consisting of a series of undulating curved 'ribs'. Other highlights of the Southern Ridges include the Forest Walk and Canopy Walk – bridges cutting through the Adinandra Belukar, a distinct type of secondary forest. Here, you can see a rich variety of flora and fauna and observe birds in their natural habitat. Walk on the Ridges and capture the beauty of wild flowers and birds. Explore Berlayer Creek at the newly launched Labrador Nature and Coastal Walk, which is home to myriad flora and fauna, another great getaway from the hustle and bustle of city life.
The Southern Ridges comprise 10 kilometres of trails connecting three parks along the southern ridge of Singapore. Some of the attractions along these trails include its greenery and the connecting bridges. This project linked up the parks between the Kent Ridge Park and HarbourFront.
Opening Hours:
Location & Address: Southern Singapore
Contact: 1800 471 7300
Website: Website Link Here
---
Singapore's Best-Kept Secret #2: Sungei Buloh Wetland Reserve
Introduction:
Discover the beauty and wonders of nature at Singapore's first ASEAN Heritage Park. Uncover a world filled with rich biodiversity as you wander through the wetlands with an extensive mangrove forest of Sungei Buloh Wetland Reserve.
Sungei Buloh was first opened as a Nature Park in 1993. In 2002, 130 hectares were officially gazetted as a Nature Reserve and renamed Sungei Buloh Wetland Reserve to better reflect its status. In the same year, it was recognised as a site of international importance for migratory birds and awarded a certificate by Wetlands International, marking the reserve's formal entry into the East Asian Australasian Shorebird Site Network, which includes Australia's Kakadu National Park, China's Mai Po – Inner Deep Bay and Japan's Yatsu Tidal Flats. And in 2003, Sungei Buloh Wetland Reserve became Singapore's first ASEAN Heritage Park.
Since then Sungei Buloh has expanded to include 202ha of mangroves, mudflats, ponds and forests, providing an even larger sanctuary for the flora and fauna that call it home. This includes the newest extension that houses a brand new Visitor Centre and new trails for visitors to explore and enjoy. This new extension is situated along Kranji Way, and is easily accessible by public transport, bringing Sungei Buloh even closer to the public.
Throughout the year: Trek through this ecological jewel's many trails and discover its native inhabitants such as mudskippers, crabs, shellfish, water snakes, birds, spiders, monitor lizards and otters. Admire the beauty of resident birds such as herons, kingfishers and sunbirds.
Seasonal from September to March: During the migratory season, catch sight of the diverse flocks of shorebirds or waders including plovers and sandpipers.
Opening Hours:
Weekdays:7am – 7 pm
Weekends:7am – 7 pm
Location & Address:
Visitor Centre:
60 Kranji Way, #01-00
Singapore 739453
Wetland Centre:
301 Neo Tiew Crescent
Singapore 718925
Contact: 6794 1401
Website: Website Link Here
---
---
Singapore's Best-Kept Secret #3: Tiong Bahru Heritage Trail
Introduction:
Tiong Bahru Road today stretches for more than three kilometres from Redhill MRT at its western end to Outram Road on its eastern end. For most Singaporeans, Tiong Bahru is a small, charming and chic housing estate awash with good eateries and eclectic little shops. But there is much more to Tiong Bahru than meets the eye, as this heritage trail shows.
The first appearance of Tiong Bahru Road on a map was in 1913. Before that, the road had been named Burial Ground Road as it led from Outram Road into an area surrounded by numerous Chinese burial grounds. People were probably using the name Tiong Bahru long before it appeared in published sources, going by the etymological roots of the term. 'Tiong Bahru' combines two words: 'Tiong' (冢), meaning 'grave' in the Hokkien dialect, and the Malay word 'bahru' (also spelt 'baru'), which means 'new'. Tiong Bahru was hence used by locals to refer to a 'new' cemetery as opposed to the old cemetery at the site of the present Singapore General Hospital.
Before the early 20th century, the area around the present Tiong Bahru was largely undeveloped. Most of the land along the length of Tiong Bahru Road was used as farmland or cemeteries. After the turn of the century, some enterprising businessmen began to build houses and shophouses along the road, with one cluster at the junction of Tiong Bahru and Henderson Roads, and a second cluster at what is now Tiong Bahru estate.
Opening Hours:
Location & Address: 65 Tiong Poh Rd, Singapore 160065
Contact: 1800 2255 642
Website: Website Link Here
---
---
Singapore's Best-Kept Secret #4: Pulau Ubin
Introduction:
Be transported back in time to 1960s Singapore as you embark on a trip to Pulau Ubin. Shaped like a boomerang, this 1,020-hectare island is home to Singapore's last village or kampongs, as well as the Chek Jawa Wetlands, one of Singapore's richest ecosystems.
Pulau Ubin is an island northeast of mainland Singapore. Cycle trails and footpaths criss-cross the hills, going past disused granite quarries and traditional kampongs (villages). Kingfishers and bulbul birds inhabit the tidal flats and mangroves of the Chek Jawa Wetlands. The Jejawi observation tower and a looped boardwalk offer views of this area. Fo Shan Ting Da Bo Gong Temple houses statues of local deities.
Opening Hours:
Ubin Volunteer Hub: 9.00am – 5.00pm
Ubin Living Lab office: 9.30am – 4.30pm
Chek Jawa Wetlands: 9.00am – 5.00pm
Price of Admission: $4 per person ($2 extra if you are bringing your bicycle)
Location & Address: Pulau Ubin
Contact: 6542 4108
Website: Website Link Here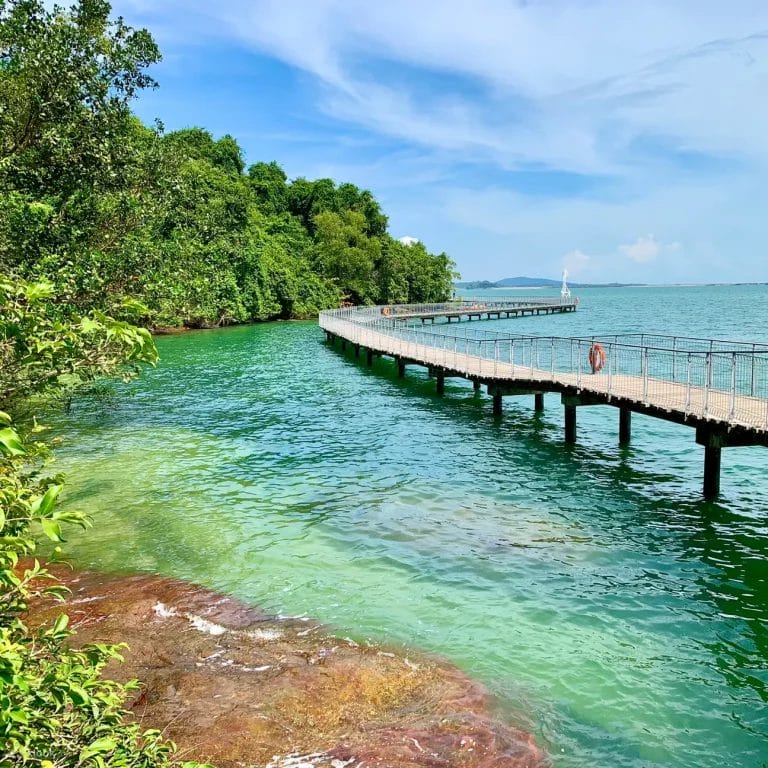 ---
Singapore's Best-Kept Secret #5: Kranji Countryside
Introduction: 、
Spend half a day exploring the Kranji Countryside and have a taste of farm living here in Singapore. While you're visiting, you might also like to buy and taste a number of tasty delicacies that come straight from the farms.
Most of the 1% of land set aside for agriculture in Singapore is situated in Lim Chu Kang / Choa Chu Kang / Sungei Tengah. This whole area is bound together by the Kranji Reservoir and is also home to the "Keranji" tree (dialium indicum), which is synonymous to us being a green forested area, with farms catering to vegetable production and nurseries.
Kranji is also world famous for being home to the Kranji War Memorial and the Kranji War Cemetery, commemorating the 30,000 soldiers who died in Singapore, Malaya, Java and Sumatra during World War II.
More importantly, the new breed of farmers encompasses varied business models, from potteries, to restaurants, to farm stays, with new ideas and a renewed vision of how the Singapore countryside should be. As such, the association was named the Kranji Countryside.
Opening Hours:
Location & Address: Kranji
Website: Website Link Here
---
Singapore's Best-Kept Secret #6: The Intan
Introduction:
The Intan is a collection of all things Peranakan, and more. It is an ambitious attempt to reconcile the beauty of the past into a modern home setting.
Within the Intan, you can find various items and objects that are rich with Peranakan history. From carefully curated pots to intricate jewelry, have a holistic Peranakan experience – right at the Intan.
Opening Hours:
Weekdays: 7am – 10pm
Weekends:7am – 10pm
Price of Admission: By appointment only, booking via website
Location & Address: 69 Joo Chiat Terrace, Singapore 427231
Contact: 6440 1148
Website: Website Link Here
---
_

Read Also:

Top Great Cafes in Tiong Bahru and Telok Blangah of Singapore

_
---
Singapore's Best-Kept Secret #7: Haji Lane
Introduction:
Haji Lane is in the Kampong Glam neighbourhood of Singapore, a short walk from Bugis MRT.
Young people frequent the shophouses along this lane for the independent stores and cafes, such as Pizza Fabbrica, Good Luck Beerhouse, and Monocle.
Haji Lane got its name because of the businesses here.
Opening Hours:
Weekdays: 11:00 AM – 8:00 PM
Weekends: 11:00 AM – 8:00 PM
Location & Address: 21A Haji Lane, Singapore 189214 Singapore
Website: Website Link Here
---
Singapore's Best-Kept Secret #8: Sembawang Hot Spring Park
Introduction:
Sembawang Hot Spring Park is a natural hot spring and a public park in Singapore. It is located beside a military camp about 100 metres off the main road, Gambas Avenue.
Located off Gambas Avenue, Sembawang Hot Spring Park features new cascading pools and a water collection point, enhanced accessibility for wheelchair users, and educational panels where visitors can learn about Singapore's only hot spring park's history and geology. The park's rustic environment, reminiscent of old kampungs, also holds many collective memories for the community.

Visitors can enjoy the new Floral Walk and see fruit trees and edible plants commonly found in kampungs, and flowers commonly seen in the 1960s and 1990s. The rustic environment is further enhanced by unpaved paths and naturalised streams flowing from the hot spring, which mimics the freshwater swamp forest landscape. There are seating areas sheltered by planted trellises featuring flowering creepers such as the Elephant Climber (Argyreia nervosa). The public can also learn more about the history of the site and geothermal processes behind the formation of a hot spring through interpretative signs at locations of interest.
Opening Hours:
Weekdays: 7am – 7pm
Weekends: 7am -7pm
Location & Address: Along, Gambas Ave, 756952
Contact: 1800 471 7300
Website: Website Link Here
---
Singapore's Best-Kept Secret #9: Singapore City Gallery
Introduction:
The Singapore City Gallery showcases Singapore's dramatic transformation over the past 50 years, to become one of the most liveable cities in Asia.
It tells Singapore's development story, through over 50 interactive and immersive exhibits that detail our planning challenges and the innovative solutions that tackle them.
Opening Hours:
Open from Mondays to Saturdays, 9am to 5pm
Closed on Sundays and Public Holidays
Price of Admission: Free Admission
Location & Address: 45 Maxwell Road The URA Centre, 069118
Contact: 6221 6666
Website: Website Link Here
---
Singapore's Best-Kept Secret #10: Fort Siloso Skywalk
Introduction:
Towering 11-storeys high and stretching 181 meters long, the Skywalk trail provides guests with a scenic treetop trek on the way to Fort Siloso. A free attraction, there's also guided tours at Fort Siloso for a more detailed historical account of the area.
High-level metal pathway accessed by elevator, with views of an historic fort & Singapore city.
Opening Hours:
Daily: 9am – 10pm
Exhibits opens at 10am
Last admission to Fort Siloso & Surrender Chambers at 5.30pm
Price of Admission: Free Admission
Location & Address: Siloso Rd, 099981
Contact: +65 6736 8672
Website: Website Link Here
---
Have a Place to Recommend?
Your contribution is valuable to us! Are there any outstanding businesses that you believe should be added to our list? If so, please send your recommendations to us at [email protected]. Tropika Club will review your suggestions and update the list accordingly. Thank you for your help in making our list of businesses as comprehensive and accurate as possible.
---
Meanwhile, Check out Tropika Club's Ecosystem of Websites
Tropika Club Magazine – Tropika Club Magazine is a Singapore-based publication that features articles on a wide range of topics with a focus on local businesses and content for the region. The magazine emphasizes supporting local businesses through its #SupportLocal initiative, which includes coverage of everything from neighborhood hawker stalls to aesthetic clinics in town. In addition to highlighting local businesses, Tropika Club Magazine also covers a variety of local content, including beauty, lifestyle, places, eats, and what's on in Singapore and the Asia Pacific region.
Tropika Club Deals – Tropika Club Deals is a leading online deals and voucher shopping site in Singapore, offering amazing discounts on beauty, wellness, and fitness products and services. It's the perfect platform for customers who want to discover the best deals without having to commit to a specific appointment date and time. These deals are available at major beauty stores, facial salons, hair salons, and other brands in Singapore, with no minimum spend required. Choose from guaranteed discounted deals in the categories of hairstyling, hair removal, facial & aesthetics, body slimming, brows & lashes, nails & makeup, massage & spa or fitness & wellness. Tropika Club Deals is also ideal for customers who want to buy vouchers as gifts or to use for the future. So whether you're looking to save money on your next haircut or want to treat yourself to a relaxing massage, Tropika Club Deals has got you covered with the best voucher and coupon deals in Singapore!