Top 10 Best Recording Studios in Singapore
 A recording studio is a facility in which audio recordings are made. The most common type of studio is a commercial recording studio, which is used by music artists, voice actors and other professionals to make recordings. There are also home recording studios, which are used by amateur musicians and audio hobbyists to make recordings. Singapore is a small country located in Southeast Asia, but it is no joke when it comes to the music industry. There are many top recording studios in Singapore that can help any musician or singer make a name for themselves. Whether you're a solo artist looking to make a name for yourself, or you're part of a band, these studios can help you reach your goals.
---
#1 – The Music Parlour
Introduction:
The Music Parlour is a downtown hideout for musicians to immerse in their craft through jamming, recording and gigs. There is also a cosy lounge filled with acoustic instruments and a bookshelf littered with vinyl records and all things musical for hangouts. The three jamming studios can all be combined into one bigger studio which provides flexibility for various types of recording and events. The venue is a great place to check out local established and upcoming acts through the many intimate concerts held in-house, with International acts also making their occasional appearances. Passion for music is what fuels the team to keep pushing on and providing the best experience possible everyday. You could call this place a home for music lovers. Step right in and embrace the good vibes! See less
Type of Services:
Instrument Rental:
$1/hr per instrument (Guitar/Bass/Keys)
Jam Packages:
8 hour jam package (book 7 hours for an additional 1 hour free)
12 hour jam package (book 10 hours for an additional 2 hours free)
25 hour jam package (book 20 hours for an additional 5 hours free)
Events/Gigs:
$80/hour (Minimum 3 hours)
Location:
CITY HALL
Peninsula Shopping Centre, 3 Coleman Street
#04-20, Singapore 179804
FARRER PARK
The Parlour Singapore, 140 Owen Road
Level 2/3, Singapore 218940
Contact: +65 85116989
Website: Website Link Here
---
#2 – Doppler Soundlab
Introduction:
Doppler Soundlab is an audio production studio based in Singapore offering audio production services for Film, Television, Commercials, Music, Games and VR.
They live and breathe audio, and our 10+ years of experience has empowered us with the knowledge and expertise to constantly deliver the finest auditory experiences to our clients and their projects.
But they don't just stop there, they constantly evolve and continue to hone our skills in the best interest of our clients' unprecedented success.
Their cutting-edge audio services, serve even the most demanding projects with passion, quality and promptness.
Their studio is rigged with state-of-the-art equipment helping us maintain the highest standards of the industry.
They have partners and collaborators from all over the world who strive to bring the utmost level of professional and emotional resonance to our work.
It is their pursuit to elevate every project by unleashing your sound's true potential to make a lasting impact.
Your projects were crafted with passion, let them take it to the next level.
Type of Services:
MUSIC COMPOSITION
AUDIO POST PRODUCTION
VR & IMMERSIVE AUDIO
MIXING & MASTERING
Location:
2 Kallang Avenue, #05-16, CT Hub, Singapore 339407
(2 mins from Bendemeer MRT | 5 mins from Lavender MRT)
Contact: (+65) 9693 3125
Website: Website Link Here
---
---
#3 – Anadigi Sound Lab
Introduction:
ANADIGI Sound Lab is a local and international provider of music production services, as well as studio rental and professional music and audio instruction. ANADIGI had been founded by a passionate individual who aims to provide a cozy and comfortable environment where clients can freely express their creativity. Having professionalism at highest priority and the client's needs in mind, the company will produce products that are authentic and up to date.

ANADIGI not only offers professional recording services but also doubling as a professional training house for sound engineering enthusiasts.

ANADIGI aims to build a firm rapport internationally and locally where world class, quality productions would be provided to our customers.
Type of Services:
Studio Jamming Room
Price: $27 / hour
Only for lessons, jamming & rehearsals.
For recording & other audio-related services, please refer to "Rates & Packages > Recording / Mixing / Mastering
Whole Studio Space
Price: From $85 / hour
Discounted packages: Available for Min booking of 8 hours
Perfect for video shoots, assisted productions, own productions (where our engineers are not required).
Live-streaming
Price: From $280 onwards
Minimum booking of 3 hours (includes setup, teardown, line-checks, rehearsal and, live-stream)
Simultaneous audio mixing/editing, videography & video editing.
Location: 668A Geylang Rd, Singapore 389595
Contact: +65 91915045
Website: Website Link Here
---
---
#4 – Tonehouse Studios
Introduction: At Tonehouse Studios they have quality equipment for you, and they are located in the heart of town to give you a solid studio experience at reasonable prices. It is also your best choice for one-stop boutique rehearsal, live streaming, live recording and jamming studio in Singapore.
Type of Services:
Rehearsal
They have a big room and a small room, each designed to facilitate effective and productive rehearsals.

Recording / Livestream
Their Living Room is equipped with full recording and live streaming services at affordable prices.

Venue / Gig
Yes! They host workshops, events and gigs.
Type of Rooms:
The Living Room
​The main room: band rehearsals, recordings, live recordings and live streamings – it's all possible here.
​The Bed Room
​For fuss-free rehearsals and jamming for fun, this room is perfect for you. It can hold up to 6 people comfortably.
Location:
Parklane Shopping Mall
35 Selegie Rd #03-09
Singapore 188307
Contact: 65 9298 5762
Website: Website Link Here
---
#5 – The Basement Studio
Introduction: A centralised Rehearsal and Recording Studio in Singapore that open 24 hours. Rehearsal , Recording , Podcast , Jamming , Audio Equipment Rental , Workshops and the list goes on. They are a one stop solution to your musical needs.
Incepted in 2013, The Basement Studio sought to provide a quality creative space for all musicians from all genres to rehearse and create. Today they have evolved to also provide a more dynamic space for multi-track recording, live-streaming events and voiceover recording.
They have always been and will always be evolving, always on the lookout for new and innovative ways to upgrade their services and facilities.
Type of Services:
Fully equipped with tube amps, a full drum set, guitars, keyboards, studio quality microphones and soundproofing, their Jamming Studio provides all the creative freedom you could ever ask for.
Realise your musical ideas. Use the in-house professional studio equipment and audio interfaces to record, mix and master your music.
The world deserves to see your talent. Put on a show with their live-streaming setup, complete with the lighting, high-definition cameras, and software you need to get your performance live.
Location:
6001 Beach Road , Golden Mile Tower B1-84, Singapore 199589
Contact: +65 84891634
Website: Website Link Here
---
#6 – Sonic Recording Studio
Introduction:
Sonic studio using state of art audio recording equipment like Protools HD for professional hard disk recording , industry standard Neumann U-87 condenser microphone for vocal and instrumental recording using vintage mic- preamp like Neve and Amek.
PROFESSIONAL RECORDING SUITE
Sonic Studio is dedicated to provide the best audio recording needs. Their control room and studio are acoustically treated and is renown for its excellent vocal and music instruments recording quality. The studio can even accommodate a modest choir that fit 15 to 20 persons comfortably.
Type of Services:
AUDIO VOICE RECORDING
They provide Audio Voice recording for both music production and voice-over projects. They have precise knowledge, skill-set and equipment that are catered to these specific needs.

PITCH TUNING, MIXING & MASTERING
They understand sound down to the core of its heart, thus, able to repair and enhance sound to a completeness.

MUSIC ARRANGEMENT
They create customized music pieces to knit tightly into your project purposes.

CORPORATE MUSIC & JINGLE
They can put thoughts and emotion into sound and music production to influence and meet the objective of your commercial campaign.

SONG COMPOSING
Having full creativity is the best playground for us, and dream-come-true for you.
Location:
Sonic Recording Studio
336B, King George's Avenue
King George's Building, Singapore 208572.
Contact: 9144 7193
Website: Website Link Here
---
---
#7 – Trinity Music Studio
Introduction: Trinity Music Studio offers an automated and well-maintained jamming studio for passionate music lovers to practise and rehearse at an affordable price!
Type of Services:
Band Jamming (up to 5 Pax) 3 hours @ SGD 66.00
Solo Practice (1 Pax Only) 1 hour @ SGD 18.00
Duo Jamming (Up to 2 Pax) 2 hours @ SGD 42.00
Duo Jamming (Up to 2 Pax) 3 hours @ SGD 60.00
Location:
Trinity Music [email protected] Seng 50 Playfair Rd, #04-03A Noel Building, Singapore 367995
Contact: 9126 9764
Website: Website Link Here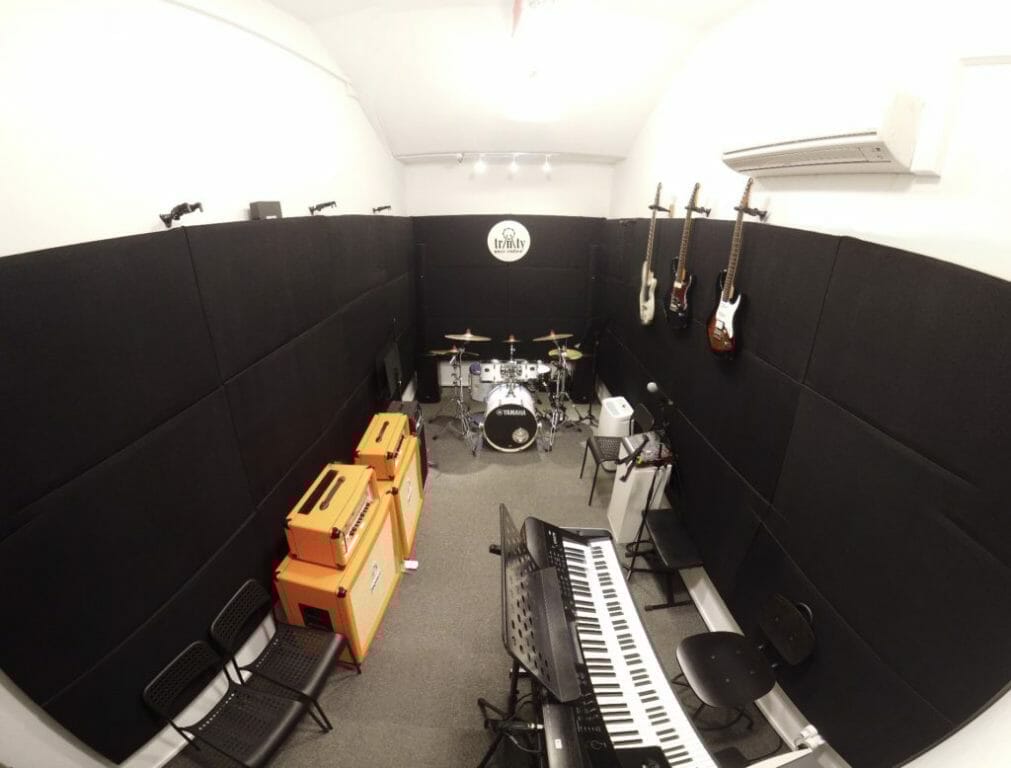 ---
#8 – Verta Collective
Introduction:
BOUTIQUE MUSIC AND VIDEO PRODUCTION CUSTOMIZED FOR YOUR CONTENT CREATION NEEDS.
They create compelling digital content from music to videos equipped with range of studio facilities and equipment that are available for your usage. This is enabled by their community of creatives as they strive to build an ecosystem that serves the Singaporean and South-East Asian creative industry.
Type of Services:
AUDIO AND MUSIC PRODUCTION
Music Production
Recording
Mixing
Mastering
Voiceover Recording
Sound Design and Audio Post-Production
CONTENT CREATION
Video Production (Commercial, Short films)
Podcast
Live Stream
Product Demos
Live Performance Video
Music Video
Event Coverage Video
Social Media Marketing Content
EVENT SPACE RENTAL
Product Launch
Workshops/classes
Livestreamed Events
Location:
Lipo Building
621 Aljunied Road
Singapore 389834
Contact: +65 8850 0656
Website: Website Link Here
---
#9 – Backbeat Studios
Introduction:
Backbeat Studios is a recording and media production studio that has been delivering top-notch productions for many happy and returning clients since 2006.
What makes them the preferred recording studio in Singapore for creatives, producers and agencies?
Because they understand creativity. They see through your creative lens to create the voice or sound that resonates with your target audience. They have the knack of helping you get the right voice or sound the first time, saving you time and money from unnecessary delays.
Type of Services:
Brand Storytelling
Creating a strong brand identity for your commercials or brand videos with the right voice, music and sound design is key to building such trust with your audience and achieving both business and creative success.
Voice-overs Narration
For TVC & Radio spots, online videos, apps, e-learning, on-hold messages, public announcements and basically anything and anywhere that needs a good voice to sell or communicate.
Podcasts
Creating a standout podcast goes beyond mere excellence in audio production. From audience research, conceptualisation to hosting and distribution, they can help you at various stages of your podcast launch.
Audio Editing & Fixing
They edit and fix raw audio recordings, cover up the flaws and make them sound better.
Location:
215a Jln Besar
215a Jln Besar, Singapore 208898
Contact: (+65) 9677 5539
Website: Website Link Here
---
#10 – Underground Singapore
Introduction:
Founded in 2020, Underground Singapore is a creative space for experienced and emerging artists to home their craft and practice performing on the big stage. Featuring the best of both vintage analog and modern digital tools, the Underground Singapore team provide professional technical expertise to support artists to grow their portfolios.
The multi-purpose music studio is centrally located in Aljunied and contains a large performance/rehearsal area with stage, a private recording studio, venue for private functions and green screen photography and videography service.
Type of Services:
MUSIC RECORDING
VENUE HIRE
LIVE STREAMING
JAMMING/ REHEARSAL
Location: 90 Lorong 23 Geylang, Agrow Building, #06-03, Singapore 388393
Contact: +65 9337 3244
Website: Website Link Here
---
Have a Place to Recommend?
We need your help! Do you know any other noteworthy beauty clinics or salons that deserves to be added to this list? If so, do write to us via our email at [email protected]. Tropika Club will do a review of your recommendations and update the list accordingly.
---
Meanwhile, check out Tropika Club's Ecosystem of Websites

Tropika Club Magazine – Tropika Club Magazine crafts articles on all things Singapore, but with a greater emphasis on local businesses based on our #SupportLocalSG initiative. We check out and feature local businesses of all categories, ranging from your neighbourhood hawker stalls to the aesthetic clinics in town. We also cover local content ranging from beauty, lifestyle, places, eats and what's on in SIngapore. Our Top 10 rankings include local food and service establishments based in different regions in Singapore.
Tropika Club Deals – Search for the best voucher and coupon deals. Tropika Club Deals is ideal for customers who want to discover the best deals without having to commit to a specific appointment date and time. Choose from guaranteed discounted deals in the categories of hairstyling, hair removal, facial & aesthetics, body slimming, brows & lashes, nails & makeup, massage & spa or fitness & wellness. Customers can also buy vouchers as gifts or to use for the future.