Top 10 Best Ballet Schools in Adelaide Australia
Adelaide, Australia is home to a number of world-class ballet schools that offer some of the best facilities, teaching methods and resources for students. For aspiring ballet dancers looking to pursue their dreams in Adelaide, here is our list of the top 10 best ballet schools in the city. These schools are renowned for their experienced teachers and unbeatable training programs that are sure to help any student reach their full potential.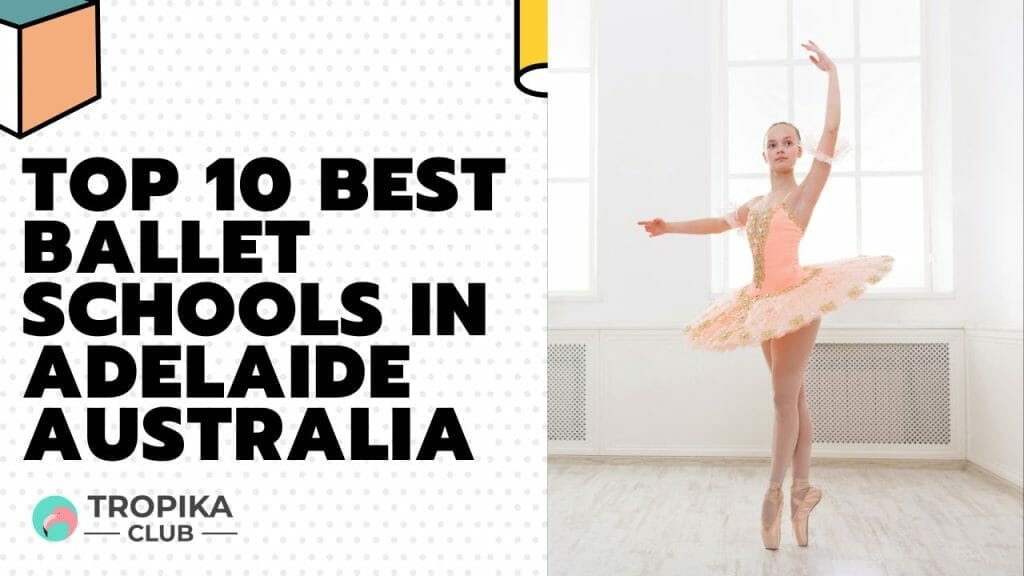 ---
#1 – Premier School of Dance
Introduction:
They genuinely care about assisting each individual to achieve his or her maximum potential. They believe students should be having fun as well as learning good technique. Your child will not only learn skills in dance and performance, they will also develop confidence, self esteem and team skills which will carry them far in life.
Premier has three dance studios within the one building. The studios are fully equipped with mirrors, ballet barres, specialised dance flooring, air conditioning and high quality sound systems. They have car parking and a comfortable waiting room.
Type of Services:
Ballet
Toddler Dance Class
Hip Hop
Contemporary Class
Location:
4/615 North East Rd, Gilles Plains, SA 5086
Contact: 0410 760 056
Website: Website Link Here
---
#2- Norwood Ballet Centre
Introduction:
They have been in business for over 40 years, and many thousands of happy students have passed through their doors, many of whom have gone on to forge successful careers as dancers, teachers, and choreographers in the wider dance community.
Their students have won the prestigious Cecchetti Silver and Gold Medal for many years. They have a former student Samantha Vottari now dancing in the Leipzig Ballet. Amy Gallery (a student for 16 years) is about to commence training at the Sydney Dance Company. Students currently training at WAAPA in Classical Ballet, as well as ED5 International for Commercial Dance.
Their small and enthusiastic team of experienced teachers are well qualified in their chosen fields to impart their collective knowledge in a caring and friendly manner to ALL students, to help build self-esteem and enjoyment of dance in everyone, as well as recognising, nurturing and developing the gifted students.
Type of Services:
Classical Ballet
Pointe
Jazz/Hip Hop
Contemporary
Tap & Stretch/Strength
Location:
111 Kensington Road, Norwood SA 5067
Contact: 83313010
Website: Website Link Here
---
---
#3 – Jess Dance Academy
Introduction:
Jess Dance Academy is a dance school that provides dance training for children and adults alike. The academy offers a range of dance classes including ballet, jazz, contemporary, hip hop, tap, and more. The academy has experienced and skilled instructors who provide individual attention to each student, helping them to improve their skills and achieve their goals. Jess Dance Academy also conducts annual recitals and performances, giving students the opportunity to showcase their talent on stage. Overall, the academy aims to provide an encouraging and supportive environment for students to learn and grow as dancers.
Type of Services:
Ballet
Acrobatics
Jazz Ballet
Contemporary
Hip Hop
Location:
Unit 2, 2-4 Marker Avenue, Marleston SA 5033
Contact: 0433 309 353
Website: Website Link Here
---
---
#4 – Terry Simpson Studios
Introduction:
Terry Simpson Studios offers a well-rounded dance curriculum that includes ballet, contemporary, Full and Part time coaching programme, SACE Dance, jazz, tap, hip-hop, Childrens Program from 3 years old. Junior School based in Mitcham and Senior School based in Adelaide CBD
Students are offered a broad dance experience starting from the age of three and are encouraged to learn in a non-competitive, supportive atmosphere, whilst they grow in confidence and develop poise and coordination. Individual creativity and mastery of skills are valued equally. Classes offer a balance of appropriate level technique and more informal improvisation, music and movement.
Type of Services:
Classical Ballet
Contemporary
Jazz, Tap, Hip-hop
Choreography
Body Management Programme
Location:
212 Gays Arcade Adelaide, SA, Australia 5000
Contact: +61 8 8223 4374
Website: Website Link Here
---
#5 – Centre Stage Dance Academy
Introduction:
Centre Stage Dance Academy is a dance studio that offers comprehensive dance lessons to individuals of all ages and skill levels. The studio is located in various cities across the country and offers a wide range of dance classes, including ballet, jazz, tap, contemporary, hip hop, and more. The instructors are highly trained and experienced in their respective areas of dance, and they are committed to helping each student achieve their goals and potential.
The studio also provides opportunities for students to perform in recitals and competitions, allowing them to showcase their talent and hard work. Whether you are looking to pursue a career in dance, develop your technique and artistry, or just have fun and stay active, Centre Stage Dance Academy is the perfect place to start.
Type of Services:
Classical Ballet
Acrobatics
Contemporary
Musical Theatre

singing, acting and dancing

Hip Hop/ Jazz
Location:
34a Third Ave, St Peters SA 5069
Contact: 0411 504 923
Website: Website Link Here
---
#6 – Studio Arts Ballet
Introduction:
Studio Arts Ballet has a rich history and a bright future centering on the school's ethos – anyone can dance. They have a mix of students in this class from absolute beginners who have never danced before through to those who danced when they were younger and have had a long break.
Their Open Intermediate Class includes only the best parts of ballet: beautiful music, creative repertoire, friendly faces and plenty of chats. Their school is unique, they don't offer exams or expect students to perfect their technique.
Classes include a variety of traditional ballet exercises, exposure to a range of classical music and constant opportunities for students to express their own creativity. Whilst they don't work with a structured syllabus, they are Royal Academy of Dance trained and use this foundation in their practice.
Type of Services:
Location:
104 Jeffcott Street, North Adelaide, SA, Australia, South Australia
Contact: +61 422 320 356
Website: Website Link Here
---
_

Read Also:

Top 10 Best Hair Removal Services in Central Singapore

_
---
#7 – Soul Dance Studios
Introduction:
Their aim is to create a positive and happy experience for all of our students. To nurture and develop talent, celebrate the achievements of all students, and inspire a love and appreciation of all styles of dance and the arts. They are committed to providing a safe and positive environment in which all students can feel empowered, comfortable and free to express themselves. Joy and laughter, mixed with hard work and discipline.
Soul Dance Studios is a place like no other. Whether your child comes once a week, or does multiple classes as part of their elite Dancer Development Program, they welcome you to the Soul Dance family and they strive to make your child's dancing experience memorable and magical. ​
Type of Services:
Ballet (B.C. syllabus)
Contemporary
Musical Theatre
Technique and Conditioning
Lyrical
Troupe
Location:
594 Portrush Road , Adelaide, SA, Australia, South Australia
Contact: +61 448 216 433
Website: Website Link Here
---
#8 – Xcel Dance Studios
Introduction:
Xcel Dance Studios is an Adelaide based dance school focused on nurturing a love for dance. Whether it be for fun, fitness, competition or examination, all levels of ability are catered for by a team of compassionate and dedicated teachers.
With two locations based in the eastern suburbs of Adelaide, their school offers a range of styles from Classical Ballet, Jazz and Hip Hop to Modern Contemporary, Tap and Acro.
Specialising in children from 3 years to adult, Xcel Dance Studios can cater for a wide range of students of different ages and abilities.

Type of Services:
Classical Ballet
Jazz / Funk
Modern / Contemporary / Stretch
Tap
Acrobatics
Location:
1 Fisher St, Tusmore SA 5065, Australia
Contact: 0414 789 535
Website: Website Link Here
---
#9 – Turning Point Dance
Introduction:
Turning Point Dance is proud to have built a reputation in ballet and dance throughout Adelaide from small beginnings in Salisbury in 1996. Now located in custom built premises in Thebarton, Their studio specialises in classical ballet and offers students a wide range of tuition in other styles.
With an emphasis on the physical and emotional health of the dancer, each student is encouraged to strive for their personal best and is offered every opportunity to achieve this.
Type of Services:
Location:
Winwood St, Thebarton, SA, Australia, South Australia
Contact: +61 413 113 950
Website: Website Link Here
---
#10 – Simply Ballet
Introduction:
From your first step into the studio, a beautiful world of ballet lies ahead. Creativity, expression, confidence, and joy await.
They specialise in teaching Classical Ballet – with supplementary classes such as body conditioning, Contemporary, Jazz, and Tap also on offer. Their dedicated focus allows us to offer a range of programs appropriate to different age groups from Preschool Classes from age 2, Children's classes from age 7, dedicated Adult Ballet classes and Silver Swans® for ages 55+.
The school offers the opportunity for students to undertake examinations and class awards through the Royal Academy of Dance (RAD) to help students train in classical ballet technique and feel a sense of achievement. If you want to learn ballet, you want to learn at Simply Ballet. It's never too late to start…
Type of Services:
Classical Ballet
Jazz, Tap & Contemporary
Body Conditioning
Silver Swans class
Location:
4A Koongarra Court, Magill SA 5072
Contact: 0493 030 052
---
Have a Place to Recommend?
Your contribution is valuable to us! Are there any outstanding businesses that you believe should be added to our list? If so, please send your recommendations to us at [email protected]. Tropika Club will review your suggestions and update the list accordingly. Thank you for your help in making our list of businesses as comprehensive and accurate as possible.
---
Meanwhile, Check out Tropika Club's Ecosystem of Websites

Tropika Club Magazine – Tropika Club Magazine is a Singapore-based publication that features articles on a wide range of topics with a focus on local businesses and content for the region. The magazine emphasizes supporting local businesses through its #SupportLocal initiative, which includes coverage of everything from neighborhood hawker stalls to aesthetic clinics in town. In addition to highlighting local businesses, Tropika Club Magazine also covers a variety of local content, including beauty, lifestyle, places, eats, and what's on in Singapore and the Asia Pacific region.
Tropika Club Deals – Tropika Club Deals is a leading online deals and voucher shopping site in Singapore, offering amazing discounts on beauty, wellness, and fitness products and services. It's the perfect platform for customers who want to discover the best deals without having to commit to a specific appointment date and time. These deals are available at major beauty stores, facial salons, hair salons, and other brands in Singapore, with no minimum spend required. Choose from guaranteed discounted deals in the categories of hairstyling, hair removal, facial & aesthetics, body slimming, brows & lashes, nails & makeup, massage & spa or fitness & wellness. Tropika Club Deals is also ideal for customers who want to buy vouchers as gifts or to use for the future. So whether you're looking to save money on your next haircut or want to treat yourself to a relaxing massage, Tropika Club Deals has got you covered with the best voucher and coupon deals in Singapore!