Top 10 Best Hair Removal Services in Central Singapore
Do you want to get rid of your unwanted hair permanently? Looking for the best hair removal services in central Singapore? Look no further! In this article, we will be discussing the top 10 best hair removal services in central Singapore. From threading to waxing to laser hair removal, there is sure to be a service that suits your needs. So sit back, relax, and read on to find out more! You are on the right channel. The Tropika Club Team has rounded up the Top 10 Hair Removal salons in the Central region of Singapore (This includes Toa Payoh, Orchard Road, Goldhill Centre, Thomson areas) that will help you to solve your problem. Read on to find out more.
---
---
#1 Wellaholic (Orchard) & Wellaholic (Somerset)
Introduction: Wellaholic's vision is to help their customers look their best with the best rates in Singapore. They offer a range of aesthetic services, including technology facials, microneedling, permanent hair removal, hair regrowth, fat freeze, RF body sculpting and teeth whitening. Wellaholic has eight outlets, at Somerset, Jurong East, Orchard, Kovan, Tg Pagar, Lavender as well as Upper Changi and Farrer Road, all located within 5 minutes from MRT stations. They believe in offering quality services to their customers, with excellent customer service and definitely no hard-selling.
Check out Wellaholic's review page see their customers' positive comments (>1000 reviews) on Google Review.
The Treatment: Super Hair Removal permanent hair removal heats the skin gently through the melanin and the stem cells with low energy but high frequency. With Wellaholic's SHR technology, the hair removal methodology that involves the hair pigment uses only 50% of the energy for permanent hair removal. The remaining 50% is absorbed into the stem cells responsible for hair production. SHR's Advanced Fluorescence Technology (AFT) In-Motion technology is a breakthrough in customer comfort and effectiveness of treatments.With in motion technology helps to treat light and fine hair and has less pain on skin as compared with IPL .
Check them out at:
Location:

Orchard: 545 Orchard Road Far East Shopping Centre #04-11C Far East Shopping Centre, Singapore 238882
Somerset: 5 Koek Rd, #03-21, Singapore 228796

Hotline: +65 8869 5640
---
#2 Asia Wellness
Introduction: Asia Wellness was incorporated by a group of beauty professionals to cater to the exponential growth and demand for beauty and slimming services. Located conveniently at the Hub of Toa Payoh, they provide customised beauty and body slimming programs to the neighbourhood. In keeping with their company's commitment, they focus on the continuous innovation of new and effective treatments to you, their dearest customer. In Asia Wellness, they provide one-stop services; cater to all your beauty needs, from top to toe, ranging from Facial, Slimming to Wellness and Waxing.
The Treatment: They provide IPL and Waxing Service which includes: Brazilian IPL/ Underam IPL/ Hand &Leg IPL/ Upper Lip IPL. Intense Pulsed Light (IPL) Hair Removal System is a state-of-the-art pain-free and hassle-free technology to remove unwanted hairs with benefits such as cost effectiveness, visible result, painless, hassle-free, permanent solution, whitening and skin smoothing effect.Waxing at Asia Wellness is formulated for sensitive and normal skin. The temperatures of their waxes are a little above body temperature, which make burning the skin impossible.
Check them out at:
---
#3 Beauteous Boutique
Introduction: Bathed in glitter and gold, Beauteous Boutique knows that quality makes all the difference when it comes to beauty. As such, they offer unique spa treatments by only using the most sought-after products in the market. Only top-tier beauty brands with natural can make it to their shelves. With a flurry of certificates and diplomas adorning their walls, Beauteous Boutique is also a strong contender of having one of the most well-trained teams of beauticians in the city. Along with their holistic approach to well-being and results, experience a total transformation through authentic treatments exclusive to Beauteous Boutique.
They offer a full range of hair removal including SHR Underarms, SHR Arms and SHR Bikini, as well as waxing for all body parts. They also use the same SHR technology for SHR Facial Rejuvenation, and also other technologies such as 3 in 1 V-Face Lymph Drainage and Brighening C Facial.
Find them at 1 Tanjong Pagar Plaza #02-29
The Treatment: Re-energise your life with the 3 in 1 V-Face Lymph Drainage by Beauteous Boutique.
Check them out at:
Location: 190 Clemenceau Ave, Singapore Shopping Center, #02-16, S239924
Hotline: +65 81291922
---
#5 Isabella Aesthetics (Jurong Point)
Introduction: On top of being a renowned one-stop beauty concierge, Isabella Aesthetics also strives to deliver the latest beauty techniques from around the world, like Needleless PDO Threadlift Facial, Korean Medical Grade Skin Boosters, Korean Suji Microdotting Eyebrow Embroidery, Korean Spin Roller Technique Eyebrow Embroidery and many more. Experience the difference and embark on your beauty journey with Isabella Aesthetics.
Embark on your journey into beauty with Isabella Aesthetics. They have curated of a suite of holistic beauty services that covers eyelash extensions, eyebrow embroidery, lips enhancement, eyeliner embroidery, semi-permanent makeup, eyelash extensions, facials and waxing services. As one of Singapore's top beauty clinics, they can help you in your beauty journey with their array of skin treatments and aesthetic treatments.
On top of being a renowned one-stop beauty concierge and skin clinic, Isabella Aesthetics strives to provide beauty treatments with the latest beauty techniques from around the world, such as the Needleless PDO Threadlift Facial, the Korean Medical Grade Skin Boosters, and the Korean Suji Microdotting Eyebrow Embroidery. Whether you want natural eyebrows through their Eyebrow Embroidery, or absolute skin rejuvenation with their Philaroma Paris Facial treatment, you can reach your beauty goals with Isabella Aesthetics.
The Treatment:
VACCUM RF SLIMMING
It is quite an uphill task to reduce the stubborn pocket of fat from the body to get into the shape you've always dreamed about. Vacuum RF slimming is a non-invasive, non- surgical way to lose inches to sculpt your body accurately and giving you a ripped, chiselled physique that you always wanted! This treatment uses a combination of high-frequency Radio Frequency and vacuum technology to increase the blood supply to the cellulite and fat prone areas of the lower body and then effortlessly burn off the fat cells to proffer natural and 'buttery' smooth results. While the main areas treated are the abdomen, thighs and buttocks, this treatment is ideal for those who want to not only get rid of excess body fat but also lose inches off their waist and would like their clothes to fit them perfectly! Unlike painfully aggressive suctioning, Vacuum RF slimming is a safe and effective treatment that takes around thirty minutes to complete. While the treatment begins with the application of gel to the target area, it is followed by warm, tender circular movements of RF stimulator, which creates heat— instigating the production of collagen that tightens the loose, sagging skin. Even better, the heat also stimulates blood.
Check them out at:
Location: 6 Scotts Road Scotts Square, #B1-24, Singapore 228209
---
#5 Love de Beauteous
Introduction: Love de Beauteous is a spa in Toa Payoh Central, which provides a wholesome pampering service from facial treatment, body relaxing massage, to post natal/surgery massage and pain relief treatment. They specialise in slimming and body contouring treatment. Established in 2007, Love de Beauteous aims to provide you an affordable service to help you in health and beauty from the inside out. They will serve you with their sincerity.
The Treatment: Signature Brazilian Waxing. This usually removes all the hair so that you will feel smooth all over. Love de Beauteous uses mainly hot premium-graded wax which are suitable for clients even with sensitive skins.
Check them out at:
---
#5 Mary Chia (Novena)
Introduction: Mary Chia is a homegrown listed beauty & wellness brand, with 40 years of specialised expertise in the field of quality skincare & weight management for women.Their brand ethos has always been built on customer trust, combined with the intelligent use of beauty science and state-of-the-art technologies in their treatments and products. Now, more than ever, the Mary Chia brand is vibrant and dynamic, seeking ways to empower individuals to live life more confidently and in greater wellness.
The Treatment: CrystalLite Permanent Hair Removal is a miracle light therapy which allows light waves to penetrate skin's epidermal layers, travel down the hair shaft, destroy hair follicles and ultimately inhibit hair growth. It is fast, effective, safe, virtually painless and most importantly, PERMANENT.
Treatment areas: Underarm /Upper Lip /Full Hands /Full Legs /Lower Back /Bikini Line /Thigh/ Full Body
Check them out at:
Location: 183/185 Goldhill Centre, Thomson Road, Singapore 307628
Hotline: +65 6250 7949
---
#7 Blush @ Somerset Orchard
Introduction: Established since 2008, BLUSH waxing salon provides clients a friendly, cozy and comfortable environment.Offering affordable quality waxing, relaxing ambience and their professional therapists being meticulous to detail, are some of the reasons that keep their clients returning to BLUSH for their services. Start unwinding by indulging in the aroma of their scented wax and enjoy watching television while being treated. You can be truly transported away from your stress in everyday life.
The Treatment: They take pride in offering you quality services and professional advices. Assuring that your treatments are being performed by qualified specialists in the highest industry standards. All waxing equipments are sterilized with hospital graded disinfectant and disposed after use.
They use one of the top leading brands of depilatory waxes, pre & post waxes after-care from Australia to ensure quality treatment to all clients.
Their premium wax prevents hair breakages, ingrown hair, redness and the associated painful sting. Their scented soft and hard wax contains unique titanium dioxide technology.
Check them out at:
Location: 220 Orchard Road, #04-12A Orchard MIDPOINT, 238852
Hotline: +65 6836 5421
---
#8 Cellnique – Syuen Beauty
Introduction: They are a beauty salon providing facial skin care, beauty care products and beauty treatments. Amidst the pale wheat walls, minimalist furnishings, and neatly curlicued sign that denotes arrivals at this beauty salon, therapists guide patrons through their choice of skin and bodily pamper packages. Seeded in Toa Payoh Central, the centre rubs shoulders with local institutions like the public library, Central Community Club, and Sports Hall, as well as the area's eponymous MRT station. Nudged along by Cellnique care products, Syuen Beauty's list of services include fractional laser facials to refine pores and uneven skin tone, and IPL treatments to rid the hirsute of unwanted body hair.
The Treatment: SHR, Super Hair Removal, the latest non-invasive light treatment technology from Korea, that effectively removes all the unsightly hairs, at the undesirable body parts, permanently, in a new way. Unlike the earlier versions of normal intense pulse light technology, this latest SHR technology uses the non-laser rate of fast pulse light to treat the desired body parts at a much comfortable level with no heat, no pain. As compared to the earlier versions of technology, this SHR technology generates a much stable and longer lasting energy that was created by it's light, and penetrates into their derma structure in a form of a lower and slower pace energy, leaving a longer lasting, and better result.
Check them out at:
---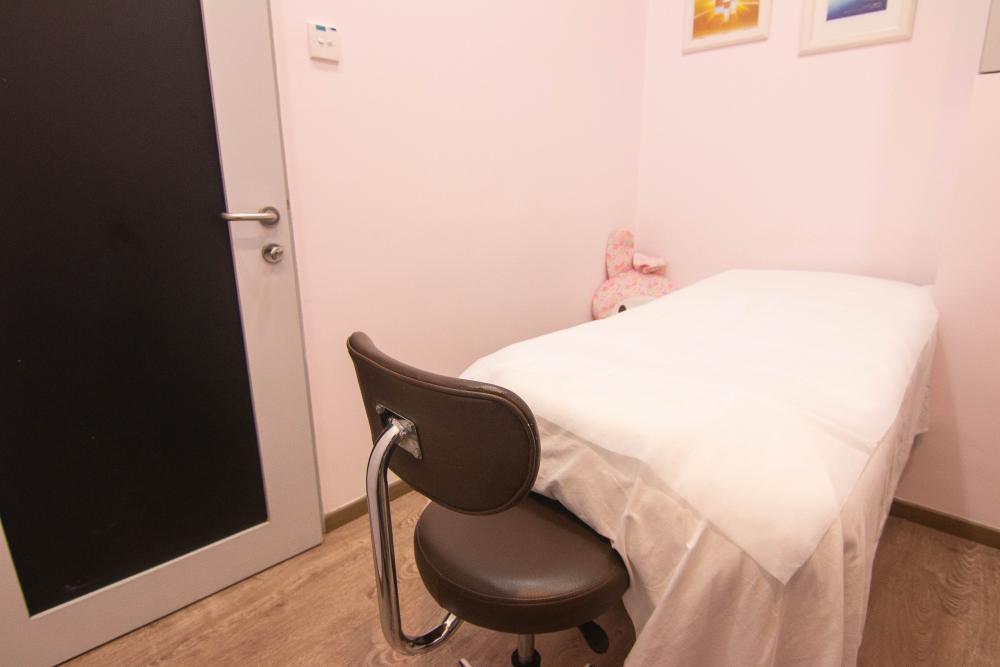 #9 GloAesthetics
Introduction: Established in 2008, more than 11 years of experience. Treatment are performed by their highly trained and experienced staff. They use only U.S FDA approved medical aesthetics equipments and products.
The Treatment: Permanent Hair Removal with their Latest Cutting-Edge Technology
With the Latest Sharplight™ Formax Plus and Cutera ProWave™ for permanent hair removal from GloAesthetics, you can eliminate fear of procedural pain and save valuable time with amazing results. At GloAesthetics, they have invested in two cutting-edge hair removal technology to ensure clients safety, ease fear of procedural pain, speed and clinically proven results for a wide range of skin type
Check them out at:
---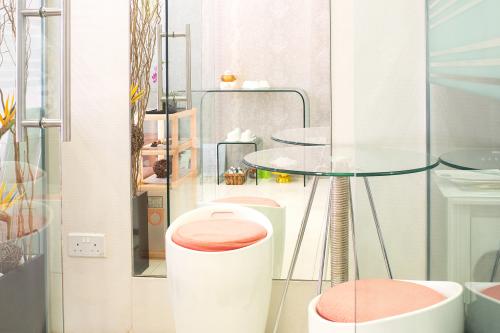 #10 GATINNIE Expression Beauty Centre
Introduction: Established in 2002, Gatinnie Expression Beauty Centre is a complete one stop shop for all your beauty needs. Whether you are looking at achieving a crystal clear radiant look; firm and toned body contours or cosmetics procedures to enhance your overall look, Gatinnie Expression Beauty Centre has it all. You will be in the best of hands of their attentive, caring, professional and trained therapists. Relax while they bring you through a consultation, analyze your skin, customise the best treatment for you and educate you on caring for your skin and body. Everyone is born beautiful but maintaining the natural beauty that each is born with it , needs a lot of hard work and determination.
The Treatment: Permanent underarms Hair Removal,Waxing and Threading
Check them out at:
---
Interested to be Featured on this List?
If you are interested to be featured in Tropika Club's top picks, do write to us via our email. Tropika Club will do a comprehensive review of your treatments and customer journey as part of our verification and validation process.
---
Meanwhile, check out Tropika Club's Ecosystem of Websites

Tropika Club Magazine – Tropika Club Magazine crafts articles on all things Singapore, but with a greater emphasis on local businesses based on our #SupportLocalSG initiative. We check out and feature local businesses of all categories, ranging from your neighbourhood hawker stalls to the aesthetic clinics in town. We also cover local content ranging from beauty, lifestyle, places, eats and what's on in SIngapore. Our Top 10 rankings include local food and service establishments based in different regions in Singapore.
Tropika Club Deals – Search for the best voucher and coupon deals. Tropika Club Deals is ideal for customers who want to discover the best deals without having to commit to a specific appointment date and time. Choose from guaranteed discounted deals in the categories of hairstyling, hair removal, facial & aesthetics, body slimming, brows & lashes, nails & makeup, massage & spa or fitness & wellness. Customers can also buy vouchers as gifts or to use for the future.